The planned retirement and succession plan also appoints current FMIC Board members, Mark Fukunaga and Michael Lazarus as FMIC Co-Chairmen.
Scottsdale, AZ
(July 6, 2010) -- Fender Musical Instruments Corporation has announced the retirement of CEO Bill Mendello following more than 30 years of service. A corporate succession plan has been in place for nearly a year in anticipation of this planned retirement, and Mendello will remain on FMIC's Board of Directors. As part of that plan, FMIC Board of Directors member Larry Thomas has been appointed as Chief Executive Officer. Thomas will take the new role effective August 1, 2010. Larry Thomas brings nearly 40 years of music industry experience to FMIC, including his successful tenure (1996-2004) as Chairman and CEO of Guitar Center, Inc. Current FMIC Board members, Mark Fukunaga and Michael Lazarus have been appointed Co-Chairmen, also effective Aug. 1, 2010.
Larry Thomas
"I am delighted to be able to pass the leadership of FMIC into the very capable hands of Larry Thomas," said Mendello. "Larry is a widely-respected person with an incredible amount of experience and valuable insight about music companies and music retailers, large and small. He is one of the true legends in the industry and brings the credentials that will help lead FMIC to even greater future success."
"Larry Thomas is a proven entrepreneur and seasoned professional manager with an impressive record of success throughout his entire career," said Lazarus.
"We are very excited about our opportunity to work closely with Larry as he continues to build the FMIC culture and lead the FMIC team into the future," said Fukunaga.
"It is an incredible honor and responsibility to be chosen to lead Fender Musical Instruments Corporation," said Thomas. "As one of the world's best known and most respected companies, there continues to be great potential in the FMIC brands, and I look forward to contributing to future success while growing the company's powerful musical legacy."
Thomas began his career in 1971 with instrument wholesaler/importer Buegeleisen and Jacobson, Inc. He joined Guitar Center in 1977 as a salesperson, subsequently rising through increasingly responsible roles including store manager, regional manager, general manager, president and ultimately chairman and CEO. At Guitar Center, he played an integral role in the company's continued growth, acquisitions and subsequent public offerings, and eventual status as the largest, most popular music chain in North America.
Thomas is a passionate music fan and advocate, an active lifelong musician, and participates on several music-related boards, including the Fender Music Foundation, USC Thornton School of Music, the American Music Conference and the California Music Project.
Bill Mendello
Mendello commented on his retirement at the time of its announcement on June 29, 2010, saying "I have been uniquely privileged to call Fender my 'second family' for over 30 years. Now, after a 45 year career, I am looking forward to spending more time with my family, traveling and pursuing personal interests. I am very proud of the work I have accomplished and the people I have come to know in this industry and I am especially happy to be able to retire with a great amount of confidence in the company's future."
Mendello's career in the music industry began in 1977, when he joined CBS Musical Instruments Division as the Vice President and Controller. This division then included such well-known brand names as Steinway (pianos), Rodgers (organs), Gemeinhardt (flutes), Lyon & Healy (harps) and, of course Fender. In 1981, Mr. Mendello relocated when the Division moved to Fullerton, Calif. and was appointed Senior Vice President of Fender.
On March 12, 1985, Mendello was a key figure in completing a leveraged buy-out of Fender Musical Instruments from CBS, Inc. to create the newly named Fender Musical Instruments Corporation (FMIC). Following the buyout, Mendello was part of the management team and was later named President and Chief Operating Officer of FMIC. From a small general office and warehouse in Brea, Calif., and a single manufacturing facility in Corona, Calif., FMIC has since grown to include state-of-the-art manufacturing facilities in two countries, and sales and marketing offices around the globe.
Mendello was appointed Chairman of the Board and Chief Executive Officer of FMIC in 2005. With his depth of experience, and unique ability to understand and solve complex issues associated with all aspects of the business, Mendello has proven to be a universally-respected and admired leader of the iconic FMIC family of brands. During his time in leadership at FMIC, he has helped bring the company to new heights of visibility, profitability, and brand equity while continually advancing the quality and prestige associated with the Fender name.
In recent years, Mendello led the efforts that resulted in the successful acquisition of Kaman Music Inc. (now KMC Music Inc.), the largest independent U.S. distributor of musical instruments and accessories.
For more information:
Fender
Source: Press Releases
Looking for more great gear for the guitar player in your life (yourself included!)? Check out this year's Holiday Gear Finds!
Outlaw Effects introduces their next generation of NOMAD rechargeable battery-powered pedal boards.
Available in two sizes, NOMAD ISO is a compact, versatile tool that offers the convenience of a fully powered board plus the additional freedom of not having to plug into an outlet. NOMAD ISO is ideal for stages with limited outlet availability, quick changeovers, busking outdoors, temporary rehearsal locations, and more!
NOMAD ISO builds upon the legacy of the ultra-convenient and reliable NOMAD rechargeable pedalboard line originally launched in 2018. The brand new NOMAD ISO editions feature eight isolated outputs (1 x 9V DC, and 1 switchable 9V/12V DC) for even more versatility and clean, quiet power. With an integrated lithium-ion battery pack boasting 12800mAh capacity, NOMAD ISO can fuel a wide array of pedals, and will last over 10 hours* on a single charge.
Each NOMAD ISO pedal board includes adhesive hook & loop pedal-mounting tape, eight (8) standard DC connector cables, and one (1) reverse polarity DC cable, giving you everything you need to build your ultimate "off-the-grid" rig. A rugged, road-ready padded gig bag with shoulder strap is also included, to safely protect your gear while you're on the move.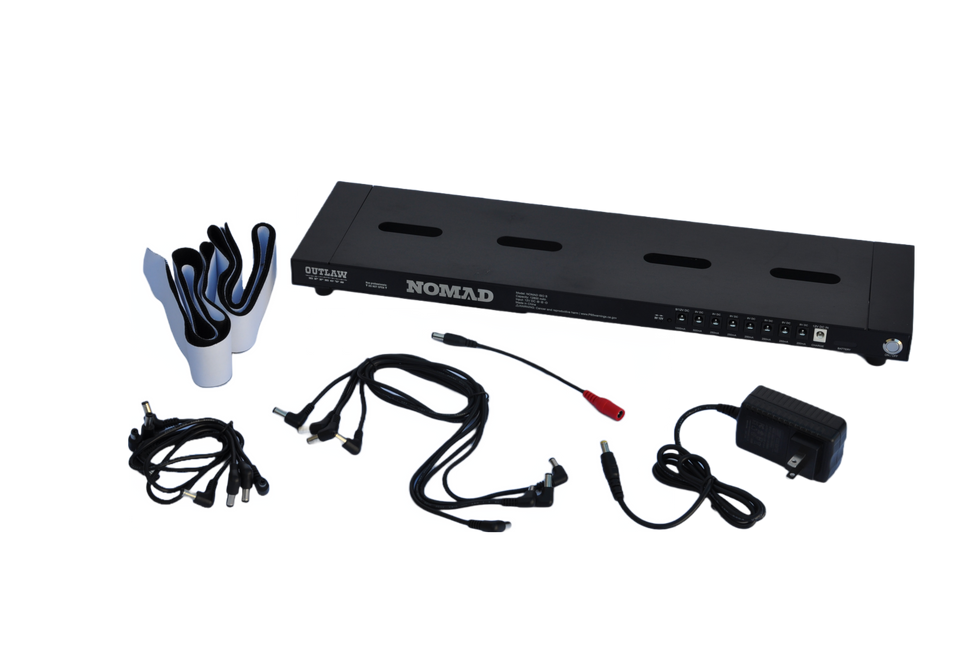 Dunable announce new Minotaur model featuring Grover Rotomatic Keystone tuners.
The Minotaur's DNA is rooted in their classic Moonflower model, which Dunable discontinued in 2017. However, they have long since wanted to create a fresh take on a carved top guitar design, and various attempts to rework the Moonflower led them to a brand new concept with the Minotuar.
Dunable's goal is to give the player a guitar that plays fast and smooth, sounds amazing, and gives maximum physical ergonomic comfort. The Minotaur's soft and meticulous contours, simple and effective control layout, and 25.5" scale length are designed to easily meet this criteria.

Dunable Minotaur!
Features
25.5" scale length
Dual Humbucker
one volume, one tone, push pull for coil splitting
Grover Rotomatic Keystone tuners
Grover Tune O Matic bridge with brass Kluson top-mount tailpiece
jumbo nickel frets
12" fretboard radius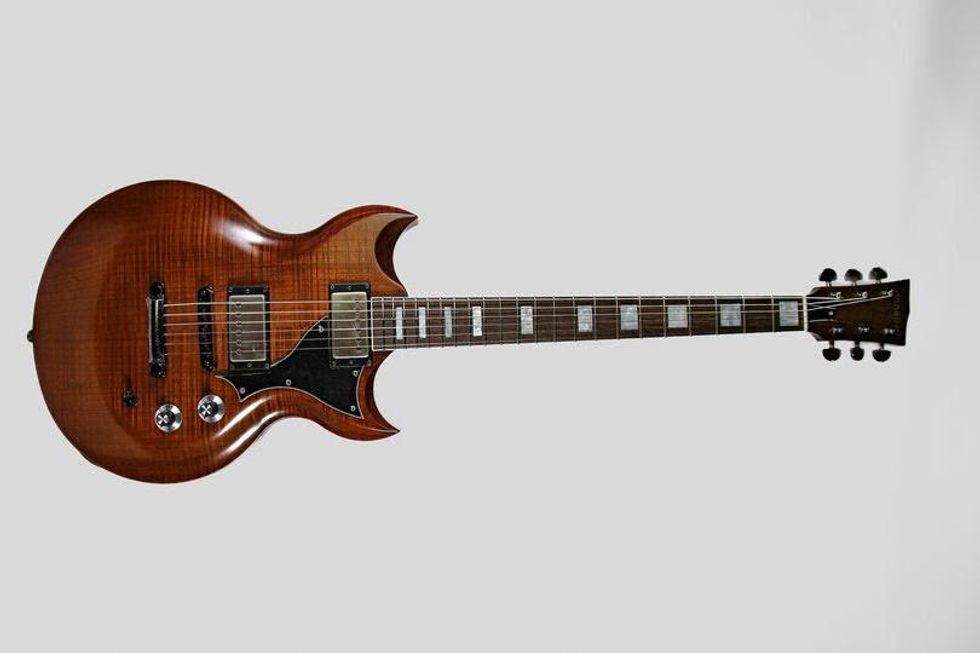 Dunable
This full-amp-stack-in-a-box pedal brings a new flavor to the Guitar Legend Tone Series of pedals, Missing Link Audio's flagship product line.
Adding to the company's line of premium-quality effects pedals, Missing Link Audio has unleashed the new AC/Overdrive pedal. This full-amp-stack-in-a-box pedal – the only Angus & Malcom all-in-one stompbox on the market – brings a new flavor to the Guitar Legend Tone Series of pedals, Missing Link Audio's flagship product line.
The AC/OD layout has three knobs to control Volume, Gain and Tone. That user-friendly format is perfect for quickly getting your ideal tone, and it also offers a ton of versatility. MLA's new AC/OD absolutely nails the Angus tone from the days of "High Voltage" to "Back in Black". You can also easily dial inMalcom with the turn of a knob. The pedal covers a broad range of sonic terrain, from boost to hot overdrive to complete tube-like saturation. The pedal is designed to leave on all the time and is very touch responsive. You can get everything from fat rhythm tones to a perfect lead tone just by using your guitar's volume knob and your right-hand attack.
Features 
Three knobs to control Volume, Gain and Tone
Die-cast aluminum cases for gig-worthy durability
Limited lifetime warranty
True bypass on/off switch
9-volt DC input
Made in the USA
MLA Pedals AC/OD - Music & Demo by A. Barrero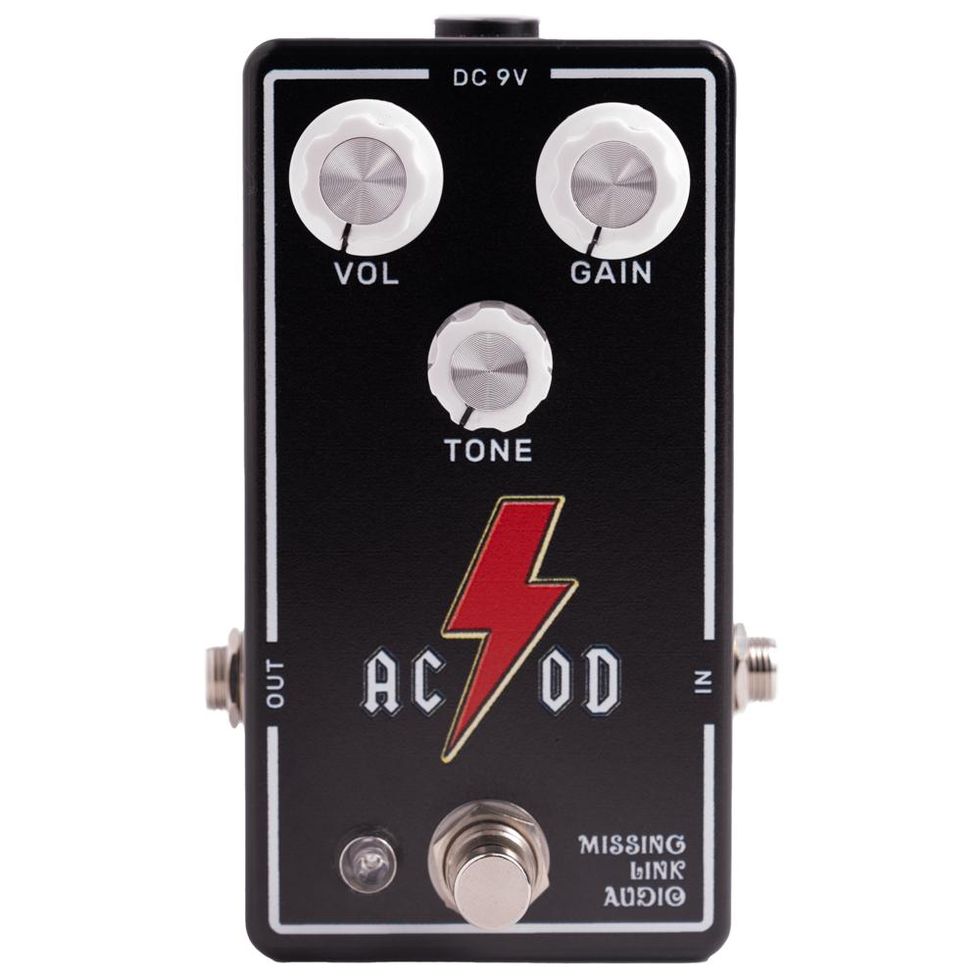 www.mlapedals.com.