Find Em', Keep Em', Tweak Em'
Don''t let your old guitars gather dust!
While my PRS McCarty is my favorite stage guitar, I have several others on the road and off the road that I love to play as well. When I have a break from touring I like to get out some of the guitars that I don't use on stage and put some miles on them too. Call me freaky, but I also enjoy changing strings and polishing them. I find it arduous to tour and not be as hands-on with my instruments as I was when I was playing clubs and teen dances as a kid. It's like driving your car but never looking under the hood. I think it's only right to have an intimate knowledge of your instrument and not just have it handed to you moments before you take the stage.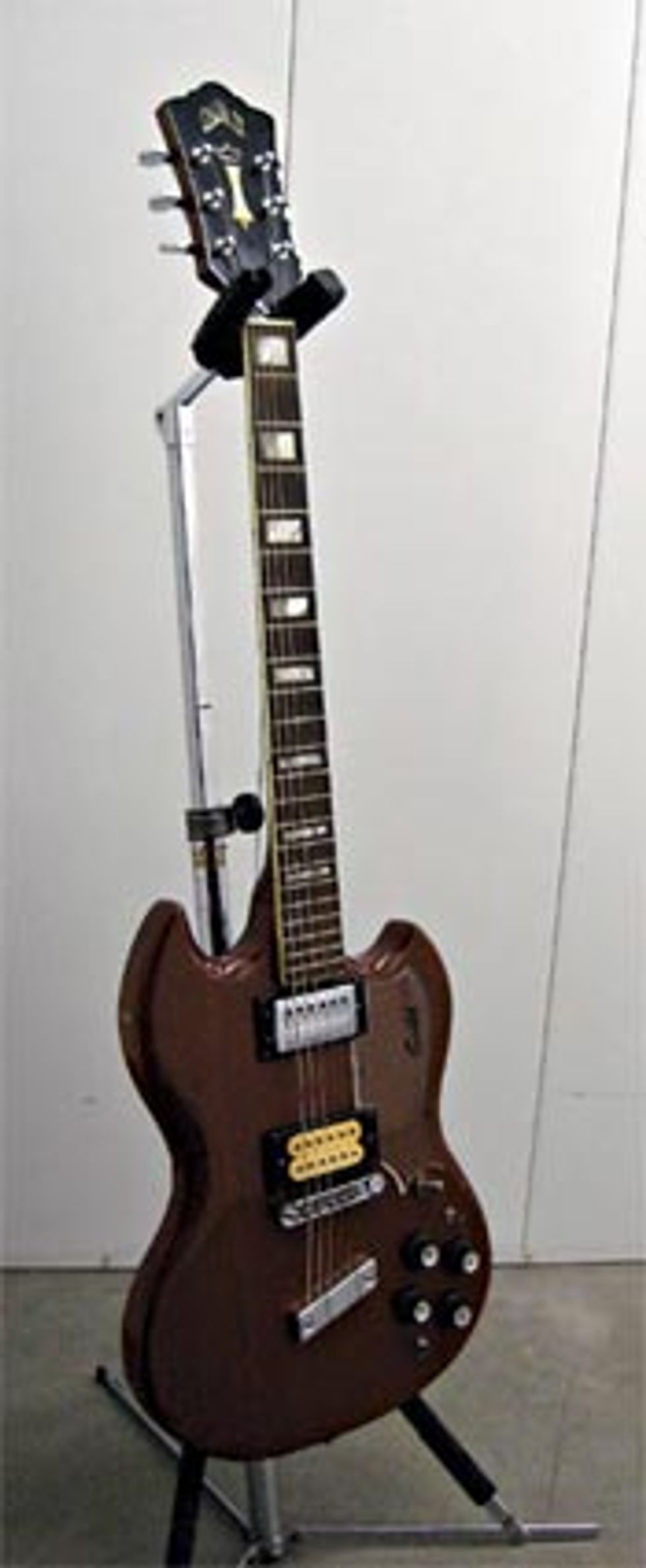 The tried-and-true Guild S-100
I've been working on my new CD for a little over a year now. Due to my tour schedule, I've reluctantly had to put it on a back burner a number of times. With a little luck and hard work I hope to have the new creation available to purchase very soon. One night while tracking I was ready to take a short break. I shut down my recording rig and set my Kustom combo to standby. When I went to put my Les Paul in the guitar rack, I caught a glimpse of my old Guild S-100 electric sitting in the corner. I picked it up from a small mom and pop music store in Hyattsville, Maryland over 30 years ago. I used to take lessons there, and it was my first "good" electric. I would see it hanging on the wall and dream of the day that I could play well enough to possess such a fine instrument!
Although I've acquired a number of guitars since then, I still have a fondness for the old Guild. The wide/flat neck gave it a completely different feel than any other guitar that I've ever owned. It was the only guitar that I played from the time I was 13 until I was 21. I think the chord progression to "Smoke on the Water" is worn into the fretboard! I now have it set up for slide, and it came in handy when I played with Shania Twain as well as in the studio. This particular night I picked it up and started messing around with a melody combining slide and fretted notes and created a cool sound that became the melody line for a tune called "Redshift 6.4" that will be on the new CD. It's one of those unique sounds that I would never be able to play live without using that particular axe. So it looks like the ol' S-100 has earned its keep for another year!
I also decided to cover the Champs' "Tequila" on this project. For this song I never thought twice about what guitar to use. I cracked open my Gibson Country Gentleman. With its oversized body and Bigsby tailpiece, I knew that it would be the perfect guitar to capture the vibe on that track. Although I was going for a more modern and up-to-date version of the song, I still wanted a bit of a retro, late-sixties, early-seventies flavor to the lead track. I plugged the Gent. into my 1977 Music Man HD-130 half stack, tweaked the gain a bit to drive the tubes but not get too dirty and I had my sound.
Being as closely connected to the country market as I am, I made a serious error in judgment by not having anything that was remotely "country" on my first effort. To correct this, I concocted a speedy but modest number called "Chicken Fingers," which is a chicken pickin' thing in the vein of Brent Mason or Brad Paisley. Whenever I delve into that kind of playing my guitar of choice is my U.S. Masters Super T. Although it has a Telecaster body, it's equipped with dual humbuckers and ready to rock! It gave me an edgier tone than one would expect on a country song but hey, that's me all over!
Guitars don't like to sit in the closet. They were meant to be played. My happiest guitars are the ones that get out in front of the crowds night after night. So next time you have a chance to play, think about grabbing one that you haven't messed with in a while and show it some love. Change the strings, polish it up and take it out for a spin. Most of all whether your collection consists of one guitar or 40, be sure to play them all now and then. It might just inspire you to write a new song or come up with a cool riff that you wouldn't have on any other guitar!
Most of all, keep jammin'.
---
Rich Eckhardt
Rich Eckhardt is one of the most sought after guitarists in Nashville. His ability to cover multiple styles has put him on stage with singers ranging from Steven Tyler of Aerosmith to Shania Twain. Rich is currently playing lead guitar with Toby Keith. His album Soundcheck is available now, with another due this summer.
richeckhardt.com