From the Floor: Dean Dime Amps, 65Amps Lil' Elvis, DBZ, Parker Adrian Belew, & More
New stuff from Day 1 of NAMM
Anaheim, CA
(January 15, 2008) -- We're more than halfway through the first half of the first day of NAMM '09 and have some exciting new products to share. We've seen a few mid-priced high-end pieces pop up, and we're hoping that the trend continues. As usual, there's tons of artist signature stuff to be had, and a few technological advancements as well.
We're busily editing our videos so you can see and hear the gear yourself, but until then, check out some of the things that we've seen so far.
65Amps - Lil' Elvis

65Amps was debuting their Lil' Elvis, based on a vintage amp prototype from an amp manufacturer that they preferred not to name. It's a 12-watt amp that can be scaled down to two watts without losing any substance -- we have a video of this on its way. It's also 65Amps' first model that will be available for under $2000, which, though not inexpensive, is a bit more affordable.
Dean Guitars - Private Stash, Dime Amps, USA Models

Last year, Dean Guitars began producing all of their USA models in their Florida factory. They've really fell into a stride with this production, making for a huge rollout of USA models at reasonable prices. We were definitely checking out the USA 74 and 84 superstrats, now available in exotic woods like Zebra Wood and Lacewood. The non-exotic wood USA version is set to street at $999, setting a pretty attainable price point.
Of course, for those with unlimited income, Dean was also showing off some incredible one-offs called the Private Stash. These were exactly what you'd expect from something called Private Stash -- over-the-top wood, wooden pickup bobbins, gorgeous finishes, and a price tag in five figures.
Dean's signature offerings were stacked. Michael Shenker had a very classy USA Michael Shenker Signature Yin Yang, which features Michael's typical black/white color scheme done with alternating maple and ebony that extended to the top, neck, inlays and even bobbins.
There was also a new USA Leslie West Signature 40th Anniversary, commemorating the 40th anniversary of Woodstock. This one features a Leslie West Peace inlay made of ebony, paduk, mahogany and Mother of Pearl, Leslie West signature neck inlays, and a AAAAA quilted maple top. Limited to only ten pieces, it's set to street at a surprisingly inexpensive $3999.
One of the highlights of Dean's booth was the Dime amps. Dean CEO Elliot Rubinson said that despite all of the new guitars this year, the amps were his personal highlight. Dean worked with Dimebag Darrell's techs to get the specs and sound of the amp that Dime used for over a decade. The controls on the amp area ll also labeled with Dime's tech's handwriting, to mimic Dime's own. We'll have a video demo up soon of the amps played with the Buddy Blaze ML, which also made its official debut at the show.
DBZ Guitars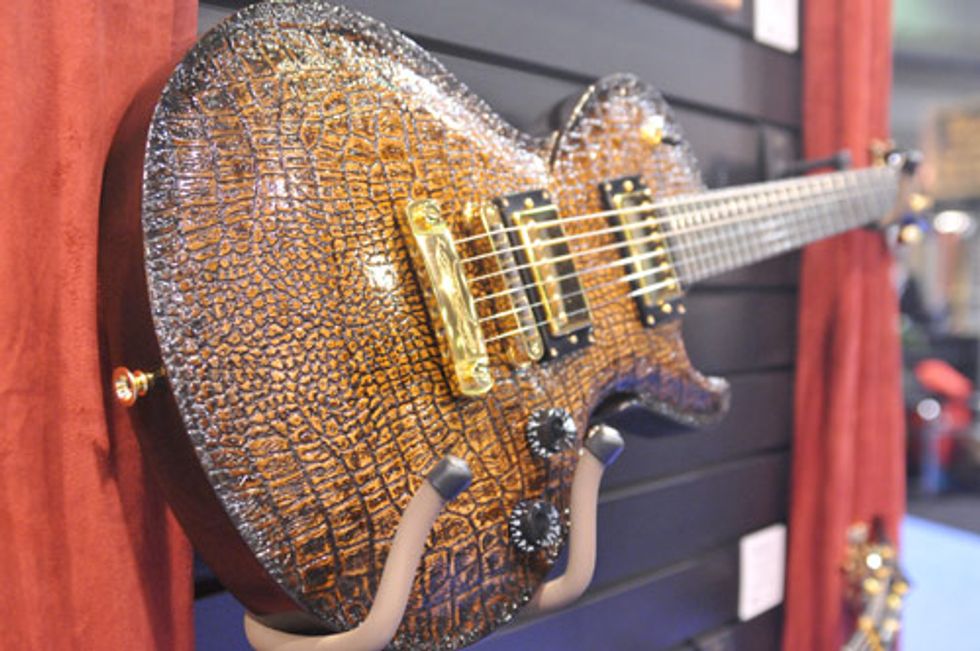 Across the convention hall, Dean founder Dean Zelinsky rolled out his entire new company, DBZ Guitars. He brought all of the models on the company's new website (
see our story about it
), and they looked spot on to the graphic renderings on the site. DBZ's guitars range from high-end to more entry-level affairs, so all of their bases were covered. Pictured: USA DBZ Crocskin Bolero
Parker Guitars

Parker had a few really cool new Flys, including the long-awaited MIDI-equipped Fly and Adrian Belew models. The Adrian Belew (pictured) was packed with features, from the Sustainiac Stealth PRO neck pickup, which piles on the sustain, to built-in Line 6 Variax technology. The Variax component was built into a little knob with 25 names on it; pull the knob out, twist to the tone you want and push it back in. The guitar also has a unique RMC bridge and saddle configuration.
The Fly Mojo MIDI Guitar features a Roland GK-KIT-GT3 Divided Pickup kit and comes in bright yellow. It also features Seymour Duncan Jazz pickup at the neck and JB at the pridge, along with an exclusive Fishman Piezo electronics system.
Parker also unveiled their first new USA-made shape since the Fly some 16 years ago: the Single Cut Series.
Randall Nuno Bettencort Signature
Randall debuted the Nuno Bettencort signature amp. But don't worry, this one will be priced in reach, unlike the over-the-top $10,000 Kirk Hammett rig from last year.
Also, Randall showed off an addition to its modular system with space for 12 -- yes, 12! -- modules.
Washburn George Lynch, Stu Hamm signature acoustics
Washburn had a number of new signature models, but the George Lynch signature jumbo acoustic caught our eye with its Stephen Jensen evil western graphics. The guitar also features a neck built to George's specifications.
For bassists, Washburn had a new Stu Hamm Signature Acoustic bass, with a unique fully intonatable bridge, allowing for fine tuning. It also featured bass clef yin-yang inlay designed by Stu.
Bigsby Vibramate
Bigsby's back in a real way this year, and the company was showing off a new way to install a Bigsby system without gouging into your guitar. We watched them literally install it in a few minutes, and though it doesn't look quite as slick as a traditionally-installed Bigsby, it certainly wins points for ease of use.
Others

Here's some eye candy of some gear we don't have all of the details on just yet, but watch for more coming up soon!

Nik Huber Guitars Hollowbody



Diamond Amps



Jaguar Bass Amp



Roland V-Bass VB-99



The ACTUAL Stonehenge Prop from This is Spinal Tap (courtesy of 65Amps)



Ibanez Paul Gilbert PGMFRM1



Ibanez Paul Gilbert Signature Airplane Flanger



ZVEX Effects