GALLERY: PG Reader Pedalboards 2012, Part 2
See even more of PG''s pedalboards!
"Nataly Rocha is using a custom DNA Pedalboard with her own design on the hard case. She says this combo рnever fails, always rocksс for her when she plays her рrock grunge power jaja.с She uses a Carl Martin Plexi tone, Marshall Jackhammer, Boss Turbo OD, Electro-Harmonix reverb, TC Electronics PolyTune, Cry Baby Wah, Boss autowah, Boss flanger, Boss NS-2, Boss digital delay, Joyo Tremolo, and a рboutique phase pedal without brand but awesome sound.с"
" рSymphonic Power Metal Greetings from Bangladesh, South Asia, and from my band De-illumination,с writes Sazzad Arefeen. His pedalboard uses a T-Rex Chameleon Power Supply and a Morley Kiko Louriero Distortion Wah Volume pedal, and then it gets complicated. His Boss NS-2's loop is a Boss LS-2. Send A has a Boss CS-2 and Electro-Harmonix Neo Clone, while Send B has a Boss SD-1 Super Drive and Electro-Harmonix Metal Muff. Then heуs got a TC Electronic PolyTune mini and a Boss GE-7 EQ, T-Rex Reptile 2 Delay, Electro-Harmonix Deluxe Memory Boy, and an Electro-Harmonix Holy Grail Plus."
"Alexandre Alliprandini uses a Vox V845 wah, Ibanez TS808 Tube Screamer, MXR Zakk Wylde overdrive, Xotic RC Booster, Line 6 DL4, and a Boss TU-2, powered by a Fonte Landscape PS16."
"Zachary Klokkenga's pedalboard features a Boss RC-3 Loop Station, Fulltone OCD, Fulltone 70-BC Fuzz, MXR Dyna Comp, Dunlop Cry Baby, Electro-Harmonix Holy Grail Nano, MXR Carbon Copy Analog Delay, and VFE Old School Tremolo. "
"On Mark Trottier's board is a Maxon Compressor, Source Audio Soundblox Tri-Mod Wah, EBS Octa-Bass, Maxon Graphic Equalizer, TC Electronic PolyTune, Boss DD-20 Giga Delay with DMB Tap That for Tap Tempo, Line 5 M5, and Electro-Harmonix Bass Big Muff Pi. "
"Affen Dunstan PederZen, rhythm guitarist and vocalist for MOLS, which he calls ""a melancholic pop-rock band,"" is a self-professed effects junkie who runs this board into a Vox AC15 Custom. The pedals are a Boss TU-2 Tuner, a Behringer DC9 Compressor (""I rarely use this this since I rarely play clean parts""), Boss AC-2 Acoustic Simulator (which he say's he's ditched in favor of an acoustic guitar), Boss OD-1 Overdrive (used for ""pretty much everything rhythmic""), Boss DS-1 Distortion (for playing leads ""which is not very often""), Electro-Harmonix Little Big Muff, Boss CH-1 Super Chorus, (""for some sparkle""), Boss NS-2, DigiTech DigiDelay, and a Line 6 Verbzilla (often combined with the DigiDelay ""for those Edge-ish moments""). "
"Ben Winn starts his рNoise Boardс signal chain with a Bukowski dual fuzz (Culturejam Logic and a Hyperion) and MI Audio Boost nу Buff into a Saturnworks Feedback Looper. In the loop heуs got a Dunlop Rotovibe, DigiTech Expression Factory, Cry Baby Wah, Boss PH-3, Ibanez DL10, Hartman Rat, and an Ibanez Compressor II. His signal goes out of the loop and into a Boss OC-3 Super Octave, Earthbound Audio Supercollider, EarthQuaker Devices Monarch, Bukowski distortion (Culturejam circuit of an improved Lovepedal Superlead) CMATMODS Deeelay, and a Boss Loop Station."
"Ruben Baculo from the Philippines shares his present live set-up: ""I'm using an Artec AWP-7 for wah effects, then straight to my DigiTech PDS 1550 (that big yellow thing besides the wah pedal) for my main drive/distortion, and on to the Vox ToneLab ST for preamp modeling, other mod effects, and most importantly tuning. From there the signal goes to a Behringer Spectrum Enhancer, that small yellow stomp above the Vox Tonelab, a sound enhancement effect pedal that will help improve my tone,с Baculo says. рAnd lastly that little blue thing besides the spectrum enhancer is NUX Guitar Equalizer GE-7 that will help boost my tone by equalizing each range.с "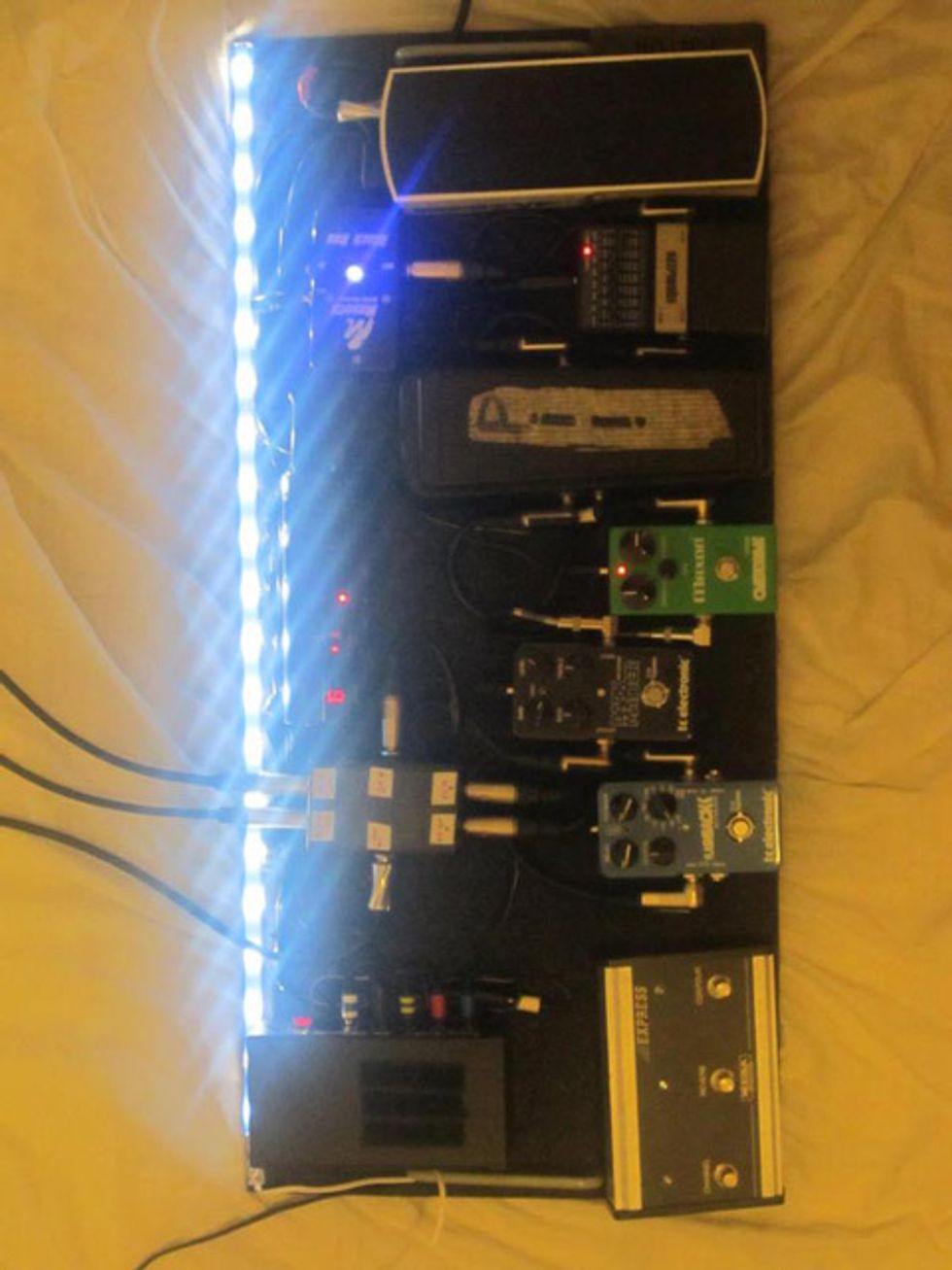 "Paolo Pintonуs main pedalboard has an Ernie Ball Volume pedal, Masotti Black Box Buffer, Arion Graphic EQ, Dunlop Cry Baby (TB modified), Maxon OD808, TC Electronic Dark Matter Distortion (to a Mesa/Boogie Express 5:50), TC Electronic Flashback Delay, Korg DT7 Tuner, and a Bespeco PS-50 Power Supply."
"Andrew Stoddard rigged his board from an Ikea ""Gorm"" wooden shelf. He generally plays rock, рanything from indie to metalс with the following effects (top left to right but not necessarily in chain order): Boss CE-5 Chorus Ensemble, Boss GE-7 EQ, Boss ML-2 Metal Core, CMATMODS Signa Comp, Boss TU-2 Chromatic Tuner, Mesa/Boogie Mark V footswitch, DigiTech JamMan Looper, Boss DD-6 Digital Delay, and Boss BF-3 Flanger. "
"Martin Forster uses a MOEN Effects Loop System to control his board, which consists of an Artec Analog Delay, TC Electronic Flashback Delay, Electro-Harmonix Stereo Electric Mistress, Electro-Harmonix Germanium 4 Big Muff Pi, Korg Pitchblack tuner, Boss FV-50, Electro-Harmonix POG2, and Fulltone OCD. "
"Colin Murray's pedal setup has the following effects in front of the amp: TC Electronic PolyTune Mini, Dunlop CAE Wah, Electro-Harmonix Micro Pog, Boss FB-2 Feedbacker/Booster, Suhr Koko Boost. Electro-Harmonix Freeze, T-Rex Gristle King, Suhr Jack Rabbit, and Whirlwind Orange Box Phaser. In the amp's effects loop is the Visual Sound Liquid Chorus, Morley Volume Pedal, TC Electronic iB Modified Nova Delay, and TC Electronic Hall of Fame Reverb. "
"Ian Swope's Home Depot shelf kit-turned-pedalboard is loaded with a Morley Optical Volume pedal, GFS Electronics Chromatic Tuner, Dunlop Cry Baby wah, Electro-Harmonix Big Muff Pi, Z.Vex Box of Rock, Z.Vex Fuzz Factory, and an Ibanez TS9. "
"Steve McGinniss built a custom cover that snaps over his pedalboard for easy transport. Hereуs whatуs under the cover: Samson Airline Wireless, Boss MT-2 Metal Zone, DOD Overdrive 250 (modded with new op-amp, germanium diodes, true bypass, and LED), DOD FX10 Bi-FET (true-bypass boost), Marshall footswitch (controls JCM900), Line 6 POD HD500. "
"Zach Allard says, ""I really only use delays and overdrives"" on his pedalboard, which consists of a Sonic Research strobe tuner, Diamond Compressor, MXR Boost/Line Driver, Xotic RC Booster, Ibanez TS9 (""with some magic under the hood""), MXR Custom Badass Modified O.D., Diamond Memory Lane, Boss DD-7 Digital Delay, Boss RV-3 Digital Reverb/Delay, and a Roland EV-5 used as a regeneration control for the Memory Lane."
"This pedalboard was made out of an old skateboard by Jace Ramos in the Philippines. His live rig consists of a Boss CS-2, MXR ZW-44 Wylde Overdrive (рto boost my signal during solosс), Boss BD-2 Blues Driver (рmy main dirt pedalс), Boss GE-7, and a Joyo Noise Gate pedal. рI also use a Snark clip-on pedal, which when not in use is clipped at the pedalboard's handle so that I will not lose it,с Ramos says."
"Jay Robinsonуs current pedalboard has a Dunlop Cry Baby, TC PolyTune, Boss CS-3, Ibanez TS-9, Dunlop Fuzz Face JDF2, Vintage Univox Micro Fazer, Ibanez FL-9, Wampler Faux Tape Echo, Morley X/Y, Fender Deluxe Reverb Reissue, Epiphone Valve Junior head/cab."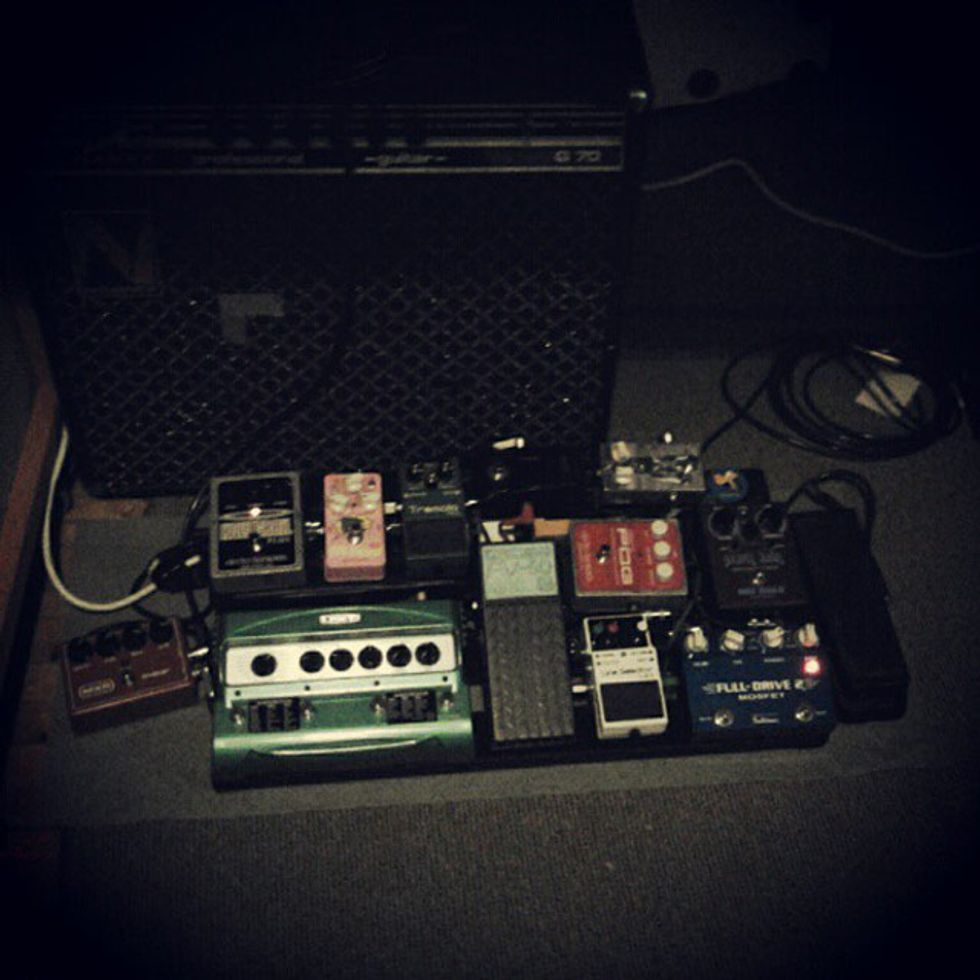 "As guitarist for the alt-rock band The Melting Snowmen, Ian Wijnen's pedalboard goes from the guitar into a Dunlop Cry Baby wah, рhandmade babyokapiFUZZ,с Fulltone Full-Drive, and Way Huge Pork Loin into a Boss LS-2 Line Selector. From the LS-2's send, thereуs an Electro-Harmonix Micro POG, Boss TR-Tremolo, Byang Analog Delay, Line 6 DL4, and Electro-Harmonix Holy Grail Plus. From the LS-2's return the signal goes to a Boss FV-50 volume pedal, Korg Pitchblack tuner, and an MXR Limiter before heading off to an Orange TH30 head and 2x12 cab."
"Housed in a kitschy old suitcase, Gabriel Dominguez's pedalboard consists of an MXR Blue Box, DigiTech Envelope Filter/Auto Wah, DigiTech Metal Master, DigiTech Bad Monkey, and a Danelectro FAB delay pedal, all Velcro-ed onto a dry erase board. He says, ""This is the current order of pedals, but it always changes depending on how much noise I need to make."""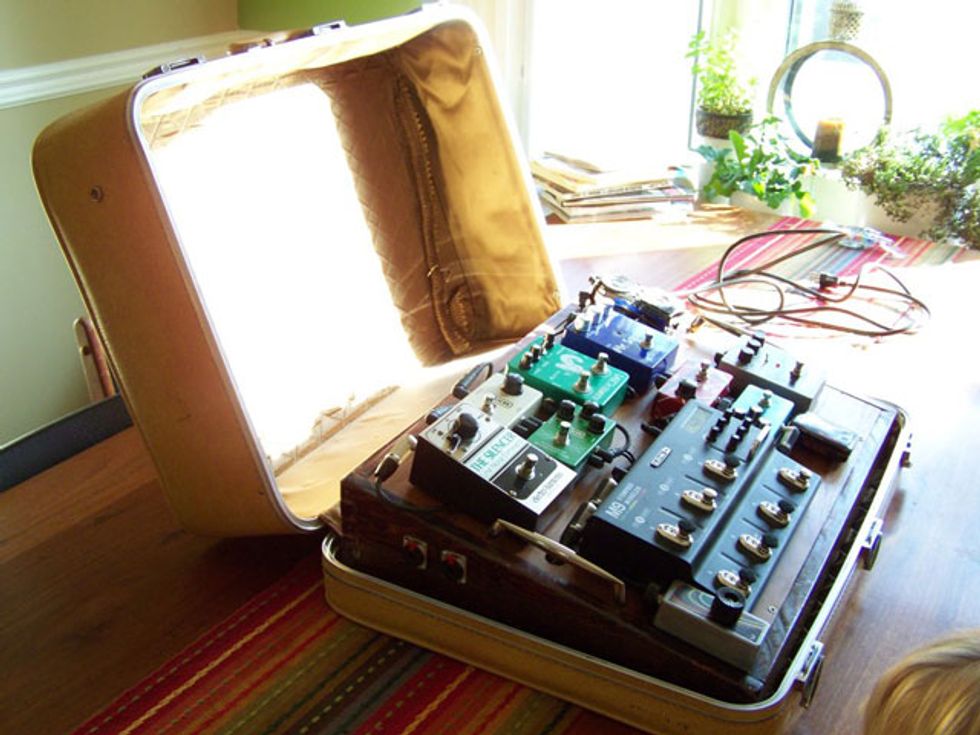 "Gavin Jones also houses his pedalboard in a vibey old suitcase. His signal goes into a Planet Waves Chromatic Pedal Tuner, Toadworks Mr. Squishy Compressor, Joyo Ultimate Octave, MXR M-66 Classic Overdrive, MXR Micro Amp, Electro-Harmonix The Silencer Loop, Electro-Harmonix Pulsar, MXR EVH Phase 90, Rogue Analog Delay, Electro-Harmonix Nano Memory Toy, and Line 6 M9 with Saturnworks mini expression."
"Pedro Venegas put together this board with a modded Arion Stereo Chorus, Line 6 DL4, TC Electronic PolyTune, Dunlop CAE wah, Vemuram Jan Ray, Klon Centaur, and Proco Rat."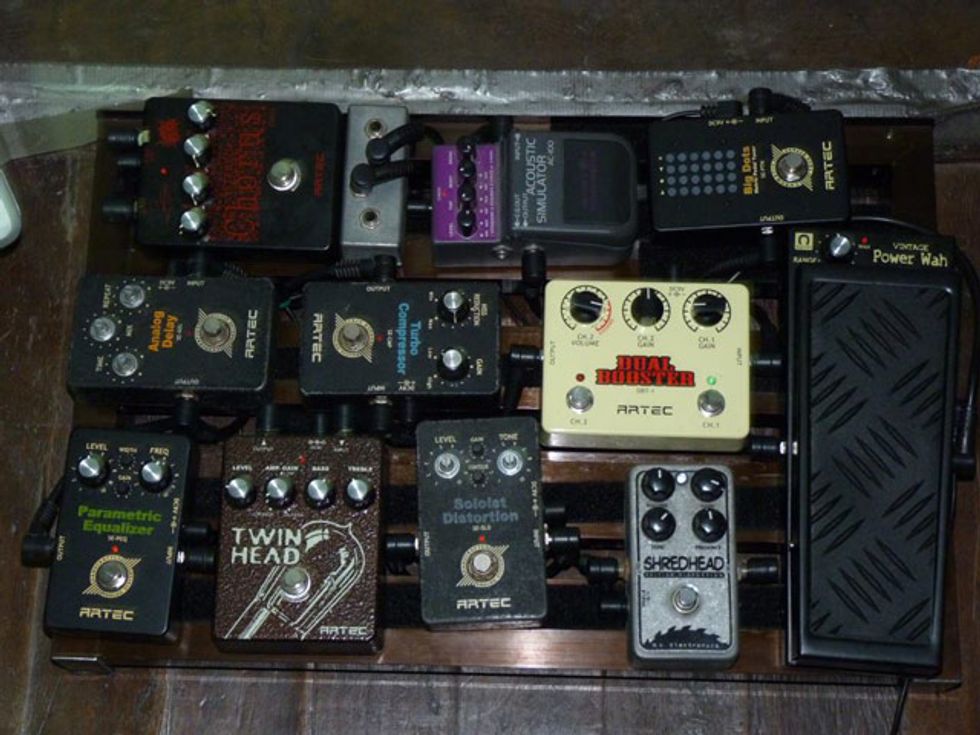 "12-year-old guitarist Luis Galang's board is loaded with Artec pedals, including the company's Parametric Equalizer, Twinhead Distortion, Soloist Distortion, Vintage Power Wah, Dual Booster, Turbo Compressor, Analog Delay, Stereo Chorus, and Big Dots Matrix Pedal Tuner, in addition to a Beta Aivin AC-100 Acoustic Simulator and an MV Electronics Shredhead."
"This pedalboard signal path starts with a tuner, then goes to an MXR Micro Chorus, MXR Phase 90, and MXR Smart Gate to the front of amp. Then the FX loop send goes to a Boss FL-9 Flanger, Boss DD-7 Digital Delay, then FX return. рNext on the list is a Maxon OD808 or OD9, then finally a Boss Harmonist,с he says."
"Dan Sidoli says these pedals work good with all styles of music: Zakk Wylde Wah and OD, Xotic EP Booster, Boss DD-3, MXR EVH Phase 90, Danelectro Chili Dog, Electro-Harmonix Voice Box. "
"Jesse Beauchamp uses two pedalboards, wet and dry, with his rig. The signal chain for the dry board (right) is an original Fulltone, Electro-Harmonix H.O.G and 6-way controller/expression pedal, Electro-Harmonix Q-Tron+, FullTone Full-Drive 2. Way Huge Pork Loin, first year Ibanez TS9, Analog Man-modded Ibanez TS9 reissue, modded Ross Distortion, Analog Man Bi-Compressor, Fulltone Clyde Standard wah (modded with red Fasel inductor from Dallas Arbitor Wah Baby), Boss Stereo Volume (with Korg OT-12 tuner in tuner out. The path then takes a mono line to his wet board (left) with the following signal chain: Electro-Harmonix Memory Man with Hazari left out to a Ross Stereo Delay, FoxRox ProVibe with handle #35, right to a DLS Roto Sim, treble horn out to a modded Vox AC30CC head. Bass drum out of the Roto Sim goes to a Boss RC-20 looper into a Radial Big Shot passive ABY left to a Music Man Sixty Five Reverb head and right to 1979 Fender Deluxe Reverb 112. The wooden box between boards with button relay is speed control for a Type 147 Leslie with missing power supply. Rock on."
"Terry Gann from Kansas City has an intricately rigged pedalboard with handles on both ends that was built to fit a 61-key synth road case. He covered the top of the board entirely in Velcro. The modular system uses various wood block рpedestalsс with Velcro on both sides to build рstair stepsс to adjust a pedalуs height. Gann used L brackets from Home Depot to make hollow squares that are held down with a single screw. рThese are used like the wood blocks in locations where a cable needs to pass directly underneath a pedal,с he says. Gannуs pedal signal path is as intense as his boardуs design: Ernie Ball volume pedal, TC Electronics PolyTune, BBE Ben Wah, Source Audio Programmable EQ, Barber Tone Press Compressor, Modtone Fuzz, Hardwire SC-2 Valve Distortion, Barber Dirty Bomb, Hermeda Audio Tiki Drive, enter CheeseBlocks true-bypass switcher, Micro Pod, Ibanez Flanger, Way Huge Pork Loin and Lovepedal Gen5 echo, Ibanez Tubescreamer, DLS Versa Vibe, Cusack Tap-a-Whirl, DigiTech TimeBender. The Nose+ located in bottom left corner controls Versa Vibe speed and TimeBender parameters. Exiting the bypass switcher to the Visual Sound Liquid Chorus, Hardwire RV-7 Reverb and out to a Mesa/Boogie Nomad (Nomad footswitch also on pedalboard)."
"Facebook reader by the name of ""Fuz Zy Brown"" uses this board for funk, rock, jazz, bluegrass, prog, and really any type of music. He says, ""With the right guitar, this rig will do almost anything."" The pedals are set up with a Gig Rig switcher that lets him assign any combination of the six loops of the eight switches. The signal path is a wah into a Korg Pitchblack tuner, Analog Man Dual Delay with a flanger applied to the wet signal. Everything else is on its own loop: a Mu-Tron III, Boss Chorus Ensemble, Electro-Harmonix POG, Voodoo Lab Micro Vibe, Boss OD-1 Overdrive, and ProCo Rat."
"Andre Netto's rig has a Line 6 MM4, Xotic EP Booster, Xotic AC Comp, Hermida Zendrive, TC Electronic Polytune, TC Electronic Flashback, TC Electronic Hall of Fame, Electro-Harmonix Talking Machine, Electro-Harmonix Crying Tone, Ernie Ball 6180 Volume pedal, and a Moen GEC9 EFX Routing System. рMy next addition will probably be TC's Flashback X4,с he mused."
"рThis is my current setup,с says Maxwell Eichhorst, who changes it up often but likes whatуs happening here. His рmain squeezeс Line 6 M9 Stompbox Modeler (only used for modulation effects) and a Boss DD-20 are both in the effects loop. He also uses a DigiTech Main Squeeze and an Electro-Harmonix Big Muff."
"Matt Wellendorf plays in the bands North of Grand and Left is West and uses these pedals in front of a 1964 Fender Bassman, primarily with a Gibson Les Paul. He explains, ""I use the Barber Direct Drive Super Sport for my main overdrive and the MXR Micro Amp for solos and a more mild OD. I use the Fulltone Supa-Trem, Boss RV-5 Digital Reverb, and MXR Carbon Copy Analog Delay pretty sparingly, but they do get used when needed. Oh, I should add ... the Voodoo Lab Pedal Power 2 Plus paid for itself within six months."""
"Frederik Nielsen's board consists of a Dunlop Cry Baby wah, DigiTech DigiDelay, TC Electronic Flashback, DigiTech Hot Head, a standard tuner from a local music store, and a DigiTech Screamin Blues."
"Derrick Dove is pretty excited about pedal pad pedalboard. His signal chain starts with a Vox wah, then goes to a Klon Centaur, Maxon OD-808, Red Witch Moon Phaser, Analog Man Chorus into a Nick Greer 3-way split. Path one goes into the Joe Bonamassa Fuzz Face then into a Marshall JCM900 with the Way Huge Aqua Puss in the effects loop. Path two goes into a 1982 Marshall JCM800,and path three goes to the tuner. рThen we have a Sony clock for set times and Quagmire! Giggity!с "
"Paolo Pinton also has a рbackup pedalboardс with a Korg Pitchblack clone tuner, Tech 21 XXL Ibanez TS5 Overdrive (modified in TS808), and an Akai Analog Delay."
"Steve Guadiz's signal chain starts with a TIM buffer (under board) and goes into a Korg Pitchblack tuner, Morley Maverick Mini Wah, DigiTech Whammy IV, Electro-Harmonix Micro POG, Ibanez AF2 Airplane Flanger, MXR EVH Phase 90, Creation Audio Labs Holy Fire, Creation Audio Labs Mk 4.23 boost, and an Analog Man-modded Boss TR-2 Tremolo into his amp. In the amp's effects loop is the Morley Mini Volume, MXR Smart Gate, Boss DD-20 delay, and Electro-Harmonix Holy Grail Nano Reverb. The larger black footswitch is for his Ho Attenuator and the mini switch switch is TIM tap tempo for delay."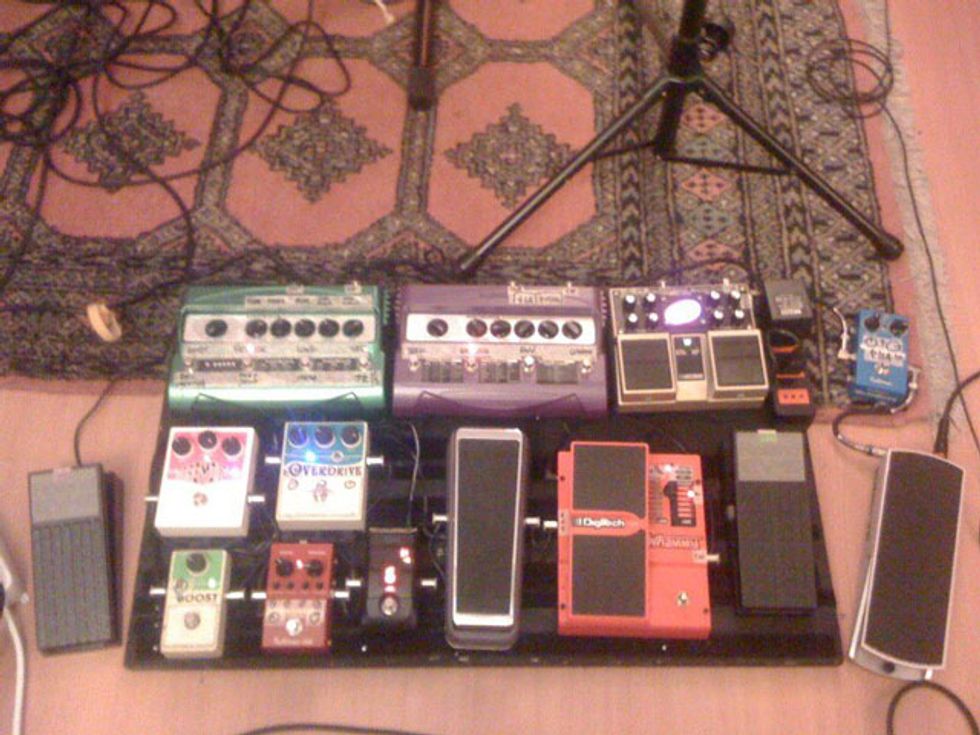 "рCiao!с says Francesco Villa from Italy. His signal goes like this: Dunlop Volume Pedal, Fulltone Octafuzz, Line 6 FM4 (and a Boss EV-5), DigiTech Whammy, Budda Wah, Korg Pitchblack, Fulltone Distortion Pro (sometimes Fulltone OCD), VDL Professional Analogics Loverdrive, VDL Tremolo, VDL Boost (рAwesome Italian pedals, you'll find them in Carl Verheyen pedalboardс), Boss RT-20, Line 6 DL4 (and a Boss EV-5) then into a THD BiValve. рAll of this for a loud trio of 1/3 funk, 1/3 jazz, 1/3 everything else,с Villa says."
"Charles M. Rafael Jr.'s board has a Boss TU-2 Tuner, MXR Dyna Comp, Ibanez TS808H Tube Screamer, MXR Doubleshot Distortion, MXR Ten Band EQ, DigiTech Synth Wah, Eventide ModFactor, Line 6 DL4, and Electro-Harmonix Holy Grail Plus."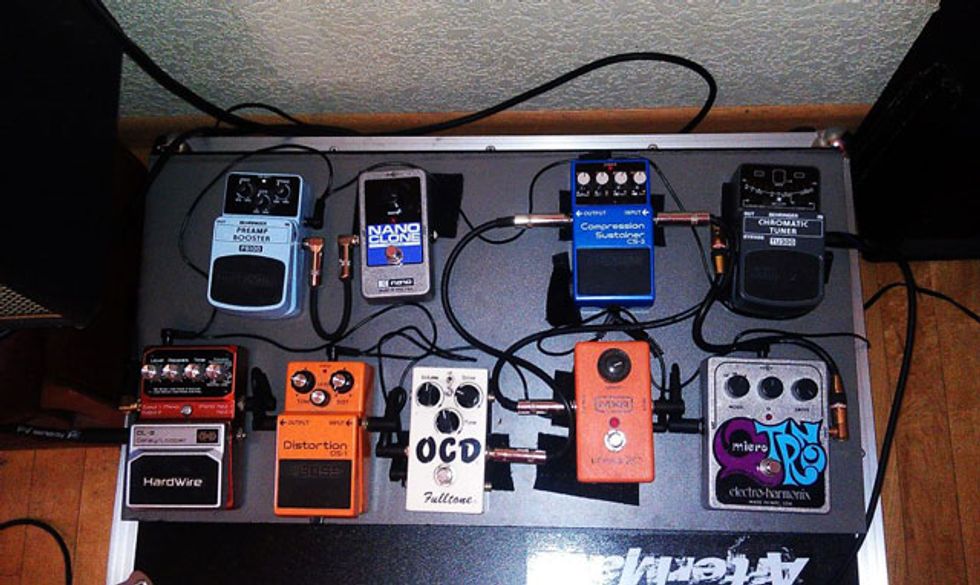 "Corey Mineard's signal chain is a Behringer TU300 Chromatic Tuner, Electro-Harmonix Micro Q-Tron, MXR Phase 90, Boss CS-3 Compression Sustainer, Fulltone OCD, modified Boss DS-1 Distortion, Hardwire DL-8 Delay Looper, and the Electro-Harmonix Nano Clone and Behringer Preamp Booster in the effects loop. He says, ""I play mostly blues, funk, and rock, with jazzy prog fusion thrown in there."""
"James Ryan Crutchfield calls this his рsimple as it getsс pedalboard, рNo modsяeverythingуs right off the shelf,с says the Boss enthusiast. Heуs got all Boss pedals (overdrive, distortion, phase, chorus, delay) except for a Vox wah and an EVH MXR Phase 90. "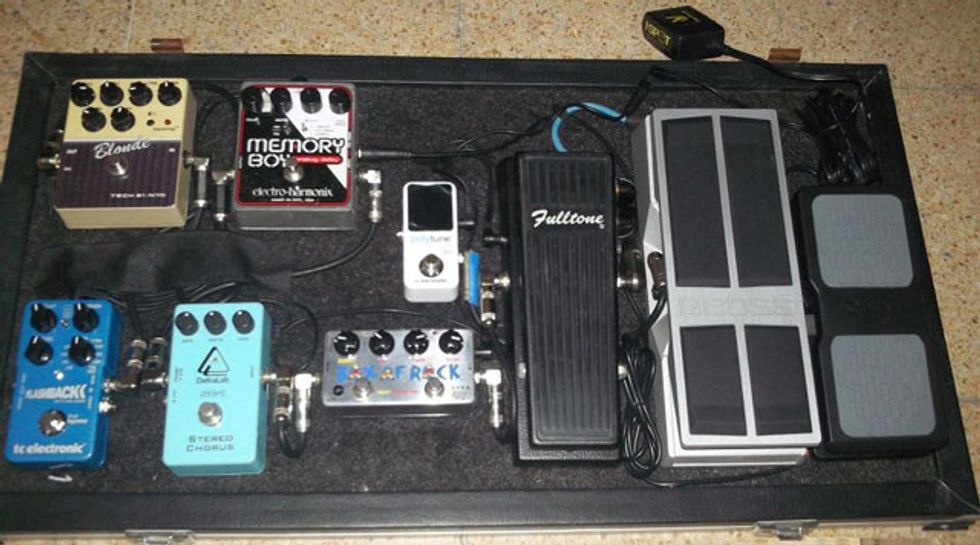 "Cristian Acosta calls his board рThe ship of sound."" He uses it to accommodate different work styles and likes to create many ambient sounds with pedals through his TC Electronic Flashback in the loop function. He uses a Boss FV-500H, Fulltone Clyde Deluxe wah, TC Electronic PolyTune mini, Z.Vex Box of Rock, DeltaLab Stereo Chorus, Electro-Harmonix Memory Boy (plus an M-Audio expression pedal), Tech 21 Blonde, to a TC Electronic Flashback."
"C▌sar Huesca M▌ndez has a straightforward pedalboard with a Boss DD-3 Digital Delay, Boss CH-1 Super Chorus, Boss NS-2, T-Rex Mudhoney II Dual Distortion, Xotic BB Preamp, Dunlop Cry Baby wah, and TC Electronic PolyTune."
"Vicente Vasquez handmade his pedalboard out of pine and says it's ""sturdy and looks good!"" The pedals are a BBE Crusher Distortion, Biyang Mad Driver (""Tube Screamer knock-off""), Dunlop Cry Baby wah, Rogue Analog Delay, and BBE Sonic Stomp."
" рIуve been playing for three or so years now,с writes James Rogers. His current pedalboard has an MI Audio Neo Fuzz (рgreat Aussie brandс). рThe other two are cheapy chorus and phase but they work wellяnot pictured is a Fender Bassman emulator and a Zoom multi-FX.с"
"This Pedaltrain PT-2 has a T-Rex Fuel Tank Junior strapped to the bottom. When playing with his classic-rock band, Nixon, Nicholas Johnson uses a Korg Pitchblack Tuner, MXR Dyna Comp, Dunlop Rotovibe, Dunlop Hendrix Wah, MXR 108 Fuzz, Dunlop Kerry King Q Zone, Electro-Harmonix Nano LPB-1, Line 6 Tap Tremolo, MXR 6-Band EQ, and Ibanez DE7 Delay."
"This Trailer Trash ProSeries board belongs to Jonathan Shaver, who set it up with a Loop Master Effect Switcher, George L's cables, and two Voodoo Lab Pedal Power 2 Plus units. The pedals are a JHS Pulp 'N' Peel compressor, Ibanez TS9DX, Fulltone PlimSoul, Boss BD-3 Blues Driver, Lovepedal Les Lius, EarthQuaker Devices Hoof Fuzz, Dunlop Fuzz Face, Electro-Harmonix Big Muff, Electro-Harmonix POG 2, Analog Man-modded Boss TS-2 Tremolo, EarthQuaker Devices Ghost Echo, Fulltone Deja-Vibe, MXR Carbon Copy Delay, Malekko LoFi Ekko 616, TC Electronic Alter Ego Delay, and TC Electronic PolyTune."
"Alex Snell's pedalboard is loaded with boutique beauties patched through a Musicom EFX MKIII effects controller. The pedals are an Electro-Harmonix H.O.G., Boss RC-30 Loop Station, Klon Centaur, Strymon TimeLine, Eventide TimeFactor, Eventide ModFactor, Eventide Space, Analog Man Compressor, TC Electronic PolyTune Mini, and Keeley Katana. Snell says, ""I want to create something completely new and exciting, and this is a board where there is endless opportunity and always something new to learn!"""
" рMy usual mess of a board,с writes Christopher High, who plays mostly rock/alternative. рIt works for what I do, while I have the freedom to change things out quickly.с This is his signal path: Boss SD-1 Super Overdrive, Marshall Drivemaster, Schaller Fusschweller Volume Control F121, DOD DFX9, Electro-Harmonix Memory Boy, Pigtronix Tremvelope, Boss DD-7 Digital Delay (with EV-5 Expression Pedal), Line 6 DL4, and TC Electronic Hall of Fame Reverb. рThe last four effects are run in stereo out of my Furman board all the time,с explains High. рMy old CT-6 tuner is just there until it is replaced by a PolyTune Mini."""
"Roy Doolin calls his setup рfairly simple, but awesome-sounding and effective for a blues rock band. He runs an Ernie Ball Volume Jr into a Cry Baby wah, to a MXR Dyna Comp (boost), Boss Blues Driver (Light crunch), TS 808 Tubescreamer (Heavy Crunch), Boss CE-5 Chorus, Boss DD-3 Delay. The Korg Pitchblack tuner goes direct from the volume pedal and stays on all the time. Everything is mounted to an SKB hard case with the built-in power supply."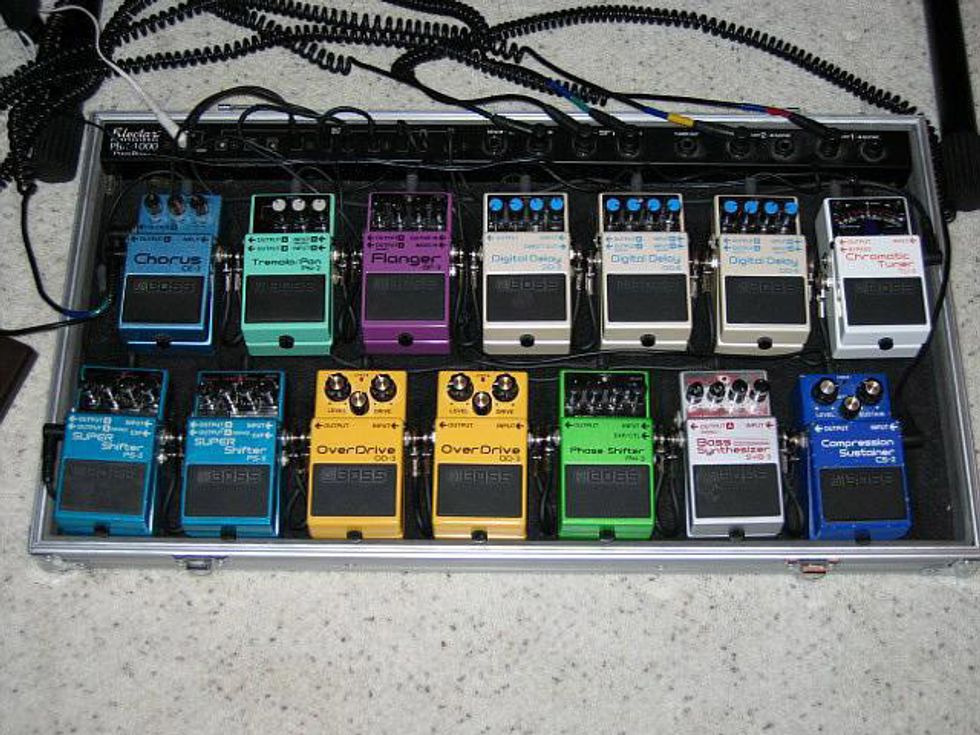 "Theo Martel Alon Alpas plays disco, pop, and electronic rock but he is quick to point out, ""my music is metal."" His all-Boss board contains two PS-5 Super Shifters, two OD-3 Overdrives, one PH-3 Phase Shifter, one SYB-5 Bass Synthesizer, one CS-3 Compression Sustainer, one TU-2 Chromatic Tuner, three DD-5 Digital Delays, one BF-3 Flanger, one PN-2 Tremolo/Pan, and one CE-2 Chorus. "
"Evan Chandler's packed pedalboard makes the most of its space with a Boss V-Wah, Rogue Vintage Compressor, Boss PS-6, MXR '78 Badass Distortion, Jet City Hi-Gain Boost, DigiTech Death Metal, Electro-Harmonix/Sovtek Big Muff, Electro-Harmonix Small Stone, Rogue Tremolo, Ernie Ball VP Jr., DigiTech Synth Wah, Boss GE-7, Behringer Echo Machine, Strymon TimeLine, Strymon BlueSky, DigiTech JamMan Delay, Nose Micro Stereo Volume, and BBE 362 Sonic Maximizer."
"Ben Winn also showed us his LYT 24 board. Pedals in signal order are: EarthQuaker Devices Tone Reaper, DigiTech Whammy, DBA Fuzz War, Blackout Effectors Mantra, Empress Tap Trem, Subdecay Echobox, Boss RV-5, Line 6 FM4, and DigiTech TimeBender."