Ten years ago, Line 6 unleashed the POD on unsuspecting guitarists around the country and instigated a revolution of sorts. Perhaps those are big words, but there's no denying
| | |
| --- | --- |
| | Ten years ago, Line 6 unleashed the POD on unsuspecting guitarists around the country and instigated a revolution of sorts. Perhaps those are big words, but there's no denying that the POD was one of the first devices to truly harness the potential of digital technology for tone seekers—suddenly "digital" wasn't such a bad word. For a group of people raised on tubes, it was as if we had finally caught up. |
Although the POD has undergone a serious evolution over its ten years, the very first version began a long-overdue liberation. No longer were guitarists forced to spend large sums of money on amplifiers, just to have options in the studio and on tour (we still do as a matter of principal, of course, but the point is that we aren't forced to); no longer did we need to charter storage space to house our precious investments or risk blowing up 50-year-old capacitors in vintage amps, just to get a few bars to tape. We could ditch the practice amp and still have a fully-featured pedalboard without the cables and power supplies. We could suddenly have our cake and eat it, too—and oh, how sweet freedom tasted.
And while, yes, if you found yourself in an acoustically brilliant recording space with Bob Rock at your side and a locker of top-shelf mics at your disposal, you might be able to get a better amp sound to tape, but how many of us have found ourselves in that position? More likely, you've found yourself stuck in your basement studio late at night, trying to pull together a track without firing up that Marshall JCM 800 and waking the kids. Or you've somehow managed to get yourself in a situation where there's not even a JCM 800 to be found. For those of us with real lives and responsibilities, with budgets and one spare closet, the POD has become an indispensable tool.
---
The Birth of the POD
An Interview with Marcus Ryle, Line 6 Co-Founder and Senior V.P., R&DWhere did the original concept for the POD come from? Did you forsee digital modeling becoming as big as it has?
Line 6 delivered the first digital modeling guitar amplifiers in late 1996. Since the source of the tone was software algorithms, we wanted to make modeling available in more than just amplifiers. In early 1998, we introduced Amp Farm, which gave TDM Pro Tools users the ability to have guitar amplifier and cabinet models available directly in their recording environment. Amp Farm quickly became very popular with professional artists and producers, but could not be used by anyone who didn't have a Pro Tools TDM system, which is a very large investment. POD was our idea of giving everyone great amp, cab and effect tones in a product that would work with any recording system or on any stage, and at a very affordable price.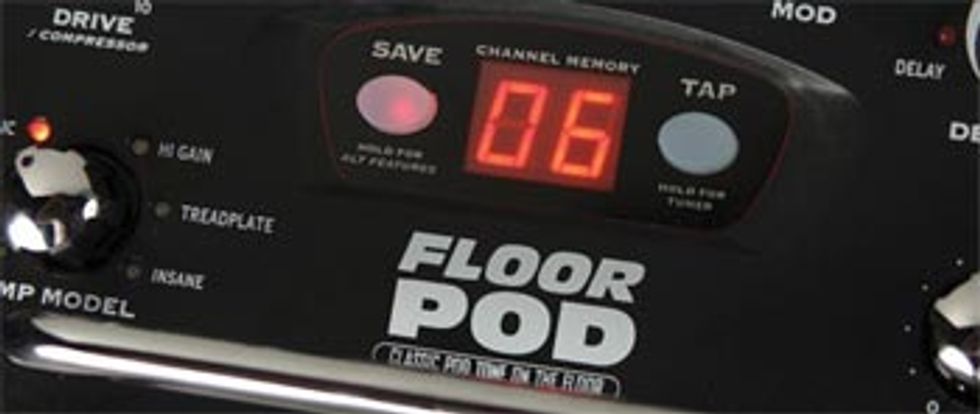 Although we felt we had designed an excellent sounding product that broke new ground, we didn't anticipate it would be embraced so quickly. We have always felt that the potential of digital modeling was huge, because having easy access to a wide range of great tones is a great source of musical inspiration. POD just made modeling's acceptance occur much faster than we expected.
Walk us through the development of the original POD. What were the biggest milestones along the way?
Like many products, the core elements of POD were evolutionary rather than revolutionary. We had the experience of our early modeling amplifiers (AxSys, AX2 and Flextone), and having made a software modeling product (Amp Farm). Some elements of POD's goals were evident from the start: great tone, simple and fast to use, and affordable. The discovery areas were in advancing our modeling capabilities and in deciding that we wanted a new "look" to make sure this new technology wouldn't get lost in the crowd. For the tone, we knew we wanted to capture the studio element of the guitar recording chain, which included the selection of a great mike, knowing where to place it, and being in a great room with a great engineer. Research and analysis led us to what we termed as "A.I.R.", which stood for Acoustically Integrated Recording. Capturing this element of the recording process was a breakthrough for us that completed the signal chain.
| | | | |
| --- | --- | --- | --- |
| 1998 | 2000 | 2002 | 2003 |
| | | | |
| The original POD hits store shelves with 16 amp models, several knobs and a big dose of moxy. | The POD gets a makeover with the debut of POD 2.0, adding 32 models and cabinet modeling. The rackmounted POD Pro also debuts. Both add A.I.R., which simulates a great mic in a great room. | The POD XT packs in 42 models and 60 effects. It is also the first model that can be upgraded with different model packs. The Bass POD XT brings POD to bassists as well. | The POD XT Pro rackmount unit brings the POD line into the new millennium with the addition of digital inputs and outputs. |
| | | | |
| --- | --- | --- | --- |
| 2004 | 2006 | 2007 | 2008 |
| | | | |
| The POD finally hits the floor with the release of the POD XT Live. Packing in more effects than ever before (95) and a ton of presets, live users rejoice heartily. | Line 6 releases the Floor POD and goes back to basics, featuring only 12 amp and cab models and a built-in expression pedal. Heads are scratched around the world. | The POD X3 includes 78 models, 378 presets. Dual Tone allows playing through two signal chains, and a new preamp is ideal for vocals, bass. Also: Pocket POD, a tiny, upgraded POD 2.0. | The newest and baddest addition to the line, the POD X3 Pro, shows up with all the capabilities of the X3, plus software plug-in functionality for use with DAW recording applications. |
You touched on developing a unique "look" to make the POD stand out; that kidney bean shape has become rather ubiquitous these days. Where did it originate and how was it decided upon?
Early in POD's development, it was imagined as a simple rackmount product. But several folks here rightly pointed out that rackmount rigs were less in fashion, plus the unique tonal benefits of POD might get lost in a sea of rack gear and not be given the chance to be heard. The tone of POD had a life of its own and was being described internally as "organic," and it was proposed that its look should be representative of that. After plenty of discussion and debate, POD's red kidney bean design emerged as the best representation of its capabilities.
How have advancements in computing and digital technology contributed to the maturation process of the POD line over the last ten years?
Digital modeling technology has the benefit of being able to take advantage of the ongoing advances in memory, processing power and speed that occur in our digital society for computers, cell phones, gaming systems, and so on. Our current flagship of the POD family, the POD X3 line, has many times the processing power of our original POD without needing to cost many times the price. These processing advances have enabled us to continue to add more detail and sonic nuance to our models, as well as add more capabilities.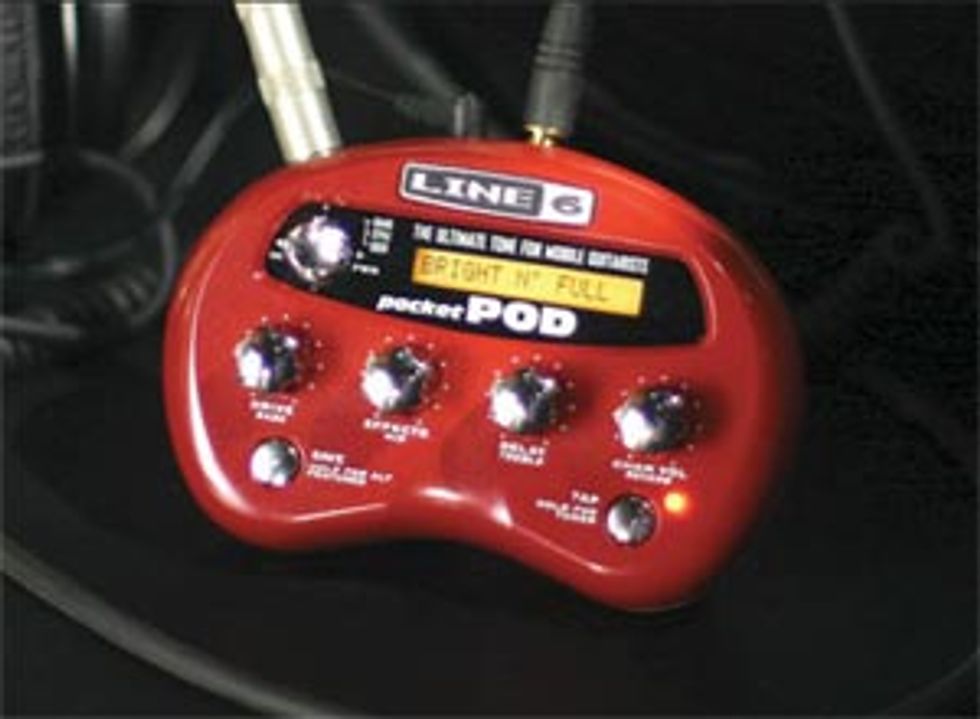 With complexity of the POD increasing with each release, how do you ensure that operations remain user-friendly? Will there come a point where a computer will be necessary equipment to use a POD?
One of the best ways to keep complex products simple is to provide a wide range of presets that are easily accessible. We include hundreds of presets, and also provide access to thousands more on our customtone. com website. We also know that different people want to work in different ways, so we provide direct editing capabilities for all settings within the product, as well as offer computer-based editing for those that want to see a more visual representation of the settings. Computers shouldn't ever be required equipment for our hardware-based PODs, but they are great tools for deep editing and managing large quantities of tones.
What are the latest developments in the POD line? What developments are in the future?
Our latest development in the POD line is POD Farm, which brings us back full circle in providing all of the modeling capabilities of our hardware POD family into a PC or Mac for use with any recording software platform. This can be used in conjunction with our hardware for a "best of both worlds" setup or used with any other interface hardware via iLok authorization. At the other end of the spectrum, we've just launched the Pocket POD Express, which is our most portable and affordable POD. With these introductions, now great POD tone can be accessible to anyone, regardless of their music creation environment.
The Next Step in Tone:
While the POD opened up the world of digital modeling in 1998, things were good—users could choose from 16 different amp models. While those original 16 could be said to represent the basic tones that guitarists always seem to be searching for, the engineers at Line 6 have continued to track down more and more amps to model, from the specialized to the esoteric. And while the quantity increased, so did the quality; advances in digital technology, and improved analysis of tube amps combined to create more authentic, nuanced sounds.

But it's a long-held dictum that guitarists are never satisfied. While the latest model in the POD line, the X3, comes equipped with 78 amp models and well over 350 presets to permit endless tweaking, the problem remains that tones still need to be dialed in, a process that requires time and patience. If you wanted to recreate the massive chunk of a James Hetfield rhythm or the crisp twang of Mark Knopfler's cleanest moments, you had to dig in and do it yourself—a reality that kept many users from fully exploring the POD's capabilities.

The rollout of Line 6's customtone.com website is the company's latest salvo in the battle for digitally- savvy guitarists' hearts and minds. Line 6 has worked to populate this beta website with "signature sounds of some of the greatest guitarists, bands, songs and gear of all time." And that's really not hyperbole; customtone.com provides POD users with a central hub of operation, well stocked with free, downloadable patches for almost every POD model.

Customtone.com looks to be a promising development in the evolution of the POD, and should offer every level of PODite something useful. Power users can share their highly-refined library of sounds with the world; players looking for specific artist sounds can find detailed, ready-to-play patches; and non-tweakers can stock up on cool presets for their next jam session. Downloading patches is fairly straightforward, and you can even download the original presets that came with your POD if you get too crazy. Did we mention it's free?

customtone.com