Builder Profile: Brown Note Amplifiers
Find out how Moss Hudson started out building DIY amp kits and progressed to the point where he's wowing amp-show crowds and working with his teenage-genius son on a new programmable tube amp for blues-rock hero Pete Anderson.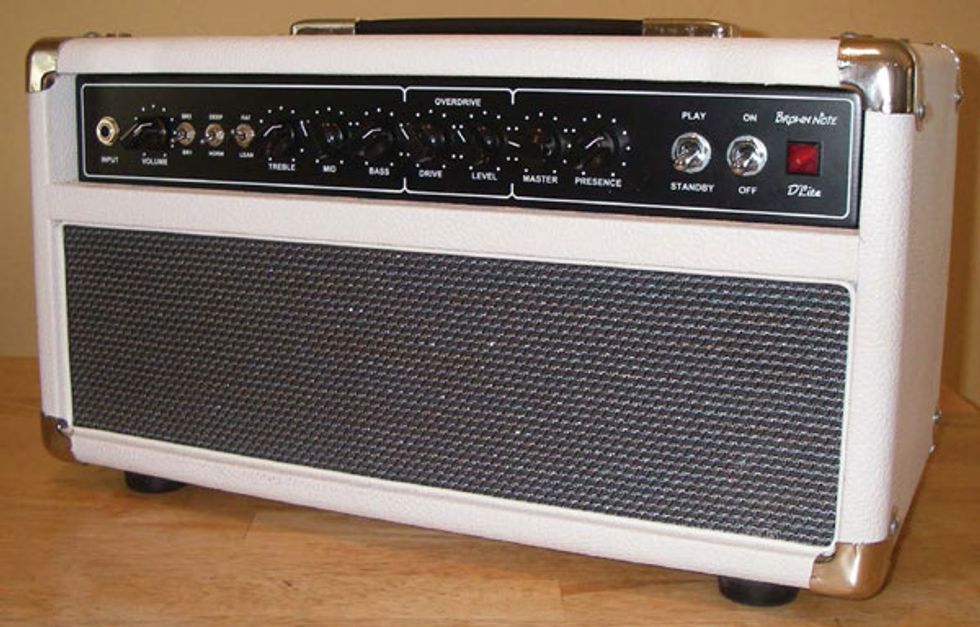 The new ODR 100 D'Lite has footswitchable Clean, Overdrive, and Boost controls. Front-panel controls include Volume, three mini toggles—BR1/BR2, Norm/Deep, and Lean/Fat—Treble, Mid, Bass, Drive and Level for the Overdrive function, and Master and Presence knobs.
The slogan on Brown Note's MySpace page reads, "Guitar Amps That Don't Suck." Judging by the number of guitarists who flock to the Fair Oaks, California, company's demo room at the annual New York and Los Angeles Amp Shows, that's something of an understatement.
Brown Note's founder is Moss Hudson. Rather than follow the conventional path into amp manufacturing—one that typically begins with learning the ropes doing repairs and mods—Hudson made his name by selling kit amps to DIYers. Eventually, he added assembled amps to the offerings and now Brown Note has a full product line, ranging from low-wattage tone machines to 100-watt beasts.
The DIY ethos can be traced back to Hudson's youth. After obtaining the Radio Shack 101 Electronics Projects Kit, Hudson became an electronics freak. He took pleasure in converting battery-powered board games to AC power, giving the board game Operation a whole new meaning. And as a teen, Hudson went to school with a kid whose dad had "all this cool stuff—guitars, electronics, and stereos." It turned out the kid's father was Sammy Hagar. Inspired by what he saw, Hudson scraped together enough money to buy an imported guitar and snagged a Magnavox console stereo his neighbor was getting ready to trash. Determined to find a way to make use of the Magnavox, Hudson summoned what he could remember from the Radio Shack kit's "Big Ear" amplifier circuit to build a crude guitar amp. That initial project planted the seeds for Hudson's amp-building business.

What's the origin of Brown Note amps?
I got started offering supplies to do-it-yourselfers. In 2000, inspired by sites like ampage.com and 18watt.com, I really got involved with the DIY craze. I was the first to offer an 18-watt kit based on the lead channel of the Marshall 1974X, and then, as far as I know, I was the first to offer an Overdrive Special-type kit—the D'Lite.

How much electronics knowledge does someone buying a kit need to assemble it?
I'd say almost none. I know of people who have never even heated a soldering iron who just decided to try it and were totally successful.

How long does it take to build a kit amp?
A guy who is really cooking could have an amp kit up and running in a week, yet another guy might take six months to a year to complete it. If you decide to tackle a kit with no experience, you need to approach the project slowly and methodically— and ask a lot of questions. After you've built three or four kits, you could easily assemble one in a weekend.
The back of the ODR 100 features convenient power-tube bias-adjusting controls (top), as well as an Impedance selector, FX Loop, an OD Gain Trim control for adjusting the amount of footswitchable gain, three mini toggles—OD (which switches between clean and overdrive), MID (for mid boost), and PAB (for a preamp boost)—and a 5-pin jack for the footswitch (bottom).
What are the differences between your kits and the assembled amps you sell now?
The whole idea with the kit is to provide a really high-quality product and make it as affordable as possible. My other goal is to simplify the building process, so someone who is just starting out can put one together. Fortunately, simplified circuits end up sounding really good. With the Brown Note amp line, our approach is to offer as high-quality an amp as possible and include all the things customers want, like an effects loop and reverb.
So a customer can't get reverb and an effects loop in a kit?
Our kits are streamlined for the sake of cost and ease of assembly. That said, we now have a reverb retrofit kit and effects loop kit available, and we also offer a footswitching kit. For more ambitious builders, we offer kits with add-ons to bring the level of the DIY features closer to our production builds.
By making affordable kits available, you probably reduce the temptation for someone to open up one of your production amps and copy it.
Even if you try to keep it a secret, people are going to find out what's under the hood anyway. We follow more of an open-source model. That's cool because it's like a community—a collaborative effort with hundreds of great minds working together and sharing knowledge.

Has anybody come up with a kit mod that you've integrated into your designs?
Norm Feaster worked with me closely in developing the D'Lite kit and had some great ideas we put into use, and Scott Lerner was very helpful. There's Gil Ayan, who came up with a cool treble-bleed circuit I use, and Alfonso Hermida who worked with me on a ported cabinet design. The Hall VVR, Iron Sounds FX Loop, and Ampdoc 3-relay board are aftermarket items you can add to your amp kit. A lot of guys have really tricked out their build and done cool stuff. In some cases, their mods mirror what we're doing with our production amps.
Many of your customers are influenced by Robben Ford and Larry Carlton. Is that where you're coming from as a guitarist?
In the '80s, I was in a punk band and wanted to be a rock star like everyone else. We did a record with Alternative Tentacles, who were on the Dead Kennedys' label. That's a far cry from Larry Carlton. But I always dug Carlton and guys like Al Di Meola—fiery guitar players. Many guitarists who use our amps play rock or blues. They just don't have that many clips up on our website.
Brown Note founder Moss Hudson (middle), his 17-year-old son, Mick Lionheart (left)—who is helping Hudson develop a high-tech amp for Pete Anderson—and lead tech Joe Zicaro in the company's tone lab.

Can you describe your product line?
It starts with the low-wattage offerings like the Lite 18, which only has a volume and tone control, and its juiced-up sibling, the Dirty 18. Then there's the Foxy 18—which is like an AC15, but with more power and tonal control—and the higher-gain Wreck Lite, which has Treble, Mid, and Bass controls.
In the 30-watt range, we have the Foxy 33, Lite 33, Foxy 2+2, and Space Cadet. The Foxy 2+2 is unique: It has a single set of controls, but two separate preamp stages driven by either a 12AX7 or an EF86 tube, and two power stages driven by a pair of EL84s or a pair of EL34s that you can switch between or combine. The Space Cadet runs a pair of EL34s at about 35 watts and has reverb. They're all single-channel amps that you crank up and control with your picking dynamics and guitar's volume knob.
Then there's the D'Lite 22/33, which can switch between a pair of 6V6s at 22 watts or a pair of 6L6s at 33 watts, the D'Lite 44 GTO, which has more power and can run 6V6, 6L6, or EL34s. The D'Lite Blue Monkey 44 is a nod to the Overdrive Special Bluesmaster. It has a bouncy, low-headroom American clean tone, and an overdrive tone that can go from a Texas purr to a Brit-like screaming lead. At the New York Amp Show, we introduced the ODR 100, a 100-watt reverb head. These amps have footswitchable Clean, Overdrive, and Boost controls. They also include a passive effects loop with no send and return level controls. If you want to add active controls, our tube-buffered Little Dummy effects-loop unit has send and return levels, as well as a bright control that can be useful for shaping EQ and overdrive character. It can also drive the effects loop signal down long cable runs to and from a pedalboard. We can also build the tube effects loop into an amp.
If money and resale value were not issues and someone wanted that sound, should they choose a Dumble or a Brown Note D-style amp?
That's a valid question. Several of my customers own Dumbles and also have Brown Note amps because they like them and because they can leave their Dumbles at home. What makes this amp better than that amp? With any amp, we're all working with the same tools. You're either going to be influenced by the marketing, the website, the clips, or you have a friend that recommends it. Besides all that, people are pretty intuitive. If you can call and talk to somebody and have a custom-made amp tailored to your specific needs, that might be a factor in your decision. I remember reading about Dumbles in the early '80s and thinking, "What is that all about?" Then I had the opportunity to hear one, and I thought, "Man, that doesn't sound anything like I thought it would." I had my 1971 Marshall Super Bass 100 and, to me, that was it. There's no doubt that Dumbles are awesome, but it could also be the case that you don't dig that sound. Maybe you're more of a 50-watt Marshall guy.



A Brown Note D'Lite Blue Monkey 88 Reverb head and Celestion G12-65-loaded 1x12 AdLib cab, Lite 18 head with a Vintage Compact 1x12 cab loaded with a Celestion G12M, a D'Lite44 ODE with a Compact cab featuring a Celestion G12-65, and a Foxy 33 head and Compact cab with a Tone Tubby Alnico speaker.





What are some benchmark amps?
I know there are a lot of amps that should probably be on this list that I haven't played, but based on personal experience, some great amps are the Ampeg G12, Bogen CHB- 10A, Burman Pro 502, Dumble Overdrive Deluxe, Fender Super Champ, Fender 6G9 Tremolux, Fender 6G11 Vibrolux, Magnatone 421, Magnatone 460, Marshall Super Bass 100, Masco MA-25, Selmer Zodiac Twin 30, and the Trainwreck Rocket.

Where do you stand on the point-to-point versus printed circuit board debate?
I'm not a real Nazi about that stuff. If you do it right, straight point-to-point can be really awesome, but I have nothing against printed circuit boards. We use everything—point-to-point, tag board layout, turret boards, eyelet boards, and PCB boards. What we do with the PCB board—and this makes all the difference— is use a board that is 1/8" thick. It's completely rigid and has the tracers and circuitry basically embedded in it. And on top of that, it has the eyelet, so you have a really solid anchor for the components to attach to. That's just bulletproof.
A glimpse inside the Brown Note shop in Fair Oaks, California.
Brown Note's amp "burn-in" rack.
You have an exciting product in the works. Care to divulge?
We were working with Pete Anderson, and we got an amp really dialed in to his exact taste. However, because he has used a Line 6 POD through a tube power amp for years, he wants some programmability. To get from one sound to another on his Brown Note amp requires tweaking it again and resetting the controls. So we came up with a way to make the amp programmable to the extent that you can change settings with a single foot stomp. It's something we can use in other amps too.

Would you ever consider including digital technology in your amps?
My personal preference is to have an all-analog signal path, although I did use a digital delay on my last gig and it was fine [laughs]. My teenage son is an electronics and computer whiz, and he helps out with the amps. When he was a kid, he got the Radio Shack kit, too. He always has these cool ideas. I used to say, "Nah, too high tech." But now I'm like, "Hey, let's talk about some of this stuff."
Will digital technology render tube amps obsolete?
I wonder about that myself. I don't know.
What does the future hold for Brown Note?
I really want to grow the business organically. I don't want to be the next Marshall or Fender or Vox. It's hard to work on a business when you're in a business. Right now, it would probably be good to go into survival products—dried fruits and crank radios.
Mick Lionheart
A story on Brown Note would not be complete without giving props to Hudson's teenage son—electronics genius Mick Lionheart—who helps at the Brown Note factory by, according to Lionheart himself, "mostly doing circuit changes and spec'ing out optimum values." We checked in with Lionheart to see how a 17-year-old kid who cites Bob Moog as an influence views amp design.



Brown Note founder Moss Hudson's son Mick Lionheart is helping develop the outboard BNMC12, which will bring programmability to the new tube amp the company is creating for blues-rock guitarist Pete Anderson.





You probably have a different sonic sense than your father. What are your references for good amp tone?
My dad's probably more of a guitar player than me. I'm more of a synthesizer kind of guy. I'd like an amp to be as clean as possible so it makes a good audio platform, although it would definitely need a good gain channel. I place higher importance on the clean channel than the gain channel.
What's an example of a good clean sound?
My ideal for a clean channel is a flat frequency response—perfectly linear amps. That's a little difficult to achieve with vacuum tubes. I've considered solid-state designs, however the tube sound is noticeably warmer. I spend a lot of time getting the sound filtered correctly and in the right stages. The filtering before the preamp is what I find important. The filtering between the preamp and power amp is slightly less important, but still very significant.
Brown Note amps are associated with vintage design. If you implemented some of your designs that stray far from traditional circuits, would your amps be released as a Brown Note product?
If it were something fully solid-state, it might be part of a special line sold by Brown Note or even under a different name, but backed by Brown Note.

Will you make Brown Note amps your career?
I see myself contributing to it, although I also have a lot of my own projects that are mostly software based. Also, I've been working on building synthesizers and some borderline physics experiments.

Do you and your dad have any distinctly divergent views on audio?
I notice he's more analog minded. I definitely like analog sound, but even in a fully analog amp, I find there are places for digital circuitry—more on the control side, less on the audio amplification side. I'm working on an amp now, and I have yet to see anything remotely similar to it. If it catches on it might change the amp market. I'm trying to find the balance between great sound and not having a ridiculous price tag.