Premier Collector #9: Pre-Gibson, Pre-Samick Valley Arts
A bevy of Valley Arts for your perusal
Bob (right) with Steve Lukather

Bob Mattocks is a Valley Arts fanatic who''s dreamed of owning "as many Valley Arts guitars as possible" since his teens. He''s well on his way with this collection. Though not in a touring band, Bob puts his VAs to good use every Sunday at Christ Community Church in Huntersville, North Carolina.
Bob has been collecting for ten years and designed and maintains the website
valleyartsguitars.com
, which is the first site dedicated to pre-Samick and pre-Gibson Valley Arts guitars.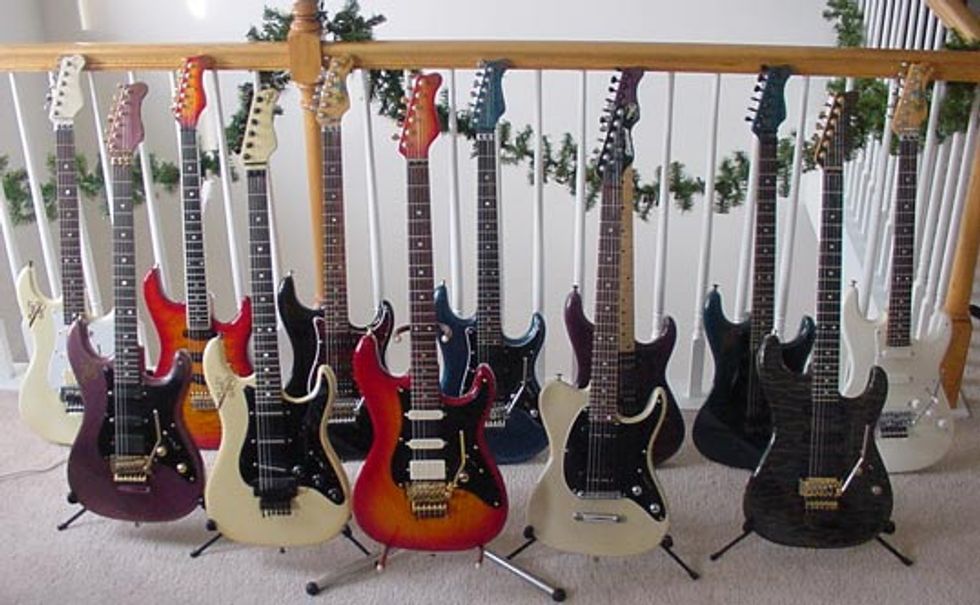 The whole family of guitars -- see below for specific models.

California Pros: (l to r) #9/100, #15/100, #39/100, all signed by founder Mike McGuire

(L to R) Custom Pro Lukather with Fireburst finish and quilted maple, Custom Pro Lukather (stock) signed twice by Lukather

(L to R) Standard Pro Carlton Model (#60/100, hand-signed; M Series; Art Munson Model (pre-serial number)

Bob says, "The M Series was my first VA, and I''ll never get rid of it." His wife, Jennifer, along with his family bought him this first guitar and the rest was history. "Anytime a new one shows up at the door (without her knowing prior to it showing up), I always look at her and say ''What do you want, you started it!''"
Three Custom Pros: (L to R) Tele with solid mahogany, herringbone binding and interlock neck; transparent black with quilted maple, signed by McGuire; and pearl purple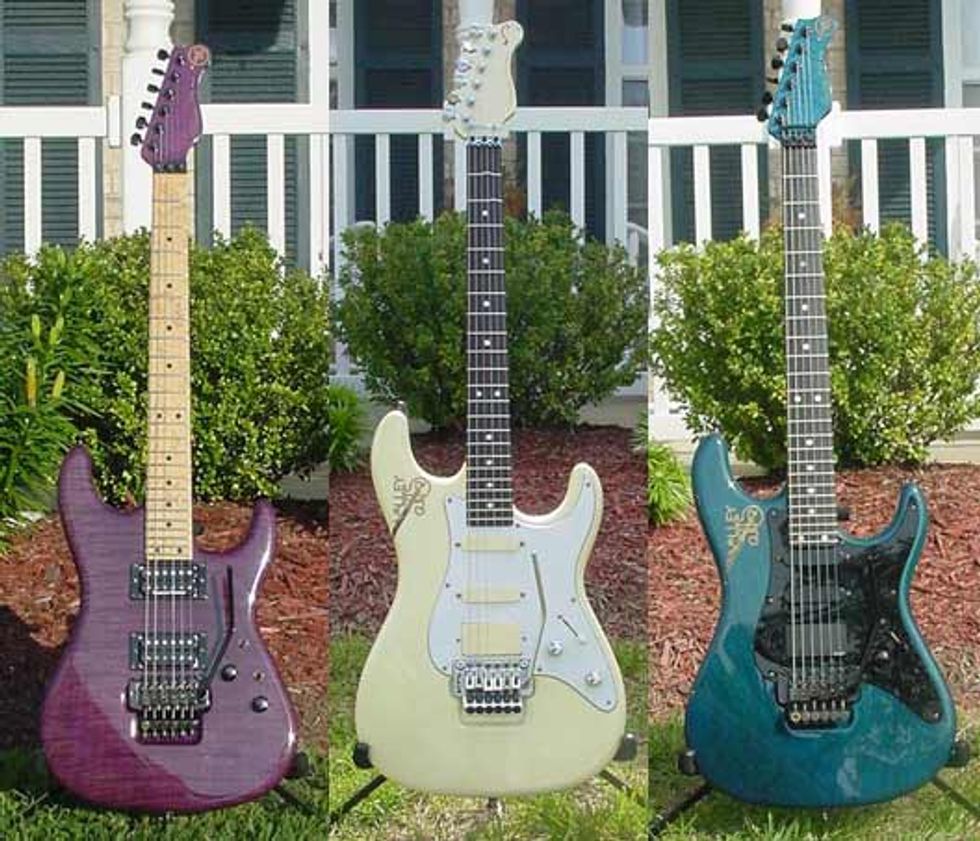 Three more Custom Pros: (L to R) transparent purple with flamed maple, 7/8s, signed by McGuire; pearl white with logo on body; transparent teal, 7/8s, black hardware

(L to R) Custom Pro - black, 7/8s, logo on body; John Crawford (Berlin) bass guitar; Custom Pro Interlock Prototype (serial number 1)
Two Standard Pros: (L to R) white with black headstock, spotless; black with original natural headstock
Premier Collector #8: Vintage Strats and Custom Colors
Premier Collector #7: Martins and More
Premier Collector #6: Custom-Built Strats and Fender Tube Amps
Premier Collector #5: The Vintage Room
Premier Collector #4: Oddballs
Premier Collector #3: Vintage Fender Amps and Guitars
Premier Collector #2: Gibson Customs and Modded Marshalls
Premier Collector #1: Kramers, Coronados and More