Classy design extras, ultra-buttery playability, and sweet, growling pickups distinguish this excellent ES alternative.
Faultless construction. Very nice PAF-style tones. Exceptional playability. Beautiful visual presence and cool vibe. Comes with a hard case.
The extra 200 bucks you'll pay over the price of a more modest Epiphone ES-335 might be too much for practical players.
4.5
5
5
4
Whatever your opinion of Oasis—and they have a way of engendering opinions—there's little arguing that Noel Gallagher has an ear for a tune. And like many contemporary British indie guitarists and forebears like his hero, Johnny Marr, Gallagher also understands the romantic and iconographic power of a great tune played on a classic guitar—particularly as a means of asserting difference from the pop and hair metal tribes that came before.
Between a keen awareness of those cultural forces and Gallagher's not-even-kinda-subtle worship of the Beatles, it's little wonder he found his way to the Epiphone Riviera that inspired this signature model. Gallagher's original Riviera, which was a Japan-made 1980s model, is a very different guitar than the Beatles' hollowbody, P-90-fitted Epiphone Casinos, though. In fact, with its center-block, semi-hollow construction, PAF-inspired humbuckers, and Tune-o-matic bridge, it's much more like a Gibson ES-335.
Epiphone currently makes several very nice ES-style guitars, from their own ES-335 to the closely related Riviera and Sheraton. Most of those guitars, save for the B.B. King, Emily Wolfe, and Joe Bonamassa signature models, sell for $599 to $699, which begs the inquiry: What does this Noel Gallagher Riviera give you for 200 bucks extra that its cheaper stablemates do not? If you're a hardcore Oasis fan, that's a non-question. But even at $899, this guitar is a great value. It feels and plays like a more expensive instrument. The build quality is pretty close to faultless. It comes with a hardshell case. It growls, sings, and stings in classic style. And by amalgamating several elements from Casinos, vintage-style Rivieras, and Gibson ES instruments, the Noel Gallagher Riviera adds up to a unique twist on a classic profile.
An E for Elegance
I've longed for a Gibson ES-335 since … forever. They loomed large in images of some of my biggest heroes: Keith Richards on the back of the Get Yer Ya-Ya's Out! album, Roky Erickson, and Jorma Kaukonen to name just a few. Usually, an Epiphone Dot was the most affordable means of satisfying my 335 desires, and I've played a lot of them in shops and some that belong to friends. But I had weird luck with those Dots. When I found a good one, my interests seemed to be somewhere else. When I was feeling enthused, I could never find one that was quite right. But I feel like if I had ever come across an Epiphone 335-style as nice as the Noel Gallagher Riviera, I might have dropped the cash down on the spot—regardless of my current musical predilections. It's a very inviting and easy-to-hang-out-with kind of guitar.
If you haven't taken a break from your pedalboard for a while and need a taste of straight, mainline amp thrills, the Noel Gallagher Riviera is a satisfying means of getting there.
For starters, the Noel Gallagher Riviera feels next to effortless to play. Not everyone digs cradling a 16" body. And not everyone loves a 12" fretboard radius. But just about anyone else that touches this guitar is at risk to succumb to its smooth-playing charms. The action could fairly be called delicious, and the setup perfect, even after a cross-country journey.
The Noel Gallagher Riviera looks good, too. The wine-red finish and binding, aged to a biscuit-tan hue, look like a rather scrumptious meal. But the guitar also holds up to scrutiny at the detail level. I couldn't find a construction or finish miscue. If there is any possible complaint, it's that the finish might be a tad thick. All the same, I love looking at it. And though dogmatic Gibson players will probably scream heresy, I prefer the way the slim, florid hourglass headstock looks on this guitar compared to a Gibson. The white, curvaceous pickguard is also a pretty contrast to the wine finish, which I prefer to a Gibson ES-335's black guard.
Air and Cultured Muscle
If you haven't taken a break from your pedalboard for a while and need a taste of straight, mainline amp thrills, the Noel Gallagher Riviera is a satisfying means of getting there. The Alnico Classic Pro humbuckers, which aspire to a late-'50s, low-output PAF sound and feel, might lack some sense of the wide-screen, aerated texture you hear in the real thing or a top-flight replica, but they are a very nice facsimile. The top end zings and is neither too soft nor too bossy. And though the low end can be a touch woofy in some settings—a quality that applies to just about any PAF to a degree—it just as readily offers growling counterweight to the sweet treble tones. Like any PAF-profiled pickup, the Alnico Classic Pro is scooped in the midrange. In a great PAF, there's usually enough personality in the scooped mids to lend a little purr to the output. That edge is slightly blunted here. But on balance, this a very nice set of pickups for a guitar in this price range.
The pickups are also a beautiful match for the semi-hollow construction, which I always think feels a little more dimensional than a Les Paul. The bridge pickup and combined pickup settings in particular seem to benefit from the extra body resonance, which lends them size and firecracker energy. The neck pickup alone, meanwhile, feels and sounds a little extra smoky, vocal, and soft around the edges. Each of these settings, by the way, pair to thrilling effect with overdrive tones. But I particularly love how it matched up with Marshall-style and raspy ODs, where the extra midrange adds a sweet toughness.
The Verdict
The knock on the Noel Gallagher Riviera will almost certainly be that it's 200 extra bucks for what is, elementally, an Epiphone ES-335. But the little details—the parallelogram markers, the curvaceous, white Rivera pickguard, and the wine finish and aged binding, add up to a very pretty, distinctive, and unique twist on an ES. It's also a very classy alternative to a Les Paul if you want PAF sounds in a less common instrument. I might also argue that it's just a touch more versatile in some musical situations, thanks to the combination of airy resonance and growl. If you're a songwriter, you'll love how great it sounds nowhere near an amplifier. But this guitar is a joy to hear loud, alive, electrified, and unadulterated.
Epiphone Noel Gallagher Riviera Demo | First Look
Epiphone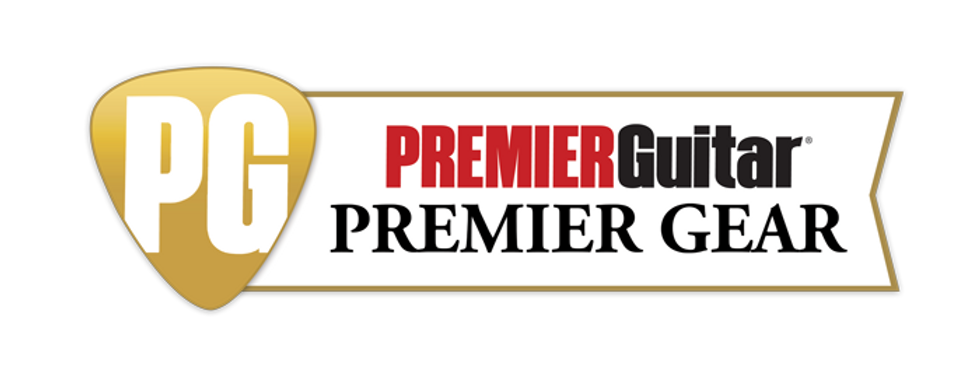 Ola Englund's merry band of guitar builders serve up an affordable shred gem.
A killer, ultra-playable guitar with top components at a nice price.
The EverTune bridge and Fluence Modern pickups are very niche-specific components that could turn some players off.
5
4.5
4.5
4.5
Ola Englund, YouTube sensation and guitarist for the Haunted and Feared, started Solar Guitars, his own line of high-quality instruments, in 2017. The company is based in Sant Gregori, Spain, and their guitars are made in Indonesia. But as the marvelously decked-out GC1.6AFAB reviewed here reveals, this collaborative formula is yielding killer results at relatively affordable prices.
Down to the Details
At a glance, the GC1.6AFAB evokes great all-around instruments like the PRS SE or even the Tom Anderson Atom. It looks sharp, and even a bit traditional, with its flame maple top on a mahogany body and gold hardware down to the pickups, bridge, and tuners. Only the pointy reverse headstock, lack of inlays (other than the Solar logo around the 12th fret), and glow-in-the-dark side dots betray a possible metal-oriented lineage.
The guitar is meticulously crafted and there are no visible construction flaws. The low-action factory setup is perfect. The GC1.6AFAB's design is very ergonomic, too. A belly cut adds a nice contour to the backside of the guitar, and the neck-through-body construction with sculpted neck joint allowed easy access all the way up to the 24th fret.
With jumbo stainless steel frets on a graphite-reinforced neck, a dual action truss rod, a 13.78" radius fretboard, graphite nut, and locking tuners, the GC1.6AFAB is thoroughly modern. The EverTune bridge is another contemporary distinction. It uses a system of floating saddles and springs to keep each string in tune no matter how aggressively you play. It can also be configured in a multitude of ways. On our test guitar, the EverTune was set up to permit bends on the top three strings, while the lower strings were set to resist pitch bends entirely. It was a weird experience to bend away at those strings, or add vibrato, only to hear pitch that never wavered. And I was certainly thrown off when I instinctively tried to make low-string notes growl by adding a little bend. Set up this way, the EverTune will take some getting used to. However, it's a killer feature if you pick hard or inadvertently pull some of the notes sharp while chording. If you're recording and need to nail a pitch-perfect take, it can be invaluable. And you can always reconfigure the bridge for a more conventional but still exceptionally stable setup.
It Chugs, It Slugs, It Sings
The GC1.6AFAB's pickups, a pair of excellent Fishman Fluence Modern active units, also display Solar's forward-thinking approach. They have independent volume controls with a shared tone knob that has a push/pull function for the Fishman Fluence's voices: "active" (voice 1) and "passive" (voice 2). (Here, the phrases active and passive refer to voicings rather than the strict definition of active and passive pickups.)
With the bridge pickup and active voice engaged, pick response is crisp and fast on the low strings. With help from with the EverTune's unwavering tuning stability, individual notes and picking nuances are super articulate. Digging in harder rarely revealed any flubby ambiguities. And fast alternate-picked sequences felt super precise. Be forewarned though: If you're having a sloppy day, the Fluence pickups' immediacy can be unforgiving.
In clean settings, the GC1.6AFAB's bridge pickup sounds very hi-fi, and very loud in both voices. Multi-finger tapping phrases are punchy and pop out loud and consistent along the fretboard. Cascading arpeggio runs have a harp-like clarity and individual notes sound consistent and even across the guitar's whole range. And while the pickup isn't overly bright, there is a ton of presence. Until the tone knob is all the way down to about 2, you hear little in the way of "darkness." The neck pickup in the active voice has more bass focus than the bridge. When I held an open-G chord, the 6th-string resonated with a bottom end that you could call boomy. Comparatively, with the passive voice, the neck pickup seemed a bit more balanced.
The Verdict
If I imagined a shredder creating a custom guitar, it might look and feel a lot like GC1.6AFAB. There's a lot about the style that feels relatively traditional, save for the many cutting-edge components that Solar included here. At $295, putting an EverTune bridge on an existing guitar (a process that would involve routing and probably devaluing your instrument) is an expensive proposition. Add a set of gold Fishman Fluence Modern pickups at around $260 and you're looking at well north of a $500 investment even before you pay to have your upgrades installed on an existing instrument. Given how seamlessly Solar brings these elements together in such an impeccable-playing guitar, the $1,349 you'll pay for a GC1.6AFAB is a pretty amazing deal.
Solar Guitars GC1.6AFAB Demo | First Look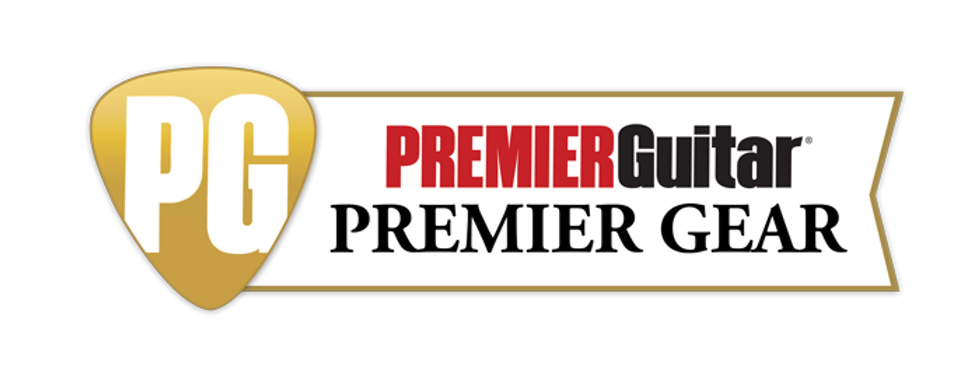 Gibson's archives give up lost treasure.
Delicious smooth-to-silky P-90 sounds. Awesome chunky neck. Pretty, unusual-for-Gibson body profile.
Holy cow, it's expensive.
5
4
4.5
3.5
Gibson has had a lot of time to evolve as a guitar company. But that doesn't make the breadth of personalities among their instruments any less astonishing. A Firebird, an ES-150, an ES-330, a Les Paul Standard, and an SG Jr. can each inspire very different paths for a given musical idea—or different ideas altogether. Each has its own musicality, attitude, and energy.
So, while it may not look the part at first, the Gibson Theodore, which existed only as a sketch by Ted McCarty from March 1957, is a perfect—or perfectly oddball—fit for the Gibson family. Slim, slender, scimitar-headstocked, and built around a pair of very lively P-90s, Theodore looks and feels like it longs to rock first and foremost. But it also has more feline and economical lines than many of its Gibson brethren. And like a goldtop or SG Special, the Theodore dwells just as happily in smoky jazz settings and mellow, meandering chord melody zones as rocking domains. This blend of attributes and capabilities make Theodore very versatile. It's also an intriguing peek at the many design directions Ted McCarty was considering for Gibson while at a zenith of his creativity.
Tulip Mania
Striking as Theodore looks, it wasn't the only guitar at the time to embrace a tulip-shaped double-cutaway design. And one has to wonder if Gibson didn't reconsider Theodore as a production instrument upon seeing Rickenbacker's similarly tulip-shaped Model 400 from the previous year. McCarty's tulip shape is slimmer and more uniform than Rickenbacker's. But while Theodore might estrange Gibson fans that prefer the company's more overtly muscular shapes, there's still much of the adventure and daring that went into the Explorer and Flying V at work here. And though Theodore didn't fit the future-forward ethos of the Explorer and V, the way it spans 1930s Deco and the fancy organic shapes of Ibanez, Alembic, and Doug Irwin guitars from the '70s make it a fascinating mash up of 20th century design modes.
There are practical upsides to the configuration as well. The body is alder, just as McCarty's original sketch called for (it also has a walnut center strip that is implied in the sketch but not listed as a manufacturing specification). Alder construction makes Theodore lighter than a mahogany Melody Maker or SG. And though McCarty's sketch specified that the body should be flat, it also includes a cross-section diagram of the lower bout that calls for a comfortable contour where guitar and ribs meet, suggesting that the Stratocaster's ergonomic refinements had put guitar builders on notice. So, though the Theodore isn't as form-fitting as a Stratocaster, it sits more comfortably against the human body than many slab-bodies guitars of the period.
Hooked up to two old black-panel Fenders, the bridge pickup made as perfect a rock 'n' roll growl as I could imagine.
Chunky Style, All Butter
The Theodore's neck is a 2-piece mahogany slab cut in what Gibson calls a chunky C-profile. It's a fistful, but it's awesome. And what it may sacrifice in slim-and-shreddy slinkiness it makes up for with inviting, lean-into-it heft that compels you to linger on single notes and extract every microtone, vibrato nuance, and bit of sustain. That approach is rewarded to no end by the excellent P-90s, which are bold, loud, and relatively noise free. Hooked up to two old black-panel Fenders, the bridge pickup made as perfect a rock 'n' roll growl as I could imagine.
Rocking tones aside, players should not hesitate to use these P-90s at lower volume. Cutting the guitar volume back by just a few notches here and there yields some of the most soulful and dynamic sounds from the guitar. These tones excel for mellower lead passages, jangle rhythms, and jazzy chord ballads. Even at these slightly attenuated volumes the top end output remains very alive and energetic, and you can easily coax excited, just-dirty sounds from your amplifier if you add intensity to your pick attack.
The Verdict
The Theodore is a beautiful playing machine. The P-90s are delicious on the rocking and mellow sides of the spectrum, and they are sensitive—responding in cool ways to picking dynamics when wide open and at cleaner, lower volumes. The substantial neck is fantastic. And though the body profile will doubtless elicit strong opinions, I really warmed to the shape for its elegant economy of line. The short horn on the lap side may make it a less-than-ideal instrument for extended seated sessions as the short horn can slip off your lap in certain positions. But hanging on a strap it feels light, sturdy, responsive, and ready to do damage.
As for the cost: Well, five grand is a lot—a lot—for a guitar that, technically, is short on bells and whistles. On the other hand, the Theodore is immaculately built and sounds heavenly. Given its low production numbers and niche appeal, Theodore is almost certainly bound to be a very rare bird. Hold on to it for a while and you may be repaid with much more than hours of sweet tones and praise from fans of eccentric electrics.
Gibson Theodore Demo | First Look
Ted McCarty's archives reveal a long-lost treasure.More First Look videos: http://bit.ly/FIrstLookSubscribe to PG's Channel: http://bit.ly/SubscribePGYouTube...
Idiosyncratic pickups pull this slimline Gretsch along unexpected tone trajectories.
Unique, idiosyncratic pickups. Tidy construction. Top-notch playability.
Some tuning instability with Bigsby use. Some players will miss classic P-90 trebles.
4
4.5
5
4
Gretsch's new Streamliner guitars—like the 1960s Streamliners before them—are great instruments living in the shadows of the company's most iconic shapes. Where guitars like the 6120, Country Gentleman, White Falcon, and others are either quite thick, very wide, or both, the Streamliner is slim and relatively light—in the fashion of the Epiphone Casino, Gibson ES-335, Fender Coronado, Rickenbacker 300-series, and various Voxes, Hofners, and Hagstroms that ruled the '60s. They are exceptionally comfortable, engaging, and ultra-fun to play, particularly when fitted with a Bigsby, like the Gretsch G2622T-P90 Streamliner reviewed here.
This latest Streamliner Center Block incarnation, however, is also among the first to feature Gretsch's FideliSonic 90 pickups, an option that gives the guitar a surprisingly mellow but meaty, articulate, and distinctive voice that deviates from archetypical P-90 semi-hollow sounds and offers unexpected tone colors.
Gretsch G2622T-P90 Streamliner Review by premierguitar
Of Singing Staples and Streamlineage
Gretsch's bigger bodied classics can feel like a handful over the course of protracted practice and performance. The Streamliner almost never induces fatigue anxiety, though. It's light for a center-blocked, Bigsby-equipped instrument, and the body contours feel great whether you sling the guitar low or hike your strap up for a full Merseybeat cradle. The balance is generally good, especially when playing seated, though it can be prone to neck-dive if you use a slippery strap. It's got really handsome lines, too, that are simultaneously evocative of a Country Gentleman and an Epiphone Casino. More critically, in my view, it also bears a strong family resemblance to the Gretsch Monkees, a '60s Streamliner antecedent that I covet rabidly.
There's a lot of distinctly Gretsch personality here, too—primarily in the baby Country Gent' shape you see plainly in the horns, but also in the arrow knobs, master volume, and teardrop pickguard. The latter design element, while handsome, is perhaps the only thing that didn't work with some aspects of my playing style. Prone as I am to heavy arpeggio playing, I would often hit my pick against the pickguard on first-string upstrokes, making a clacking sound that resonates clearly through the pickups. On the other hand, I could conjure cool rhythmic accents during leads and spanky rhythm parts using the pickguard for percussive accents and extra-musical sound effects.
I'm generally pretty knocked out by how good the affordable Gretsches from the Streamliner line look and feel. The Streamliner Center Block P90 reveals that Gretsch's Indonesian factory is still putting love into these instruments. Playability is superb. The 12"-radius fretboard makes string bending a breeze. And the walnut-to-root-beer brownstone finish showcases the grain of the arched mahogany top and back gracefully. (Sadly, there is no option for the cherry finish and white pickguard that would make this Streamliner a dead-ringer for a Gretsch Monkees. Drat.)
"Some of the bridge pickup's mellower tonality might also be down to the distance from the pickup to the bridge."
Broad-Shouldered Slimline
The FideliSonics are a genuinely unusual take on staple-style P-90s that stretch preconceptions about the type. Though they are designed for less overall output than a standard P-90, they have much of a P-90s muscle and mass, and they will make an amplifier growl delectably without breaking a sweat. But the FideliSonics seem a lot less toppy than the P-90s in, say, a Casino or ES-330. Instead, they exhibit a strong low-mid emphasis and a hi-fi quality that leaves room for dynamics and picking details. Some of the bridge pickup's mellower tonality might also be down to the distance from the pickup to the bridge. Pickup placement has shifted a lot over the decades on Gretsches. The bridge pickup placement on the White Falcon, for instance, has varied by significant measures over its lifetime. The bridge pickup on the Streamliner Center Block P90 is nudged toward the neck enough to almost split the difference between a bridge and a middle-position pickup in a 3-pickup array. Doubtless, this blunts some of the top-end attack you might otherwise hear and expect from these pickups.
But there is no questioning the horsepower they put at your disposal. Paired with a black-panel Tremolux, the Gretsch coaxes throaty overdrive at amplifier volumes as low as 2. With just a bit of reverb, this sound is intoxicating and huge. There might not be quite enough top-end headroom for some jangle-oriented players, or soloists that rely on biting treble. But before you pass definitive judgement on the available top end, it's worth checking out how the Gretsch sounds with really aggressive amplifier treble settings. I used the bridge FideliSonic with the Tremolux's treble at 10 and it sounded an awful lot like a sweet spot to me!
As with any hollow or semi-hollow, feedback can be an issue. And I had a pretty short leash when it came to using fuzz or aggressive boost or overdrive (particularly with all of that amp treble). Thankfully, the Gretsch's trademark master volume is always close at hand—and, incidentally, a very cool way to add feedback into a song when you get the knack. Generally, though, it's good to tame your guitar volume before you engage any particularly vicious fuzz.
The Verdict
I spent a lot of time with the Gretsch Streamliner Center Block P90 amid a mid-winter playing rut. Few guitars were feeling great, or right, or fun. But the Streamliner Center Block P90 was always a gas, and with its Bigsby, classic Gretsch master volume control, and a set of idiosyncratic and dynamic pickups, it prompted inspirational and invigorating shifts in technique and voice. The Streamliner Center Block P90 doesn't need much help to sound great through a decent amp—just a little reverb and 10" or 12" speakers can make this guitar sound enormous, rocking, and alive. There are drawbacks inherent to the design. Feedback is always a risk and you don't have to get too unhinged with the Bigsby before tuning stability becomes an issue. But the warm fullness of these pickups and the guitar's fascinating combination of liveliness and mass adds up to countless surprises that make the $649 price tag a pretty nice deal.
Maple makes the dread grow mellower.
Exceptional playability and intonation. Sweet midrange focus. Records well in dense mixes.
Some will find the maple voice quirky. Not a lot of low-end resonance for a dread. Satin finish doesn't suit a $2K-plus instrument.
4
4.5
5
4
One of the nice things about designing guitars for a company like Taylor is that you're less burdened by tradition. Even though the builder is now nearly a 50-year-old institution—not to mention one of the biggest guitar makers in the world—to many acoustic traditionalists they are still very much the new kid on the block. While such fresh-faced "newness" may mean flattop classicists look askance at your every move, it also means you can introduce a design departure like the company's V-Class bracing without risk of rebellion from your consumer constituency—or, for that matter, build a dreadnought with a top fashioned from big leaf maple.
A maple top is one of those things that, according to traditional acoustic design think, shouldn't work very well. Yet the AD27e Flametop proudly makes its maple top both a centerpiece of its sound signature and its visual identity. The results, in both respects, are unique and, in typical Taylor style, prove that acoustic guitar design still has room for imaginative deviations from the norm.
V Lets Maple Be
In spite of the simplicity and musical purity it projects, an acoustic guitar is a complex organism. Small changes in design or materials can be transformative. V-Class bracing is no small change, however. Certainly not when compared to the X-bracing that has been the standard for flattops for generations. Fundamentally speaking, V-Class bracing situates the most substantial braces in a V shape that tapers gently along the body's center from a point just forward of the endpin. While it can be hard to say definitively what V-Class bracing does and doesn't do to a flattop's sound, an increasing sample size suggests that it tends to improve sustain, and even intonation, by leaving larger sections of the top to vibrate freely and aligning the biggest braces with the strings. In the case of the AD27e, V-Class bracing didn't just improve the sound. According to designer Andy Powers, V-Class bracing is, in fact, what made the use of a big maple top feasible.
If we assume that V-Class bracing definitively improves sustain (and certainly our colleague Joe Gore heard as much in his review of the K14ce), then Powers' assertion makes sense. Maple is generally less lively and works better as a reflective surface for backs and sides. Few if any large-scale production flattops have used maple as a top wood, and those that have, like Gibson's acoustic/electric Starburst, employed a maple top because its less resonant properties reduced feedback in amplified situations. But the maple top on the AD27e resonates beautifully. And though the appeal of its sound won't be universal, it occupies a very cool niche.
Unlike a lot of dreadnoughts, the AD27e also responds dynamically to a gentle touch.
Big Body Makes the Maple Go Boom
Taylor's American Dream dreadnought is a beautiful shape. Its curvaceous lines project hints of J-45 influence and big Taylors like the 855. It's a lovely reconfiguration of the classic dreadnought profile. But it also likely serves a very practical purpose in the AD27e, in the sense that the big body does much to compensate for the maple top's less lively characteristics. The tones that result have a beautiful and interesting sense of balance. You won't find the thumping grand-piano-like low-end resonance of a D-28 in the AD27e, yet it projects volume as a dreadnought should and gets loud without sounding brash or overdriven—probably because there is less low-end woof to obscure the pretty midrange and clear, chiming top end. Unlike a lot of dreadnoughts, the AD27e also responds dynamically to a gentle touch. And I found its sensitivity in these settings more reminiscent of a 00- or 000-sized instrument.
Shaped To Cradle
The AD dreadnought shape isn't just pretty to look at. It's also an ergonomic delight. The aft end of the body is considerably slimmer than a Martin D. That, and its slightly more pinched waist and sloped shoulder, make the whole body feel more compact and easier to hold for extended periods. But, as with so many higher-end Taylors, the foundation of its inviting personality is its playability up and down the neck. The action feels exceptionally low and fast, yet there isn't a trace of string buzz or a dead spot anywhere—even when you strum vigorously. The low action also has the effect of making fingerstyle chord melodies feel extra fluid and lyrical—a quality well suited to the AD27e's more subdued but ringing tonality. And while our review Taylors have almost always shown up with impeccable intonation, the AD27e's spot-on intonation—even after two-cross country journeys in the dead of winter—makes us wonder if there isn't something to Taylor's claim of V-Class bracing improving intonation.
The Verdict
Yes, $2,199 is a lot of money for a guitar that, by design, presents a player with many unknown variables. The AD27e sounds different enough from a spruce-topped dread that many players will need to spend time to understand how it works within their style and relates to their musical objectives. Others will find its concise tonality immediately appealing. Given that, one should take our value score with a grain of salt and adjust according to personal experience.
But just because the AD27e's design, materials, and tonality are unusual and specific doesn't mean its appeal or musical potential is limited. It's easy to hear how the AD27e would be a recording superstar. It rings sweetly without overpowering a mix and provides beautiful counterpoint in arrangements and mixes where the low-end is occupied by other instruments—no small consideration in modern effects-laden mix styles. But while its voice is focused, the AD27e can still sound big, and it most certainly sounds sweet. Any curious flattop aficionado should check out the AD27e to hear what it does differently. Just don't be surprised if its sweet tonality and ace playability put their hooks in you.
Taylor AD27e Demo | First Look