Epiphone Noel Gallagher Riviera Review
Classy design extras, ultra-buttery playability, and sweet, growling pickups distinguish this excellent ES alternative.
Faultless construction. Very nice PAF-style tones. Exceptional playability. Beautiful visual presence and cool vibe. Comes with a hard case.
The extra 200 bucks you'll pay over the price of a more modest Epiphone ES-335 might be too much for practical players.
4.5
5
5
4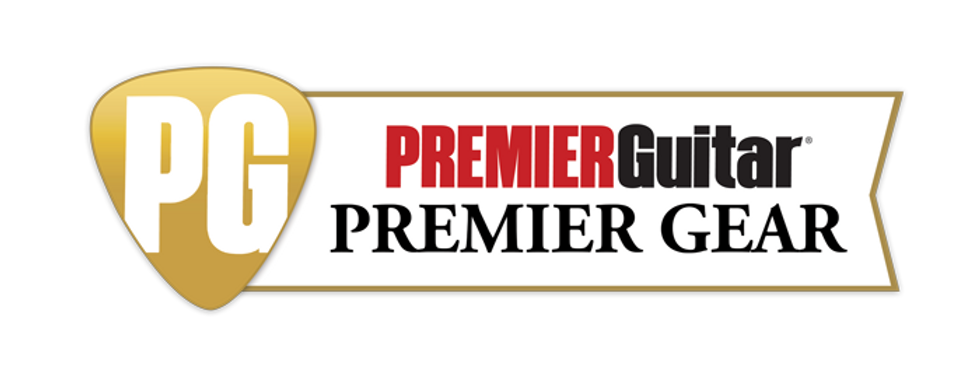 Whatever your opinion of Oasis—and they have a way of engendering opinions—there's little arguing that Noel Gallagher has an ear for a tune. And like many contemporary British indie guitarists and forebears like his hero, Johnny Marr, Gallagher also understands the romantic and iconographic power of a great tune played on a classic guitar—particularly as a means of asserting difference from the pop and hair metal tribes that came before.
---
Between a keen awareness of those cultural forces and Gallagher's not-even-kinda-subtle worship of the Beatles, it's little wonder he found his way to the Epiphone Riviera that inspired this signature model. Gallagher's original Riviera, which was a Japan-made 1980s model, is a very different guitar than the Beatles' hollowbody, P-90-fitted Epiphone Casinos, though. In fact, with its center-block, semi-hollow construction, PAF-inspired humbuckers, and Tune-o-matic bridge, it's much more like a Gibson ES-335.
Epiphone currently makes several very nice ES-style guitars, from their own ES-335 to the closely related Riviera and Sheraton. Most of those guitars, save for the B.B. King, Emily Wolfe, and Joe Bonamassa signature models, sell for $599 to $699, which begs the inquiry: What does this Noel Gallagher Riviera give you for 200 bucks extra that its cheaper stablemates do not? If you're a hardcore Oasis fan, that's a non-question. But even at $899, this guitar is a great value. It feels and plays like a more expensive instrument. The build quality is pretty close to faultless. It comes with a hardshell case. It growls, sings, and stings in classic style. And by amalgamating several elements from Casinos, vintage-style Rivieras, and Gibson ES instruments, the Noel Gallagher Riviera adds up to a unique twist on a classic profile.
An E for Elegance
I've longed for a Gibson ES-335 since … forever. They loomed large in images of some of my biggest heroes: Keith Richards on the back of the Get Yer Ya-Ya's Out! album, Roky Erickson, and Jorma Kaukonen to name just a few. Usually, an Epiphone Dot was the most affordable means of satisfying my 335 desires, and I've played a lot of them in shops and some that belong to friends. But I had weird luck with those Dots. When I found a good one, my interests seemed to be somewhere else. When I was feeling enthused, I could never find one that was quite right. But I feel like if I had ever come across an Epiphone 335-style as nice as the Noel Gallagher Riviera, I might have dropped the cash down on the spot—regardless of my current musical predilections. It's a very inviting and easy-to-hang-out-with kind of guitar.
If you haven't taken a break from your pedalboard for a while and need a taste of straight, mainline amp thrills, the Noel Gallagher Riviera is a satisfying means of getting there.
For starters, the Noel Gallagher Riviera feels next to effortless to play. Not everyone digs cradling a 16" body. And not everyone loves a 12" fretboard radius. But just about anyone else that touches this guitar is at risk to succumb to its smooth-playing charms. The action could fairly be called delicious, and the setup perfect, even after a cross-country journey.
The Noel Gallagher Riviera looks good, too. The wine-red finish and binding, aged to a biscuit-tan hue, look like a rather scrumptious meal. But the guitar also holds up to scrutiny at the detail level. I couldn't find a construction or finish miscue. If there is any possible complaint, it's that the finish might be a tad thick. All the same, I love looking at it. And though dogmatic Gibson players will probably scream heresy, I prefer the way the slim, florid hourglass headstock looks on this guitar compared to a Gibson. The white, curvaceous pickguard is also a pretty contrast to the wine finish, which I prefer to a Gibson ES-335's black guard.
Air and Cultured Muscle
If you haven't taken a break from your pedalboard for a while and need a taste of straight, mainline amp thrills, the Noel Gallagher Riviera is a satisfying means of getting there. The Alnico Classic Pro humbuckers, which aspire to a late-'50s, low-output PAF sound and feel, might lack some sense of the wide-screen, aerated texture you hear in the real thing or a top-flight replica, but they are a very nice facsimile. The top end zings and is neither too soft nor too bossy. And though the low end can be a touch woofy in some settings—a quality that applies to just about any PAF to a degree—it just as readily offers growling counterweight to the sweet treble tones. Like any PAF-profiled pickup, the Alnico Classic Pro is scooped in the midrange. In a great PAF, there's usually enough personality in the scooped mids to lend a little purr to the output. That edge is slightly blunted here. But on balance, this a very nice set of pickups for a guitar in this price range.
The pickups are also a beautiful match for the semi-hollow construction, which I always think feels a little more dimensional than a Les Paul. The bridge pickup and combined pickup settings in particular seem to benefit from the extra body resonance, which lends them size and firecracker energy. The neck pickup alone, meanwhile, feels and sounds a little extra smoky, vocal, and soft around the edges. Each of these settings, by the way, pair to thrilling effect with overdrive tones. But I particularly love how it matched up with Marshall-style and raspy ODs, where the extra midrange adds a sweet toughness.
The Verdict
The knock on the Noel Gallagher Riviera will almost certainly be that it's 200 extra bucks for what is, elementally, an Epiphone ES-335. But the little details—the parallelogram markers, the curvaceous, white Rivera pickguard, and the wine finish and aged binding, add up to a very pretty, distinctive, and unique twist on an ES. It's also a very classy alternative to a Les Paul if you want PAF sounds in a less common instrument. I might also argue that it's just a touch more versatile in some musical situations, thanks to the combination of airy resonance and growl. If you're a songwriter, you'll love how great it sounds nowhere near an amplifier. But this guitar is a joy to hear loud, alive, electrified, and unadulterated.
Epiphone Noel Gallagher Riviera Demo | First Look
Epiphone