A handheld gateway to the world of home recording.
Doesn't require a power supply or batteries. Works with any plug-in or DAW. Very simple interface.
Differences between preamp emulations are subtle.
5
3.5
4.5
4.5
It's never been easier or less expensive to take part in the home recording experience. And Positive Grid's newest entry into the interface market, called RIFF, exists at an impressive nexus of portability, functionality, and price. For around the cost of a decent overdrive, it's a handheld audio interface that skips the bells and whistles for the sake of making a tool that just plain works.
The design is streamlined. The front of the unit is home to a backlit LCD screen and a multi-function push knob. There's also a headphone output and audio input jack on the bottom along with an output jack on top next to a USB port. Setting up RIFF is a breeze. Apple Logic recognized the unit right away on my own computer, and because it's powered via USB (or Lightning in iOS applications), you just plug in to your computer to power up. You can adjust four primary parameters: input gain, output gain, direct (which blends direct and processed tones coming from your computer for monitoring purposes) and tone, which cycles through three preamp emulations. The preamps are effective, though their overall effect and the differences between them can be subtle.
The recording quality of the RIFF is stellar. It handles 24bit/96kHz sample rates and there is little-to-no detectable latency. RIFF also comes bundled with the company's BIAS FX 2 LE software for amp emulation, which makes RIFF a super fun way to practice on top of an incredibly handy recording setup.

Test Gear: Fender HSS Stratocaster, Fender Jazz Bass, Neural DSP Archetype: Cory Wong
Photo by Scott Kowalchyk
The self-described "utility knife" played drums with John Scofield and Marcus Miller and spent time in the studio with Q-Tip before landing on Stephen Colbert's show as a multi-instrumentalist member of the house band. Now, he's taken over as the show's guitar-wielding bandleader and is making his mark.
It's a classic old-school-show-biz move: Bring out the band, introduce them one by one, and build up the song to its explosive beginning. It's fun, dramatic, audiences love it, and that's how every The Late Show with Stephen Colbert taping starts.
By this time, us audience members have been sitting in Manhattan's chilly Ed Sullivan Theater for about 90 minutes. We've gotten our seats, had a bathroom break after getting settled, and had some fun with warm-up comic Paul Mecurio. The first musician summoned by announcer Jen Spyra is drummer Joe Saylor. Wearing his trademark cowboy hat, he jogs out, gets behind the kit, and kicks off an up-tempo second-line groove. Next comes upright bassist Endea Owens and percussionist Nêgah Santos. The band's trumpeter, Jon Lampley, is introduced, and he's brought along his bandmates in the Huntertones as guests, so saxophonist Dan White and trombonist Chris Ott come out as well.
Louis Cato feat. Stay Human "Look Within"
The multitalented Louis Cato leads the Stay Human band through a special rooftop performance of his song "Look Within," from his album, Starting Now.
The audience is now on its feet, the band's pocket is thick, and the energy is building. When bandleader Louis Cato charges onstage, he reaches his mic on the bandstand and shouts, "I feel good today!" with explosive enthusiasm and a big grin, and the band launches into Jon Batiste's "I'm from Kenner." Cato sings the catchy and gleeful refrain: "I feel good, I feel free, I feel fine just being me / I feel good today." And the audience is feeling the love. Almost everyone is bouncing and clapping along.
A couple minutes in, when it seems like the song has reached its super-positive-vibe, high-energy climax, Cato shouts into his mic, "How do you feel today, Stephen?" And with that, Colbert comes running out from the middle of the set. Cato leaps from the bandstand toward the host as the crowd explodes. The two grab hold of each other and attempt to spin around, but the bandleader, holding his black-sparkle Tuttle T-style, loses his grip and goes sliding across the shiny stage. There's a second where both are comically stunned—Kevin McCallister Home Alone-expressions on both of their faces—but Cato quickly jumps to his feet, both he and his guitar unharmed, and runs back to the bandstand, where he keeps the song moving along with his bandmates, who haven't missed a beat.
All this excitement isn't even for the TV audience! Colbert is coming out for the un-televised pre-show Q&A. In a few minutes, they'll do a new taped intro that looks more like what we see every night. But they've gotten the crowd energized, and we need to keep it up. They need our energy to do their jobs.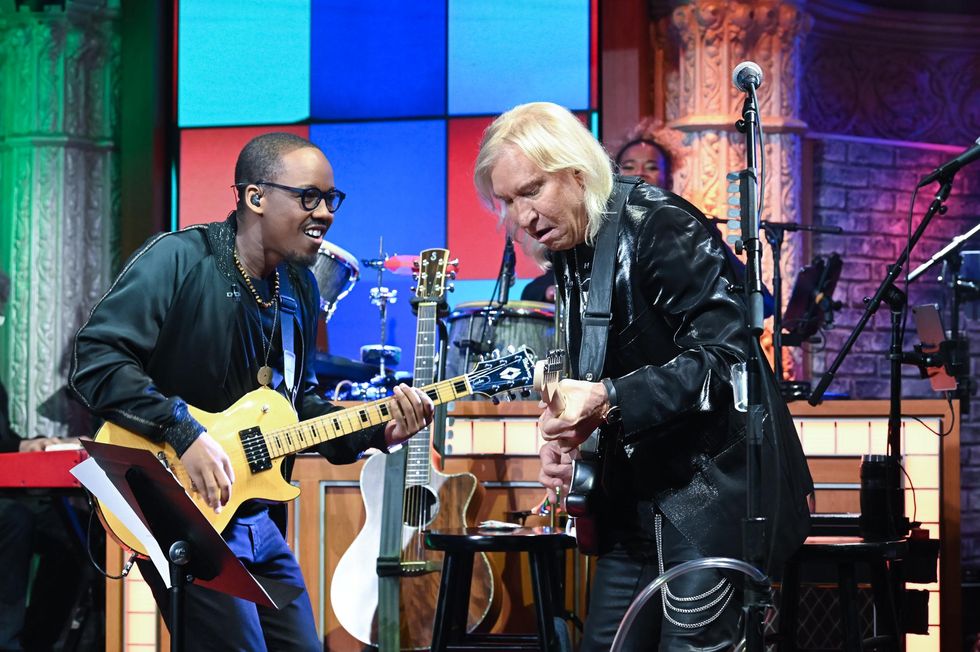 The Late Show Band welcomes a lot of guests up on the bandstand. Here, Cato and Joe Walsh boogie down.
Photo by Scott Kowalchyk
As Cato sees it, that's what his role as bandleader is all about: keeping the audience engaged and amplifying the drama and action of the show. "That translates to the energy that the viewers get at home," he explains. "For all of us here, we're able to feed off that energy and do the best possible show that we all can."
Colbert agrees with that job description and adds that the bandleader himself has the same contagious effect on his players. "Louis is an extraordinarily gifted multi-instrumentalist," he says, "whose spirit of creativity and collaboration not only elevates everything the band does musically but inspires me to be better at my job." He adds, "I'm so happy to call him my friend."
Beyond his infectious energy and charisma, there are a lot of ways Cato keeps the Late Show Band invigorated from night to night. For one, he keeps the music fresh by tackling a new cover song every day. That doesn't mean running down rote note-for-note charts. Cato and the band take a reconstructionist approach that fans of his work—whether from his collaborations with artists such as the Huntertones, Scary Pockets, or Vulfpeck, or from his regular Instagram cover-song posts—will recognize.
"Louis is an extraordinarily gifted multi-instrumentalist whose spirit of creativity and collaboration not only elevates everything the band does musically but inspires me to be better at my job."—Stephen Colbert
On this evening, the band runs through a host of multi-genre reinterpretations during the two-episode taping, including a slow-burning and soulful "Smokestack Lightning," a New Orleans-style "Down by the Riverside," and a fingerpicked, acoustic-led take of Joni Mitchell's "Free Man in Paris" that gets Colbert lip syncing along off camera. On a horn-driven arrangement of Stevie Wonder's "Love's in Need of Love Today," there's a re-worked bridge that creates a generous feature spot for the guest horn players.
Every arrangement brings a new and unique perspective to a classic track, to ensure the band is "not just a wedding band doing a cover of a song on the radio." Cato adds, "We're arranging it and making it our own—because that's the sonic fingerprint of our show."
St. Vincent jams with Louis and crew.
Photo by Scott Kowalchyk
A Lifelong Path
Listening to the story of Cato's musical life, it seems that this job—with its demand for a blend of careful strategizing and on-the-fly creative thinking, as well as effortless instrumental skills and charismatic showmanship—is what he's been training for since the beginning.
On the morning of the taping I attended, I meet Cato in his dressing room. Painted with sky-blue walls and a cloud mural on the ceiling, it's a comfortable place to hang. The bandleader is wearing slim-fit floral pants, a hoodie over a black T-shirt, and a long necklace. He sits across from me on his couch, next to a guitar stand that holds a few instruments—including his Tuttle, a Jesse Stern-built baritone acoustic, and his Univox LP-style—and a '65 Deluxe Reverb reissue with a Universal Audio Dream '65 pedal plugged into it.
"There's not a time in my brain when I was not making music in some way or form," Cato says. His mother, a pianist in the Church of God in Christ, bought her son a Diamond drum kit that he recalls having paper heads when he was just 2 years old, and she started teaching the toddler to accompany her. "I marvel at my mom," he laughs. "Like, who buys their 2-year-old a drum kit?" After playing those drums every day for a year, he started accompanying her at services.
The family moved around a lot. Cato's father was in the Air Force, and Louis was born on a base in Lisbon, Portugal, before moving to Dayton, Ohio. Not long after he started playing in church there, they moved again to Washington, D.C., and when Louis was 5 they settled in Albemarle, North Carolina. A few years later, Louis started playing guitar on a "little burgundy sunburst acoustic. Eventually, I busted a string and busted another string and just kept playing with four strings. I delved more into bass from playing bass lines on the acoustic guitar. So, for my 9th birthday, my dad bought me a 4-string bass."

"I'd show up to Tip's and we'd do a week of writing sessions with John Legend or have André 3000 in the studio for a couple of weeks."
While it was strictly pragmatic reasons that initially drew him to the bass, he says his biggest inspiration was the bass player he knew best: his mother's left hand. Her playing, rooted in the COGIC (Church of God in Christ) style, "involves heavy left-hand bass. I wasn't as psyched to play bass in church since the way my mom plays is very defined. But eventually I kind of had to learn how she plays. It was always just her and me playing. And I had to learn to move with that and follow that. She's a great bass player."
Along the way, Cato picked up more instruments. By the time he headed to Berklee, he was playing drums, guitar, and bass as well as tuba, trombone, and euphonium. "I was going from being a big fish in a small pond to a small fish in a large pond of super-talented people who had heard oodles of music I had never dreamed of," he recalls. So, he decided to focus his studies on the instrument he'd played the longest.
Louis Cato's Gear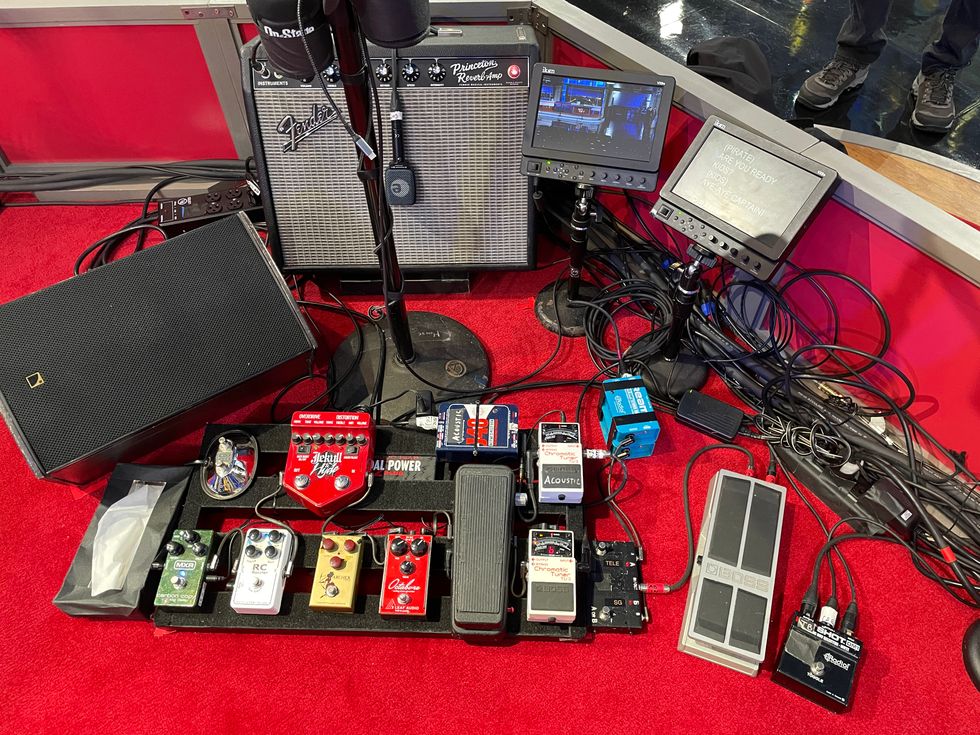 A glimpse at Cato's pedals and amp, which mostly live outside of the camera's eye, behind his stage monitor.
Guitars
Univox LP-style
Tuttle Custom Hollow T
1961 Gibson SG reissue
Martin OM-28
Amps
'65 Fender Princeton Reverb reissue
Effects
Boss FV-500H Volume Pedal
Boss TU-3 Chromatic Tuner
Dunlop Cry Baby
3 Leaf Audio Octabvre
J. Rockett Archer
Truetone Jekyll & Hyde
Xotic RC Booster
MXR Carbon Copy
Strings and Picks

D'Addario EJ16 (.012-.053)
D'Addario EXL110 (.010-.046)
Dunlop Max Grip .88 mm
Cato completed just two semesters—fall '03 and spring '04—before deciding to concentrate on playing the gigs that were paying his bills. "My rationale was, much to my parents' chagrin, here's an opportunity where I can keep learning on the job and be working my way out of the debt I went into in this year."
Gigging with wedding and church bands gave the multi-instrumentalist an opportunity to keep all his instrumental and vocal skills alive. "My oldest daughter was born soon after that," he recalls, "so I felt really, really aware of how lucky I was, how lucky any of us are, to make a living and support a family as a musician." Cato spent five years in Boston, playing various instruments in gigging bands, and he frequented local institution Wally's Cafe Jazz Club, just two blocks down the street from Berklee, "for self-education and inspiration. When that felt like I hit a ceiling, I looked at where I could go to continue my inspiration and working on the kind of projects I wanted to be working on, and that led me here."
By that time, Cato's friend Meghan Stabile, had moved to New York and created the promotion and production company Revive Music, which was dedicated to the kinds of jazz and hip-hop collaborations he wanted to pursue. Cato moved to Bushwick, Brooklyn, with his band Six Figures— "There were six of us; we did not make six figures!"—and would head back to Boston each weekend for the gigs that were paying his bills. Eager to soak up the New York scene, he'd return to New York on Sunday nights and go directly to jam sessions.
All that time back and forth on the Northeast Corridor paid off. A self-described musical "utility knife," Cato's multi-instrumentalism, as well as his talents as a songwriter, arranger, producer, and engineer, made him a major asset as a collaborator, and the New York scene took notice. Soon, he established essential connections that would affect his career, forming "an instantaneous brotherhood that continues to this day" with producer Kamaal Fareed, aka Q-Tip. "Through that, I ended up really delving into a lot of relationships and credits."
The two artists worked on high-level collaborations that not only bolstered Cato's reputation but served as a major piece of his education. "I'd show up to Tip's," he explains, "and we'd do a week of writing sessions with John Legend or have André 3000 in the studio for a couple of weeks. Sometimes things would come from it, and sometimes nothing would come from it. But being in the creative process on that level in a trusted space was invaluable for me. I learned so much."
Outside of Q-Tip's studio, Cato was learning from plenty of masters, mostly from behind the kit. "It's really special when you find yourself learning things you connect to," he says about his work alongside artists such as bassist Marcus Miller, keyboardist George Duke, and guitarist John Scofield. "And I learned so much about myself from connecting to some of these people."
Staying Human
Back in 2015, Cato received a phone call from pianist Jon Batiste. The two had never met, but Batiste rang him up about a mysterious project—a theme song for a TV show that he couldn't disclose. "I had a wisdom tooth appointment back in Boston, and I got a random call," Cato remembers. "I think his exact words were, 'I'd love to have your ears on it.' And I followed my gut, rescheduled my trip, stayed in New York an extra day with an abscessed wisdom tooth."
The two got together to co-write and produce "Humanism," which would become the theme song for the Stephen Colbert-hosted Late Show. Batiste played piano, Cato played the guitar, bass, and drum parts and "put on my editing hat." They brought in Joe Saylor—who would become the show's drummer—to play tambourine, as well as saxophonist Eddie Barbash. "After the session," Cato remembers, "I went back, got my wisdom tooth out, and went back on the road with John Scofield."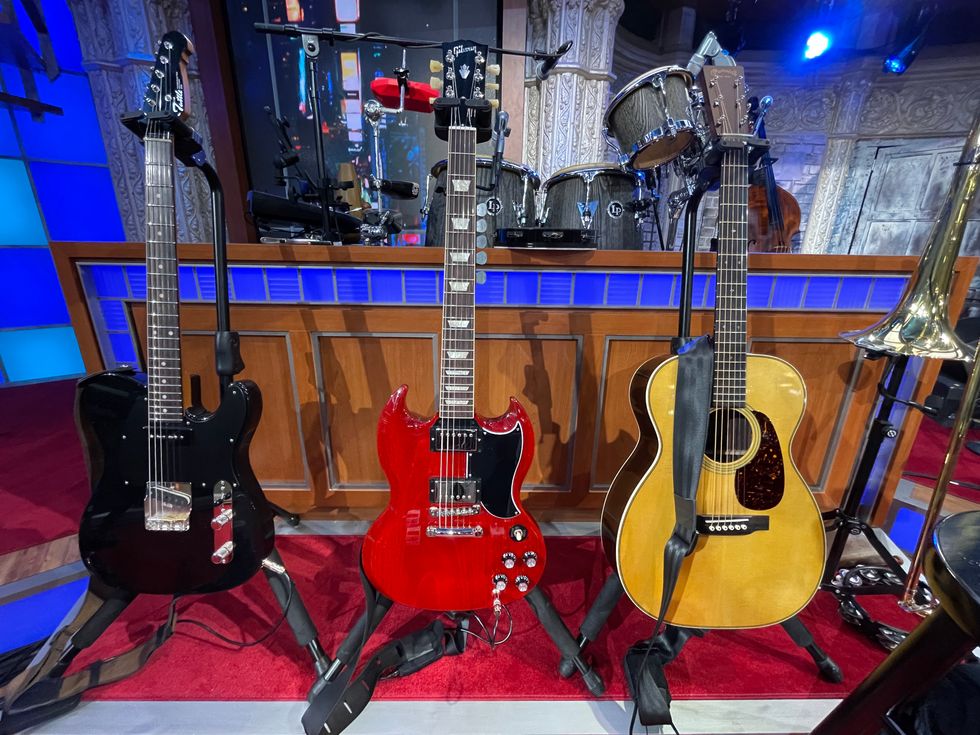 Three of the four go-to guitars Cato uses on The Late Show: a black Tuttle T-style, a cherry-red Gibson SG, and a Martin OM-28.
At first, Cato played the multi-instrumental role of his dreams, attempting to surround himself with every instrument he could play. "That lasted about three days before reality set in," he laughs. "Slowly, one by one, things started disappearing—a floor tom going away here, a Pro Tools setup going offstage there. Eventually, as the band formed out, I moved around to what was needed. I was the utility guy—played a lot of kazoo, a lot of cowbell."
While on the road drumming with Sco', Cato got the invite from Batiste to join the show's band, Stay Human. "It was a huge life shift for me," Cato explains. "I was making really good money on the road with really good musicians, which was really fulfilling. And I took a chance. I loved the idea of being a part of something creatively from its inception."
Eventually, Cato settled into a more consistent electric bass role, until Batiste brought in upright player Endea Owens, and he moved to guitar, where he's mostly stayed. When Batiste left the show last year, Cato took over as bandleader—officially starting this season, back in September—and decided he'd lead from his role as guitarist. "Of all the places I occupied," he says, "guitar was the easiest and most natural to me to lead the band, in the energy. From behind the drums, it's a different thing, and we've done it when Joe was out. But it just was a really natural progression."
Same Show, New Job
In just a few months, Cato's new role as bandleader has had an impact on the show. The renamed Late Show Band's engine seems to be burning on a new kind of fuel. And it feels as though that energy is coming directly from Cato.
When we talk, the guitarist is deeply engaged, in a kind of hyper-focused way that is not intense but more casually un-distractable. He brings that same focus to the show. While Colbert delivers monologues, Cato is zoomed in on the host, listening to every word, often riffing around on his guitar to contribute musical commentary. During interviews, he's taking cues and following the tone of the conversation, looking for ways to adapt.
The bandleader gig requires loads of big-picture improvisation, but also lots of prep. Cato explains that each week he makes a set list, but the band will react and make changes in the moment. "My job ends up being a lot of judgement calls that affect the flow of the show," he says. "We have a group of compositions we wrote for the show that can complement different moments. If there's a major energy shift in an interview that takes a turn or something happens in the day, like a tragedy, we'll call one of the songs we wrote for the show for a moment such as that. Recently, we had a guest on that started improvising a song. So, I have on our in-ear mic and call out the key and start playing, and we all jump in, and now we're doing this instead."
Cato poses with his black-sparkle chambered T-style, made by Tuttle. "When I'm checking off core priorities in sound," he says, "if I'm going for rhythmic things, I go to the Tele."
Photo by Scott Kowalchyk
Watching the Late Show Band in person, I see this play out as Treasury Secretary Janet Yellen explains the steps the U.S. can take to avoid a recession. It's a heavy and heady conversation, and, frankly, it's anything but fun. Cato knows he'll need to pick the audience back up. As he watches from the bandstand, he gives tempo cues to the band, who nod along, so they can effectively shift the energy and get the audience re-focused for the next guest, actor/director Sarah Polley.
As a guitar player, Cato says he sticks to playing things that feel most natural to him so he can concentrate on his bandleading duties. He adds that he considers himself more a rhythm guitarist than a lead guitarist. (It's worth noting that his delineation is more conceptual than musical: Cato is an inspired and dynamic melodic lead player, but his deeply rooted phrasing and feel is at the forefront of everything he plays, so the rhythm-first thing applies to it all.) "This is not a space as a guitar player where I'm jumping out of the box trying any and everything and exploring," he explains. "You get to some of those places. But for me, it always has to start from something I can do while leading the band and reading the energy and making judgement calls."
"We're arranging it and making it our own—because that's the sonic fingerprint of our show."
That rooted, pragmatic ethos applies to the gear he chooses as well. "I never was a big gear person," he admits. Luckily, he has Late Show Band tech and informed gearhead Matt Mead to help him keep his pedalboard well-stocked. "There's so many things I'm learning about the job and trying to keep straight in my head that this ends up getting the short end of the stick, and it wouldn't work if there was not a Matt Mead to make up the rest of that stick and make it sound good."
"The show throws a lot of curveballs," Mead points out. "He steers the boat as far as the tones he's looking for and if there's a particular sound he's looking for. Sometimes, I'll recommend stuff and say, 'Hey I notice you're doing this, maybe we should try this.'"
Cato's collaboratively curated pedalboard is pretty simple at its core: It starts with a Boss FV-500H volume pedal, a Boss TU-3, a Dunlop Cry Baby, and 3 Leaf Audio Octabvre. Cato shows me how he uses the latter for more traditional, Hendrix-style playing, but he points out that the band plays a lot of montunoes, and he tends to use the octave pedal for those. For drive, he uses a J. Rockett Archer and a Truetone Jekyll & Hyde, which are followed by an Xotic RC Booster and an MXR Carbon Copy, all into a Fender '65 Princeton Reverb reissue, and powered by a Voodoo Labs Pedal Power Plus.
In live performances outside of The Late Show, Cato uses various guitars, but says that the studio's cold temperature doesn't do many favors for instruments such as his Gibson Luther Dickinson ES-335 or some of his acoustics, so he's careful when selecting which guitars come on stage at the Ed Sullivan Theater. The three guitars that most commonly appear on the show are his black Tuttle Custom Hollow T, a cherry red Gibson SG 1961 Reissue, and a Martin OM-28.
Another guitar that sometimes appears on the Late Show is his LP-style Univox, which I ask Cato about in his dressing room. "If I need to be altogether comfortable," he explains, "I pull out the Univox, because it's my earliest guitar. I've had this since high school."
Cory Wong "Lunchtime" - The Late Show's Commercial Breakdown
When musical guests visit The Late Show, they get the full-band treatment from Cato and company. Here, Cory Wong sits in for a rhythm guitar showdown of the highest level.
Back when he first got the guitar, Cato remembers, it was in rough shape, desperately in need of wiring and pickup repairs and a new set of tuners. It stayed that way until he was in Boston. When he picked up a wedding band gig playing trombone and guitar, he was lucky enough to have a roommate who could get the Univox performance-ready by replacing the original tuners with locking units, cleaning out the electronics, and swapping the pickups for a pair of Seymour Duncans.
"I didn't even know there was a such thing as a professional musician."
But Cato says that even before those repairs, he's always "loved it because it's all I had. I remember I was playing a little Vox amp, and this guitar had a feeling out of that amp. This guitar just became home base and felt super natural to my fingers. If I need to just not be thinking at all, this is home."
Did he ever dream he'd be on television every night, holding this Univox and chumming with a late-night host? "Never! Not once!" he says. "It was just a product of my nurture growing up in a small town. I didn't even know there was such a thing as a professional musician." And yet, Cato pursued music as fully and single-mindedly as he could. "I just knew that I liked it and felt connected to it."
Time to level up from those wimpy computer speakers.
One of the most important aspects of your audio signal chain is how you hear your creations. For those dipping into the home-studio life, here are 10 entry-level options for monitors that balance power, portability, and price.
KRK Classic 5
Even with a 5" woofer, this two-way monitor offers a total of 50 watts of power with 30 watts driving the woofer and 20 watts for the tweeter. It has an optional bass boost, front-firing port, and dedicated high- and low-frequency adjustment controls.
$149.50 each
Samson MediaOne BT3
Portability and wireless features are at the forefront of this design. Each speaker has a 3" woofer and 1" tweeter that offers 15 watts per channel. Around back you have Bluetooth capability, RCA inputs, and passive output terminals.
$91 pair
JBL 1 Series 104-BT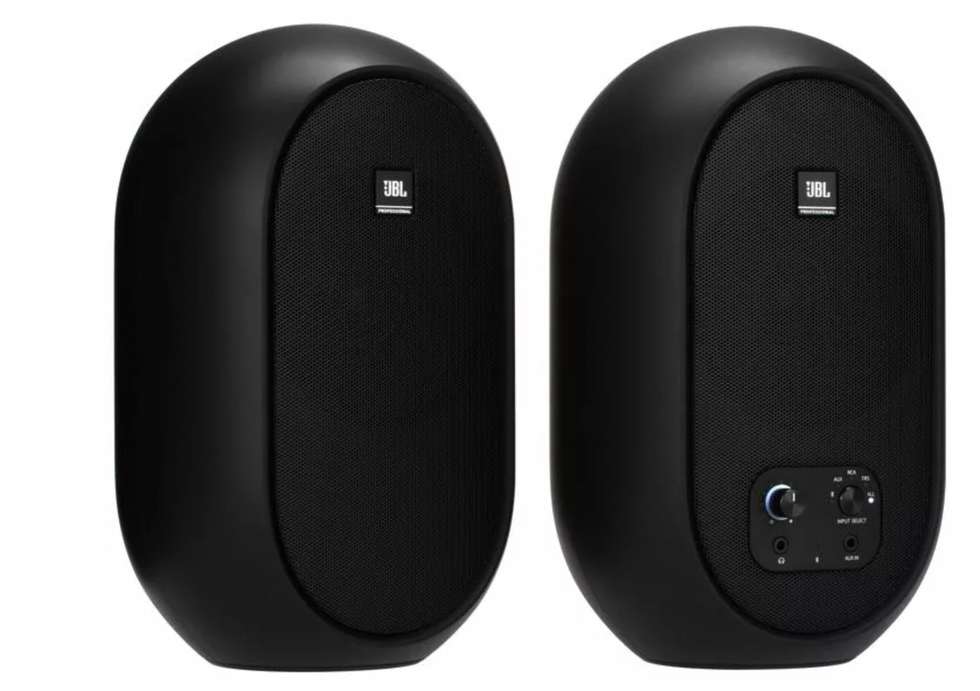 This set of monitors is powered by an integrated class-D 60-watt amp that distributes 30 watts to each speaker. With a 4.5" woofer it can kick out up to 104 dB SPL. It offers three sets of inputs (aux, RCA, and TRS) along with Bluetooth connectivity.
$199 pair
Behringer MS16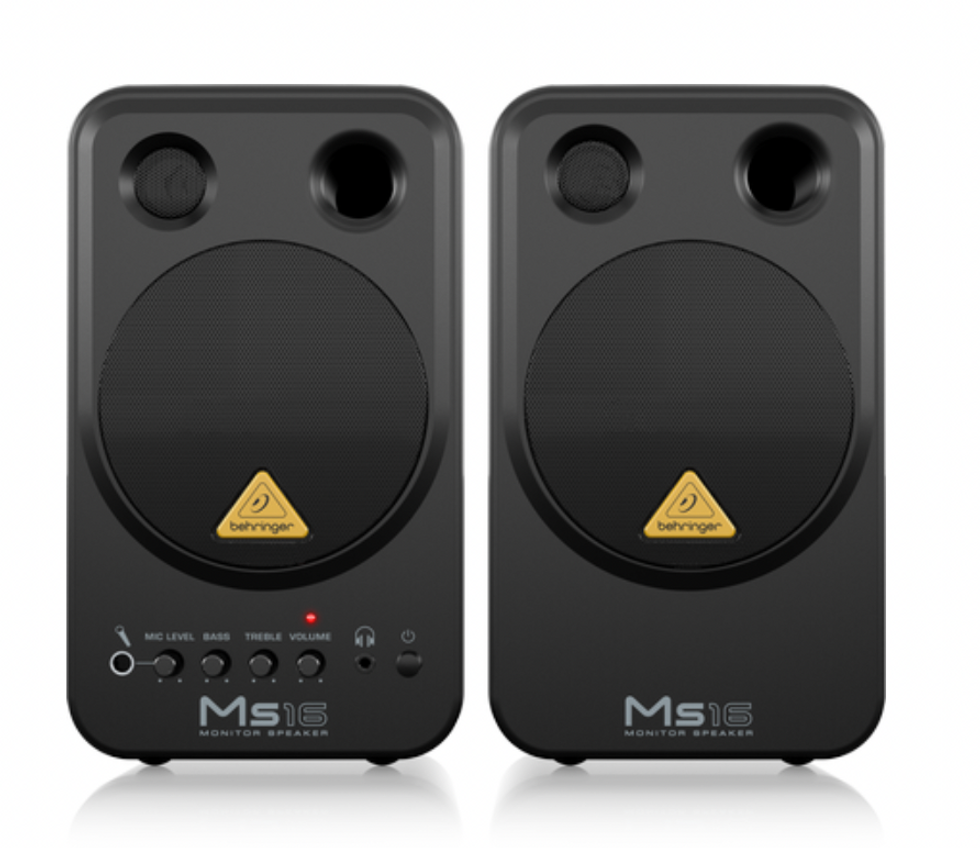 Aimed for entry-level music creators, this setup is a compact, 8-watt affair with dedicated treble and bass controls on the front panel along with a TRS mic input with level control. A built-in mixer makes playing along with backing tracks a breeze.
$99 pair
Kali Audio LP-6 V2
On the higher end of our collection is the latest iteration of the company's LP-6 which is loaded with an 80-watt class-D amp along with a 6.5" woofer that can churn out a max SPL of 115 dB. Inputs include RCA, TRS, and XLR, and features include a series of dip switches that help tune the monitors to your specific space.
$199 each
Presonus ERIS E3.5
These portable reference monitors offer a dead-simple control setup with an aux input, a headphone output, and a simple volume knob. They come packed with balanced TRS and RCA inputs. Even with a 3.5" woofer, a 50-watt engine pushes a peak of 100 dB.
$99 pair
Mackie CR3-X
If space is at a premium, these ultra-portable monitors combine a silk dome tweeter and a 3" woofer into an extremely affordable package. An easily accessible headphone jack is on front and a trio of inputs (TRS, RCA, and unbalanced stereo in) are featured on the back.
$99 pair
Alesis Elevate 5 MkII
Combining a high-precision driver with a custom-designed crossover, this pair offers 40 watts of power in a magnetically shielded enclosure to help with interference from video monitors. Rear controls include a switchable bass boost, RCA and XLR inputs, and a power switch.
$139 pair
Tannoy Reveal 502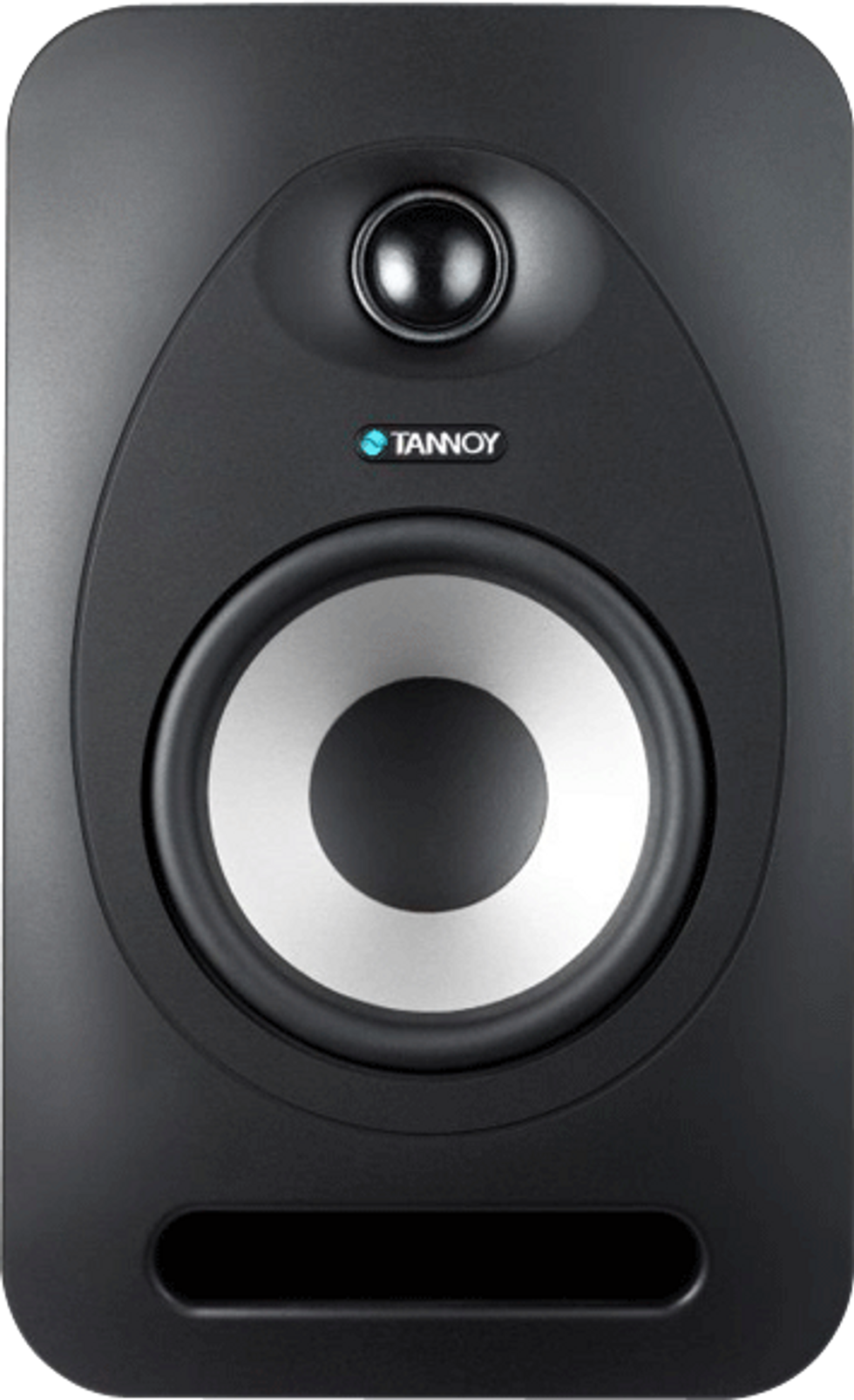 A front-firing bass port allows for placement near walls and aim to keep the low-end in check. Inside is a 75-watt bi-amp design with a custom crossover that puts out 50 watts in the lows and mids and 25 watts in the highs. Naturally, it comes stocked with XLR, unbalanced, and aux inputs.
$149 each
M-Audio BX5 D3
A 5" Kevlar woofer (bulletproof?) is the highlight of this affordable monitor set. The front panel is sleek and doesn't offer any tangible control. All the inputs (XLR and TRS), volume control, and power switch are around back along with a toggle used to tune the monitors to your specific acoustic space.
$149 each
With automatic level setting, an omnidirectional condenser, and a pair of phantom-powered XLR inputs, iZotope's latest puts a lot of recording power into your iOS device.
It just ... works. Very good mic. Easy to setup.
iZotope Spire Studio (2nd generation)
izotope.com

4
4
5
4
Since COVID upended the world, nearly every serious musician I know has become at least slightly better at recording. And that uptick in engineering interest may make iZotope's second iteration of the Spire Studio portable multitrack recorder worth checking out for those looking to strike fast when they're inspired. I was up and tracking less than three minutes after unboxing the unit.
Simply plug in your headphones, hit the soundcheck button, strum a few chords, and Spire automatically sets your recording level. The onboard omnidirectional condenser mic sounded impressively clear with my acoustic guitar, but you can also go direct or use your own mics via two XLR/1/4" combo jacks—which even feature 48V phantom power.
Tracking multiple parts was a breeze, as was editing, overdubbing, and mixing them right from the app.
But the real magic is in the free mobile app, which lets you control the unit from an iOS device. Tracking multiple parts was a breeze, as was editing, overdubbing, and mixing them right from the app. The visual mixer is an extremely nice touch. It allows you to control panning and volume by simply sliding around icons that represent each track. What's more, you can seamlessly export either a mix or stems that work in just about any DAW imaginable. All in all, while Spire might not be your go-to method for creating a final mix for the masses, it's a fast, intuitive, convenient way to capture and shape fairly sophisticated musical ideas before they fade from memory.
Test Gear: Cordobá DC-9, Neural DSP Quad Cortex
Four top speaker-emulators from Mesa/Boogie, Two Notes, Boss, and Universal Audio get the PG review-roundup treatment.
Guitarists have searched for ways to capture big amp tones at low volume since time immemorial, or at least for the last few decades. The quest became more urgent during COVID, as many of us needed to carve out sonic space for remote-schooled kids, telecommuting roommates, and housebound neighbors griping about loud music, not just on evenings and weekends, but 24/7.
Fortunately, solutions are legion: hardware amp emulators, faux-amp plug-ins, and—our focus here—load box/speaker emulators that let you capture the sounds of your favorite amps minus their usual volume. In fact, we're zeroing in on one particular type of product: load box/emulators that faithfully mimic the sound of a miked speaker via impulse responses.
Impulsive Behavior
Speaker impulse responses (IRs) are created by running a test signal through a cabinet and recording the results. The software then compares the raw signal to the sound that emerges from the speaker, and imposes the same coloration on raw, direct-from-amp tones.
Meanwhile, the load box makes your amp "think" it's connected to a speaker. (Running an analog amp without a speaker load is a quick way to destroy the amp.) The four devices examined here include speaker-out jacks, so you can play through your speaker at reduced levels if desired while simultaneously capturing the direct IR sound. All four offer attractive faux-speaker sounds. Beyond that, prices and features vary dramatically.
While we're specifically examining stand- alone devices, it's also worth noting that amp manufacturers—among them Revv, Fender, Victory, and Mesa/Boogie—are increasingly offering built-in cab IR tech, too.
During COVID, many of us needed to carve out sonic space for remote-schooled kids, telecommuting roommates, and housebound neighbors griping about loud music—not just on evenings and weekends, but 24/7.
About the Demo Clips
I recorded all clips using a ReAmp, so I could run the identical material through each device without having to worry about performance inconsistencies. Each device is represented by three clean tones and three distorted tones. All were recorded through a Carr Lincoln amp, a Vox-inspired boutique model. The test guitars are a pre-CBS Fender Stratocaster for the clean tones and an '80s Gibson Les Paul with retro-style PAFs for the crunchy ones.
Exercise caution when making direct sonic comparisons. The available models and effects vary from device to device. Also, since the Mesa CabClone IR+ has no effects, its clips lack the fattening compression and rich ambience of the rival examples. But CabClone users can easily add those effects within the DAW or at the mixing desk. Finally, remember that only the speaker/cab sound is under review, not the amp tone. Results vary immensely depending on your amp of choice. For example, you may not dig the vintage-flavored tube distortion heard here, but connecting a modern, high-gain amp would instantly yield modern, high-gain tones.
We'll proceed in ascending order of price.
Two Notes Torpedo Captor X Reactive Load Box DI and Attenuator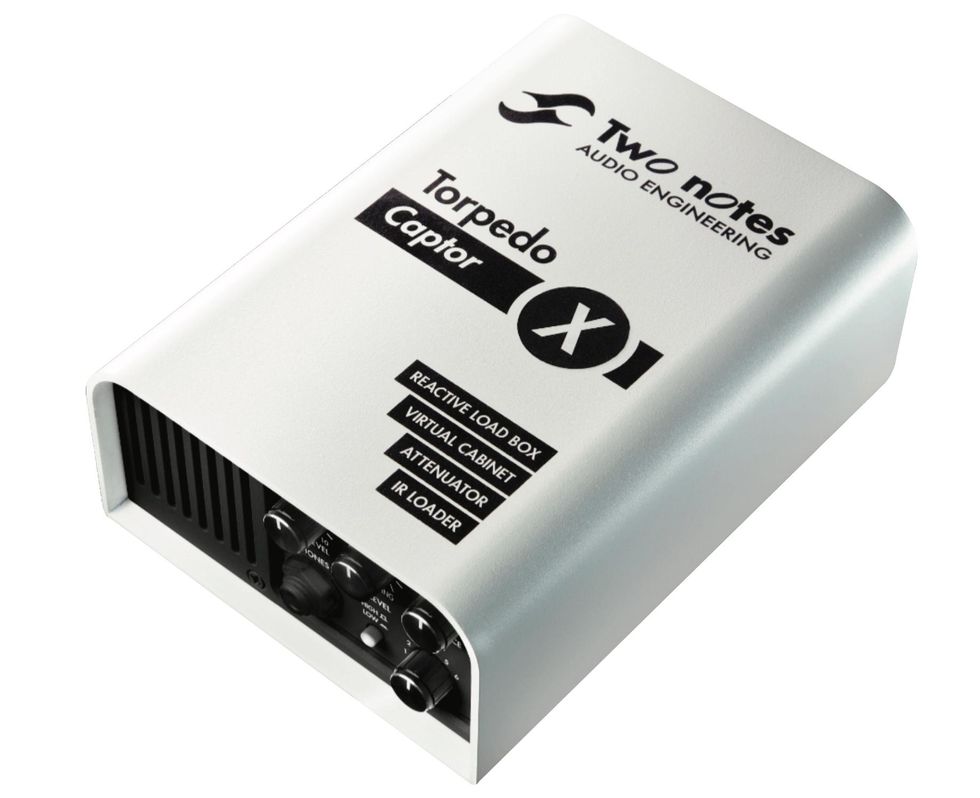 Mesa CabClone IR+ Reactive Load Attenuator & IR Cab Simulator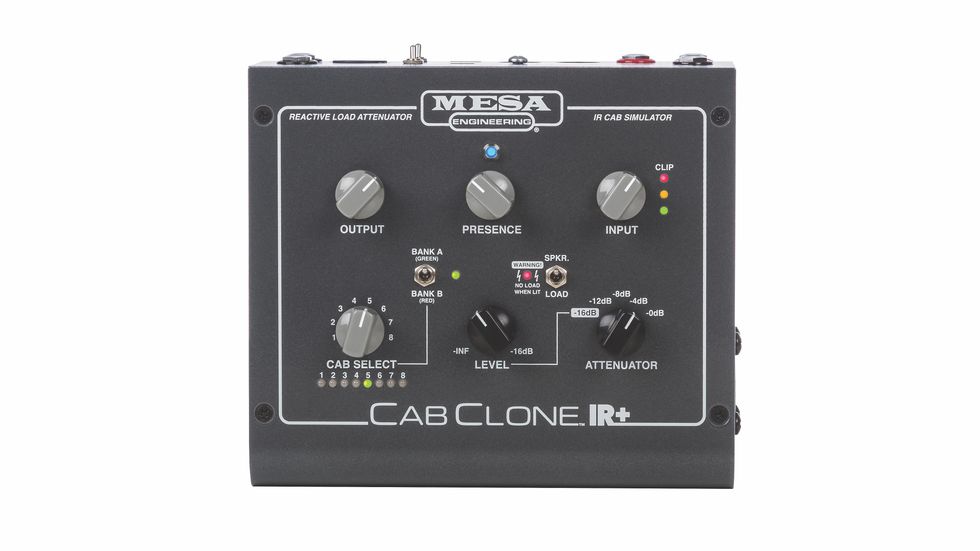 Boss WAZA Tube Amp Expander Amplifier Attenuator
OX Me Again: Revisiting Universal Audio's Amp Top Box