Two Notes Torpedo Captor X Reactive Load Box DI and Attenuator
Simplicity and power make the speaker emulator a price/performance champ.

Excellent tones. Quality construction. Compact size. Generous library of virtual cabs. Loads third-party IRs. Excellent editing software for Mac, PC, iOS, and Android. Dual XLR outputs. Great price.
Non-switchable ohmage. No dedicated 4-ohm model.
4.5
5
4.5
5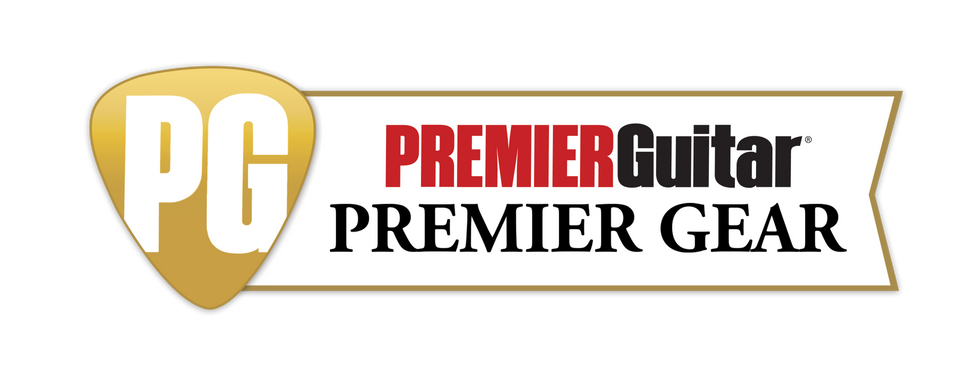 Two Notes is a familiar name among IR users. Besides offering a range of hardware speaker emulators/load boxes, they've partnered with numerous musical instrument companies, licensing their highly regarded DynIRs for use in amps and pedals.
---
The Captor X is a major update of the Two Notes original Captor load box, itself a scaled-down version of the earlier Torpedo Reload. The previous products were full-featured load boxes/speaker emulators, whose output could be combined with IR software on your computer. Captor X brings the IR technology onboard, along with a host of helpful new features. As a result, the lowest-priced device in this roundup offers many functions found on the higher-priced units. It's available in 8-ohm or 16-ohm versions. (You can probably run a 4-ohm output through the 8-ohm Captor X without complications, but try before you buy.)
It's a compact unit, measuring approximately 11" x 6.5" x 4". It resides in a hefty metal enclosure, with recessed knobs to prevent the pots from being sheared off during hectic load-ins and load outs.
Quiet Riot
The Captor X is a fine-sounding level attenuator. Once you connect a speaker cable from your amp's speaker out to the Captor X's speaker input, you can route the signal back to your speaker/cab at three preset levels: full, medium, and low. You can definitely get hot amp tones at manageable volumes with relatively little unwanted coloration. Meanwhile, two XLR outputs feed the processed sound to your DAW or monitors.
The included editing software (for Mac and PC) lets you configure these as stereo outputs, or as two discrete mono outputs with independent EQ and effect settings. You might also, for example, send an unaffected signal to the front-of-house board, but tweak the EQ and reverb to taste for your personal monitor. You can also listen in stereo via the headphone jack. The IR quality is excellent, with depth and detailed texture. Tones are gratifyingly realistic.
The device's hardware controls set the output level, the "voicing" (a broad-shouldered upper-midrange EQ centered at 900 Hz), and "space," which controls either the width of the stereo reverb or the tightness of the Captor X's doubling effect. (You hear the latter at 1:16 in demo Clip 1). You can toggle between two fixed input levels, too. A dedicated knob lets you select from six favorite cabinet/effect settings created with the Captor X's editing software. Speaking of which.…
You can edit on your Mac or PC via a USB cable, or download a wireless editor for iOS or Android devices.
Stellar Software
The Captor X's software component is gorgeous, with the sort the flexibility and refined interface design you'd associate with higher-priced devices. You can edit on your Mac or PC via a USB cable, or download a wireless editor for iOS or Android devices.
A Captor X preset starts with one of the 32 included cabinets. The 26 virtual guitar cabs are a well-rounded collection of vintage combos, classic stacks, and modern metal machines. There are also six bass cabs. (You can download three additional guitar cabs upon registration). The cabs are "heard" by a pair of virtual microphones based on common condenser, dynamic, and ribbon models. You can set mic type and virtual position independently for each channel and balance their relative levels. The Captor X can load third-party IRs as well as those purchased from the editor's integrated Two Notes store.
You can also assign effects. There's 5-band, fixed-frequency EQ, switchable between guitar and bass profiles. There also a custom EQ mode with adjustable frequencies (but fixed bandwidth). You can select from 13 onboard room reverbs with adjustable mix, virtual room size, reflection level, and tone. You can also toggle between a warm ambient setting with subtle reflections, or a brighter, more reflective room sound. The "enhancer" section includes a single-control compressor to fatten tones, accompanied by low-mid and upper-mid tone controls independent of the aforementioned EQ stage. Finally, you can control most tone parameters via MIDI via a 1/8" phone jack.
The Verdict
The Captor X is a price/performance champ. Its tones rival those of costlier devices. The tone-shaping controls are simple yet powerful. The computer and mobile editing software is a pleasure to use. Highly recommended!