Taylor Made: an Exclusive Tour Through the Taylor Factory
A look inside the processes behind Taylor guitars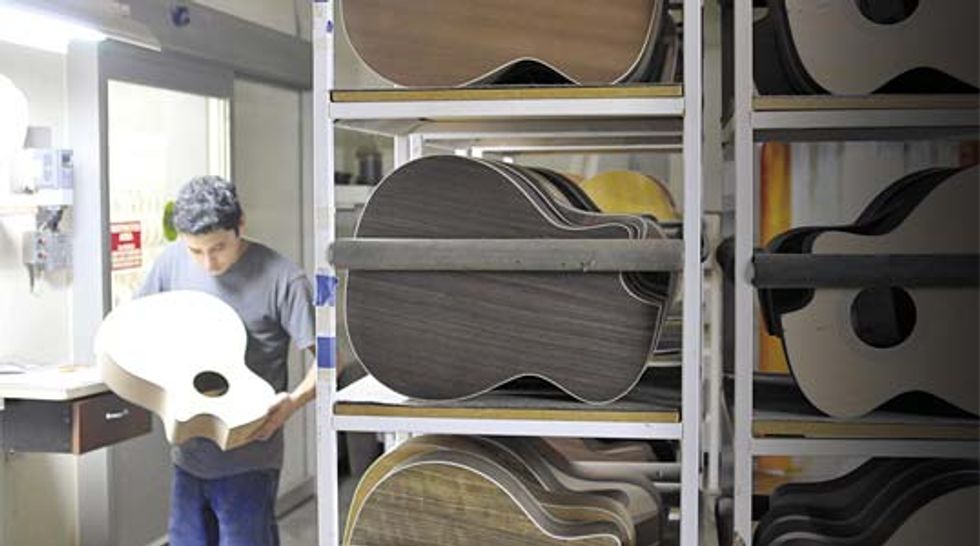 According to the Timeline section of Taylor's website, Bob Taylor had this to say about his first guitar, "I worked on that guitar my whole 11th grade year, and the day I strung it up was pretty great. My friends came over and we all played it and everyone thought it was the best guitar they'd ever strummed. Like we really knew, or something. Actually, it was a pile and wasn't made very well, but it wasn't too bad for a 17-year-old kid working on his own and not knowing anything about the subject."
Click here to watch our video tour of the factory, with exclusive interviews with Bob Taylor.
Beginning with this humble, self-admitted "pile" of a guitar, Bob Taylor has earned a well-respected spot in the industry by constantly striving to find better ways to do things, even within a craft as bound by tradition as guitar making. Initially derided for such heretical behavior as bolting-on necks and choosing unique tonewoods, Taylor's non-conformist tactics have come full circle, with even the staunchest of old-world companies now offering several "bolt-on" models in their catalogs. Not content with simply building different guitars, Bob also seems intent on building guitars differently, honing his manufacturing processes and creating custom tools with a trusted crew of engineering visionaries.
Bob Taylor and crew were kind enough to offer Premier Guitar an opportunity to tour Taylor world headquarters in El Cajon, California. Nestled in a non-descript industrial park in a San Diego suburb, Taylor has created a campus that runs the gamut from low-key gift shop to high-tech robotic finishing rooms, all within walking distance of one another.
Waiting in said gift shop for the tour to start, we were honored when Bob himself arrived to show us around, offering a glimpse into his overriding sense of stewardship as well as his love for the instrument, demonstrated by everything from our personal tour to his ongoing quest for earth-friendly woods and manufacturing techniques. What follows is a small glimpse into the future of guitar building, according to Bob Taylor.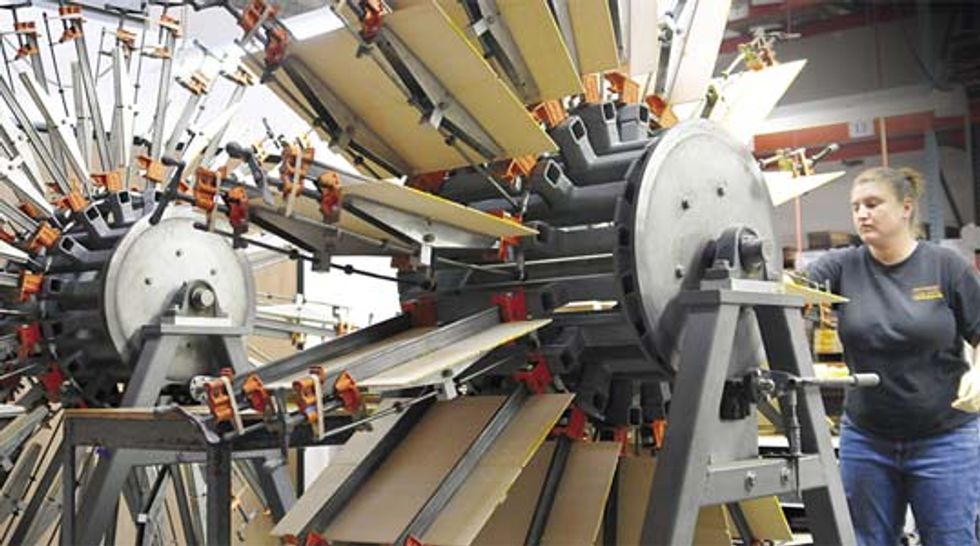 Here the tops are being glued on a carousel clamp following the wood seasoning process, which varies for different types of wood. When working with spruce (as seen here) it is air-dried from three weeks to a month before being over-dried in an oven for two hours. In then goes into a climate controlled room, where it stabilizes at 70 degrees, for 47 percent relative humidity.
Following the clamps, these bookmatched pieces of wood will be run through a sander to be brought to the appropriate thickness. They will then be graded and cut to shape with the help of a proprietary laser cutter. "These [laser cut shapes] are right on the money," says Bob. "They are cut to within a 1000th of an inch of where we want them to be. It's a nice, accurate, highly civilized way to get the job done."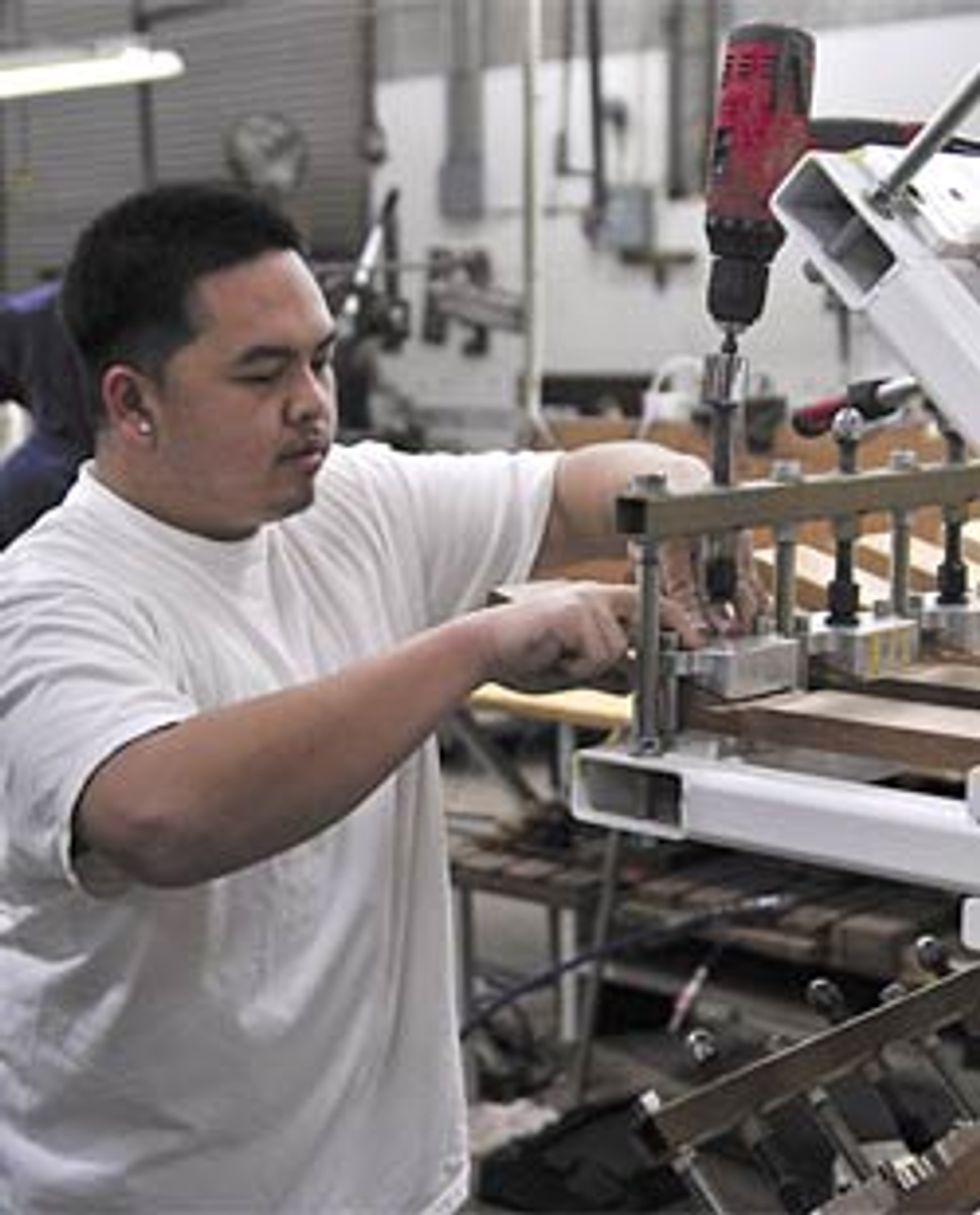 Here an employee puts the angle on the peghead in another Taylor-designed and built jig. At this step, two employees work together to keep the glue from setting up prematurely. One employee quickly applies glue to the pieces while the other uses a combination of power and torque wrenches to secure the pieces in the jig. The torque wrench is essential to ensure consistent clamp pressure. "Clamp a joint too tightly, and you'll squeeze the glue out and the joint will be starved and fall apart," explains Bob. "If you don't clamp it tight enough, you'll have the opposite problem – you won't have wood-to-wood contact and it will look ugly and fall apart."
All of these processes happen in quick succession, although the glue joint itself is fairly large and needs to remain clamped for three hours before it can be removed from the jig. In less than ten minutes, workers can put 65 necks into the contraption. "We'll design a method to get a guitar made, we'll tool it really heavily and then make a procedure so that we're done with a specific operation in a couple of minutes and onto something else," says Bob. Most stations are set up to allow workers to do other tasks in-between these operations, such as installing side dots in fretboards and loading stock into CNC machines.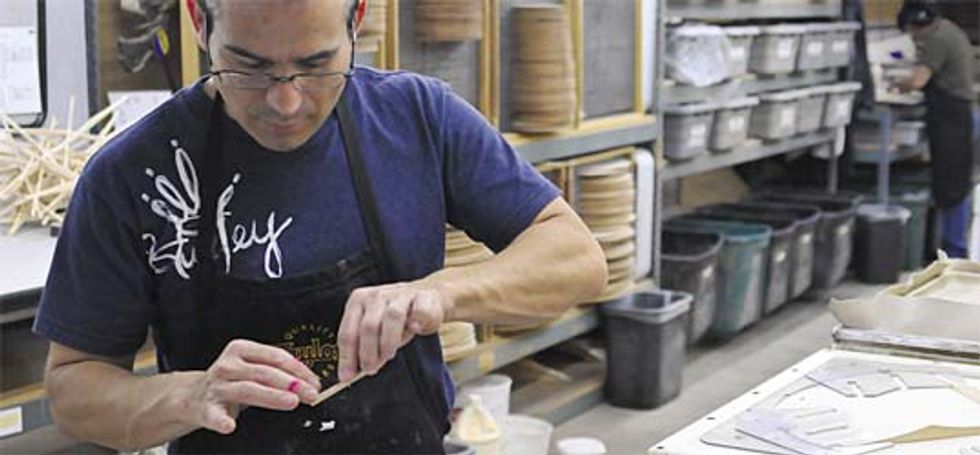 Just outside of the area where the necks are created, employees install bracing on guitars' tops. Here, Mario installs the braces on a Taylor 410ce Dreadnought. To keep their bracing patterns straight, Taylor relies on a combination of employee expertise and plexi-glass fixtures. "We've got five shapes of guitars and we've got different bracing patterns that go on different shapes, so there's a variety of tooling we need to get the bracing on right. We make simple fixtures out of plexiglass with the help of lasers," Bob explains. Skill and timing are essential, as glue must be spread on the top and the braces placed before the glue gets tacky. While the headstock joint takes upwards of three hours to dry, these braces can be done in five minutes.
Because Taylor doesn't build guitars in batches, it becomes critical to track specific guitars and their separate components (for example, the necks and bodies are finished separately). To accomplish this, Taylor relies on RFID tags applied to the back of each guitar. These tags are extremely versatile and can assist in everything from inventory management to identifying which guitars receive gloss or satin finishes.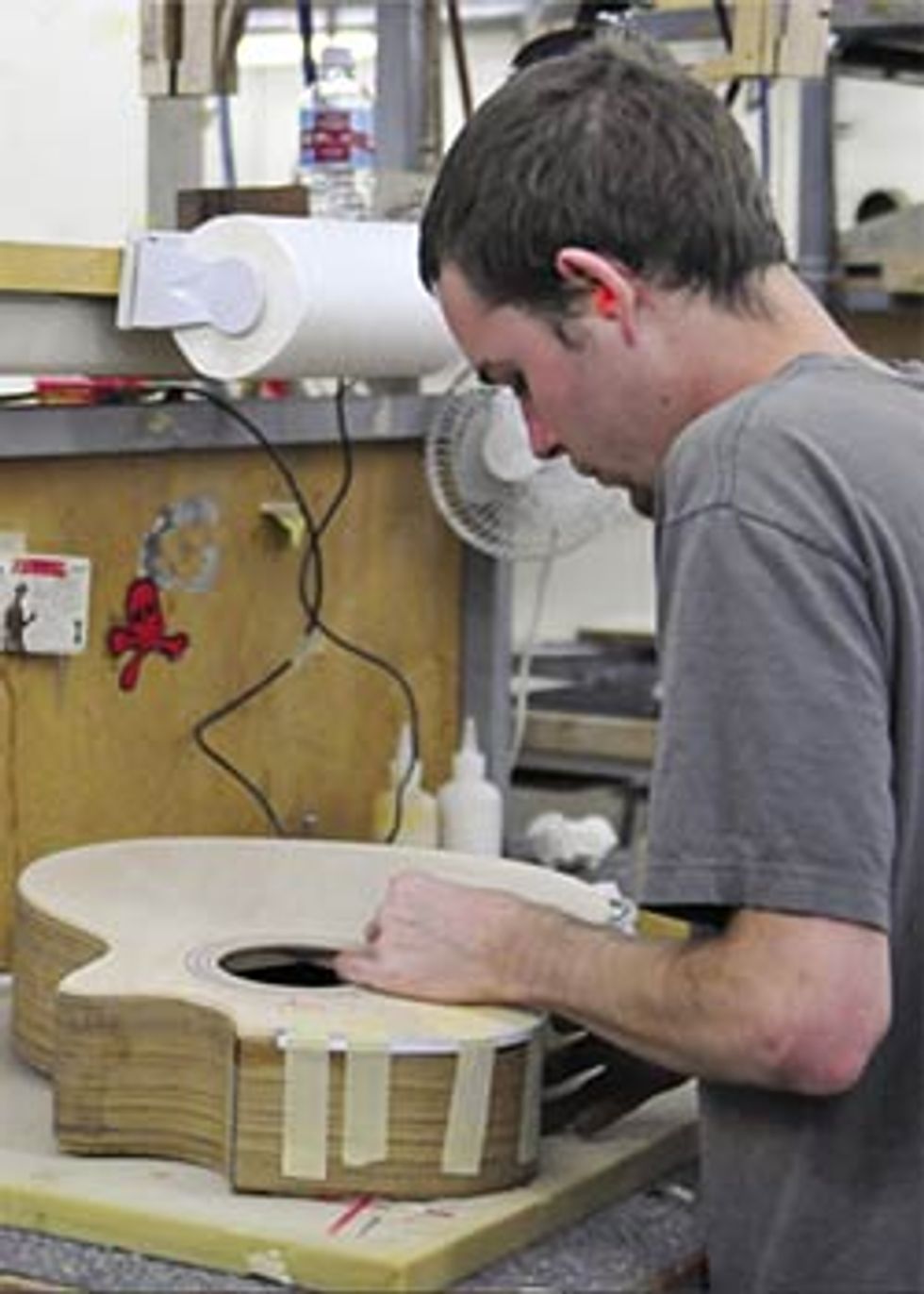 Once the bodies are finished structurally, they are sent into the binding room, where the pace and noise decrease significantly from other areas of the plant. Here, an employee concentrates on attaching the binding to a 414ce. "A lot of these operations require the skill to do it, and you've just got to learn. The first time you balance a guitar on two fingers on little ball bearings and try to turn it around and cut binding slots, you feel like a complete idiot," offers Bob. "But eventually you learn to do it with your eyes closed."
As much as Taylor emphasizes tooling and efficient approaches to production, cutting binding slots is just one of a number of operations that must be done by hand. For these complex processes, the company has created a complete training program to teach employees these skills, including a staffed training department, web-based tutorials, videos and courses. In order to encourage another generation of guitar builders, Bob Taylor has also devoted a number of resources to educating high school students in the industrial arts. "We sponsor guitar-making courses in four local high schools. It has become part of the curriculum and we design the course. It's basically wood shop revisited – we train the teachers and we give them the tools and materials they need. I'm really focused on bringing the industrial arts back into the schools," he says.
Click here to watch our video tour of the factory, with exclusive interviews with Bob Taylor.