Glendale Non-Magnetic Stainless Bridge & Twang Saddles
Beefing Tele Sound With 2 Metals and Precision Craftsmanship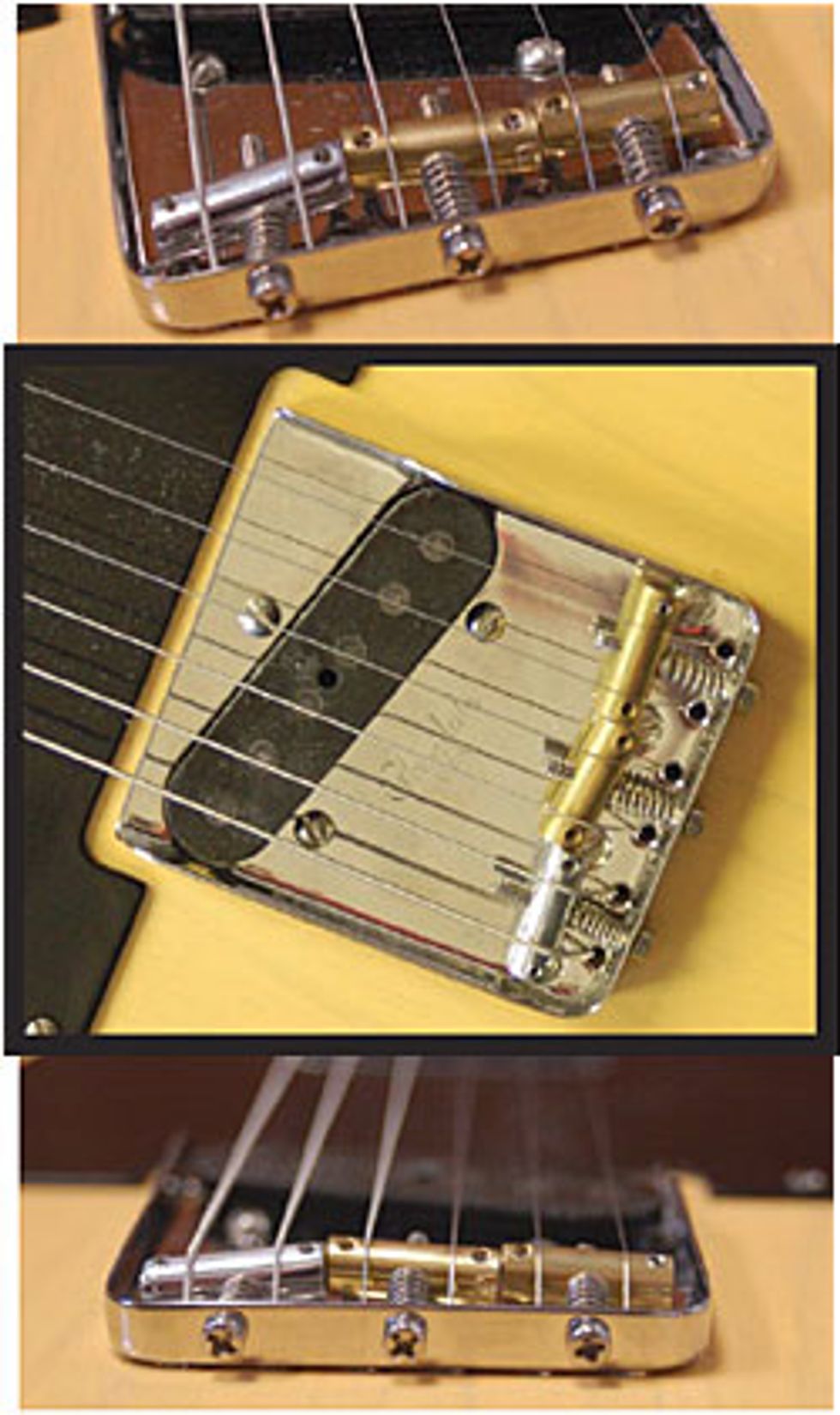 There are two kinds of
Telecaster
people. The first type walk into a shop, fall in love with a Tele, and walk out happily after making their purchase. They are content to just play the damned thing, not worrying about what Tele players before them did to get those mystical sounds, no concern about brass or steel saddles, and no fretting over the minutiae of pickup winding techniques.
The second group can recite chapter and verse on when and why Roy Nichols first decided to put a Gibson lapsteel pickup in the neck position of his Telecaster. They can hear the difference between a top loader and a traditional Tele bridge on a mono recording, played on AM radio with the windows rolled down while driving under power lines. They may or may not be better players than those in group one, but that really isn't the point. Group one uses a Tele as a tool; for the second group, the Telecaster is a lifestyle.
Dale Clark, proprietor of Glendale Guitars, is definitely of the second group. Dale is located in Texas and is busily making everything from knurled knobs to complete guitars. Mr. Clark knows his Teles; when he offered to send us some bridge-plates and saddles to review, we happily obliged.
I installed the bridge-plate and saddles on a Fender Nocaster Relic. Installation was very straightforward, and any potential problems would be side-stepped by the excellent illustrated instructions on Glendale's website. The bridge-plate is a non-magnetic, stainless steel version with a small cutout on the treble side, facilitating picking near the bridge without losing any flesh. The saddles he sent were his Twang set, aka the Redd Volkaert set. The saddles are compensated to ease intonation without losing that classic Tele tone. The Twang set is further differentiated by using aluminum for the E/A saddle, and brass for the other two
Once everything was buttoned up, I took it out for a spin. I knew there would be a difference, but I wasn't expecting it to be so profound. The first thing I noticed was the ability to grab some relatively complex chord voicings up the neck and have them be in tune for the first time in my life. Dale did his homework, and his saddles are designed to allow you to intonate within .1 Hz on all six strings using normal string gauges. I was able to intonate the Nocaster in no time, and was quickly on my way. The aluminum E/A saddle is a great idea, offering up more definition and getting rid of some of the woolliness in the bass registers when pushing the amp a little. It also matched up well with the two brass saddles, volume-wise.
The bridge-plate seemed to add a more piano-like brilliance to the guitar's tone. Not brighter, just … more. More depth, more mids, more treble, and more bass. It also increased the guitar's responsiveness, giving it more articulation. Mind you, this guitar was amazing to begin with. The fact that this bridge/saddle combination took it up to the next level is incredible.
I would have no trouble recommending any of Glendale's bridge-plate/saddle combinations to Telecaster aficionados. The quality of workmanship is outstanding, and every angle has been well thought out.
Rating...
Tone...
 
Craftsmanship...
 
Features...
 
Value...
 
Overall...
 
---
Glendale Guitars
"Twang" Saddles $54.99
Non-magnetic bridge-plate $125
glendaleguitars.com
Our expert has stated his case, now we want to hear yours. Log on to premierguitar. com, click on "Forum" and share your comments and ratings.