Hot-Rodder to the Stars: Inside Performance Guitar
Performance Guitar has served rockers since the sixties, from Frank Zappa to Warren DeMartini
| | |
| --- | --- |
| In the 1980s I was an obsessive guitar freak who not only played guitar more than a normal human being should, but who also read every guitar magazine I could get my hands on. I loved reading about my heroes, their guitar techniques and what kind of gear they used. I lived in Chicago at the time and there was nothing more geek rewarding than coming in from the cold to read the latest interview with Edward Van Halen, Yngwie J. Malmsteen, or Steve Vai. Aside from learning hot licks, I would pick up on things like what kind of gear they used and what kind of guitar modifications they had done. After a while I noticed there were a handful of players that kept bringing up the same name over and over again: Performance Guitar. | |
I eventually figured out that Performance Guitar was the place where some of my favorite guitarists got their gear modifications and custom guitars made. I remember reading interviews with artists like Frank Zappa, Warren DeMartini and Steve Vai, who dropped the name of guitar builder Kuni Sugai in reference to their custom guitars. When I later moved to Los Angeles, I made it a point to go on a mission to investigate this place for myself.
The first time I visited the Performance shop was back in the early nineties. At the time, they were located in the upper section of Hollywood right near the corner of Yucca and Vine. You could see the Capital Records building right across the street and infamous B movie film director Ed Wood used to rent an apartment just down the street. It was a small shop with lots of activity and the smell of fresh cut wood. The walls were adorned with custom guitar prototypes that looked like the kind of stuff Steve Vai was using with Frank Zappa and David Lee Roth.
Unpainted traditional Strat and Tele bodies hung from the ceiling and the front counter was stocked full of every kind of guitar pickup imaginable. Photographs were posted everywhere with unknown players and celebrities alike grinning and holding custom guitars built by Performance. Seeing rock stars wearing street clothes and having amateur photos taken of them holding their new custom instrument, gave the shop an unpretentious appeal. You could say I was pretty much in guitar heaven. It got even better when on subsequent visits I'd walk in and hang out to wait my turn behind guys like Paul Gilbert and Michael Schenker. Performance Guitar was and is the place to be.
Tokyo-born Kuni Sugai has been making hand-built custom guitars and basses since the early 1960s. He started Performance Guitar out of his garage and later built a company with a roster of clients that includes some of the biggest names in the music industry.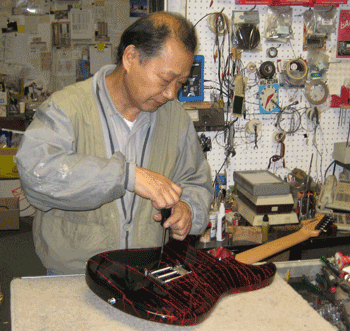 Fleet-fingered icons such as Frank Zappa, Warren DeMartini, Steve Vai and Joe Walsh have all come to Performance Guitar to turn their ideas into reality. Their custom necks, bodies, pickups and electronics are of the highest quality and cater to the guitarist with the most persnickety tastes. Sugai, along with in-house builders Yasuhiro "Yasu" Yokote and Masahiro "Mark" Koyama, work one-on-one with clients to select the best materials, oversee manufacturing and supervise final production. Building the most vibrant instruments in the world with incredible tones and accurate string alignment, is what Frank Zappa use to call "The crux of the biscuit."
Sugai worked very closely with Frank Zappa for fifteen years right up until the artist's death in 1993. During his illness Zappa confided in him. "I am very sick and I need three kinds of doctors; one for my health, the second for my recording studio and third is you as my guitar doctor." Sugai and Zappa were friends and business associates who learned much from each other. It was from this relationship that Sugai's reputation as a great custom guitar builder was spread by word of mouth.  He became very popular among artists such as Warren Cuccurullo, Steve Vai, Warren DeMartini and Joe Walsh.
Sugai's products and workmanship is grounded in the exemplary Japanese traditions of a strong work ethic, quality and consistency. He's a humble, quiet gentleman with a thick Japanese accent and a no nonsense temperament. Sugai doesn't take shit from anybody and is known for getting things done. His guitars and basses provide a seamless conduit between the musician and the creation of great music. Many of the hardest-to-please professional musicians have given Performance Guitar the "thumbs up." On stages the world over, their custom guitars and basses play with the perfection that Performance Guitar is known for.
Hit page 2 for our interview with Sugai.
How did this all begin?
I started making guitars when I was fifteen years old. At that time I couldn't buy a guitar. A friend of mine had a Japanese Guyatone or a Teisco. At that time Japanese guitars were of poor quality. A professional player couldn't use them. A beginner or an intermediate player could use them. I wanted to learn to play, but I couldn't buy one, so I made a guitar myself [Laughs].
What kind of music did you play?
I wanted to play The Shadows and Cliff Richard.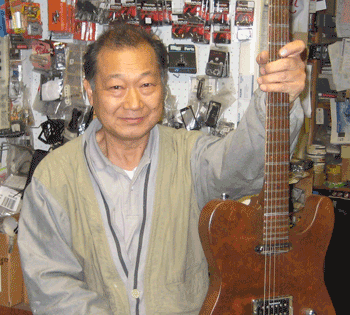 Hank Marvin was amazing. At that time The Ventures were really popular in Japan, along with The Astronauts.
What was your first good guitar?
The second or third guitar I made was a high quality guitar. Japanese professional players couldn't buy Fender or Gibson. The price was really high and not many music stores carried Fender or Gibson. In the early sixties there were maybe only one or two stores in Tokyo that carried those. Lots of American artists would come to Japan to perform and later sell their American guitars in music stores or pawnshops.
What was your first American guitar?
When I was seventeen I bought a Fender Jazzmaster. Back then a Jazzmaster cost the same as a Yamaha upright piano [laughs]. I joined a country western band, like Buck Owens & His Buckaroos. That's how I met Randy Meisner. He was the first bass player for The Eagles and used to play with Buck Owens and Ricky Nelson. He came to Tokyo with Buck Owens; at the time the security in Tokyo wasn't so tight and through some connections I got backstage. The Buckaroos were a great band.
How did you become a guitar builder?

A friend of mine had a Fender and I took a look at it. I figured I could make something close. My father had a lot of tools and machine tools. He also had paint, so I figured I could make one at home. I made a violin when I was nineteen. I still have it.
The first guitar I made was a copy of a Jazzmaster, and it sounded very good. I had other friends who were professional players. When they saw the Jazzmaster I made, they asked me to make guitars for them. Soon other bands heard about me through word of mouth and I started making guitars for them. I also built amplifiers. You couldn't get Marshall or Fender amps in Tokyo back then so I built amps in that style. I also built high-wattage amps. I built forty-eight amps for local bands.
Yamaha later hired you. What did you do for them?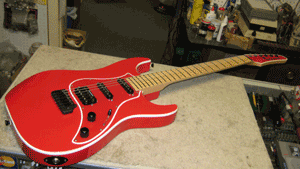 I was a technician for Yamaha because I was one of the few people who could work on both guitars and amps. Also, the guitar factory was far away from Tokyo and I lived in Tokyo. I was the liaison between the factory and Tokyo. I did repairs and modifications for guitars, amps and keyboards. This was from 1968 to the early seventies. I left Yamaha to come to America to become a student at pilot school, then I got my pilot's license. By the time I came to America I had a background in guitar and amp building as well as car and aircraft mechanics.
You later got hired by Fender, how did that come about?
In 1971 I tried to get a job at Fender but they wouldn't hire me because they didn't know who I was [laughing]. There were a lot of people waiting in line to get hired at Fender. My resume wasn't good enough, so I got a job at Van Nuys airport as an aircraft mechanic. In 1975 I met a guy who was a foreman for the Fender service center. Between him and a contact that I knew in Japan, I was eventually hired by Fender. I was an advisor who was the liaison between Fender Japan and Fender America. Fender imported guitars and parts and I knew the Japanese market well. I did market research for new models, supervised construction and worked on the Fender 'F'-Series acoustic guitars. I was at Fender for eight years.
When did you start Performance Guitar?
I started Performance Guitar part time while I was still working at Fender. That was for four years. I started out working from my garage. It wasn't everyday. I had to eventually quit Fender to build the company.
Who were your early clients?
One of my first clients was Andrew Gold. He was a big songwriter and played with Linda Ronstadt. He wanted a custom guitar that looked like a Rickenbacker but sounded like a Stratocaster.

How did you do that?
We made the neck so that it was Fender scale and made the inside of the pickups like Stratocaster-style single coils. The body looked exactly like a Rickenbacker guitar.
How did you build your client base?
At that time we were located near the corner of Yucca and Vine in Hollywood.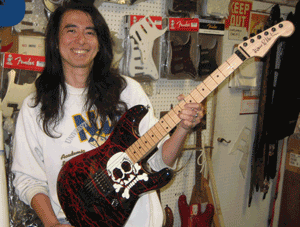 There were fifty recording studios in the area and across the street there were three recording studios. Capital Records is right there. There were many musicians around there at the time.
I guess it didn't hurt that you had a big sign that said "Performance Guitar" [laughing].
[Laughing] Right. At that time there were many discos and lots of live music in Hollywood. Thursday, Friday and Saturday nights were very busy. Musicians would drop by because they always needed repairs. Johnny Graham and Al McKay of Earth Wind & Fire were clients. I made a custom Stratocaster for Johnny Graham and I made lots of modifications and repairs for them. Jazz guitar player Gabor Szabo came in to have repairs done as well. He was a great player. I loved his style.
What makes Performance Guitar different from other custom builders?
The basic design of Gibson and Fender were good, but there were small things that weren't so good. We use heavy-duty truss rods and our necks have a flat radius. We also select the best wood that's completely dry and aged with good grain. Leo Fender was a machinist. He didn't play guitar but he had great ideas. When we assemble a guitar, every detail is very important. The bridge location, alignment and the angle of the nut is very important. Other than that I have secrets that I cannot tell you.
Secrets?
Yes. Secret and confidential [Laughing]. We also make our own pickups and special shielding and noise protection. We have a lot of experience geared for professional players. We give them exactly what they want.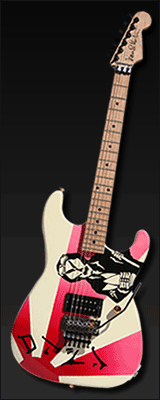 What was it like working for Frank Zappa?
Frank Zappa was a great musician. I learned a lot from his ideas. I first spoke to him when he called me and said he was going to be touring and recording. I was very busy but he told me to come to his studio to get some of his guitars. I thought he wanted me to repair one or two guitars. I picked up twelve or thirteen guitars! This was in 1981 or 1982. He wanted them back right away because he was recording and was going on tour. We took care of his guitars right up until he passed away in 1993. He recommended me to his musicians and we became even busier.
Is that how you met Steve Vai?
Yes. Steve Vai was in Frank Zappa's band. Warren DeMartini visited Frank Zappa's studio, saw my guitars and the next day he came here and wanted us to make him a guitar. Warren Cuccurullo became a client as well.
Frank Zappa had a lot of musicians coming in and out of his band. That must have been great for business.
Yes. His sons Ahmet and Dweezil would come here too. Also Billy Sheehan. He's a bass player, but he really plays guitar. He use to have a lot of damage to his basses on tour and we would fix them. I also built Tom Morello's [Rage Against the Machine, Audioslave, The Nightwatchman] guitar with the special toggle switch on the lower horn. I built it with a Stratocaster body and a Performance Corsair neck. I built my first guitar with a toggle switch like that on a Stratocaster in 1966.
Did Frank Zappa have any specific requirements for his guitars?
He said he didn't want all his guitars to do the same things. He needed each guitar to have a different character. We made a special effect in one of his guitars. It was a Stratocaster-style guitar with a built-in flanger. He always wanted creative sounds. He hired a music tech, but the tech couldn't do it. When we made it he was very satisfied. We also built a preamp boost into some of his guitars.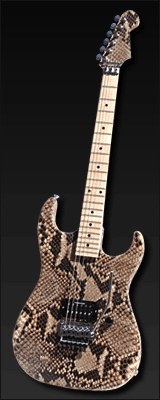 I remember seeing your guitars appear onstage with Steve Vai when he was in Alcatrazz. He had some very cool pickup configurations. Warren DeMartini of the band Ratt had smokin' guitars too.
The first guitar I built for Warren DeMartini was in 1984. It was the black Corsair. In 1985 I made the snakeskin guitar that Warren plays. Country players used to have something similar with leather. Warren didn't want the first version because it was only covered with snakeskin on the top. I took one day to think about it and figured out a way to cover the entire body with snakeskin without the seams. He's been playing this guitar for more than twenty years now.
Joe Walsh still comes in to get work done on his guitars too. He gets all his guitars free from companies like Gibson and Fender but he doesn't use them right away. He brings them here and we make modifications. He likes big frets so we make all his modifications.
I came in your store once and saw Michael Schenker's flying V. What did he have done?
We made a custom guitar for him. The Gibson necks are weak and he needed a strong neck. He asked us to make a heavy duty flying V for him and he was very happy.
It sounds like you fix all the mistakes that the big guitar companies make. What are some of the strange requests you've had for building a custom guitar?
A client wanted a guitar in the shape of an axe. Another client wanted a guitar that looked like a keyboard. These were local players.
I like that your customers feel like they're part of the building process.
We have a big difference in the way we make guitars than other companies. We take the order in the front of our office and can start building it in back. Many custom shops don't do that. After they take the order they have to order the parts. Then they have to send it somewhere else to have it assembled. They send it somewhere else again to do the paint. We can do everything right in the back.
What's your turnaround time?
It depends on the model, but if it's an easy job we can have it done in a couple of months. The more complicated jobs take longer. Our customers are very happy. We also make our own pickups and our own parts. Our most popular model is called the PG-10, which is a custom single coil old-fashioned type pickup. We also have a humbucking pickup called the PG-50. It's like a PAF with more bite. Many studio musicians are very satisfied. They're traditional sounding pickups with new technology. Traditional pickups don't have enough bite and are noisy. My pickups have noise protection, more output and a bigger bite. Warren DeMartini uses the PG-10 in the neck position of his guitars.
I also add metal sustain blocks to Floyd Rose guitars to increase sustain and warmth. About fifteen years ago Warren DeMartini wanted to know why the Floyd Rose guitars lose high end and sustain. I cut out a thick block for him made from a church bell and attached it to back of his Floyd Rose. He was very surprised. The increased mass from the metal increased the sustain in his guitar.
Tell me about your flagship guitar.
It's the Performance Corsair. It's a little bit more pointy and 15 percent smaller than a standard Stratocaster. The deeper cutaway on the lower horn also allows for better access to the higher frets. Warren DeMartini plays that model. The pickup configuration and type of wood is up to the customer but the body shape is the same. The standard version comes in alder but Warren has models made from koa and mahogany.
You named your flagship model guitar after your favorite fighter plane "The Corsair," what's your other favorite fighter plane from World War II?
My favorite is the P-51 and the Corsair.
For more information:

Performance Guitar