Huss & Dalton 00-SP Review
Huss & Dalton''s 00-SP provides a more-than-capable small-bodied acoustic offering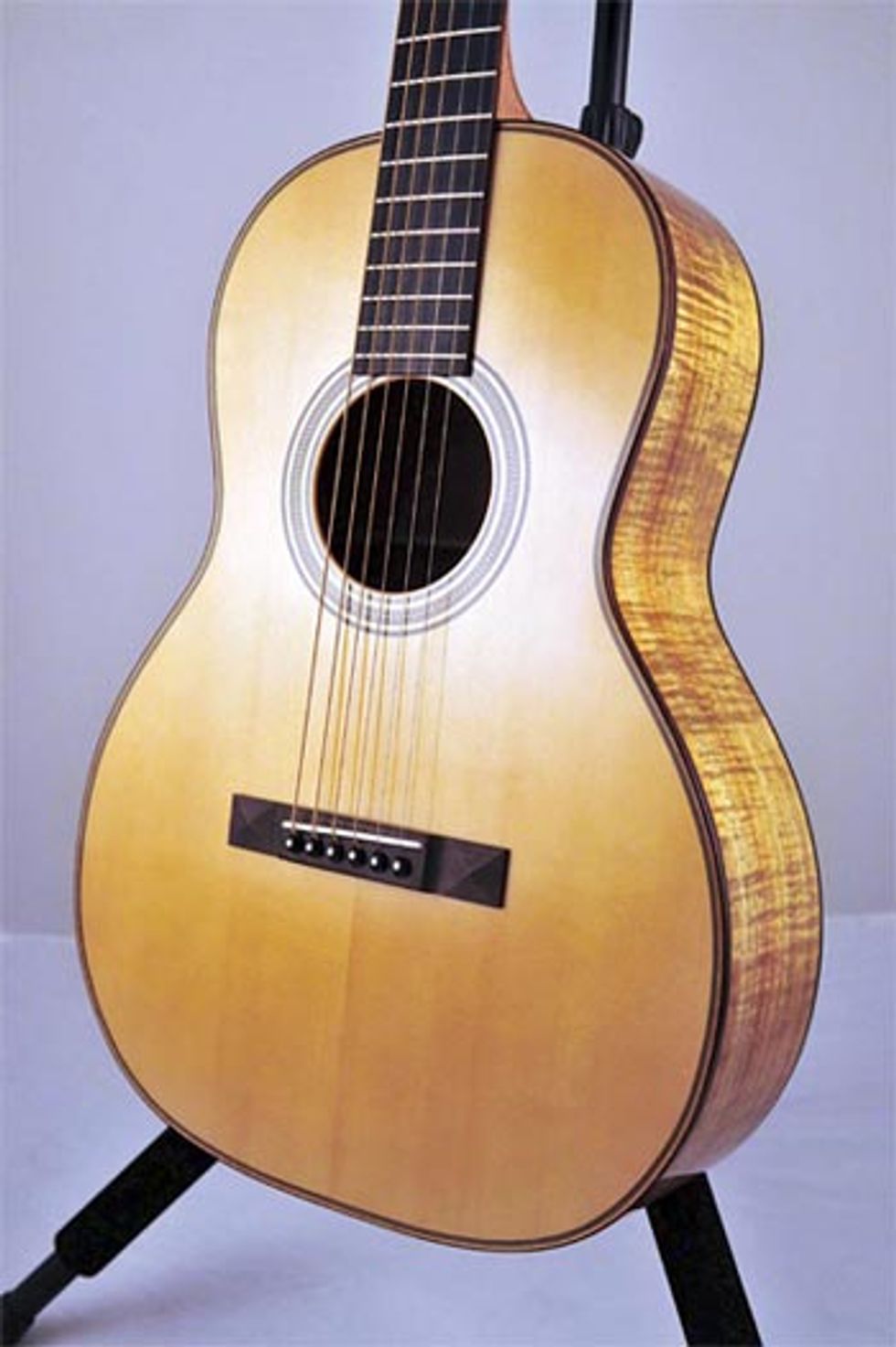 I was talking to a friend the other day, who, like myself, is old enough to remember times other than the nineties and the aughts. We were recalling the various recessions and housing slumps that have taken place since the mid-seventies and the prohibitively high gas prices of the mid-eighties. During our conversation we realized that there is a generation of young people currently in the workforce who may not even remember the last economic downturn, let alone the last full-on recession. My friend then said something that started off predictably enough but quickly became profound.
"I feel really sorry for young people today. They will never experience affordable quality."
We were talking watches and cars, but it could apply just as easily to guitars. In the thirties and forties, when it was time to buy a guitar, your choice was Gibson or Martin, with financial status determining the level of appointments beyond that. Whatever the choice, the odds of getting something that would last you a lifetime were pretty good. The solidbody electric boom of the fifties and sixties ushered in a similar, predominantly two-party scheme – Fender or Gibson. But that lowly, eminently affordable sunburst Strat was a more than capable guitar, as functional and timeless as any Omega or Tag Hauer from the same era. Although more elusive and certainly much less affordable, the concept of quality is thankfully being kept alive today by builders such as Huss & Dalton.
---
"...if you dig quality gear and are auditioning small-bodied acoustics for fingerstyle chores, do yourself a huge favor and check out a 00-SP."
---
The 00-SP is part of Huss & Dalton's 12- Fret Series. The SP designation refers to its slotted headstock and pyramid bridge, features that differentiate it from Huss & Dalton's earlier 00 model. The "Custom" moniker is due to the use of beautifully flamed Australian blackwood for the instrument's back and sides. Englemann spruce is the choice for the top, with Spanish cedar used for the neck. The 1 7/8" nut width provides ample space on the ebony fingerboard, which is minimally and tastefully decorated by four slotted square inlays – one at the fifth fret, two adorning the seventh and a final example at the ninth. The slotted headstock offers up a fetching Brazilian rosewood veneer along with nickel Waverly tuners with ivoroid buttons. Indian rosewood is also used for the neck and body binding, the latter surrounding a seven layer purfling sandwich, topped off with a maple strip. The 00-SP Custom's appointments are rounded off with a herringbone rosette and backstrip. The build quality on the Custom is phenomenal, as are all Huss & Daltons I've come across. They manage to retain a vintage, handmade feel while displaying nearly flawless craftsmanship. This is the kind of guitar that becomes even more impressive after close scrutiny.
Just Right
The decal in the soundhole warns us to "USE LIGHT-GAUGE STRINGS ONLY," which, combined with an almost Danelectro and PRS-approved scale length of 24.9", gives the 00-SP Custom an almost Goldilocks-like feel – not too tight for bending, not too loose for single-note work. Along with the 00-SP's diminutive size – 14 1/8" body width, 19 3/8" length and 4" depth – the above features point to the petite Huss & Dalton's intended mission; vintage ragtime and primitive, bluesy fingerstyle. To this end, the little guitar company housed in a modest brick building in Staunton, Virginia did good – real good.
The 00-SP manages to sidestep most of the common pitfalls of smaller-bodied, 12-fret guitars. Although the Custom does have a tonality focused toward midrange and treble frequencies, bass response isn't totally ignored, staying tight and focused even when the low E is dropped down to D for a tune or two. Also, the mids stay away from that honky timbre all-too common with guitars of this size. Instead, the lower notes of a chord – particularly those in the open position – sit really well together. Definition is retained from top to bottom, with the bass staying tight and out of the way, the mids offering both separation and warmth and treble sounding simply amazing. The tone and string spacing of this guitar really encourages slow, blues-based experimentation. Words like "deliberate" and "savory" kept popping into my head as I played, enjoying each and every note the 00-SP Custom had to offer. This thing sounded so good I actually began to think I was doing it justice for a minute, reckoning I needed a dapper hat and some wide lapels, a la Robert Johnson – illustrating the level of tone and enjoyment the 00-SP provides. Once reality kicked in, I started considering other applications where this instrument could excel. Certain country crooners, notably Merle Haggard and Marty Robbins, relied on small-bodied acoustics and this guitar is certainly a blast for sitting around and playing thumb and finger cowboy-chord accompaniment to tunes like "Lonesome Fugitive" and "Mama Tried." Alternately, the little guy did a surprisingly good job on some Bert Jansch-inspired fingerstyle noodling with its combination of fretboard room and warm, bright, airy tone. But the 00-SP Custom's real forte is gut-bucket, static-bass-note blues, and it offers up about as much fun as you can have with your clothes on.
The 00-SP Custom is a fingerstyle blues player's dream with a few conditions. One of them is technically a conundrum – it sounds so good because the neck joins the body at the twelfth fret, but note access is hindered by the neck joining the body at the twelfth… well, you get the idea. Also, there is no getting around the fact this is a small and somewhat delicately built guitar. This allows for the 00's phenomenal tone and responsiveness, but also makes the guitar feel somewhat fragile – this one goes right back in the case each time. Accordingly, you better like light gauge strings; if anything less than .013s threatens your manhood, look elsewhere.
Other nits include a wide-flat neck profile that I'm not whippy about, but my favorite pre-war V-shape would be out of place here and would likely throw off the guitar's balance. Also, this might seem really picayune, but the tweed TKL case just doesn't jibe with the 00's overall demeanor. Even though the tweed is lacquered and the case seems to be built well, it still comes across as a little cheap for a guitar this nice, although that could be more a testament to the fact that so many lower priced guitars ship in similarlooking cases. Still, a nice Geib-style case would suit the guitar better.
The Final Mojo
This one is easy – if you dig quality gear and are auditioning small-bodied acoustics for fingerstyle chores, do yourself a huge favor and check out a 00-SP. I know many people balk at 12-fret guitars on principle, but even if you place yourself in that camp, it deserves a look. The boys over in Staunton are definitely on to something.
Buy if...
you''re in the process of learning some Piedmont blues to round out your education.
Skip if...
you need an all-around, general purpose acoustic.
Rating...
 
Our expert has stated his case, now we want to hear yours. Share your comments and ratings below.