iPerform3D Debuts 3D Guitar Learning System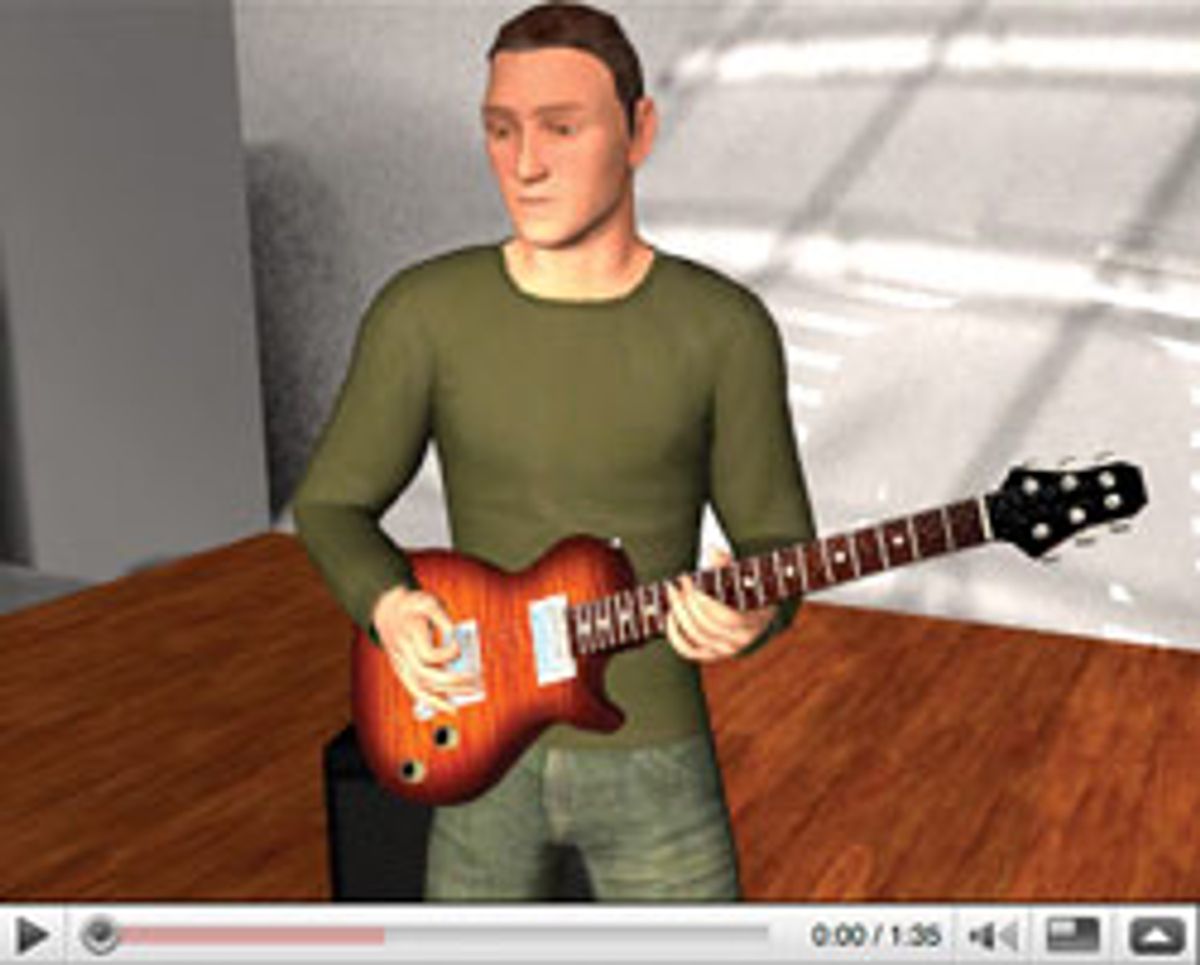 iPerform3D incorporates motion capture technology into its revolutionary guitar lessons
San Francisco, CA
(January 9, 2009) — iPerform3D today announced a completely new and different guitar instruction program, using motion-capture and 3D animation technology. This marks the first time that sophisticated motion-capture technology—previously limited to big-budget film and video game companies like Sony and Electronic Arts—is available beyond rarified video game and entertainment circles via a patented application of the technology. Unlike DVDs or online video lessons, this system gives guitarists complete control, allowing them to rotate and zoom the "virtual" camera to any angle, even "behind" and "through" the instructor's guitar neck. iPerform3D technology also allows guitarists to slow lessons down without changing pitch, or loop a riff or song section as required until it's mastered.
"Now aspiring guitarists of almost any level can learn how to play their favorite songs and impress friends in a matter of hours. It's like 'Guitar Hero' but the real thing," said Robert Miller, founder and CEO, MTW Studios. "Online education is a rapidly-growing industry because people want to learn on their own time, from the convenience of their home, at an affordable price, and have fun while doing so."
iPerform3D.com offers the world's first and only 3D guitar learning based on advanced motion-capture technology, allowing users to control lesson camera angle and speed with amazing precision. iPerform3D presents hundreds of on-demand lessons and riffs—plus full songs for beginners and restarters—all captured using live musicians, motion-capture cameras and 3D animation software. The iPerform3D Player set-up is fast and easy, is available online for both Mac and PC, and features interactive lessons for students of nearly any ability, that includes regularly updated techniques, fresh premium content and subscription choices.
Miller adds, "Until now, the best way to deliver educational content online has been some form of video, which is more of a 'sit back' paradigm. Online video gaming, in contrast, has exploded because it's a 'lean forward' experience. iPerform3D combines the desire to learn at home with the 'lean forward' interactive experience of gaming."
iPerform 3D is currently offering a free five-day trial.

For more information:
iPerform3D