Are you the kind of player who likes to use different effects at different parts of a song? Maybe an EQ boost for a solo or a dash of chorus
Are you the kind of player who likes to use different effects at different parts of a song? Maybe an EQ boost for a solo or a dash of chorus for the bridge? It's a fair bet that you will end up changing your guitar tone at least a bit at some point in the song. The question is, how?

Traditionally there have been two ways to record a song using multiple guitar tones. The first is to record the song in chunks and change your settings for each section. This takes several passes to get one take and can really take away from the flow of the song. It can also be a pain trying to remember your settings if you need to re-cut something. The second way is to switch the effects in real time. This has its advantages as far as recallability (since you have presumably memorized all of the settings by the time you are ready to record) and it lends itself to recreating the recording in a live performance. The only problem is that the switching has to become part of the performance. Wouldn't you rather focus on the guitar part instead of the pedal work? We don't know about you, but we took guitar lessons when we were kids – tap dancing was down the street.

Wouldn't it be great to be able to record your song, start to finish, without playing any instrument besides your axe? There is a solution, but it does involve the M-word. That's right – we're talking about MIDI.

Now, before you go diving out of windows, let's dispel a myth. MIDI isn't just for tweaky keyboard players or old video game music and it isn't difficult to use. You can use MIDI data for almost anything, musical or otherwise. A MIDI signal is just a command that tells some piece of gear to perform a task. That could mean anything from "play this note" to "turn on this light" to, say, "load this guitar amp preset." MIDI data is easily recorded and played back.

Enter Native Instruments' KORE. KORE is essentially a management tool for your software processors and virtual instruments. Within KORE, you can assemble multi-part effects chains using numerous, different plug-ins and store them as a single preset. In this case, you would probably be using some sort of guitar amp emulator like Guitar Rig and possibly an effect or two. Dial in the tone you want for the first part of the song using as many different processors as you like. Save that sound as Preset 1. Then dial in the sound that you want for the next part of the song. Save that as Preset 2, and so on. At this point, all of your sounds live within one instance of KORE. This makes it surprisingly easy on your computer's processor since the entire setup is only seen as one plug-in by your DAW.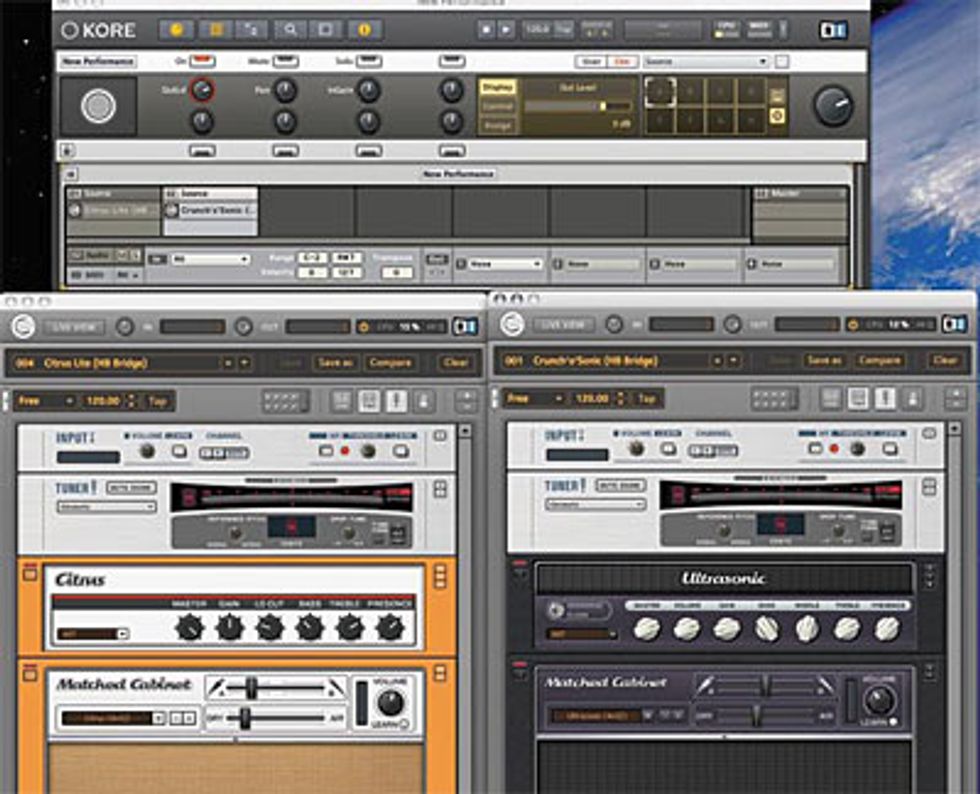 Native Instruments' KORE offers tons of software processing power and control.
Here is where it gets cool. KORE has a unique feature called "key switching." What it does is read a certain MIDI command as a cue to change presets. In other words, you can assign a low C to "load Preset 1," a low D to "load Preset 2," and so on. And remember, all MIDI data can be recorded and played back at any time. So you would record a simple MIDI sequence into your DAW and assign it to the key switching in KORE. Your sequence would play a low C at the beginning of the song, telling KORE to load up all of the amps and effects that you specified in Preset 1. Then, just before the point where you want to change tones, your MIDI sequence would play a low D, which will tell KORE to load up Preset 2.
Basically, your MIDI sequence is just a series of commands that will tell KORE to change to the appropriate guitar tone presets at the appropriate times. Now when you go to record the guitar part, you will have your own virtual engineer to change the tones for you, allowing you to focus on playing the guitar part. Freeing yourself from having to remember and match earlier parts of a song – not mention eliminating the switch dance – will help you get a better feel for the song and result in better takes.
Ultimately, there are tons of amazing things that a guitarist can do with software, especially KORE. We hope that this gives you a starting point to begin exploring the possibilities of controlling guitar technology using MIDI.
---
Sean Wooldridge
has numerous engineering and production credits in Nashville and has been playing the guitar for over a decade. A graduate of Berklee College of Music in Boston, Sean is now a Sales Engineer for Sweetwater Sound. Reach him at 800-222-4700 x1346 or at
sean_wooldridge@sweetwater.com
.
Nick Schenkel
has been playing guitar since he was 12 years old. Over the past 15 years, he has worked in several professional recording studios and as a monitor mix engineer for live performances. An honors graduate from Washtenaw Community College's Music Production and Engineering program, Nick works as a Sales Engineer at Sweetwater Sound. Reach him at 800-222-4700 x1399 or at
nick_schenkel@sweetwater.com
.