Dear Trash or Treasure, In August I obtained my grandfather's Martin that has been in my family for many years. I am unsure of when or how my grandfather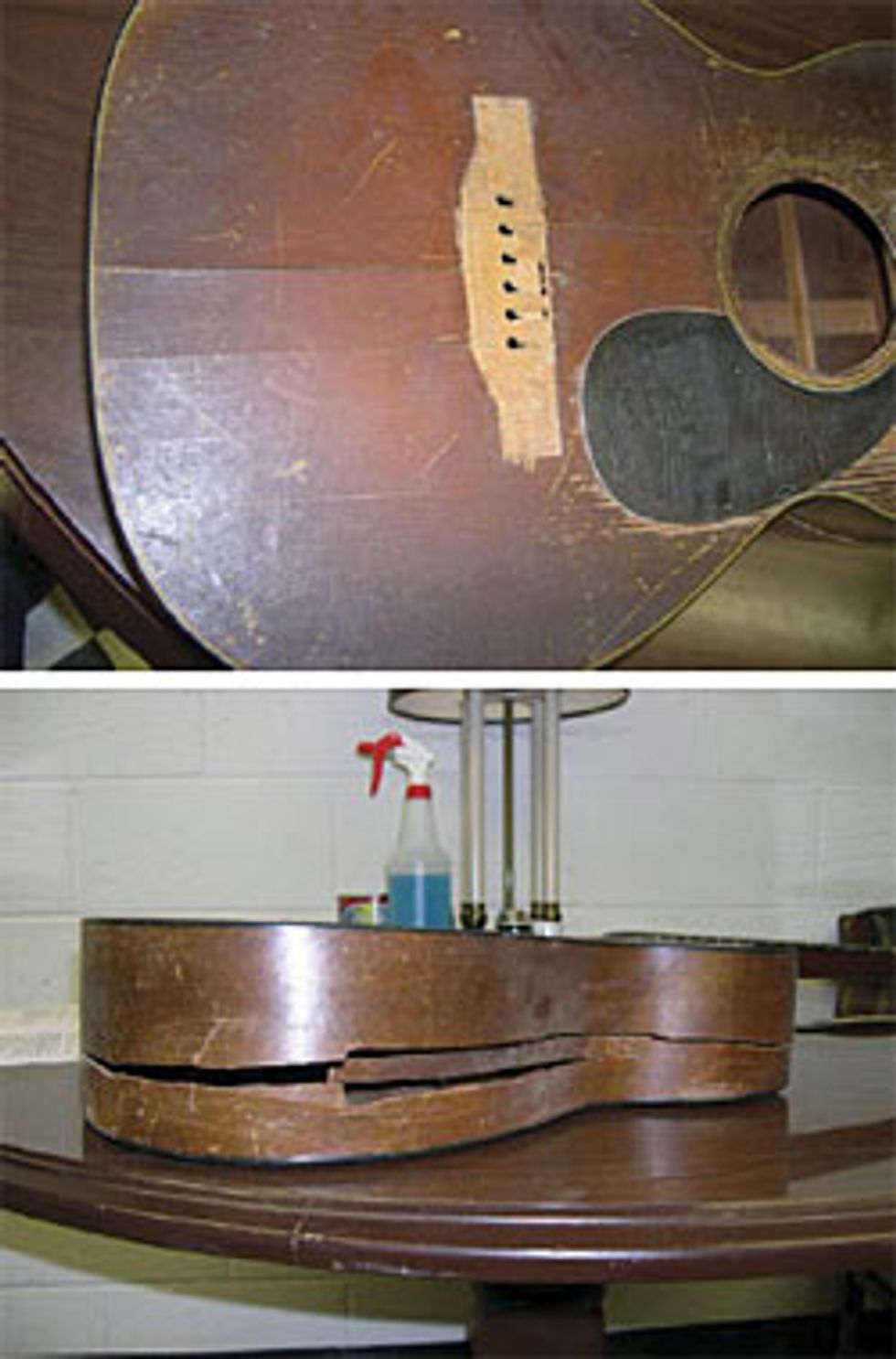 Dear Trash or Treasure,
In August I obtained my grandfather's Martin that has been in my family for many years. I am unsure of when or how my grandfather got the guitar, but after he passed away, my uncle played it for a short while before it was retired to various closets and attics. When I rescued the guitar it was in an attic that was over 100 degrees! As you can see, the guitar is in very rough shape and is unplayable to say the least. The only markings on the inside are 0-18 and 52335. Although this guitar may be trashed, it is a true treasure to me and I would like to get it repaired and/ or restored.

Thanks,
John Larry Carter
Washington D.C.

Hi John,
It absolutely breaks my heart to see a guitar in this condition! It's very unfortunate that this guitar wasn't stored in a better way. Since most attics are not insulated, the extreme temperature changes can make your guitar crack and bend in unimaginable ways. When it comes to heirlooms, I understand how important this can be to you and your family. Let's shed a little light on the guitar and how to go about getting it fixed.
Your guitar is a 1932 Martin 0-18. The 0-18 was a very popular model for Martin that was produced consistently between 1898 and 1995 – nearly a century! The top is spruce, and the back and sides are mahogany. Your specific model has a dark top that was a special option. This was also one of the first guitars to have a solid headstock and a fingerboard with 14 frets clear of the body. In 1932, they built over 500 of these guitars and in excellent condition it would currently be worth between $3,700 and $4,200.
Unfortunately, your guitar isn't in excellent condition – in fact, it's what we refer to as unplayable. The years this vintage Martin spent in closets and attics weren't kind. The most noticeable problem is the large gaping crack on the side of the guitar. Other problems include the cracks in the top, the unattached bridge and the overall poor condition of the guitar's finish.
The good news is that guitar restoration has never been better, and you'd be surprised at what a good guitar repairman can do. This 0-18 will probably require many new pieces and calling it anything short of an overhaul would be undermining the process. This will be a very inexpensive repair job, but if the history of the guitar is more important to you than a monetary figure, it is well worth it.
There are two Martin-authorized repair centers near Washington D.C. that may be able to help you: Atlantic Woodworks in Annapolis, MD and Steve Carmody Instruments in Silver Spring, MD. There are also several Martin dealers within a close proximity to you that may have a few ideas. I recommend getting a few quotes before committing to a repairman. Hopefully this guitar will continue to be a treasure to you after you get it restored!
(Source: Mike Longworth, Martin Guitars, A History).
---
Zachary R. Fjestad
Zachary R. Fjestad is the author of the Blue Book of Acoustic Guitars, Blue Book of Electric Guitars, and the Blue Book of Guitar Amplifiers.
Guitar Trash or Treasure Questions can be submitted to:
Blue Book Publications
Attn: Guitar Trash or Treasure
8009 34th Ave. S. Ste #175
Minneapolis, MN 55425
800-877-4867
www.bluebookinc.com
guitars@bluebookinc.com
Please include pictures of your guitars.