Lavishly beautiful, unbeatable tone, staggering price tag - that we would gladly pay!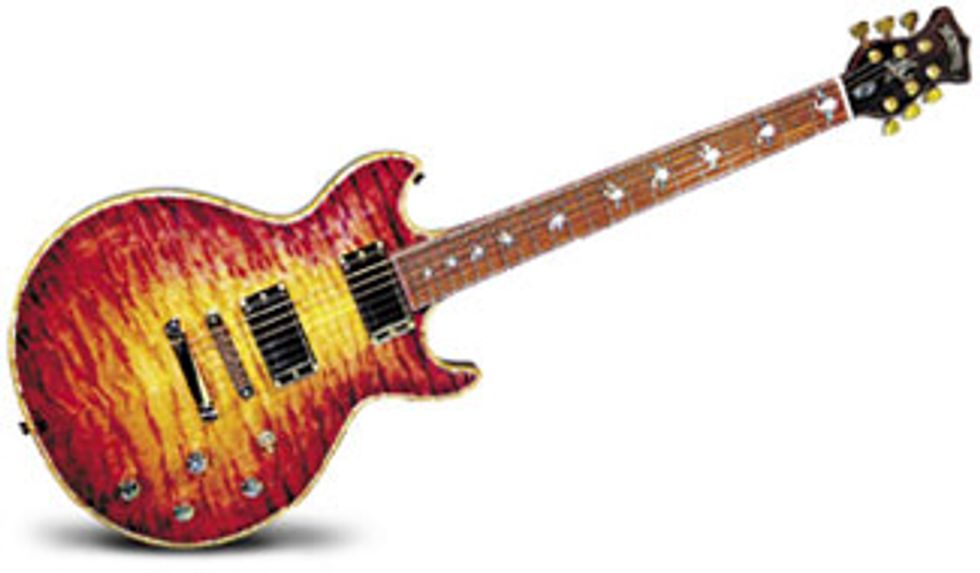 Reviewing custom guitars poses a unique set of challenges. Rarely do custom builders have guitars kicking around to send out, simply due to the nature of the beast; everything in the shop is being built for a specific customer, to that customer's specifications. This raises additional difficulties. Is it okay with customer A to send his guitar out to be reviewed? If customer A is fine with this, are they also okay with the month or two additional wait? The answers to these questions are generally no, and with good reason. Who the hell wants to save up for their dream guitar, sit through a seemingly endless wait from the builder, then voluntarily add even more time just so some shaky-handed, bleary-eyed guitar journalist can ruin a set of strings and cover their new baby in fingerprints before they've even seen it in the flesh?
Steve Helgeson, the mastermind behind Moonstone Guitars, sidestepped all of the above by sending in his dream guitar, an exercise in lavish, over-the-top guitar making: the Vulcan Custom Extreme. With a chambered African black limba body, 6A quilted maple top, beautifully figured Brazilian rosewood fingerboard, African purpleheart binding on the headstock and fingerboard, and Paua abalone everywhere, the Vulcan comes across like Jerry Garcia's posthumous wet dream. Despite the Vulcan's initial hand-crafted hippie vibe, and disregarding the fact that it is made in Humboldt County, California, home of some of the world's finest, ahem, horticulture, nothing could be further from the truth. This is no trailer queen or wall hanger. This guitar plays as beautifully as it looks. No one we've encountered so far has been able to pass on an opportunity to heap high praise on the guitar's almost gaudy beauty. Additionally, everyone who has picked it up has been left standing slack-jawed from the first unplugged strum.
Hot Stuff
To try and accurately describe this guitar's almost preternatural good looks would be difficult for Oscar Wilde, and downright futile for me, being an aforementioned shaky-handed, bleary-eyed guitar journo. What I will attempt is a simple description, and the first thing that catches your eye is the quilted maple top. The top, enhanced by Steve's subtle hand-stained cherry-burst finish, is exquisite. The Vulcan features a waterborne, self-crosslinking polyurethane finish, and the Brazilian head-plate is simply gorgeous. Its inlay work, as well as all of the other inlays on the guitar, is executed as perfectly as humanly possible.
Despite all of the flash and beauty of the instrument''s top, my favorite part of the Vulcan is the Back. The African limba used for the body and neck is full of beautiful, dark streaks, and is a warm, golden honey color. Surveying the back also reveals the low mass, open-back Sperzel tuners and the well matched, limba control cavity cover. Flipping back to the business side, all hardware – tuners, Paua abalone-inlayed knobs, switches, Bartolini pickups and TonePros bridge and tailpiece – are gold, blending nicely with the honey-hued limba back and sides, and amber-to-cherry top.
Smooth Player
After finally digesting the initial visual impact of the Vulcan Custom Extreme, the idea that it can feel and play as good as it does is nearly incomprehensible. The first thing that strikes you when you pick it up is the weight, or more specifically, the lack of weight. The chambers in the body afford a very comfortable heft, more akin to a medium-weight Strat than a typical setneck guitar. The workmanship across the board is flawless, as is the from-the-factory, medium-action setup, allowing the Vulcan to play easily up and down the fingerboard. The neck offers enough meat to grab on to, but doesn't have a huge profile; it has more of a wide, flat vibe, similar to an old, generous SG neck.
Once plugged in, the coil-tapped Bartolini PBF 55 neck and PBF 77 bridge pickups, coupled with the guitar's tonewoods, give the Vulcan a wide range of warm, useful tones, ranging from Broadcaster/P-90 bark to one of the sweetest, three-dimensional solidbody-with-humbucking tones I've experienced since playing a particularly magical '57 Les Paul Goldtop a long time ago. With African limba/korina being a mahogany variant, coupled with the Vulcan's maple cap and set-neck construction, Les Paul comparisons are inevitable, and the Vulcan never shies away.
Okay, but where's the catch? Well, this guitar is expensive. No one would argue that. But having been in the position to be able to play several newer offerings over the years in the same price range, I can honestly say that this guitar is priced fairly. I would actually consider it a bargain, since many of the guitars with which it shares a general price point don't seem to be designed to be played, merely displayed. This guy begs to be played, although I wouldn't try busting it out for the last-call encore down at the Plug 'n Jug. Even Chuck Norris would weep unapologetically when he put the inevitable first gank in this beauty.
The Final Mojo
It would be easy to dismiss the Vulcan as just a pretty face, and that would be doing the guitar a great disservice, since it offers so much more than just good looks. It is one the finest playing and sounding guitars I've come across, with no further qualifications needed. Fortunately for our readers, this particular guitar, although built for Steve, is available for sale. I was going to say something uncharitably about the $9,000 price tag, but, amazingly, for this working-class boy, it doesn't seem at all out of line. If you would like Mr. Helgeson to craft the Vulcan of your dreams, prices start around $4000.
Rating...
Tone...
 
Craftsmanship...
 
Features...
 
Value...
 
Overall...
 
---
Moonstone Guitars
MSRP $9000
moonstoneguitars.com
Our expert has stated his case, now we want to hear yours. Log on to premierguitar. com, click on "Forum" and share your comments and ratings.
Looking for more great gear for the guitar player in your life (yourself included!)? Check out this year's Holiday Gear Finds!
Created in collaboration with legendary guitarist George Lynch of Dokken and Lynch Mob fame, the Mr.Scary Mod adds an adjustable tube gain stage and an onboard Deep control, which together are designed to enable an amp to have increased sustain while still retaining note definition and dynamics.
LegendaryTones, LLC today announced production availability of its new Mr. Scary Mod, a 100% pure tube module designed to instantly and easily expand the capabilities of many classic amplifiers with additional gain and tone shaping. Created in collaboration with legendary guitarist George Lynch of Dokken and Lynch Mob fame, the Mr.Scary Mod adds an adjustable tube gain stage and an onboard Deep control, which together are designed to enable an amp to have increased sustain while still retaining note definition and dynamics.
Originally released as the Lynch Mod in February 2021, the updated Mr. Scary Mod features the same core circuit as the Lynch Mod but is now equipped with a revised tube mix combo per George's preference as well as a facelift in a newly redesigned electro-galvanized steel enclosure. As with the Lynch Mod, each run will be limited and the first run in Pumpkin Orange with Black hardware is limited to just 150 pieces worldwide.
​The Mr. Scary Mod adds an adjustable tube gain stage on top of the cathode follower position, keeping note definition and articulation while further increasing sustain. Each Mr. Scary mod is meticulously built by hand in the USA, one at a time, and tuned using high-grade components. Equipped with a single ECC81 (12AT7) in the first position and ECC83 (12AX7) in the second, the Mr. Scary Mod can clean up beautifully when rolling down your guitar's volume, and still adds scorching gain when you roll it back up. This is a gain stage that's been tuned and approved by the ears of the maestro George Lynch himself.
"The Mr. Scary Mod excels with dynamics and is incredibly touch-responsive, allowing me to shift from playing clear, lightly compressed cleans to full-out aggressive sustain and distortion –and control it all simply by varying my guitar's volume control and picking," said GeorgeLynch. "In many ways, it's an old-school approach, but it's also so much more natural and expressive in addition to being musically fulfilling when you can play both the guitar and amp dynamically together this way."
The Mr. Scary Mod installs in minutes, is safe and effective to use, and requires no special tools or re-biasing of the amplifier. Simply insert the module into the cathode follower preamp position of compatible amplifiers (includes Marshall 2203/2204/1959/1987 circuits) and

immediately get the benefit of enjoying a hot-rodded amp that delivers all the pure harmonic character that comes with an added pure tube gain stage. The handmade in the USA Mr. Scary Mod is now available to order for $319.
For more information, please visit legendarytones.com.
October Audio has miniaturized their NVMBR Gain pedal to create two mini versions of this beautifully organic-sounding circuit – including an always-on gain device.
The NVMBR Gain is a nonlinear amp that transitions gracefully from clean boost to overdriven tones. Volume increases from just over unity to about 10db before soft-clipping drive appears for another 5db of boost. Its extraordinary ease of use is matched by outstanding versatility: you can use it as a clean boost, push a stubborn amp into overdrive or create a just-breaking-up sound at any amp volume.

October Audio's new family of mini NVMBR Gain pedals includes a switchable version that allows you to bypass the effect: one option features brand logo pedal graphics, while the other sports a fun "Witch Finger" graphic with a Davies knob as the"fingernail".
The second version in the new lineup is an always-on device featuring the Witch Finger graphic and Davies knob, with the same NVMBR Gain circuit that lies at the core of the switchable version.
Features:
Knob controls gain and clipping simultaneously
Stunning silver hammertone finish
Switchable versions are true-bypass, available with classic or witch finger graphics
Authentic Davies knobs, including the "fingernail"
9V center negative power supply required
Dimensions: 3.63 x 1.50 x 1.88 in​
Witch Finger (always on NVMBR Gain) demo
​All October Audio pedals are assembled in Richmond, VA, and available for purchase directly through the online shop. Street price is $109 for NVMBR Gain footswitch versions and $89 for the always-on device.
For more information, please visit octoberaudio.com.