More Snappy Answers to Snappy Questions
Last month I answered some of the most common questions I get asked. These questions jogged my memory and also brought a smile to my face. This month I'll
Last month I answered some of the most common questions I get asked. These questions jogged my memory and also brought a smile to my face. This month I'll answer a few more questions, along with a sticky one.
What amps do you own, use and wish you still had? What is your desert island amp?
My amp collection is quite small. Amps became an appliance for me, as opposed to a part of my collection due to space, a 46- year-old back and the maintenance needed.
My cornerstones are an amazing 1967 Ampeg B-15 in rough condition and a 1977 Ampeg SVT rig with both cabinets. For some reason, I prefer the plastic rocker switch SVT models over those with metal toggles; when maintained properly, I've also found the later seventies SVTs to be more focused. For general noodling I use an older GK RB400 with a pair of Bag End 1x15 cabinets. For those of you on a budget, I bought this rig used for under $500 and it sounds great with older basses, while still holding its own against modern basses. My main, general-purpose rig that I use from small clubs to large stages consists of a Demeter preamp, Stewart World 2.1 power amp and Epifani 4x10 UL cabinets. For small rooms, I'll bring a single cabinet as opposed to the entire stack.
As for the amps I've owned and wish I'd kept, it's funny, but I never grew attached to amps. However, some of the great ones I've owned that got away were a red 1970 Marshall 1x18 cabinet and matching red Marshall Major. The amp was painted black; thankfully old latex paint comes off easily. I also owned an early seventies Orange W-box cabinet with the matching head, covers and tags. It's the same as the amp they just reissued.
Lastly, my desert island amp is a blue check Ampeg B-15.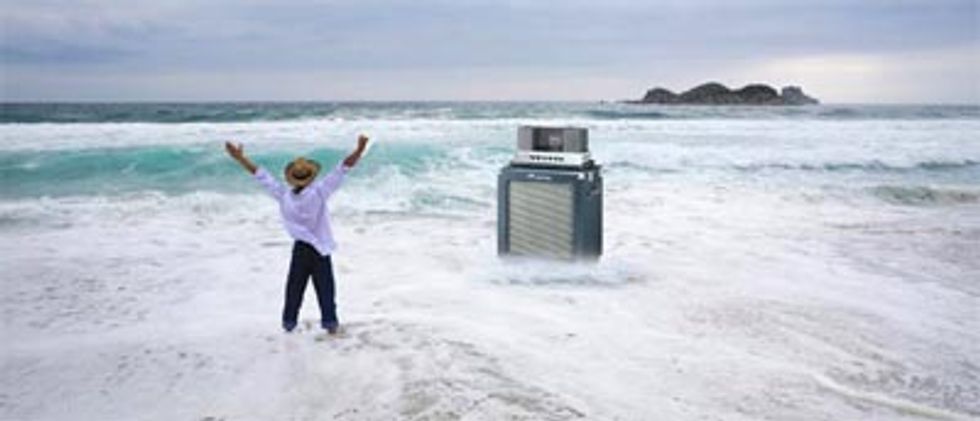 Why won't you supply an answer to my question or email?
This is a question all dealers and professionals receive. We will always reply, but when we say that we cannot answer your question, it usually involves one of two things. One is if it's a question on a piece of gear that I do not have in hand or a piece belonging to another dealer. It's not that we won't answer your question – it's that we can't. It is impossible to offer a value or an opinion on something sight unseen because we cannot be sure that your description is accurate, and our opinions carry a liability. Case in point: Billy has an old refinished bass that he described to Dealer Jim over the phone as original. Billy really thinks it's original, but it isn't. Billy takes Dealer Jim's opinion and sells the bass on the internet. The ad copy says, "Dealer Jim says this is a cool bass and worth X amount." You just sold a refin as all original after twisting Jim's words, and that's where it gets messy.
The other thing professionals often see is someone looking for a free evaluation of their bass so they can sell it online. We don't like to be played for our knowledge. As for commenting on another dealer's bass, it's just not a cool thing to do and explains why 99 percent of dealers offer appraisals and verifications of basses you own, not basses you are speculating on. Don't get me wrong – we'll offer tons of free advice, but it's in person and on a case-by-case basis for the most part.
Are there any repairs I can attempt myself?
Are there basic things you can try on your bass? The answer is yes, but I would consider these maintenance tasks, not repair items. Keep in mind, I get more repairs from people unsuccessfully trying to do their own work than anything else.
A common complaint is that the bass won't stay in tune. The following are little things everyone should be able to do to solve the problem.
Tighten your tuners. There are screws in the back, a nut on the front and a screw in the end of the wing that can all work loose, wreaking havoc on tuning stability.

Is your instrument filthy? Cleaning your fretboard will make your bass look and feel better, and will also affect intonation.

Do you know how to properly change your strings? After you anchor them in the center hole of the tuner, start your winding from top to bottom and make sure the final winding is on the bottom of the tuner shaft. If it's too high you may hear rattles.

Finally, don't go into a panic if your action suddenly gets higher or your bass is choking – 99 percent of the time, it is because of the weather. If you have too much relief, a quarter turn of the truss rod should get you back. For back bow, loosen the rod a quarter turn – your intonation should fall right into place. If the bass does not respond, take it to a professional.
Remember, you are fixing your bass at your own risk; never attempt any repair you are not comfortable with, and always take your time.
---
Kevin Borden
Kevin Borden has been a bass player since 1975, and is currently President of
Goodguysguitars.com
.
Feel free to call him KeBo.
He can be reached at
Kebobass@yahoo.com