As projected, the 2011 market became even more aligned with players, rather than collectors, and certainly not investors.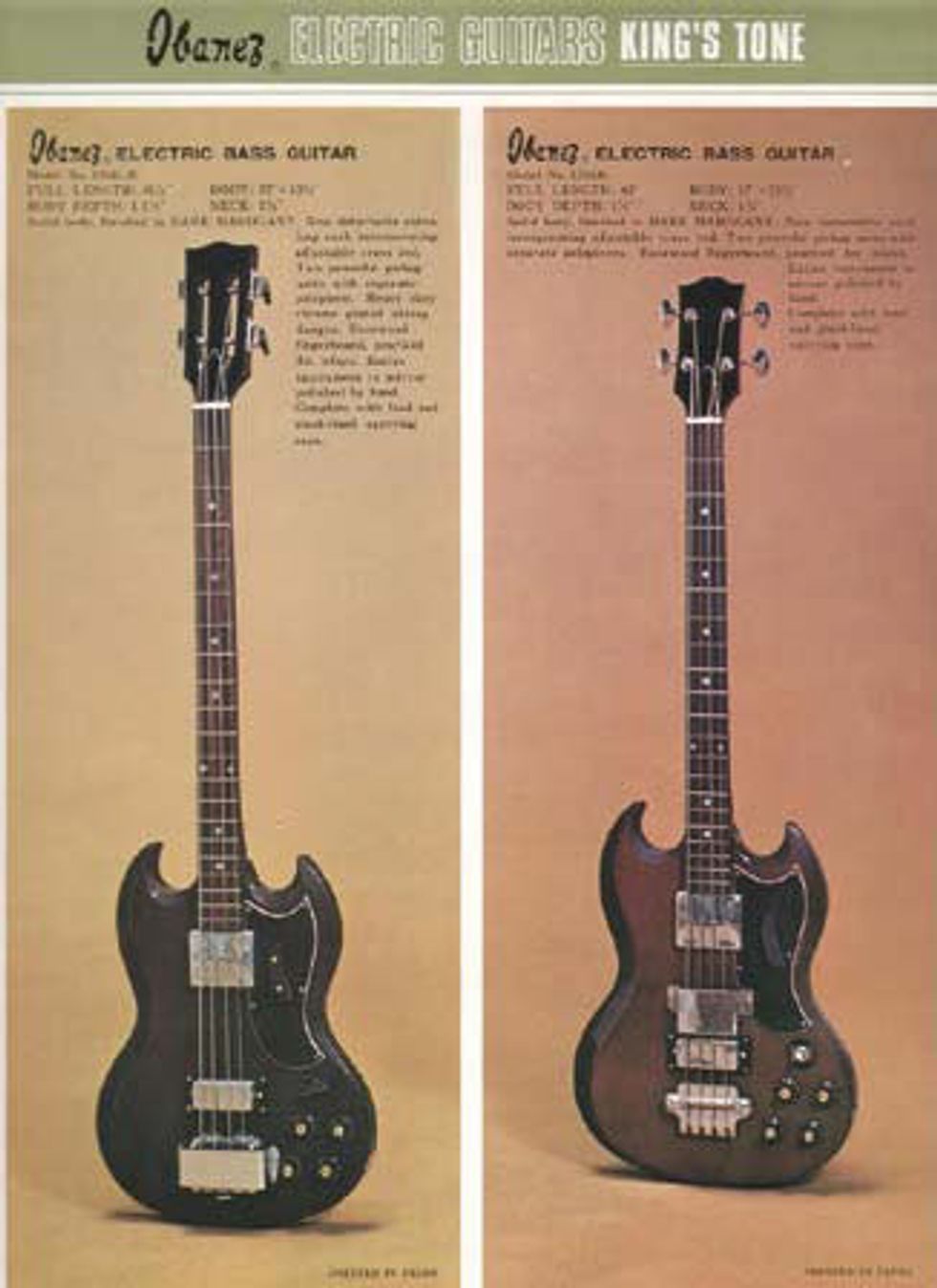 While original-design Ibanez basses have a dedicated following, the company's "lawsuit era" 4-strings have their advocates, as well. Despite being bolt-ons, these '70s Ibanez basses certainly bear a striking resemblance to their '60s Gibson forebears. Image courtesy of bassoutpost.com
As projected, the 2011 market became even more aligned with players, rather than collectors, and certainly not investors. The largest percentage of deals this past year has been for player-level gear—more so than anytime I can recall in the past five to seven years.
The pricing sweet spot in 2011 was between $600 and $4000, down from $1500 to $5000 the previous year. And this is down considerably from the 2007 numbers of $2500 to $10,000. One major change I've seen is that tradeshow attendance appears to have increased considerably and that tradeshow activity (buying, selling, and trading) is also on the rise. Just by looking at confirmed sales, internet auction transactions appear to have cooled a bit, even with lower selling prices. That said, it looks like in-hand prices have remained relatively static when compared to 2010. In talking with many clients, I've gathered that instead of opting for an internet sale by a non-dealer offering no guarantee or return privilege, people seem willing to pay a premium for a face-to-face deal—which amounts to an extra 5-10 percent— simply for peace of mind.
What's Hot. There was not a single bass I put in my crosshairs as a "must buy" in 2011. Provided a bass played great, sounded great, and was correctly priced—it sold. Refinished Jazz basses, 4001s, and Thunderbirds continued to have a short shelf life, while refinished P basses tended to hang around just a smidge longer. Most any other refin bass had to be cheap to sell. Dead mint to firewood Thunderbirds from the '60s and 4000 series Rickenbackers have had constant activity, while J basses and '60s P basses have seemingly come back to life.
The key here is pedigree versus price—they simply have to be in sync. Industry-standard boutique basses have also been sturdy sellers, provided they were still pretty, played great, and priced correctly. Alembics under $5000 and USA Laklands, Spector, and Tobias basses under $2500 all traded steadily. I've seen Sadowsky, Fodera, and Warwicks remain as steady swingers with Warrior basses gaining some traction. And while early G&L and '70s Gibsons continued to sell, the surprise of the bunch has been post-lawsuit, original-design Ibanez basses— extremely good instruments that have quite the following. Mismatched necks and bodies, hot-rod components, and refins on mishmash basses from the '50s through the '70s have been hot. This is a huge contrast to even two or three years ago when pedigree was everything.
What's Not. 2011 continued to show pain in the marketplace. Just one example of this was the slowdown of 1970s P bass sales. Also, with a few exceptions, gear over $10K—even if priced fairly—did not seem to move. Realistically priced T-Birds and 4000 series Rickenbackers from the '60s were the exception, along with the odd extremely rare or extremely clean instrument. While both Rickenbacker and early Music Man basses sold steadily, the former came down about 20 percent and the latter dropped in price by 15 percent. Epiphone basses from the '60s—though cooler than their Gibson comps—witnessed triple the shelf life when comparably priced. And Christmas catalog basses—always popular because of their cheap nostalgia—have been dead in the water and most can't be given away. Old may equate to cool, but not necessarily desirable. Just ask the SD Curlee owner who couldn't get $300 for his bass at two guitar shows.
Projections for 2012. There is a lot of gear to buy at relatively sane prices—prices I expect to remain static. Because it's the musicians buying instruments and not the speculators, gear trading has never been more fun. The tradeshow crowd seems to be enjoying themselves. Though not in dollars spent, it's almost a throwback to the early 2000s in terms of vibe. The flavor-of-the-week club appears to have settled down and the up-and-down spiking of sales by make and model has leveled out. Traditional gear is the hot commodity and many players are coming back to 4-string basses, with basses sporting more than five strings having become a rarity compared to a couple of years ago.
I'm calling 2011 "the year that people did not understand." I find used Rickenbacker 4003s listed online at $1500 to $2700 for the exact same bass, and I saw a late-'60s refin Precision listed for $8000. Basses with flaws are being tagged at top dollar, so going forward, the principle of quality-versus-price will become even more significant. Sorry, but you won't sell a B00 StingRay to a dealer for $2700, when he has the same one for $2200.
The Low Down… We're Undecided. Talking with my dealer buddies and many of my player clients, it seems everyone is looking for something different and nothing different at the same time. While staples will continue to sell just because people crave a different instrument, folks are not looking for the next trendsetter. Hamers and Jacksons have been trading in-and-out against StingRays— but is this bucking the trend or becoming the trend?
Live auctions have been showing up at major tradeshows. Will this be the norm or a flash in the pan? The jury is out on what's in store for us, but boy, the opinions are in. Let's just say there's no joy in Mudville with this one, so let's wait and see.
Kevin Borden
has been playing bass since 1975. He is the principal and co-owner, with "Dr." Ben Sopranzetti, of Kebo's Bass Works (visit them online at
kebosbassworks.com
). You can reach Kevin at
kebobass@yahoo.com
. Feel free to call him KeBo.
In this installment, we'll look at what went into resurrecting and restoring the Stack Knob Jazz bass owned by Walter "Uncle Bookie" Booker.
Left: Walter Booker's Jazz bass before the restoration began. Right: The "Bookie bass" after resurrection—a stunning beauty.
Last winter, I was fortunate enough to purchase the Stack Knob Jazz bass owned by Walter "Uncle Bookie" Booker (Cannonball Adderley, Thelonious Monk, Stan Getz, Sonny Rollins, Sarah Vaughan, Chick Corea). Yes, it was a basket case. Yes, it was the most important piece I've ever purchased. Yes, buying it made absolutely zero fiscal sense from a dealer's perspective. And no, I would not have done anything differently. In my
March
and
April
2010 columns, I described buying the bass and offered an overview of this historical instrument. In this installment, we'll look at what went into resurrecting and restoring it.
You may remember that the bass was painted with a brush, had all the wrong components, was unplayable, and required a full restoration. I purchased the bass in December 2009, and it took until September 2010 to finally complete the job. Any retailer who buys stock to sit on for 10 months before putting it up for sale is basically asking to go out of business. But, honestly, we did not buy the bass for that purpose. This was a labor of love, and we don't think this bass is going anywhere anytime soon. We love it too much.
After I bought the bass, I had to decide what to do with it. Even after a thorough analysis that involved at least 50 professionals—including players, dealers, and folks who work in antique restoration, instrument preservation, and music history—we still couldn't reach a decision. A conversation with my dad, a non-musician, finally put it all together. He said the bass was meant to be played, so make it play. This thought process took six weeks.
With that decision finally made, we then had to decide who would do the restoration work. I couldn't choose just one person, so I used two. I asked Krishna Jain of the Guitar Garage in Boston to do the cosmetic restoration. The process took four-and-a-half months. The Pope did not rush Michelangelo. I could not rush Krishna.
While all this was going on, I scoured the globe for original parts. For this mission, I had two criteria: The parts had to be as correct as possible, yet buying them had to make fiscal sense.
In April of 2010, someone dropped off a shoebox at the shop with a note inside that read, "I think you may need these." Lo and behold, the original pickups and bridge were inside. The pickups were blown, so I sent them to Jim Rolph to rewind and restore them to perfection.
I found ferrules for the tuners, a set of screws, and, of all things, an NOS sheet of plastic that was used to make pickguards in the '60s! I found this in Italy as an 18" x 18" sheet that was warped up into a slight bowl shape. I had the plastic leveled and a guard expertly cut out of this material. The bevel is not as steep as I would have liked, it's more of a mid-'60s bevel. I used the original neck plate and retained the decking screws as an homage to the good Uncle.
Because an original stack-knob assembly costs
thousands
of dollars, I decided to use a Fender reissue unit. Finally, in late June 2010, the newly painted bass returned to the shop. I was thrilled: The Olympic white paint looked like a factory job, as did the vintage tint neck. Most importantly, the neck
felt
like it had a factory finish.
For the assembly phase, I called my A-1 luthier supreme, Matt Brewster of 30th Street Guitars/Rust Guitars in New York City. So Matt could see what we were facing, I hauled in the bass and all the parts. After we laid the bass and parts out on the workbench, we noticed a clear mismatch between the body patina and the newer hardware. The new finish was not relic'd, but it was mellowed out, so we worked on the parts until the new and old hardware visually matched the mellowed finish. We replaced the nut because the original was shattered, and then assembled the bass and dressed the frets. Finally, the bass was ready to play for the first time in decades!
The feel is unmistakably early Stacker, though the tone is a little more focused and a little edgier than my '61 Stacker. This is because the rewind is fresh and the pickups haven't yet had time to mellow out. That said, by no means does it sound even slightly middy like a reissue Jazz bass. The pickups measure 7.65 kΩ at the tail and 7.33 kΩ at the neck. My '61 reads 6.54 kΩ and 6.22 kΩ, respectively. Nonetheless, the bass is
nuts
. She oozes all the magic and mojo that an instrument of this stature should.
There's another twist to this tale: When I originally picked the bass up at Jerry Barnes' studio in December '09, Artie Smith, who's well known in NYC music circles, saw the basket case and had a "What happened to that instrument?" look on his face. The day I picked up the bass from 30th Street and walked out of the store's work area with it, who's in the store? Artie!
"Kev, that's a cool bass," he said. "What is it?"
"Artie," I replied. "Remember the Bookie bass?"
A nod of approval from Artie, and I knew I'd done the right thing. This is a special bass that was owned by a special man. When I brought this bass to the Arlington Guitar Show, folks were just floored by it. And that was a mighty fine feeling.
Kevin Borden
has been playing bass since 1975, and he is currently the principal and co-owner, with "Dr." Ben Sopranzetti, of Kebo's Bass Works (
kebosbassworks.com
). You can reach Kevin at
kebobass@yahoo.com
. Feel free to call him KeBo.
How do readers perceive the vintage bass market this year?
At the end of each year, I report on the bass market from a dealer's perspective. I sell a lot of basses, I see a lot of basses sold, and—most importantly—I see a lot of basses go unsold. That is the real story on accurate pricing. The tag price is not the sold price, and that is where value mistakes happen. The first seven and a half years of the new millennium saw vintage bass prices explode, in some instances increasing 400 percent or more. Vintage basses went out of the financial reach of the working player. Nonplayers and nonmusicians were buying big pieces as an accumulative asset or a work of art. Vintage collectibles, basses included, were outpacing 401(k) or other investment vehicles. Potential buyers were asking, "Where do you see the value in two years?" not "How does this instrument play?" and "Is it all original?"

Musical Instrument or Financial Investment?
Investors and speculators with cashed-out 401(k) plans and second mortgages were helping to fuel the vintage fire. Like all fires, if you burn too hot, you will burn out—and if you stand too close, you'll get burned. From 2003 until early 2007, I could sell a big bass using telepathy. As a dealer, we did not care if we rolled stock, because it would be worth more tomorrow than today. We all knew the party was coming to an end, we just did not know when, how, or how abruptly it would happen. Now, big basses are slow and extremely devalued compared to three years ago. Maybe "devalued" isn't the appropriate word. Perhaps "properly valued" is more accurate.

Last year, my median sale was about $1100 to $1300. Today, it's up a few hundred bucks. Most importantly, players like you and me are buying vintage basses. To understand how bassists—not dealers or investors— viewed this past year, I spoke with a few Premier Guitar subscribers to get their opinions and perspectives. I'd like to thank readers Tim Onorato, David "DK" Wilkins, Paul DeLano, Fred Elig, and Kennan Shaw for offering their open and honest insights. All these guys are pro-level players. Some tour for a living, some are barroom brawlers a few times a month. Their arsenals range from a pistol safe to a NATO stockpile. Most importantly, these guys use their gear.

A View from the Trenches
Something is impacting this panel of PG-reading bassists, and it explains quite a bit to a dealer like myself. When the economy goes south, the first thing people do is stay home: Musicians who had weeknight gigs no longer have them, and the weekend gigs also dried up. The playing time for my panelists seems to have decreased 50 to 65 percent, and rates are down by the same margin. A $750 gig is now paying $250. The folks who rely on gigging as a major portion of their household income are doing okay, but doing okay does not lead to gear purchases.

The fact is, one's gig income has a direct correlation to one's gear-purchase fund: no gigs means no gear purchases. As a dealer, I thought people were afraid of spending money on instruments because of potential devaluation or their inability to resell the gear. But now I realize that the slowdown is due in part to musicians having no capital to invest. Personally, I have not bought anything for myself in the past 18 months. Kennan Shaw summed it up perfectly: "You need a catch-and-release program or a good ogling method."

When I asked these players about what gear they're avoiding, the response was interesting: new boutique basses. The reason they gave was the hefty devaluation at sale time. As prices increase on new boutique basses and drop on vintage instruments, many players reach the same conclusion: Why spend $5000 on a boutique emulation when you can buy the real thing for the same money? When the vintage market was going nuts, folks bought boutiques because they could afford them. What they're buying now are the "bread and milk" of the industry— reliable amplification and practical accessories.

I asked if anyone had to hock a bass to pay the bills, and luckily none of these guys did. But I know from my clients there was a lot of this for a while. My bass-playing PG fans also recognized they are lucky to be gigging—a bad gig is better than a good night in front of the TV.

Fiscal responsibility is also a major focus of the group. Buying on credit is out of the picture. In the past, 95 percent of my sales were on a credit card. Today, it's about 50 percent. I thought only my credit-card sales were down, but now I understand folks are simply not charging without cash in hand. If a bass needs to be sold before another one is purchased, then so be it. I'm glad to see fiscal accountability take place. Very recently, a "client" bought a bass from me through e-auctions. He did not have the money for the purchase because his bass sale fell through.

Here's something else I found interesting: Though my panelists are from California, Florida, the Gulf Coast, the Northeast, and the Midwest, each one gave almost the same responses to my questions. The economy impacted them similarly, they had similar concerns and issues, and so on. I learned from these gents and I thank them for that.

Warming Trends
Not everything is dire. My shop is seeing a lot of trade-ins—something we've not had in quite some time—and wish-list items seem to be resurfacing. In fact, several roundtable bassists mentioned lusting after a killer old J bass and some big cha-ching Ricks. At this time last year, none would have entertained the idea of buying a nice vintage bass.

So what are my thoughts on the vintage market? Honestly, I think, hope, and pray the price structure has bottomed out. Good vintage basses at fair prices will sell. Great and rare basses will start to command a premium. I am seeing a huge jump in trade activity that resembles mid-2006 levels. Folks seem happy to make a fair trade on a solid bass. I see a lot of bands, and players are using traditional gear a lot more than they were over the past two to three years. Why? Because they can afford the traditional stuff again!

The Low Down
I've learned a lot while researching my columns in this and the previous issue. I'm actually optimistic going into a busy show season in Arlington, Philly, Nashville, and Orlando. Hope to see you there.


Kevin Borden
Kevin Borden has been a bass player since 1975 and is currently the principal and co-owner, with "Dr." Ben Sopranzetti, of Kebo's Bass Works [
kebosbassworks.com
]. You can reach Kevin at
kebobass@yahoo.com
. Feel free to call him KeBo.