As projected, the 2011 market became even more aligned with players, rather than collectors, and certainly not investors.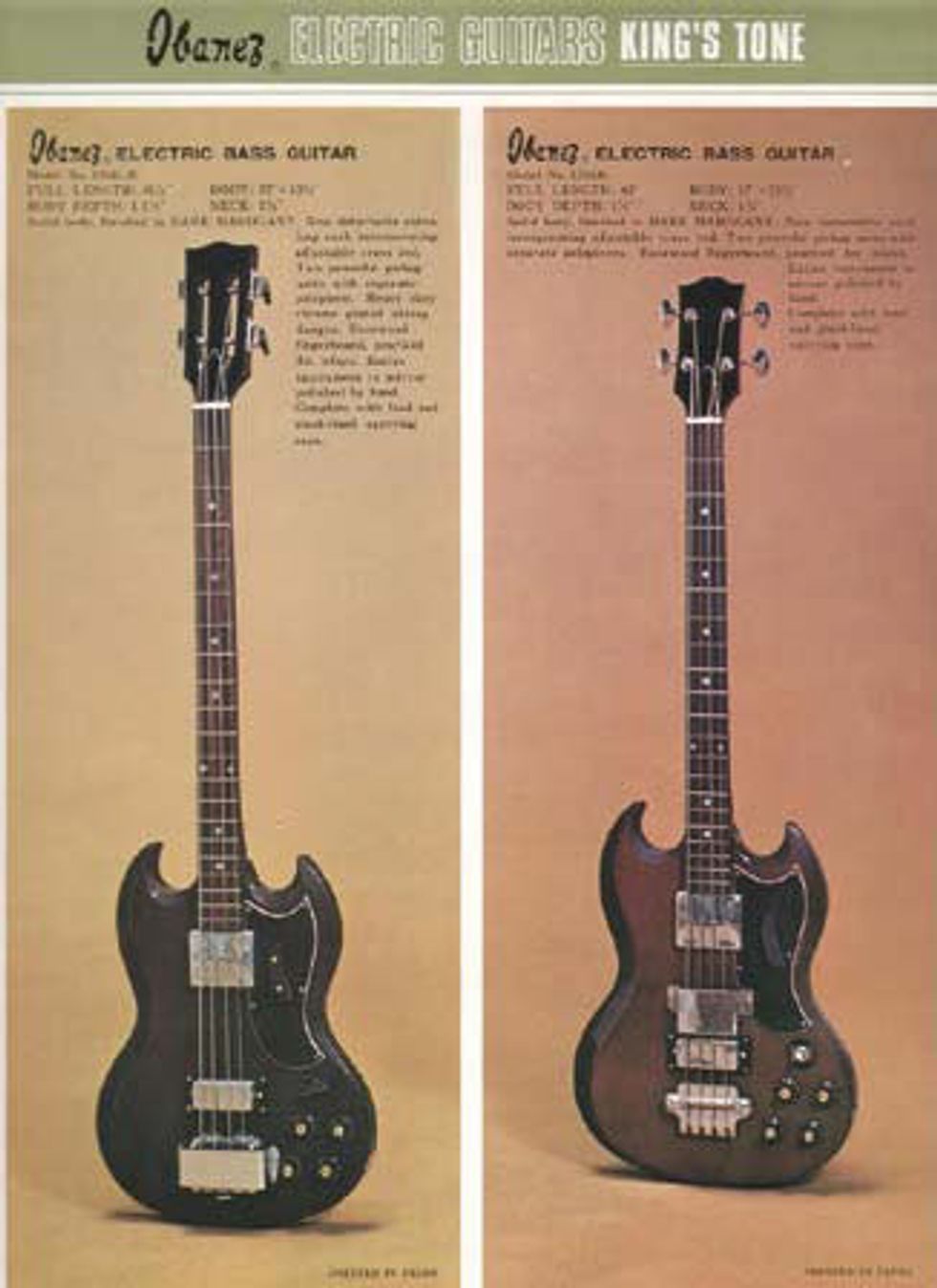 While original-design Ibanez basses have a dedicated following, the company's "lawsuit era" 4-strings have their advocates, as well. Despite being bolt-ons, these '70s Ibanez basses certainly bear a striking resemblance to their '60s Gibson forebears. Image courtesy of bassoutpost.com
As projected, the 2011 market became even more aligned with players, rather than collectors, and certainly not investors. The largest percentage of deals this past year has been for player-level gear—more so than anytime I can recall in the past five to seven years.
The pricing sweet spot in 2011 was between $600 and $4000, down from $1500 to $5000 the previous year. And this is down considerably from the 2007 numbers of $2500 to $10,000. One major change I've seen is that tradeshow attendance appears to have increased considerably and that tradeshow activity (buying, selling, and trading) is also on the rise. Just by looking at confirmed sales, internet auction transactions appear to have cooled a bit, even with lower selling prices. That said, it looks like in-hand prices have remained relatively static when compared to 2010. In talking with many clients, I've gathered that instead of opting for an internet sale by a non-dealer offering no guarantee or return privilege, people seem willing to pay a premium for a face-to-face deal—which amounts to an extra 5-10 percent— simply for peace of mind.
What's Hot. There was not a single bass I put in my crosshairs as a "must buy" in 2011. Provided a bass played great, sounded great, and was correctly priced—it sold. Refinished Jazz basses, 4001s, and Thunderbirds continued to have a short shelf life, while refinished P basses tended to hang around just a smidge longer. Most any other refin bass had to be cheap to sell. Dead mint to firewood Thunderbirds from the '60s and 4000 series Rickenbackers have had constant activity, while J basses and '60s P basses have seemingly come back to life.
The key here is pedigree versus price—they simply have to be in sync. Industry-standard boutique basses have also been sturdy sellers, provided they were still pretty, played great, and priced correctly. Alembics under $5000 and USA Laklands, Spector, and Tobias basses under $2500 all traded steadily. I've seen Sadowsky, Fodera, and Warwicks remain as steady swingers with Warrior basses gaining some traction. And while early G&L and '70s Gibsons continued to sell, the surprise of the bunch has been post-lawsuit, original-design Ibanez basses— extremely good instruments that have quite the following. Mismatched necks and bodies, hot-rod components, and refins on mishmash basses from the '50s through the '70s have been hot. This is a huge contrast to even two or three years ago when pedigree was everything.
What's Not. 2011 continued to show pain in the marketplace. Just one example of this was the slowdown of 1970s P bass sales. Also, with a few exceptions, gear over $10K—even if priced fairly—did not seem to move. Realistically priced T-Birds and 4000 series Rickenbackers from the '60s were the exception, along with the odd extremely rare or extremely clean instrument. While both Rickenbacker and early Music Man basses sold steadily, the former came down about 20 percent and the latter dropped in price by 15 percent. Epiphone basses from the '60s—though cooler than their Gibson comps—witnessed triple the shelf life when comparably priced. And Christmas catalog basses—always popular because of their cheap nostalgia—have been dead in the water and most can't be given away. Old may equate to cool, but not necessarily desirable. Just ask the SD Curlee owner who couldn't get $300 for his bass at two guitar shows.
Projections for 2012. There is a lot of gear to buy at relatively sane prices—prices I expect to remain static. Because it's the musicians buying instruments and not the speculators, gear trading has never been more fun. The tradeshow crowd seems to be enjoying themselves. Though not in dollars spent, it's almost a throwback to the early 2000s in terms of vibe. The flavor-of-the-week club appears to have settled down and the up-and-down spiking of sales by make and model has leveled out. Traditional gear is the hot commodity and many players are coming back to 4-string basses, with basses sporting more than five strings having become a rarity compared to a couple of years ago.
I'm calling 2011 "the year that people did not understand." I find used Rickenbacker 4003s listed online at $1500 to $2700 for the exact same bass, and I saw a late-'60s refin Precision listed for $8000. Basses with flaws are being tagged at top dollar, so going forward, the principle of quality-versus-price will become even more significant. Sorry, but you won't sell a B00 StingRay to a dealer for $2700, when he has the same one for $2200.
The Low Down… We're Undecided. Talking with my dealer buddies and many of my player clients, it seems everyone is looking for something different and nothing different at the same time. While staples will continue to sell just because people crave a different instrument, folks are not looking for the next trendsetter. Hamers and Jacksons have been trading in-and-out against StingRays— but is this bucking the trend or becoming the trend?
Live auctions have been showing up at major tradeshows. Will this be the norm or a flash in the pan? The jury is out on what's in store for us, but boy, the opinions are in. Let's just say there's no joy in Mudville with this one, so let's wait and see.
---
Kevin Borden
has been playing bass since 1975. He is the principal and co-owner, with "Dr." Ben Sopranzetti, of Kebo's Bass Works (visit them online at
kebosbassworks.com
). You can reach Kevin at
kebobass@yahoo.com
. Feel free to call him KeBo.