Musical Soulmates and Alternate Tunings
How finding the right partners can take you down different musical paths.
My favorite songwriter in the whole world is BeJae Fleming. She writes wonderfully gritty, beautifully dark songs that make me wish I'd written all of them. Every one is my favorite. Once in a while, BeJae and I manage to be in the same place at the same time, so we can actually play together, and it's always magical—especially when we manage to get my drummer, Eric Douglas, to sit in, too.

A Brief History of Time
A little background; back in the '90s BeJae and I did a lot of gigs together, all over the Midwest. We inspired and influenced each other in ways I probably don't even know about. I do know that she influenced me to loosen up a bit, leave more space, dig deep, take chances and embrace simplicity. I showed her DADGAD. Well, I show everybody DADGAD. I'm a DADGAD-vangelist. But she took it in directions I hadn't thought of, and made it hers in that gritty and beautiful way.

Eric and I come from the same extended musical family. My older brother played in bands with most of the guys he works with now, so we got to know each other just by being in the same place at the same time a lot. I loved his playing, he loved my playing, we finally managed to get together and play, and it was incredible. Eric and I forged a psychic bond stronger than phosphor bronze, playing together every Friday night for two years at a local restaurant. I don't even have to bother thinking what I'd like anymore, he anticipates everything, knows just how I want it, knows precisely what I like, and even knows how to surprise me with astounding regularity. If ever I had a musical soulmate, it's Eric. (I know, that sounds like I'm talking about something other than music, but I'm not, and any musician who has ever found a partner like that knows it's pretty much the same as sex, only without the messy naked part.)

So the opportunity to introduce my hero to my soulmate was too good to pass up. We played together the first time at that same restaurant on a Friday night, and none of us could believe what happened. We synched up like we'd done it a million times. Eric had never even heard BeJae's music before, and I hadn't heard all the songs she played, but I know her music almost as well as I know my own. I could anticipate her changes, how she transitioned between A and B parts, where she was gonna put a bridge and so on, so I was able to lead Eric along, simply by nodding my head or raising an eyebrow. That was it. He hit every transition perfectly. Every once in a while, BeJae would say, "How did you guys do that? You've never even heard this song!" It was uncanny and perfect. We were afraid we'd never be able to capture that again.


Keef said that banjo tuning gave their sound a little twist...I got to thinking about it, and thought, gosh, you could really create some unique sounds by playing rhythm guitar in an open tuning that's not in the key that a given song is in.

Try a Little Tension
But we did. Just this past Friday night (as I write this) we got together at a different restaurant and rocked the house nearly down. It was a blast. I had only heard one or two of the songs she played (one of them was a killer version of a song I wrote), so it was quite a challenge. I found myself grabbing DADGAD to play rhythm, even though she was playing a lot in C and E, because I think faster in DADGAD than I do in standard. What happened was, the open strings in DADGAD created a rather lovely tension. Her songs are very modal anyway, so for example, making a C chord a C9 just added icing to that cake. Adding an open D string to an Am chord gives it a cool suspended feel that makes you feel the heartache even more.
I just recently finished devouring Keith Richards' autobiography,
Life
, in which he explains a great deal about playing in "banjo tuning," also known as open G. He goes so far as to take the sixth string off the guitar altogether. I play in that tuning a lot, but I put a C on the bottom so you end up with C–G–D–G–B–D. It's a great feel. But I digress. Keef said that banjo tuning gave their sound a little twist that most people couldn't ever replicate, because very few electric players mess around with tunings. I got to thinking about it, and thought, gosh, you could really create some unique sounds by playing rhythm guitar in an open tuning that's not in the key that a given song is in. Not everything the Stones play is in G, so the open G tuning is part of what gives the Stones their wonderful tension.
And that's what DADGAD did for C and E. Once again, my friend BeJae inspired me to take some chances that I hadn't really thought about before. Isn't that what the best kind of friends are for?
The Heart of the Matter
So here's a little mini-lesson in playing DADGAD in keys that aren't D. You knew I'd get to the point eventually, right?
In the key of C there are a lot of awesome voices to choose from. Gorgeous tension. None of these chords are plain old anything. Lots of 9s and 11s, which contribute a haunting, suspended feel. When you either drop from the F chord to the Dm or go up to the F from the Dm, you can leave your ring and pinkie fingers in place for a really cool transition through the common tones.
For the key of E, you have a couple choices. You can take the easy road and use a capo at the second fret and just play everything out of D (like a weenie, seriously), or you can twist your fingers around these little configurations below and qualify for the Weird Chord Olympics.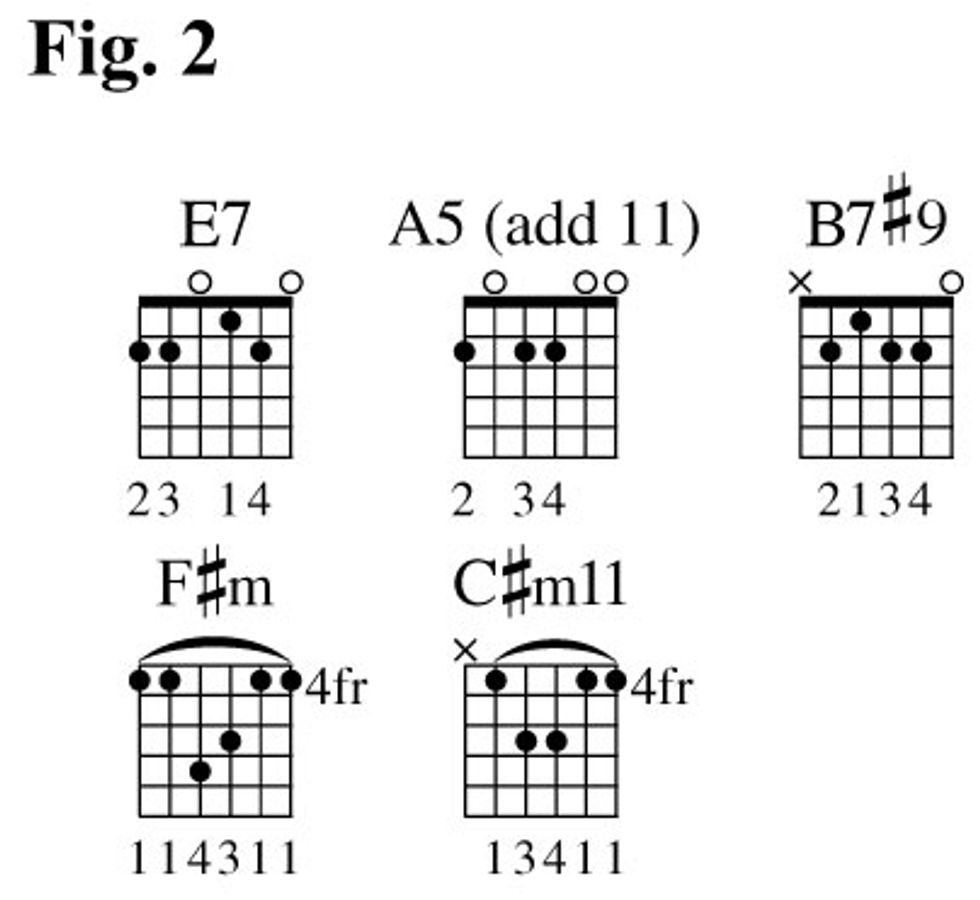 Pick one of your favorite dark, gritty and beautiful songs in D or E and see what kind of cool DADGAD can bring to it. A little tension can be a wonderful thing.
---
Gayla Drake Paul
is a guitarist, songwriter and writer, working as a soloist and with the Gayla Drake Paul Trio. Her CD,
How Can I Keep From Singing
, is in the Ten Essential CDs for Acoustic Guitarists at
digitaldreamdoor.com
. Her new CD,
Trio Plus Three: The Luckiest Woman
, can be purchased at
CDBaby.com
.