NAMM 2011 - Editor's Picks, Day 3
What PG''s editors dug at the last day of NAMM 2011.

Anaheim, CA
(January 15, 2011) -- It's Day 3 of our 2011 Winter NAMM experience, and here we've culled a list of the items that grabbed our attention today. Enjoy!
Check out what our editors thought was the coolest gear of the show today:

Editorial Director Joe Coffey
Editor in Chief Shawn Hammond
Senior Editor Andy Ellis
Gear Editor Charles Saufley
Web Content Editor Rebecca Dirks
Associate Editor Chris Kies
Associate Editor Jason Shadrick
Joe Coffey - Editorial Director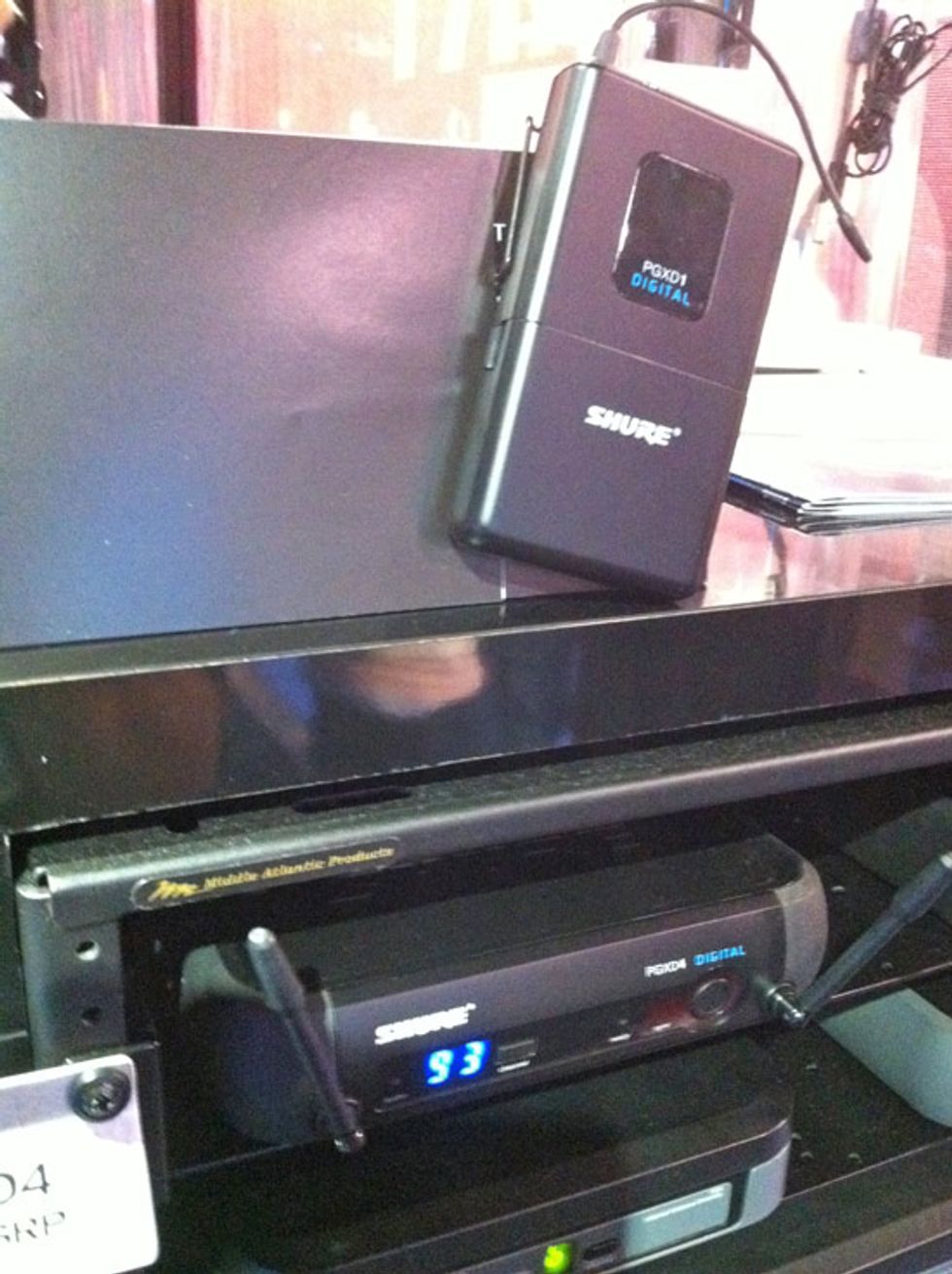 Shure PGXD14 Wireless System
This 24-bit, 48 kHz digital wireless system includes the PGXD1 transmitter and PGXD4 receiver, which operates in the 900 MHz range. The PGXD1 transmitter is sleek and has a tiny, recessed pot for varying your output from line level to +26 dB. Street $429.
shure.com
---
Breedlove Cascade Series
The new Korean-made Cascade series of Original and Revival designs offers high-end features at very affordable prices. This J25/CRe has a western red cedar top, a rosewood back and sides, a mahogany neck, a rosewood fretboard, Sitka spruce top bracing, mosaic pin position markers, and L.R. Baggs Element active VTC electronics. MSRP $1739.
breedlovemusic.com
---
QSC KLA Series Active Line Array System
If you're the guy whose band rocks a premium PA system—or if you want to be the guy whose band rocks a premium PA system—take note: QSC's new KLA series can be configured for clubs. Shown here are two KLA12 speakers (500 x 500 watts) configured with a KLA181 sub (1000 watts). The system uses the company's Ar-Q Frequency Optimization to tune the array with simple dials on the back panels.
qscaudio.com
---
Gretsch G6128T-GH George Harrison Tribute
Replicated by Gretsch Custom Shop master luthier Stephen Stern, this tribute to Harrison is a painstaking recreation of the Beatle's black 1957 Duo Jet. Harrison used the guitar in early Abbey Road sessions and returned to it later in his career (he's cradling it on the cover of his 1987 album, Cloud Nine). The G6128T-GH has a mahogany back, a 3-ply maple top, a 1-piece mahogany neck, and a rosewood fretboard. It also has Seymour Duncan-designed recreations of the original DynaSonic single-coils and chrome-plated hardware. Only 60 will be made. MSRP $20,000.
gretschguitars.com
Shawn Hammond - Editor in Chief

Misa Digital Instruments Kitara
Guitarists as a whole tend to skew fairly conservative when it comes to tones and gear—the majority of electric players insist on using a technology that is utterly and completely antiquated in all other applications (vacuum tubes), our most iconic guitars are half a century old (and counting), and the most extreme tones on 90 percent of our pedalboards were considered "far out" 40 years ago. But no matter how much guitar players lean toward Luddite, there's no way we're ever going to stop the evolution of the instrument.  
Only time will tell whether the new Kitara is the next step in the evolution of the 6-string—hell, it doesn't even have strings. Without a doubt, though, the Kitara is at least evidence of society's evolution: The convenience of modern technology on the whole is so engrained in our culture and collective conscience (to say nothing of the ubiquity of video games like Rock Band and Guitar Hero) that an instrument that would've seemed like a silly Star Trek prop 20 or 30 years ago seemed almost mundane at a NAMM where tons of exhibitors are hawking iPad and iPhone apps.  
Available in molded-plastic (MSRP $849) and aluminum-bodied (MSRP approx. $2000) versions that can be flipped to accommodate left-handers, the Kitara features an onboard, Linux-driven synth with more than 100 sounds, 144 buttons on the 24-"fret" neck, and an 8" touch screen to activate sounds and manipulate parameters in real time. It also features six effects, a MIDI out jack, a 1/4" audio out, and a headphone jack. For those who've been envious of big-name guitarists who can afford to outfit a guitar with a Korg KAOSS Pad (like Matt Bellamy of Muse), the Kitara seems like a fascinating, affordable way to get in on some of the futuristic action.
misadigital.com
---
Kramer SM-1 Stagemaster
After I'd been playing electric guitar for a couple of years, I'd read enough guitar magazines to know what I wanted in my second solidbody. At the time, I worshipped Eddie Van Halen, so my must-have list included a humbucker in the bridge position and a double-locking tremolo. I ended up getting a top-of-the-line 1987 Kramer Stagemaster Custom, which had a Floyd Rose, a Seymour Duncan JB in the bridge position, two Duncan Vintage Staggered single-coils, a Master Volume, three mini toggles for each pickup (on/off for the single-coils, and on/off/coil-split for the JB), and a "rhythm-to-lead bypass" that toggled between the soloed humbucker and whatever the three mini toggles were set to. It also had a neck-through design, a bound ebony fretboard with diamond-shaped inlays and an abalone "KRAMER" inlay at the 24th fret, and an iridescent "flip-flop red" finish.  
Gibson now owns the Kramer brand, and the new SM-1 Stagemaster is modeled after a version of the Stagemaster that came out a year or two after mine. The new one sports the same trem (only now it's recessed) and pickups (but with a Master Volume, Master Tone, 5-way selector, and a coil-tap mini toggle), but the body is contoured and the fretboard is adorned with mini abalone silhouettes of the headstock.
kramerguitars.com
---
Dean Michael Schenker Strangers in the Night
For fans of UFO, MSG, and early Scorpions, this new V-shaped Dean offers an affordable way to pay tribute to the melodic metalhead. It features zebra-coiled humbuckers, dual Volume controls, a Tone knob, and a collage graphic that mimics the cover of UFO's 1979 album, Strangers in the Night. I also like the fact that the most prominent face in the image bears a striking resemblance to PG associate editor Chris Kies. MSRP $599.
deanguitars.com
Andy Ellis - Senior Editor
BigHeart HubCap
The HubCap resonator guitar from BigHeart comes in 6- and 12-string models. These vibey instruments—which are inspired by Larry Pogreba's amazing HubCap resos and are made with his blessing—features an aluminum body, a Lace Alumitone humbucker, and a Schatten bridge pickup. The resonator cover is crafted from a vintage HubCap. Plugged into a tweed amp, the HubCap evokes true juke-joint spirit. The guitars are available in seven striking colors and are priced around $2400.
bigheartslide.com
---
DV Mark Frank Gambale 1x12 Combo
This new amp features a burly, 150-watt, solid-state power section with dual clean and tube-driven preamps, spring 'verb, and a super-efficient neodymium speaker. Designed to deliver loud, ultra-clean tones, the compact amp weighs less than 26 pounds—perfect for gigging jazz and fusion players.
dvmark.it
---
Schoen Apache Powder
Schoen guitars are made from reclaimed wood taken from old barns, churches, ammo boxes, and whiskey crates, and each is a one-of-a-kind, handmade creation. Built from a 1920s Apache Powder dynamite box, this guitar features a TV Jones humbucker, and its tuner buttons are made from old steamer trunk keys. Schoen's aluminum reso cones (inset) are spun exclusively for the company. The 12-fret marker on this Schoen Apache Powder comes from a .45-caliber bullet casing.
---
Tom Anderson Short Classic
The new Tom Anderson Short Classic has a 24 3/4" scale, Anderson's steel, vintage-style trem, a pair of custom-wound VA-7 single-coils, and a HC-1+ humbucker. Price depends on options, but it's comparable to Anderson's other models. The instrument is geared to guitarists who prefer a bolt-on's snappy tone, but want the more relaxed string tension and fretting feel of a classic set-neck guitar.
andersonguitars.com
Charles Saufley - Gear Editor
Eventide Space Reverb
Eventide's effects are always stage-tough and brimming with a thousand sound-crafting capabilities. The new Space Reverb is more of the same. If you need traditional spring-reverb tones, the Space will deliver with extended capabilities like emulated variable-spring tension. But it also has great ambient reverb voices like the Eventide 3000 that the Edge made famous, and the hyper-cosmic Blackhole setting, which is tailor-made for dreamy interstellar excursions. It also has a very cool vibrato effect and compression, to further tweak and shape the 'verb tones.
eventide.com
---
Burns BL-1800 WH Shadow Bass
The Shadows, which were headed up by Brit-guitar legend Hank Marvin, were England's answer to the Ventures.  And almost as a parallel to the Ventures' famed endorsement deal with Mosrite, Hank and the boys signed on with Burns for a set of far-out axes.  Saga's reissue plays sweetly and is down-to-the-letter accurate.  The alder body, Burns Res-o-Tube aluminum bridge, and Van Gent-type tuning machines somehow add up to a bass that weighs a ton. But it's as smooth, distinctive, and cool looking as they come.
burnsguitars.com
Rebecca Dirks - Web Content Editor
Bogner Mephisto
The latest from the eccentric Reinhold Bogner is the Mephisto, a combo with two completely separate amp circuits (6V6- and EL84-powered) that meet in the output stage. Each amp has Tone and Volume controls, and each can be run separately or blended together. The amp is about 25 watts—around 10 in the 6V6 section and 15 in the EL84. bogneramplification.com
---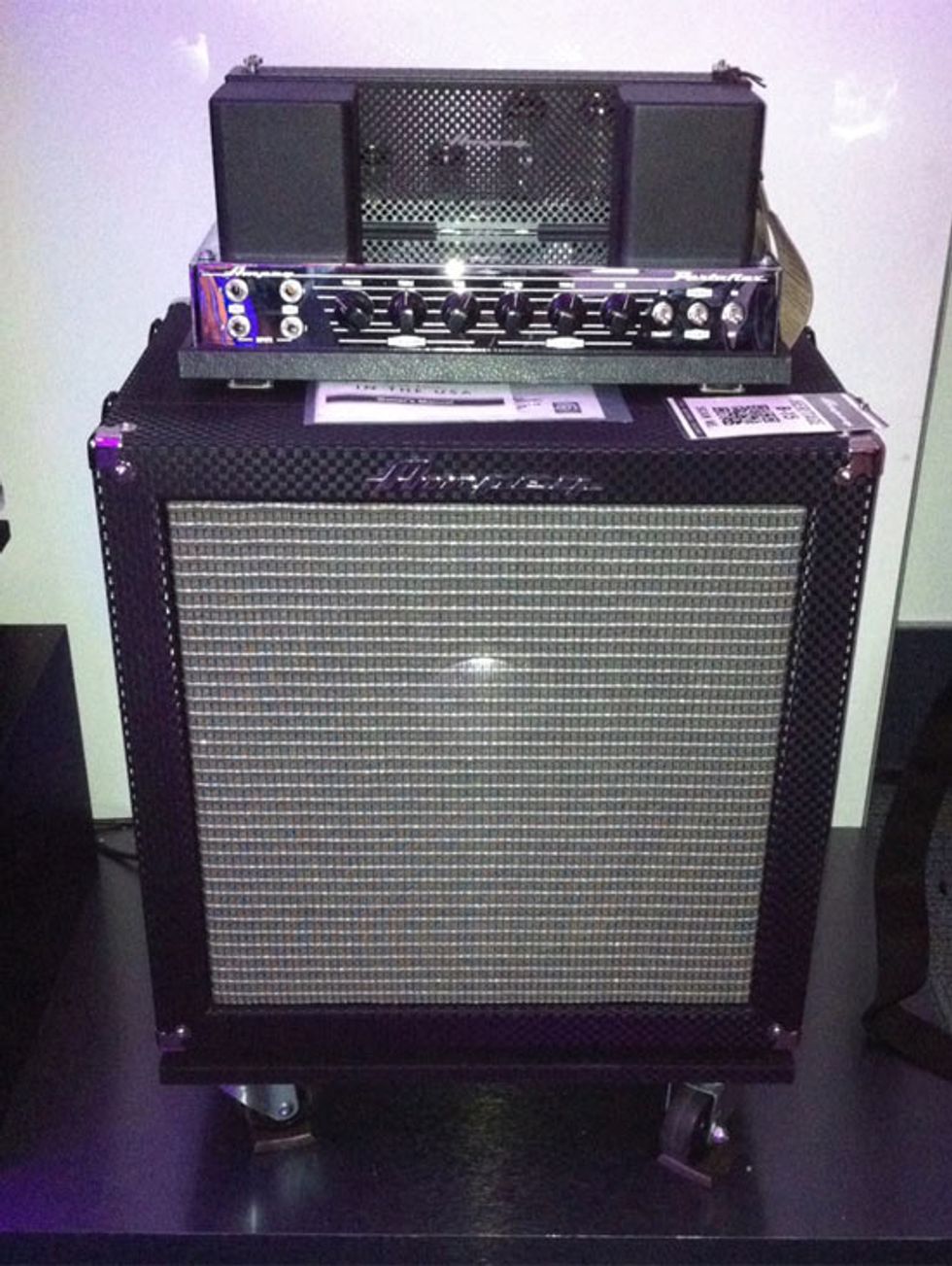 Ampeg Heritage B-15
Ampeg painstakingly recreated this classic bass amp with new old stock preamp tubes and completely handwired circuitry. The amp has circuit paths of two very specific historical models: the 1964 B-15NC and 1966 B-15NF. The flip-top is just plain cool, and it's a shame these are limited to 50 total amps.
ampeg.com
---
Roland GR-55
Synth fans, this one's for you. Roland says they packed all they know about guitar synths into the GR-55. It has all of the COSM capabilities of their VG-99 and VB-99 systems, plus two PCM synthesis engines. Players can combine up to two PCM settings, one COSM, and dry guitar. The list of features goes on and on—onboard phrase looper, flash media USB drive to play WAV files, MIDI interface—so if a wide range of synth tones and customizability is your bag, $799 street (including Roland GK-3 pickup) seems like a steal.
rolandus.com
---
Carr Effect Prototypes
Steve Carr, best known for his great amps, rolled out effects prototypes at the show. The pictured boxes, still very much in development visually, put three different high-end effects at your feet. They're driven by two 12AX7s and feature point-to-point wiring. The two boxes shown here are Boost/Delay/Tremolo and Boost/Reverb/Tremolo, and each is expected to list for around $1200.
carramps.com
---
65Amps Empire
The new Empire from 65Amps is packed with a trio of classic high-gain British voices from different eras. The first voice mirrors those from the early '60s, the second is from the '68-'72 era, and the third is a hot-rodded '80s tone. Interestingly enough, the tone chefs at 65 challenged themselves to accomplish this feat with 6V6 tubes. The amp is a very loud 22 watts but features a Master Voltage control that lets you bring the volume down to bedroom levels. MSRP approx. $2900.
65amps.com
Chris Kies - Associate Editor
Guyatone Mighty Micro Red Heat Series Torrid Fuzz
If you're looking for a fuzz box that can replicate the sound of a choking amplifier, then you may need to give a listen to the Torrid Fuzz. A new take on the classic three-transistor fuzz circuit, the TZm5 Torrid Fuzz was designed by notable Japanese engineer Toshi Torii of HAO fame. On top of its maxed-out grit, it can work as a woolly overdrive for a smidgen of gain, and can replicate germanium- or silicone-transistor fuzz tones, all in a small footprint stompbox.
godlyke.com
---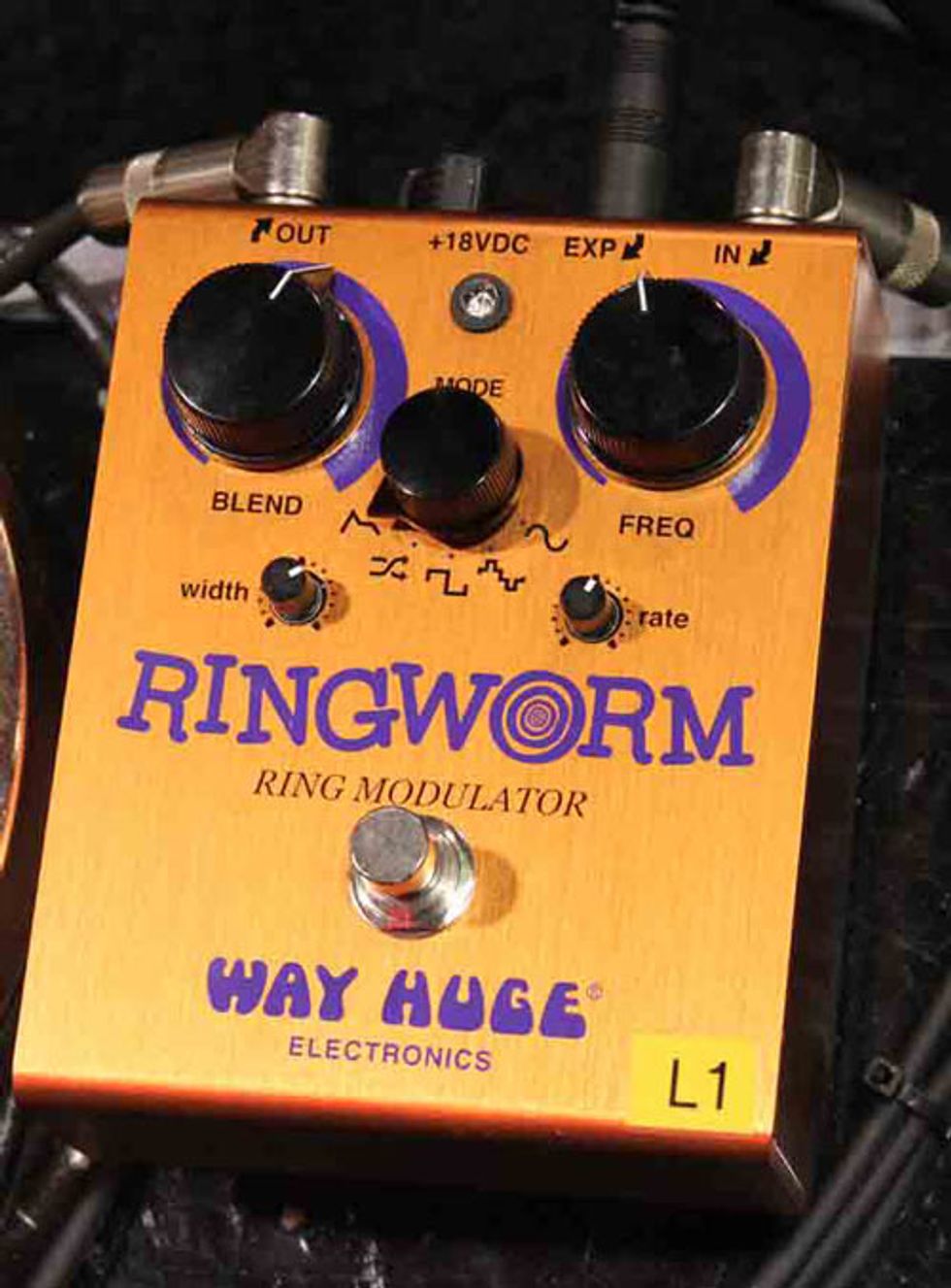 Way Huge Ringworm
Perfect for wacky circus tones and '50s sci-fi soundtracks, Way Huge's Ringworm is an analog modulator on steroids. Built from old-school synth technology, Jeorge Tripps' latest creation has a 5-way selector that takes your tone through five different waves of low-frequency oscillator (LFO) hijinks, adding beautifully bizarre and unpredictable amounts of modulation to your tone. Other features include a Depth knob that controls intensity, and the Rate knob harnesses the speed of the LFO, while the Blend and Frequency controls mix the effect and pitch of the internal oscillator. jimdunlop.com
---
Fender Custom Shop 1960 J Bass and 2011 P Bass Pro Series
Developed for Fender's Custom Shop Pro (Prototype) Series, the 2011 P bass (right) stitches together Fender's two low-end legends. It features an alder P bass body with a bleached, three-color sunburst lacquer, a quartersawn maple neck with a '60 Jazz bass U shape and a 10"-radius rosewood fretboard. It also has a Jazz-bass pickup in the traditional '70s P bass position. The 1960 J bass (left) is more traditional and features an alder body, vintage-style pickups, a quartersawn maple neck with a U profile, and a 7.25"-radius Indian rosewood fretboard with vintage frets.
---
Fano TC6
This battered and bruised beast has been given Dennis Fano's heavy distressing treatment, but he was kind enough to give this guitar a face-lift by including some TV Jones Super'Trons and a beefy, custom aluminum bridge that's cut off right after the brass saddles. Other appointments include a three-tone sunburst finish on a swamp ash body, a maple neck with a rosewood fretboard, and a Stellartone ToneStyler tone knob.
premierbuildersguild.com
Jason Shadrick - Associate Editor
Kemper Profiling Amplifier
Coming out of Germany, Kemper has developed an amp that can copy the DNA of a guitar amp. You plug any amp into the Kemper and it sends signals through the circuit and speaker and then stores the settings for later use. Once an amp has been profiled, you can add EQ, effects and much more.
kemper-amps.com
---
Jet City Analog Tube Replacement
Jet City has developed replacement tubes that are hot-swappable and require no rewiring. Three 12AX7 tubes are available: The Amber model offers up moderate levels of gain, the Blue model has a lower gain structure, and the Red model serves up high-gain tones. The tubes are cool to the touch, and you can change them in and out while the amp is running.
jetcityamplification.com
---
Visual Sound Dual Tap Delay
The Dual Tap features two separate delay circuits, and the tap tempo button locks in the tempo with both circuits. It also has a metronome input to sync with an outside source. Four different note value options are given: quarter, eighth, dotted-eighth, and eighth-note triplet. Visual Sound will begin shipping these in August.
visualsound.net