Driftwood Amps Introduces the Purple Nightmare Tube Preamp Pedal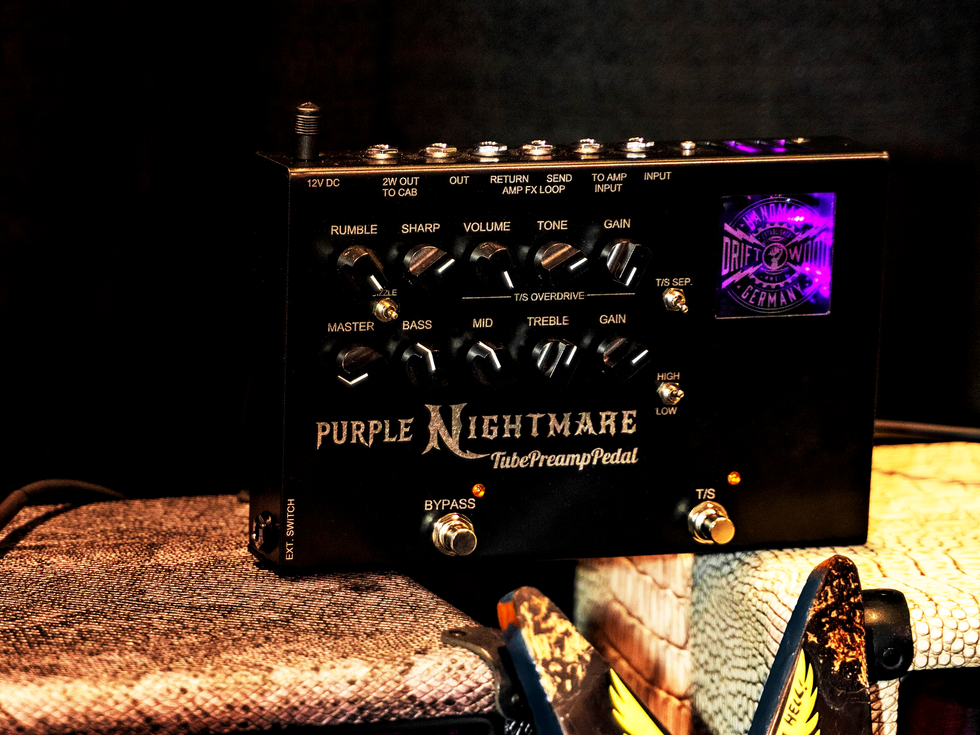 Driftwood's first pedal takes the BURN channel from their flagship amp and puts it in a portable enclosure.
---
Driftwood uses the exact same high-end components as in our tube heads to ensure the same sound and feeling. In addition to the preamp Driftwood added the versatile power section controls Rumble, Sharp and the well-known Sizzle switch along with the Master volume to shape the overall tone and match it to your power amp. On board you can also find our T/S overdrive with Gain, Tone and Volume controls. You can also use it alone to boost your existing amp.
The Purple Nightmare can be used like a normal operation in three ways: plug your guitar cable into the Input of the pedal and connect the output from the pedal to a power amp, FX return or front input of your amp. If you have an amp with FX-Loop you can use the 4-wire method to basically just add another channel to your existing setup. By pressing the Bypass button your guitar signal is going straight to your amp's input. When you activate the PreampPedal, the signal will be routed through the pedal and directly to the FX return of your existing amp without going through the preamp of your amp.
Features 
- Burn Channel from PurpleNightmare
- Four knobs: Gain – Treble – Mid – Bass controls
- Low/High gain switch
- Built-in T/S Overdrive with Gain – Tone – Volume controls
- Master section with Master – Rumble –Sharp controls
- 3-way Sizzle switch
- 2-Watt mosfet power amp for practice
- 4-cable connection method ready
- 12V DC 1,5A input
- 2x 12ax7 high grade selected
- External switch input for bypass and T/S
- 23cm x 15cm x 4.5cm aluminum enclosure
- 974g weight
The Purple Nightmare Pedal is hand built in Germany from premium quality components. It is available for €666.00 from driftwoodamps.com.