Strymon Releases the UltraViolet Vintage Vibe
Stymon's new UltraViolet pedal recreates the sound and feel of the original Shin Ei Univibe units from the '60s, popularized by players like Jimi Hendrix, Robin Trower, David Gilmour and Doyle Bramhall II, but adds a number of different options that were never available on the original units for greater flexibility.
Housed in the same smaller chassis as Strymon's recent Cloudburst and Brig releases, Ultraviolet also takes advantage of all of the features of the new platform, including full MIDI implementation and 300 presets, USB-C connectivity, stereo IO on TRS jacks, a rear-panel mono-stereo switch and a discrete JFET input preamp for unmatched touch-sensitivity and tone.
---
UltraViolet's simple and responsive controls provide a wider range of sounds than traditional vibe pedals. In addition to the familiar Chorus (50% wet) and Vibrato (100% wet) settings, there is a new Blend setting (30% wet) for an inspiring variety of more subtle effects. A Bias switch gives you three distinct flavors of sweep shape and tone emphasis, allowing for tons of sonic variation.
At slow speeds, the intensity range has been expanded beyond that of traditional vibe circuits to push even further into warmly undulating sonic territory. UltraViolet gives you all the classic vibe tones—and more.
Strymon UltraViolet Vintage Vibe
UltraViolet features a new algorithm in which all the elements of the classic optical vibe circuit (and their interdependencies) have been meticulously recreated for a dynamic playing response. From the effects of bias, speed and LFO waveshape on the pulsing of the lamp, to the response of the light-dependent resistors that set the center frequencies of the staggered phasing filters, the entire system has been duplicated and carefully tuned to produce the very best sounds a vibe pedal can offer.
TRS stereo input and output in a dual mono configuration means you can place UltraViolet at any point in your pedal chain with no impact on your stereo image. Full MIDI implementation with 300 available preset locations ensures that UltraViolet is ready for your MIDI rig. In addition to TRS MIDI, there is a USB-C jack for controlling the pedal via MIDI from a computer or for performing firmware updates. For hands-free control without MIDI you can connect an expression pedal for control over any combination of knobs in any direction. (Expression pedal controls Speed by default.) Or attach an optional external switch for tap tempo or favorite recall. Finally, a high-impedance, ultra-low noise discrete Class A JFET stereo input preamp provides exceptional touch sensitivity, dynamics and feel—all in a rugged and elegantly compact form factor.
Strymon UltraViolet Vintage Vibe – Deep Dive with Sound Designer Pete Celi
Learn more about UltraViolet ► https://strymon.net/ultravioletIn this video, Strymon co-founder and senior DSP engineer Pete Celi takes you on an in-depth tou...
"Good grief this thing is addicting to play!", said Sean Halley, Strymon's Head of Marketing. "It has all of the low frequency girth that the best pricey boutique big-box pedal versions have, but it can do so much more than the originals could and it's small enough to fit on any board. It's the very first digital vibe I've ever heard that sounds this big".
Pete Celi, Strymon's co-founder and DSP guru adds "After deeply studying a bunch of the best analog units we ended up giving UltraViolet three different Bias settings, so you can really fine-tune the response to fit the music you're playing. Also, in addition to the traditional Chorus (50/50) and Vibrato (100% wet) modes, the new Blend mode gives you a 70/30 mix of dry and wet, for more subtle versions of the effect. It can totally do the hyper-authentic '60s thing, but it can do a bunch of other stuff that makes it much more versatile than the original units."
UltraViolet is available now directly from Strymon and from dealers worldwide for $259 US.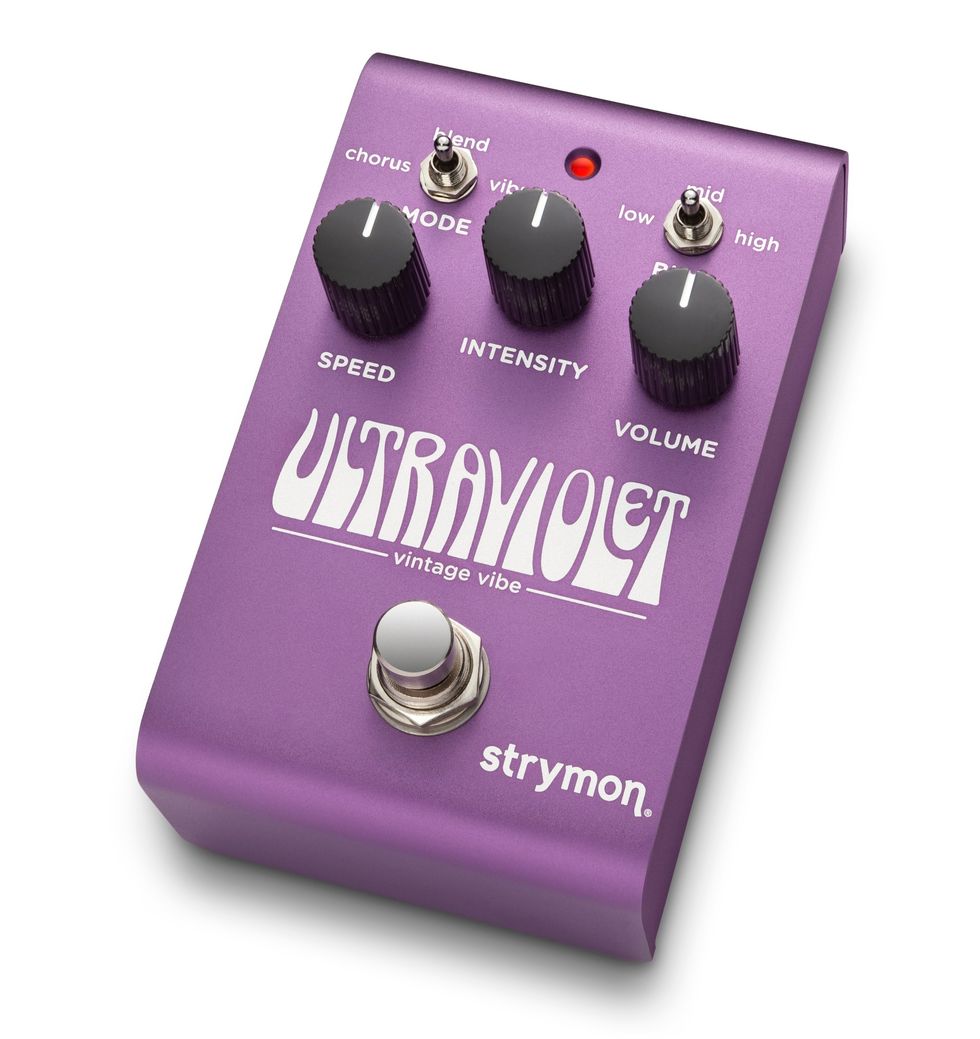 Much more than a re-creation of the legendary Uni-Vibe effect, Strymon's UltraViolet Vintage Vibe chorus and vibrato pedal elevates classic rock's most psychedelic effect with a significantly enhanced control section and modernized features. This pedal starts with an extraordinarily precise digital replica of the original Uni-Vibe's Chorus and Vibrato modes, then ups the ante with a more subtle Blend mode — a 70/30 split of your dry/wet signal, as opposed to the 50/50 split of Chorus mode. Speed, Intensity, and Volume significantly increase your ability to sculpt and shape Uni-Vibe tones to your liking. Meanwhile, Strymon's addition of a 3-position Bias switch drastically alters the UltraViolet's voice by modifying the center frequency of the effect's sweep. You also get all the cutting-edge benefits inherent to Strymon's compact pedal lineup, including full MIDI implementation, a premium discrete analog input preamp, 300 presets, USB-C, and mono/stereo operation. Compact, versatile, and beaming with vintage-accurate swirl — Strymon's UltraViolet is a must-have pedal for any Uni-Vibe fanatic.
Strymon
From Your Site Articles
Related Articles Around the Web