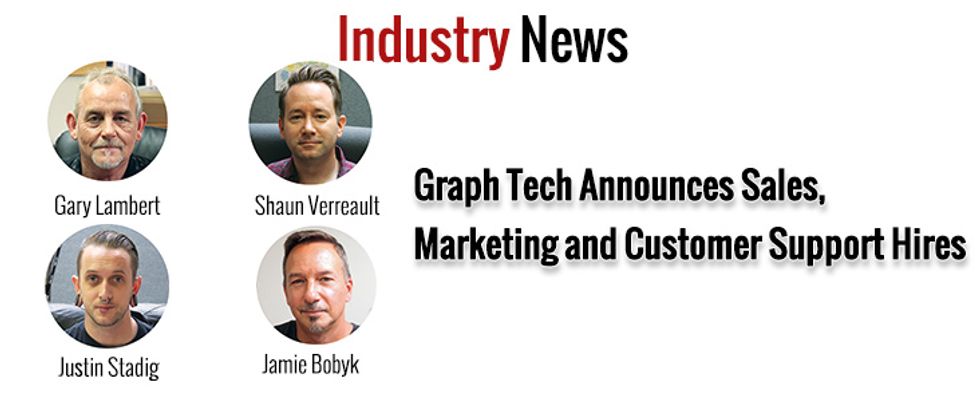 Graph Tech Guitar Labs is pleased to announce the hiring of four new team members: Justin Stadig, Jamie Bobyk, Shaun Verreault and Gary Lambert . Justin and Jamie were brought on board to complement the company's growing demands and to strengthen Customer Support and Marketing Communications. Shaun and Gary join Graph Tech to help with the company's growing demands for GT products and to strengthen its commitment to service and sales.

Justin Stadig - Customer Service Representative
Through all his working knowledge of music gear and years of experience in sales, Justin will be helping with any product specific questions and handling daily orders. "We are happy to welcome Justin to our team. His experience and vibrant personality will be a great addition to our support team", says Dave Dunwoodie, President of Graph Tech. When not at Graph Tech, you can find Justin jamming in either one of his two rock bands around town. And get this, Justin actually plays left handed on his right hand guitar that is strung as a right hand guitar…just like Jimi Hendrix and Dick Dale!
Jamie Bobyk – Marketing and Communications Manager
After spending years of marketing with a food equipment manufacturer, Jamie decided it was time to join an industry where his true passion lies, guitars and music. "Having met Jamie several years ago, I knew he was the right fit for Graph Tech" says Dave Dunwoodie, President of Graph Tech. Aside from surviving a stint wearing zebra spandex and studded leather wristbands in an 80's hairband, Jamie now prefers to build "frankenstrats" or strum an acoustic while anchored on a boat somewhere in the San Juan or Gulf Islands.

Shaun Verreault– Business Development
Shaun has many years in the music recording industry. He is the singer/guitarist/songwriter for platinum-selling blues/rock band Wide Mouth Mason, and has toured with everyone from the Rolling Stones to AC/DC, and ZZ Top. Shaun's main focus is strengthening Graph Tech's sales channels and relationships."Shaun is a natural when it comes to building relationships and his passion for guitars, playing, and the guitar industry are exceptional", says Dave Dunwoodie, President of Graph Tech. In his spare time Shaun likes to spend time with his wife and daughter hiking, exploring one of the local beaches or tinkering with new and classic slide techniques.
Gary Lambert – Business Development
Gary is an avid guitar and music lover with 40 years of guitar playing experience. Gary also brings 25 years of client relations, sales, and business development experience. "It goes without saying that's Gary experience in sales and that of a guitar player make a great combination are to serve our customers", says Dave Dunwoodie, President of Graph Tech. As well, Gary will be working with new and existing customers throughout the Graph Tech sales channels. When Gary's not building relationships at Graph Tech, he enjoys fishing, boating and strumming chords around the campfire.