Our First in a month of pedal giveaways! Enter below for your chance to win one of SIX pedals from Aclam Guitars, Chase Bliss, Ernie Ball, JangleBox, Renzo Sound, and Revv Amplification!
---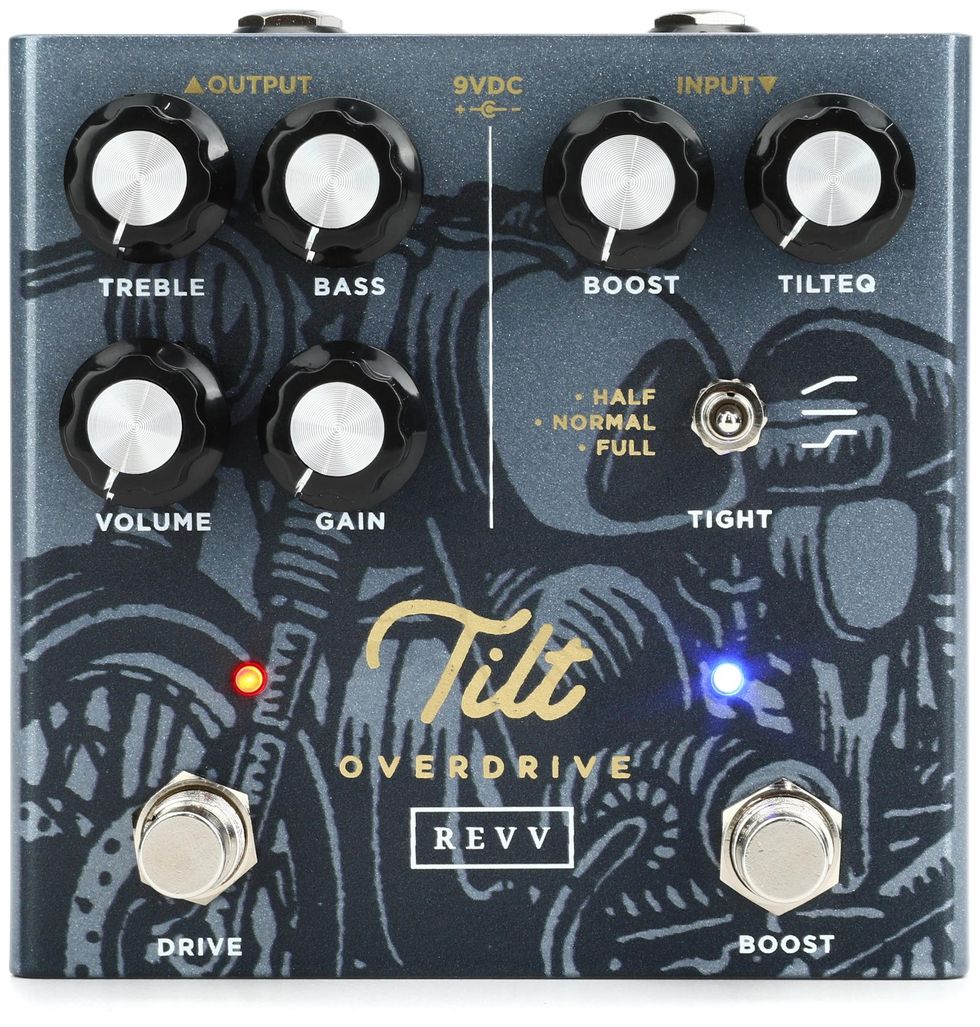 The Shawn Tubbs Tilt Overdrive is the tonal culmination of a lifetime in music. Shawn not only needed a practical tone tool to give him the right sound quickly in any musical context - he aimed to combine the greatest vintage amp tones & recorded guitar sounds of all time into one ideal sound. Now that tone is available to you in an award-winning compact 9v double pedal with a unique Tilt Boost.
Designed to be both the core of your entire guitar sound you can take anywhere & a useful tool to upgrade your existing setup, Tilt Overdrive adds an all-new record-ready tone to your palette that expands your recording & performance capabilities while channeling Shawn's 30+ years of professional guitar experience into a combination of the best recorded guitar sounds in history. Not only was it developed by a AAA session musician who always has to have perfect tone - it's designed to bring out the best of each player who plugs in. It drops right into your rig to produce Shawn's trademark clear, balanced overdriven sounds.
Revv
Renzo Sound is showing up to this party with our newest (and only!) overdrive pedal, the Autumn Drive.
The vibes are chill and deceptively simple for all you modern rock and pop gals and guys. Twist our knobs and you'll be treated with the satisfying crunch and fuss-free controls of our 250-style drive. We're keepin' it fresh with a totally redesigned circuit for greater clarity and expressiveness - which we all know you could use
Nerd out on the details:
* Drive ranges from beefy boost to creamy overdrive that touches fuzz territory
* Flat EQ retains bass, tames treble, and lets your tone shine through.
* Top-mounted jacks, soft-click true bypass, and standard 9v power, so it's right at home on your pedalboard.
Renzo Sound
JangleBox Byrds 50th LE
The original JangleBox compressor/sustainer is the pedal that captured the clean, bright ringing chime popularized by the Beatles, enhanced by the Byrds, and integrated into the sonic palettes of so many contemporary groups.
This simple plug-in/play compression pedal creates a bold sustain that will give your Ric, Tele, Gretsch, Strat — whatever the guitar — remarkable presence. Unlike pedals that clip or distort the original signal, the JangleBox expands the compression "sweet spot" to maintain a clean, even tone, with true bypass.
Compact and powerful, the JangleBox is ruggedly constructed for demanding pros and aspiring artists alike. Whether you're looking to get that Beatles/Byrds chime and jangle, never-ending slide sustain, Nashville "squish," or just a big, clean boost, the JangleBox delivers the distinctive compression edge.
Janglebox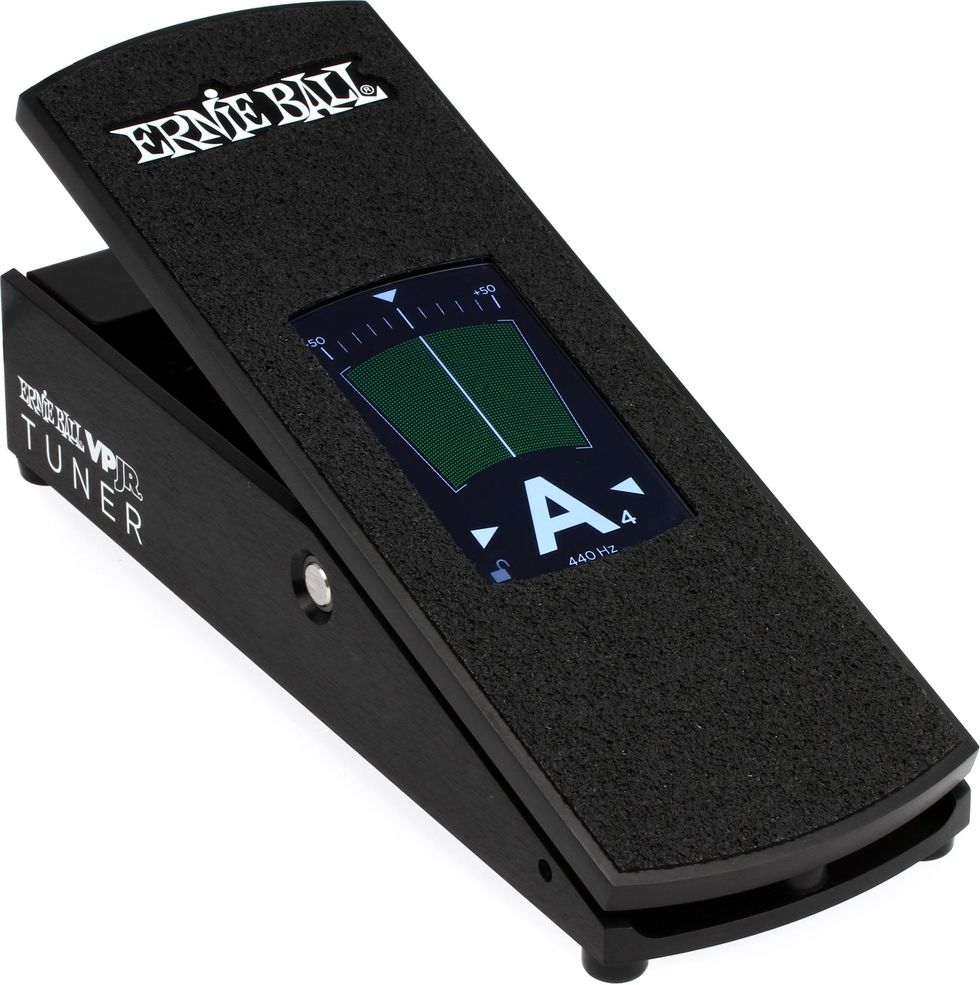 The VPJR Tuner pedal combines Ernie Ball's world-renowned volume pedal with an enhanced definition digital guitar tuner. In the heel-down position, the pedal's vibrant touchscreen automatically enters tuner mode, allowing for silent tuning. As the foot sweeps forward, the screen switches to volume mode, providing a graphic display of your volume level. Alternatively, the screen can remain in volume mode or tuner mode, regardless of the pedal's position in the sweep. Simply double-tap on the touchscreen to toggle between modes. The VPJR Tuner provides the same rugged construction and time-tested performance as Ernie Ball's traditional volume pedal, resulting in the most useful guitar tuner pedal on the market.
Ernie Ball
Generation Loss MKII is a study of tape in all its forms.
We decided to start from scratch this time and really explore what tape is all about. Get into those crinkles that make it so magical. We took apart VCRs, we analyzed anything we could find with a tape in it, from camcorders to cassette decks.

All available for you to saturate, fail and flutter, until everything sits just right. And if you prefer the way it was before, you can do that too. In stereo.

Chase Bliss
The most accurate replica of the iconic VOX UL730 amp. Made famous by 'The Beatles' as they used it on Revolver & Sgt. Pepper's albums. It was also used by The Rolling Stones, Jimmy Page or Joy Division.
Klaus Voormann (Revolver's cover album designer) has created the artwork for the Dr. Robert pedal and this is an exclusive unit signed by himself.
With its circuit tailored for both guitar and bass, and a meticulous process of tracing the original tag board circuits and measuring each component's value, the result is an approach of this sound never reached before.
Aclam Guitars
$USD 320 + Klaus Voormann signature