Pedalmania 2023: Week #1
Move over PSL season, it's time for Pedalmania 2023! Win gear from Ernie Ball, Chase Bliss Audio, KittycasterFX, LR Baggs, Mayfly Audio, or TWA!
The VPJR Tuner pedal combines Ernie Ball's world-renowned volume pedal with an enhanced definition digital guitar tuner. In the heel-down position, the pedal's vibrant touchscreen automatically enters tuner mode, allowing for silent tuning. As the foot sweeps forward, the screen switches to volume mode, providing a graphic display of your volume level. Alternatively, the screen can remain in volume mode or tuner mode, regardless of the pedal's position in the sweep. Simply double tap on the touchscreen to toggle between modes. The VPJR Tuner provides the same rugged construction and time-tested performance as Ernie Ball's traditional volume pedal, resulting in the most useful guitar tuner pedal on the market.
Ernie Ball
MOOD MKII is a different kind of multi-effect. Its two channels are aware of each other and work together. One half samples and loops brief moments, the other is a collection of real-time spatial effects.

Twist any sound into a sprawling texture that you can freeze, loop and scatter across the stereo field, for instant gratification and endless exploration.

It's a musical chemistry set. Transfer, combine, and get lost.
Chase Bliss
The Groovy Wizard Fuzz Driver is for all you wizards of guitar that have been searching for the most dynamic, touch-sensitive fuzz to drive your amp whether it is set clean or overdriven. Groovy Wizard's open and transparent response lets the character of your guitar and amp shine through while accentuating every playing nuance. The wide ranging controls go from boost to amp-like touch-sensitive overdrive all the way to raging fuzz! And it was specifically designed to extend the range of your guitar's volume control - from amazing cleans, to tight overdrive, all the way to raging fuzz - all by merely turning your guitar's volume control and varying your picking attack.

Adapted and extended from a classic '60's two-transistor console preamp circuit originally associated with Jimi Hendrix, the Groovy Wizard is not a mere clone, nor is it a fuzz face. The circuit was modified and voiced from the ground up to achieve the perfect sound + response. Utilizing a combination of a PNP germanium transistor coupled with an NPN silicon transistor running at up to 18 volts, the Groovy Wizard has a greatly increased range of gain from clean to fuzz, more tonal control, bigger soundstage and punch, and more transparency to create the perfect fuzz driver for any musical style or rig.

This is your always on dirt pedal!
KittycasterFX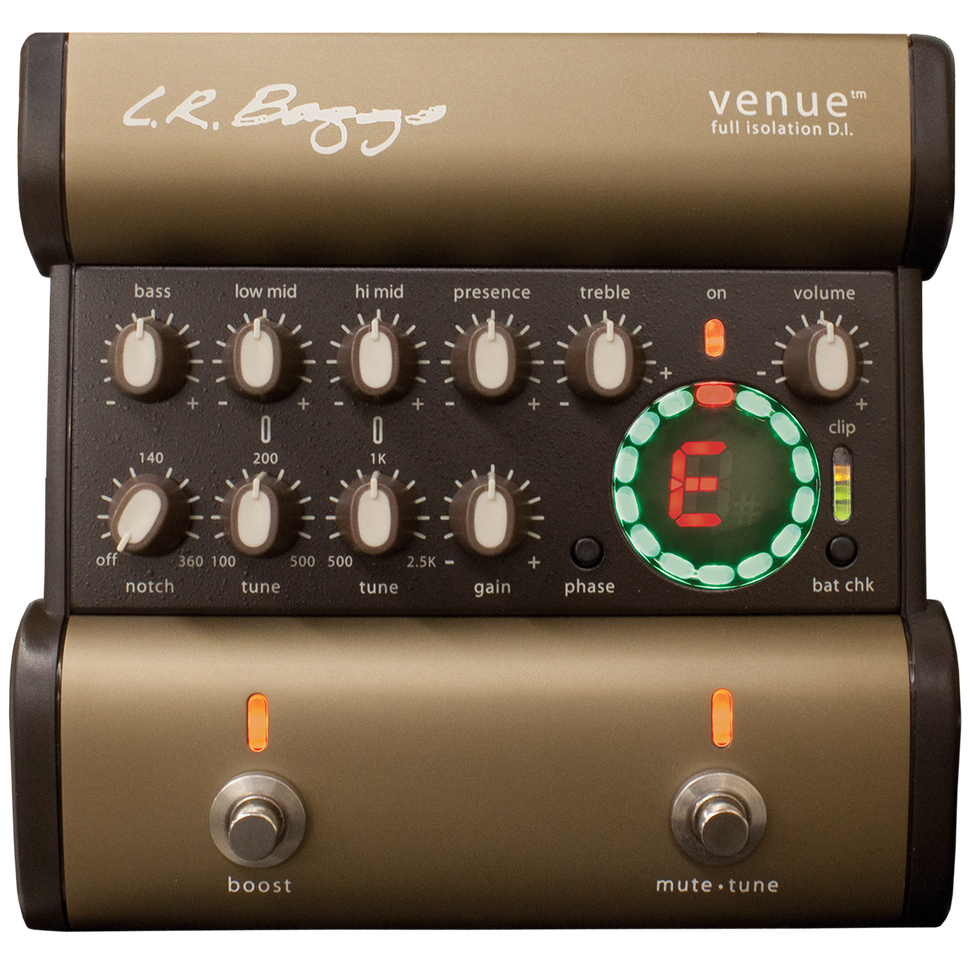 We created the Venue DI so you can travel light, set up fast, and sound incredible anywhere you plug in. The Venue DI gives you complete control by combining a full-isolation DI output, 5-band EQ with adjustable low & hi-mid bands, variable clean boost, and chromatic tuner all in one acoustic pedal. With its all-discrete signal path, hi-graded semiconductors, and exclusive use of audiophile grade film capacitors, the Venue DI is on par with the world's elite preamps and provides a studio quality sound for the stage.
LR Baggs
The Goddess is a dual chorus with foot-switch selectable sides. The 'A' side is tweaked for slow Leslie-style modulation, and the 'B' side is tweaked for faster, more extreme sounds. Move seamlessly between these two with a press of a button. The Goddess uses old-school bucket-brigade delay chips in a classic circuit for an unrivalled chorus sound. Add to this stereo output, wet/dry blend control, and relay based full-bypass switching with failsafe, and you have something incredible. Dedicated to all of the goddesses out there
Mayfly Audio Systems, Ltd
- Signature distortion pedal inspired by classic SD-9 circuit
- Thick, compressed, amp-like tone
- Improved Bass and lower Midrange response
- Increased "girth" on high-register notes
- Allows notes to "speak" properly
- Increased output level
- JRC4558 OpAmp
- Optional 18vdc operation for increased headroom, less compression and alternate drive signature
- True Bypass switching
- Die cast aluminum enclosure with custom powder coat
- Designed by Tubescreamer creator, Susumu Tamura
- Made in USA
TOTALLY WYCKED AUDIO
See these jam-happy ganders soar with one guitar each and a stockpile of Strymons. Plus, why Rick Mitarotonda embraces random changes to pedal settings.
"Are you guys with the band?" A pleasant passerby asked while we were loading out camera gear near the Goose tour bus parked outside Nashville's Brooklyn Bowl.
"No, we're just here to do an interview." I responded.
"Oh man, tell the band that last night's concert was uh-mazing," exclaimed the joyous fan. "We'll be talking about it for years to come."
And with that sort of impassioned, infectious positivity, Goose is following the freeform footsteps of the Grateful Dead, Phish, Dave Matthews Band, and Umphrey's McGee—where polished, recorded albums are secondary to improvisation-rich, snowflake-unique performances that illicit exchanges like that above. (Adding to their jam-band credit, they livestream most shows, and guitarist Peter Anspach mixes the band's gigs for release shortly afterwards.)
Formed in 2014, the quintet currently includes: Peter Anspach (guitar, keys, vocals), Jeff Arevalo (percussion, vocals), Ben Atkind (drums), Rick Mitarotonda (guitar, lead vocals), and Trevor Weekz (bass). The Northeast-based crew has released two albums (2016's Moon Cabin and 2021's Shenanigans Nite Club), an EP (2020's Night Lights), and Dripfieldis on the horizon, for release on June 24.
However, the recorded songs are just guideposts and mile markers. It is all about the live experience. The band often performs two sets, without an opener, and keeps fans on their toes with natural, symbiotic excursions and unlikely, progressive covers. The first evening of their sold-out, two-night run in Nashville saw them flex their musical adeptness and vocabulary with covers of Wes Montgomery ("Switchin'") and Steppenwolf ("Magic Carpet Ride").
Their word-of-mouth growth has elevated them to cross several milestones in 2022. They sold out their first arena (Mohegan Sun in Uncasville, Connecticut) and followed that with sell-outs at the legendary Red Rocks Amphitheatre and historic Radio City Music Hall. So you can plan on seeing these birds fly high for years to come.
Before Goose's second sold-out show in Nashville, PG was invited onstage to catalog their current setups. In this Rundown, guitarists Peter Anspach and Rick Mitarotonda show off their all-night 6-string costars, detail the pedals that help them warp space and time for organic odysseys, and Mitarotonda explains how a looper helps him from hitting mental walls and getting cornered in redundant guitar-playing boxes.
Brought to you by D'Addario XPND Pedalboard.
Suhr Is Pretty
Goose guitarist Peter Anspach has always loved humbuckers, but he felt the huskier tones on 'bucker-equipped guitars had a few shortcomings—primarily lacking the 2- and 4-position squawk of an S-style instrument. The solution was switching to this Suhr Mateus Asato Signature Classic that threads the needle with an Asato Custom Humbucker and a pair of ML Standard single-coils. He rocks D'Addario Classic Celluloid picks (1.0 mm), NYXLs (.010 –.046), and Original Fuzz straps.
The Backup Beauty
Sitting close by in the bullpen is this Fender American Vintage '62 Stratocaster that pulls its weight as a backup.
A Reliable Deluxe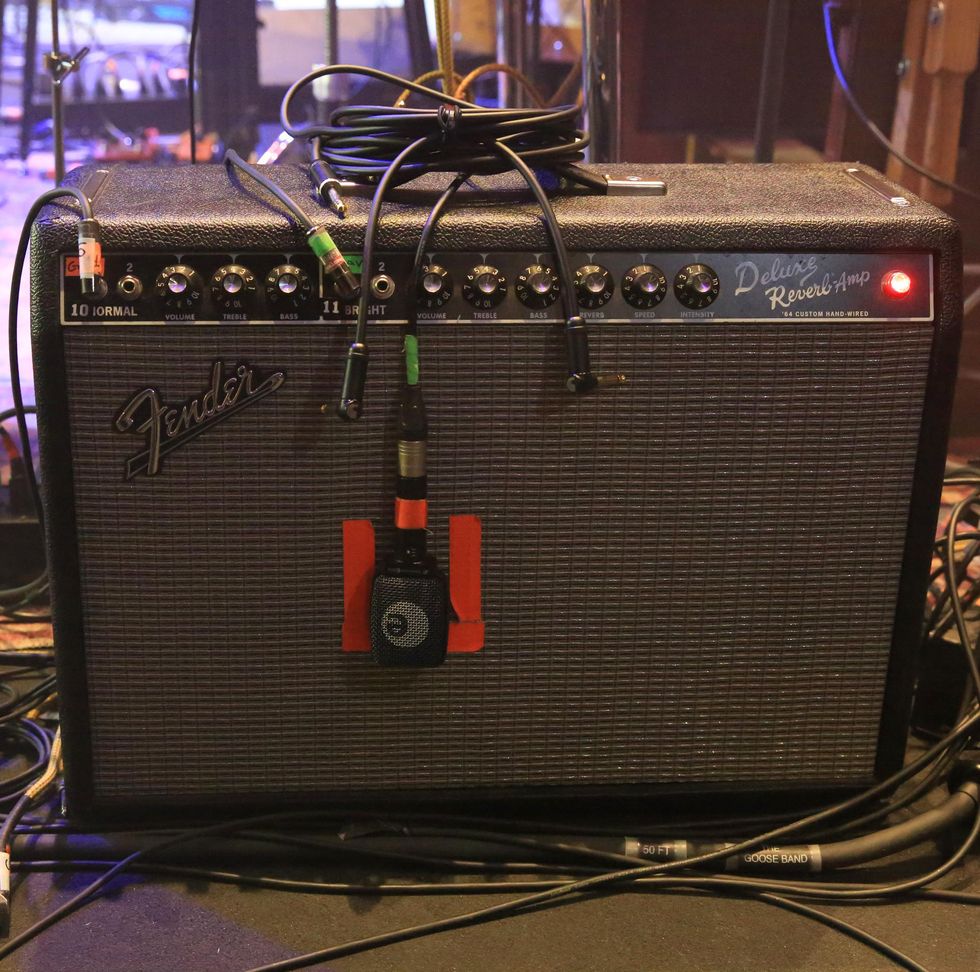 "It's just so full, clean, and reliable, and that's what you need on the road. I can't emphasize its reliability enough," says Anspach of his Fender '64 Custom Deluxe Reverb. "I have a '70s silver-panel Deluxe Reverb at home that gets blown out of the water by this one." He plugs his guitar into the normal channel, while putting his clavinet into the bright channel.
Peter's Pedal Playground
Quickly glancing at Anspach's pedalboard, you see that he has his feet in the analog and digital worlds. The industry standbys include a Moog Moogerfooger MF-101 Lowpass Filter, Electro-Harmonix Small Stone phase shifter, Keeley Compressor Plus, Ibanez TS9 Tube Screamer (with Analog Man mod), and an Analog Man King of Tone. The modern juggernauts include a trio of Chase Bliss boxes (Dark World, Tonal Recall, and Mood) and a pair of Strymon stomps (TimeLine and Flint). A Dunlop Cry Baby Classic GCB95F sits in the lower righthand corner and a TC Electronic Polytune 2 Mini keeps his guitars in check. Underneath is a Strymon Zuma to power his noisemakers.
One for the Birds!
During his formative guitar-playing years, Rick Mitarotonda's father took him to the House of Guitars in Rochester, New York. He tried a bunch of instruments that day, but the cream of the crop for 13-year-old Rick was a PRS. And ever since he's been partial to the birds. His main ride for some time has been this PRS Hollowbody II Piezo. The hollowbody features PRS' 58/15 LT (low turn) humbuckers that work alongside the LR Baggs/PRS proprietary piezo electronics. And similar to his guitar mate, Mitarotonda employs D'Addario NYXLs (.010 –.046).
Bird of a Feather Flock Together
Rick's 6-string insurance plan is in the shape of another PRS Hollowbody II Piezo, but this one technically still belongs to Anspach, who has settled into his Strat-osphere.
Blast Off With Boogie
Rick has been plugging into Mesa/Boogie combos for 10-plus years. He started his journey with the smaller Express 5:25 Plus 1x12 combo with EL84s. He's since graduated to the Express 5:50 with 6L6s. He's stayed loyal to the brand because he enjoys how the amps naturally compress his guitar sound.
V Formation
Mitarotonda has some serious pedal power at his feet. The first board on his far right is dedicated to vocals. He has a TC Helicon Play Electric vocal effects processor that integrates and is controlled by the TC Helicon Switch-3. (The Play adds an octave-up harmony. The three buttons on the Switch-3 toggle engage hardtune, delay, and reverb for his vocals.)
Moving left, we have his first board for guitar. He has a Dunlop Cry Baby 535Q wah and DigiTech Whammy at his disposal before hitting a Lovepedal Eternity Fuse. Then he goes into a Mu-Tron Micro-Tron IV envelope filter, Strymon OB.1 compressor and clean boost, and a MXR Carbon Copy Deluxe. The top-right corner holds a TC Electronic Polytune. Strapped to the bottom is a Truetone 1 Spot power supply.
The third and final board has a MXR Analog Chorus. And then things get serious with a 5-pack of Strymons that include a Deco tape saturation and doubletracker, El Capistan dTape Echo, TimeLine, Flint tremolo/reverb, and a NightSky time-warped reverberator. Off the board to the left is a TC Electronic Ditto X4 that Rick leans on to peel open new textures to help him get out of his head during improvisational parts and see his instrument with a fresh lens.
Panic! At the Disco, Idles, the Sword, Torres, and more appear in this gallery of our 14 favorite boards from the last year's worth of Rig Rundowns.
The bad news: Covid put in-person Rig Rundowns on hold till mid 2021. The good news? Zoom episodes were every bit as compelling! Here are our favorite stomp stations from the last year.
Nicole Row
It may not look like a lot, but Panic At the Disco bassist Nicole Row (who's also a prolific session player) says these half-dozen pedals cover all the bases for any gig, session, or audition she might find herself at.

Nicole Row's Pedalboard
For Panic's snarling indie-rock anthems, two of her most-stomped stomps are the Aguilar Fuzzistor and Darkglass Electronics Vintage Microtubes. Meanwhile, she often stacks an EBS OctaBass with other pedals to mimic vintage synth sounds. For silkier, "underwater" sonics, she engages an EBS DPhaser, and for funkier lines she uses an MXR Bass Envelope Filter. Her go-to for sending signal to the house board is a Noble Dual Vacuum Tube Preamp/DI Box.
Rig Rundown: Nicole Row
Kurt Ballou
More often than not, famed metal producer/Converge guitarist/God City Instruments proprietor Kurt Ballou's biggest pedal need is violent distortion—but he's got plenty of other toys, too.

Kurt Ballou's Pedalboard
Going clockwise (from top left), we have a Demedash Effects T-120 Videotape Echo ("one of the coolest analog delay pedals"—when bypassed, holding down the left footswitch engages a momentary freeze/shimmer/oscillator), then a Shift Line A+ Astronaut III Multiverb Space Unit from Russia. The red, single-knob God City Instruments design is a "mid-forward, ultimate thrashy, djenty, clanky, articulate, heavy guitar pedal," while the God City SBD (Super Beatle Distortion) features an active mid boost in front of its fuzz circuit and gonzo bass after it. The GCI OGR (Optical Gain Reduction) is a compressor that Ballou uses on every bass track recorded at God City Studio, while the Foxrox Electronics Octron2 comes in handy for thorny solos bristling with weird overtones and elastic ghost notes. Inspired by the Rangemaster, the GCI Crimson Cock treble booster has an added range control and a switch that adds a Big Muff-style gain stage at the end of the circuit. Lastly, the GCI Ape Eye is based on a vintage API 2520 op amp, and the GCI Jugendstil is a silicon fuzz that Ballou says stands at the crossroads between '90s British shoegaze and '90s Swedish death metal.
Rig Rundown - Kurt Ballou
Bones Owens
Alt-roots rocker Bones Owens' signal first hits a Boss TU-3 tuner, then a Spaceman Saturn V Harmonic Booster, which is always on. After that, the signal zips into a Pete Cornish A/B/C amp splitter, whose A line provides rumbling bass by feeding an Electro-Harmonix Micro POG (used for octave down only), a "tall font" EHX Big Muff (rehoused by Mike Hill), and a Tech 21 SansAmp Bass Driver/DI, which in turn feeds both Owens' Hiwatt DR103 head and a mixing or recording console. Pre-Covid, the splitter's B path featured one effect—an Echopark Echodriver preamp—which then fed Owens' Echopark Vibramatic 4T5A amp, while the splitter's C line would feature the bulk of Owens' effects routed to a third amp.

Bones Owens' Pedalboard
However, at the time of our Rig Rundown only the Hiwatt and Echopark amps were being used—so his C-line stompboxes were also being routed to the Echopark head. These include a plethora of Cornish gear—a TB-83 Extra treble ooster, an NG-3 fuzz, an SS-3 overdrive and P-2 distortion (in the same housing), a CC-1 boost/overdrive, and an NB-3 linear boost. Other noisemakers include a silver Klon Centaur, an Endangered Audio Research AD4096 analog delay, a Skreddy Pedals Skreddy Echo, a JHS-modded Boss TR-2 Tremolo (rehoused by Barry O'Neal at XACT Tone Solutions), and a Toneczar Halophaze.
Rig Rundown - Bones Owens
Ariel Posen
Canadian slide master Ariel Posen toured and did session work with this setup for over a year before Covid shut everything down.
Ariel Posen's Pedalboard
Starting at the top left, there's a Chase Bliss Tonal Recall, a Walrus Audio Monument, and a Chase Bliss Dark World. There's also a Vemuram Jan Ray overdrive, a KingTone Germanium miniFUZZ, a Morningstar Engineering MC6 MIDI Controller, and a TC Electronic PolyTune3 Mini Noir.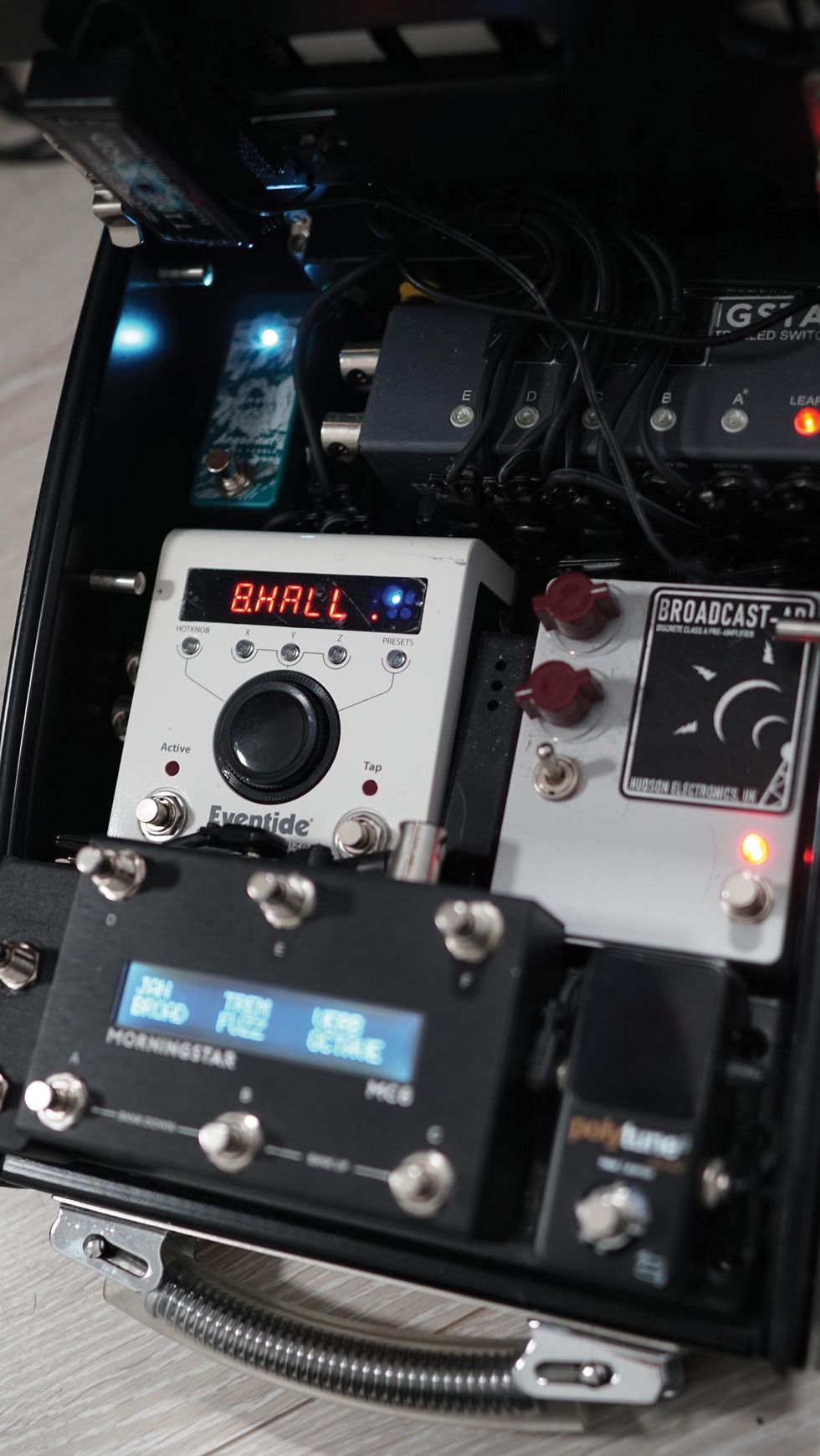 But wait … there's more! The top panel of Posen's board lifts to reveal a trio of stomps—a Mythos Pedals Argonaut Mini Octave (delivering up tones), an Eventide H9, and Posen's signature Hudson Electronics Broadcast-AP, which is always on.
Rig Rundown - Ariel Posen
My Chemical Romance's Frank Iero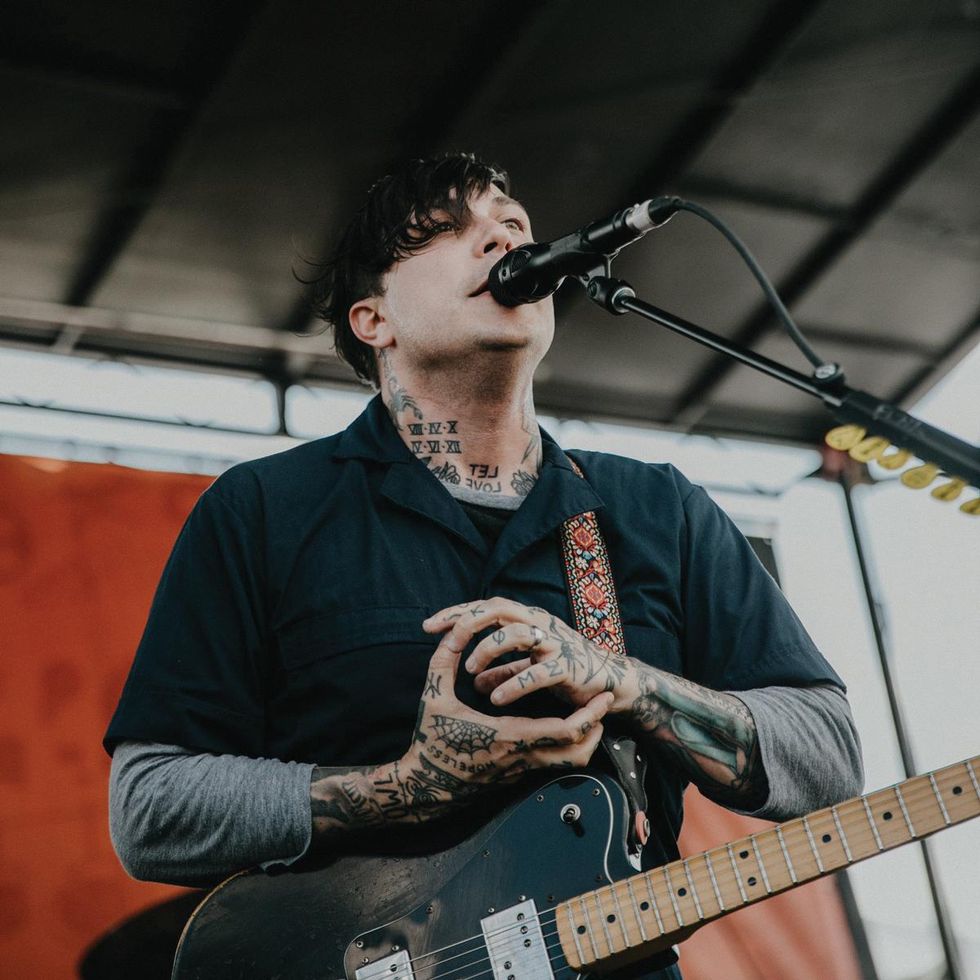 During the pandemic, My Chemical Romance rhythm meister Frank Iero's pedalboard saw a lot of change as tone hunting became a mind-saving pastime. He has some mainstays, but at the time of our Rig Rundown not much was permanent.
Frank Iero's Pedalboards
The board that was the closest thing to gig-ready had a Fender Marine Layer Reverb, a vintage Pearl CH-02 Chorus, an old Boss DM-2 Delay, an Ibanez CF7 Chorus/Flanger, and an Electro-Harmonix Holy Grail (left side). Meanwhile, the right side of the board was home to menace: a Marshall Blues Breaker, an SNK Pedals VHD distortion/preamp, a Keeley-modded Boss BD-2 Blues Driver, and a Klon Centaur. Everything was powered by a Strymon Zuma and controlled by a Carl Martin Octa-Switch MkII. His tuner was a TC Electronic PolyTune 2 Mini, and his volume pedal was an Ernie Ball VPJR.
Here's his mess-around-the-house board (with a fine tribute to EVH) that has a pair of Strymons (BigSky and Volante), an Ibanez DE7 Delay/Echo, gold Klon Centaur, Fuzzlord Effects Drone Master, Bowman Audio Endeavors The Bowman (company ran by Rig Rundown alumnus and Against Me! guitarist James Bowman), and an Ernie Ball VPJR Tuner Pedal.
His recording board is made up of versatile staples including a 4-pack of Strymons (Ola, Flint, El Capistan, and Iridium), Bowman Audio Endeavors Fortune and Glory, and a Templo Devices Model 33 Supa vibrato.
Rig Rundown - My Chemical Romance's Frank Iero
Olivia Jean
In addition to vibey guitar work, Third Man Records artist Olivia Jean dedicates much of her onstage energy and focus to singing—which means keeping pedalboard tap dancing to a minimum. Even so, her streamlined stomp station serves up an enviable variety of tones.

Olivia Jean's Pedalboard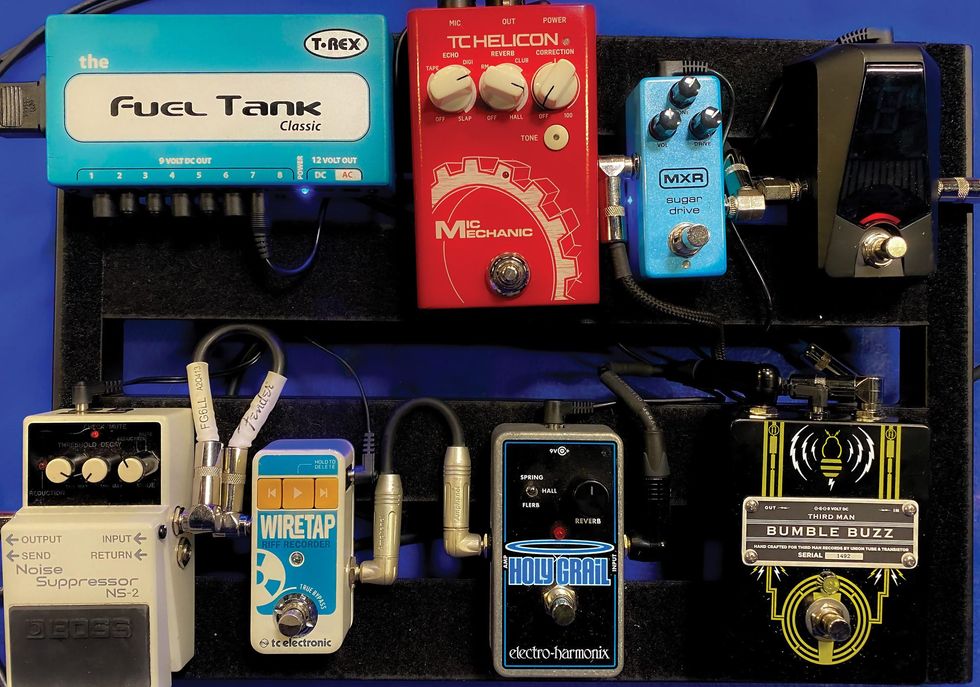 Always-on pedals include her Electro-Harmonix Holy Grail and MXR Sugar Drive, while the Third Man Bumble Fuzz gifted to her by Jack White avails stinging solo sounds (the Boss NS-2 Noise Suppressor is handy for reducing unwanted fuzz buzz). She's also got a TC Helicon Mic Mechanic for vocal reverb, and a TC Electronic Wiretap for recording song ideas. Everything is powered by a T-Rex Fuel Tank Classic, and tuning is monitored with a Korg Pitchblack.
Rig Rundown - Olivia Jean
The Sword's Kyle Shutt
Kyle Shutt's pedal playland keeps it classic.
Kyle Shutt's Pedalboard
His pedal playland just a Dunlop Cry Baby 95Q wah, a signature Idiotbox Effects Wild Kyle distortion, an Electro-Harmonix Micro POG, an EarthQuaker Devices Levitation reverb, and a Boss TU-3 tuner. Nearly every square inch of J.D. Cronise's flight-friendly board is filled with an effect. His guitars hit a TC Electronic PolyTune 3, then a pair of oddballs—a DigiTech Drop and an Electro-Harmonix Freeze—then basics like a Way Huge Conspiracy Theory overdrive, an EarthQuaker Devices Tone Job, MXR Phase 90 and Carbon Copy pedals, an EHX Holy Grail, and a Rocktron HUSH.
The Sword's J.D. Cronise
J.D. maximizes his flight-friendly board by filling nearly every square inch with an effect.
J.D. Cronise's Pedalboard
His guitar hits the TC Electronic PolyTune 3 before reaching a pair of necessary oddballs—the aforementioned DigiTech Drop and an Electro-Harmonix Freeze. The bottom row contains the basic food groups for most rockers: Way Huge Conspiracy Theory (drive), EarthQuaker Devices Tone Job (EQ), MXR Phase 90 (modulation), MXR Carbon Copy (delay), and EHX Holy Grail (reverb). The Rocktron HUSH pedal helps control any unwanted noises and buzzing.
Rig Rundown: The Sword [2021]
Steve Earle
Folk-rock activist Steve Earle's guitar signal first hits a Boss TU-3 tuner before running into a pair of MXR Carbon Copy analog delays (one set as a 1-second delay for a pre-song rippling effect, and one for slapback) and a Fulltone Full-Drive 2 with two levels of gain. A Voodoo Lab Pedal Power 2 supplies the juice.

Steve Earle's Pedalboard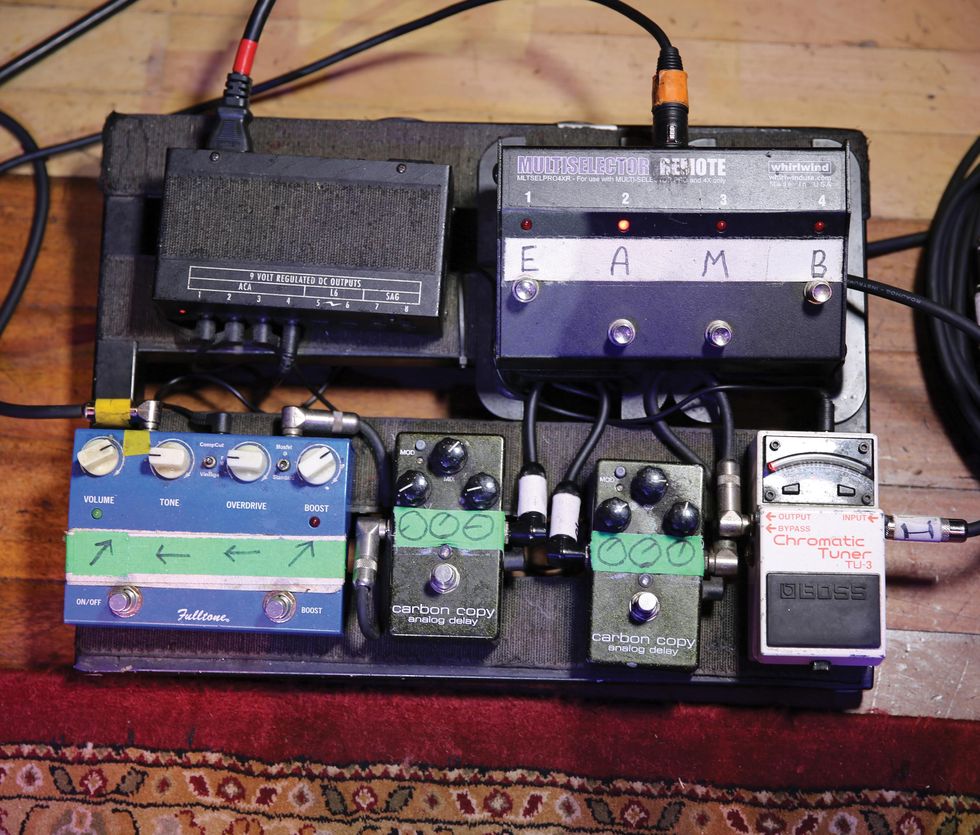 Chris Masterson
Chris Masterson's Pedalboard
The first stop on sideman Chris Masterson's pedalboard is an Analog Man Sun Lion. From there the signal hits a Boss TU-3w Waza Craft tuner, an Origin Effects Cali76 compressor, an Analog Man King of Tone, and two Strymons—a Mobius and a TimeLine. A Strymon Zuma supplies power, while a Radial BigShot SW2 controls amp reverb and tremolo.
Rig Rundown: Steve Earle and the Dukes
Torres's Mackenzie Scott
Little on Mackenzie Scott's pedalboard could be described as subtle or "transparent"—even her delays and reverbs accentuate the weird.
Mackenzie Scott's Pedalboard
Filth and fury come courtesy of a Joyo Vintage Overdrive and an EarthQuaker Devices Palisades. Next is a Death By Audio Echo Dream 2 modulation/delay/boost/fuzz, which Scott says is her most-used pedal. An EarthQuaker Afterneath provides deep, ambient reverbs, which she often beefs up with faux-synth vibes from an Electro-Harmonix POG2. (Another favorite application for the POG2 is pulling its attack all the way down and dramatically gliding into the notes.) Scott uses an Empress Vintage Modified Superdelay to sprinkle in modulation, reverse delay, and compression, as well as tape-echo-like grit. The last pedal on her board is a Meris Enzo, which she half-jokingly says is equal parts inspiring and frustrating. "I have a hard time getting it under control and taming the beast, but that's what I love about it."

Rig Rundown: Torres
Mackenzie Scott (aka Torres) likes a good juxtaposition. Her music is a tightrope act between vulnerability and violence. Scott's lyrics often reflect intros...
IDLES' Mark Bowen
To accomplish all the fantastic and outrageous tones captured on Idles' last two records, Bowen brings a whole cast of characters to accomplish that feat.
Mark Bowen's Pedalboards
Mark Bowen's main board features two Death By Audio units—a Reverberation Machine and an Echo Dream 2—an Adventure Audio Dream Reaper, a pair of Moogs—an MF Delay and an MF Ring—a Death By Audio Waveformer Destroyer, an Electro-Harmonix POG2, a 4ms Pedals Mini Swash Full (which serves up fuzz, distortion, and self-oscillating LFO craziness), two Red Pandas—a Particle and a Raster—and a JHS Haunting Mids. A Boss TU-3w Waza Craft tuner keeps his guitars in check and a GigRig G3 controls preset changes.
Near his amps, Bowen has another batch of tone morphers. Up top he's got a 4-pack of Moog Moogerfooger monsters—MF-107 FreqBox, MF-102 Ring Modulator, MF-108M Cluster Flux, and a CP-251 Control Processor—and another no-name glitch/synth device. Below those we have an Electro-Harmonix 95000 Stereo Looper, a Strymon TimeLine, an Electro-Harmonix POG2, and an Old Blood Noise Endeavors Minim (reverb/delay and reverse). Lastly, he has a Nord Electro 6D at his disposal. Everything is powered by GigRig Timelord power supplies, while two Strymon Iridiums handle cab emulations.
The last part of Bowen's setup is this board under his keyboard/Moogerfooger workstation. Here, he has another GigRig G3 switcher, another Electro-Harmonix 95000 Stereo Looper, a GigRig Three2One (to help balance levels between instruments), and three Mission Engineering EP-1 expression pedals (controlling some of the effects in the previous photo).
IDLES' Lee Kiernan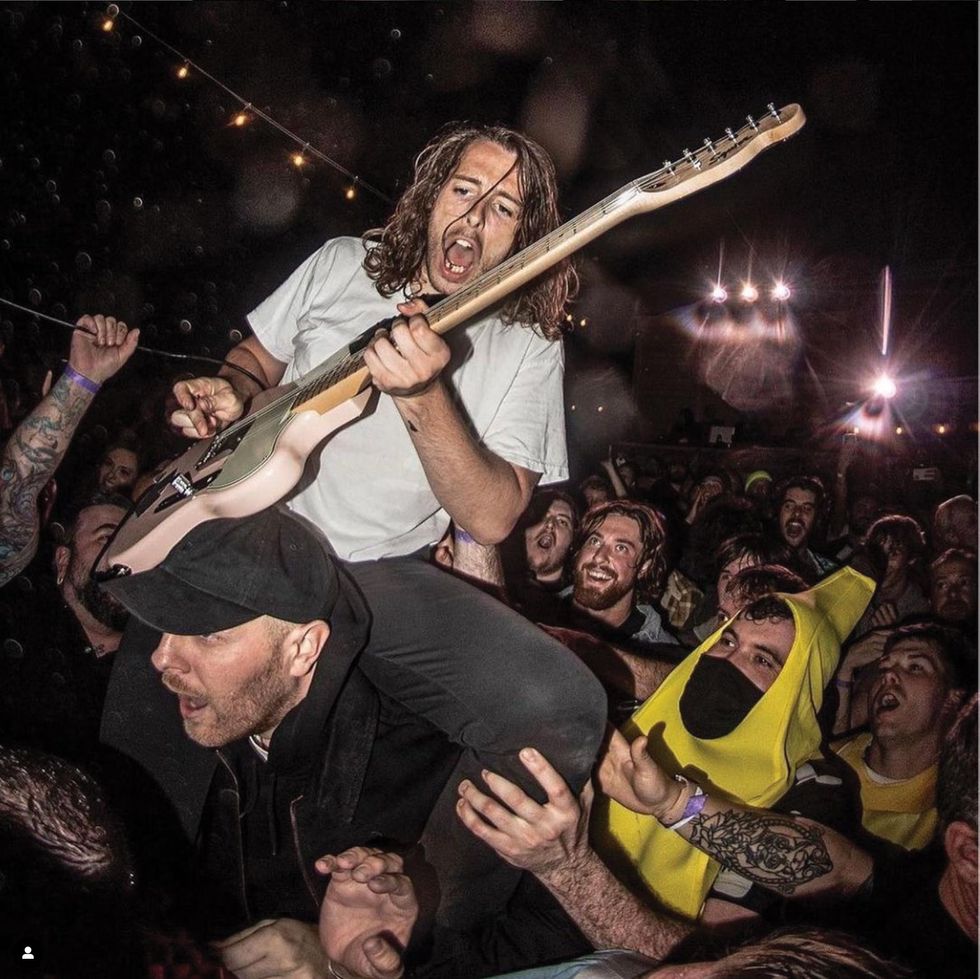 The time spent mentioning everything Kiernan does with these pedals is better served watching the Rundown, listening to Idles' music, or attending one of their shows. But in doing our due diligence, here are the stomps that corrupt, challenge, and ravage his tone.
Lee Kiernan Pedalboard
Lee Kiernan relies on (upper right) a Strymon Flint, a couple of Drolo Fx stomps—a Twin Peaks tremolo and a Stamme[n] looper/glitch delay/tape machine/sustainer/reverb—and a pair of Death By Audio devices—a Micro Dream delay and a Space Bender prototype. The bottom row of this board is also home to a DigiTech Whammy, an Electro-Harmonix Synth9, an Intensive Care Audio Vena Cava Filter, a Moog MF Ring, and a Boss TU-3 tuner. A GigRig ABY-Baby (top right) is used for amp switching. (The small black box labeled "in/out" was built by tech Gavin Maxwell so Kiernan could quickly test out a pedal without having to rip his setup apart.) The board on the left begins (lower middle of pic) with a Mission Engineering EP-1 expression pedal, a Boss PS-6 Harmonist, an EarthQuaker Devices Data Corrupter, a Death By Audio Interstellar Overdriver Deluxe, and a Death By Audio Evil Filter. The top row of this board features a quartet of EarthQuaker stomps: an Organizer polyphonic organ emulator, an Arrows preamp, a Gray Channel overdrive, and a Tone Job EQ/boost—then proceeds to a Moog MF Chorus, a Death By Audio Reverberation Machine, and a Jam Pedals TubeDreamer.