It may be the understatement of the century, but this year was weird. Even so, the killer gear kept coming. Here are the goods that stood out as extra-great amongst our annual haul of Premier Guitar reviews.
MXR
Clone Looper

With a two-button system for recording and playback, the Clone Looper simplifies many looping maneuvers by eliminating some double-click and hold sequences. But with awesome and trippy features like adjustable playback speed and reverse playback, you can easily take the Clone Looper's simpler looping processes to particularly psychedelic ends.

$149 street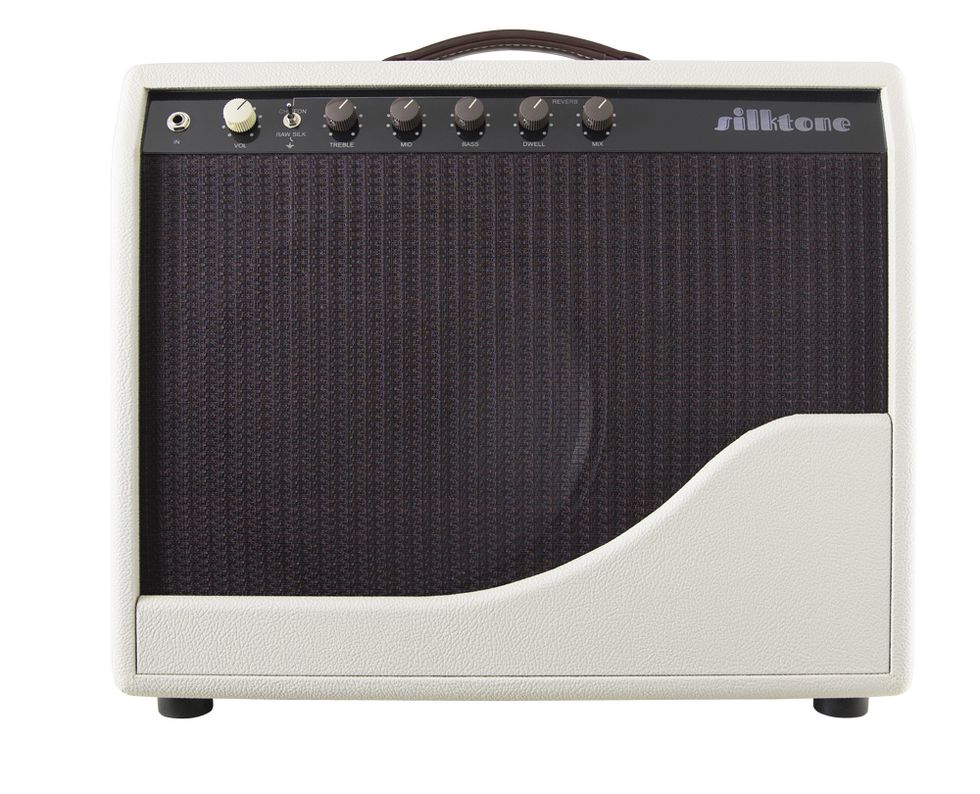 Silktone
Silktone Amp

This handwired 1x12 combo employs a KT66 power tube for its class-A circuitry, resulting in glassy cleans reminiscent of a tweed Champ, and fat and pleasantly compressed high-gain tones without sacrificing shine. Joe Gore was also impressed with its aesthetic and workmanship, as well as Silktone's spring reverb. "It's got the feel of a vintage Fender tank, but with uncommon wetness and depth."

$2,199 street, as reviewed with ceramic speaker (alnico speaker $200 extra)

Fender
Vintera Telecaster '50s

Just about any Telecaster flirts with perfection in form. But Fender did not rest on their laurels in re-interpreting the '50s-styled variation in the new, affordable Vintera series. The neck is lovely, with a hefty deep-U shape, and the alnico 2 bridge pickup delivers the essence of bright, spanky, and rowdy Tele-ness, while maintaining a warm glow around the edges that is a beautiful match for a touch of vintage-style reverb.

$899 street


Fender
Vintera Telecaster '70s

Keith Richards, who could have any freaking Telecaster in the world if he wanted it, has used the Telecaster Custom he bought new in 1975 regularly ever since. When you play the Vintera version, it's easy to understand why. Fender's Tim Shaw worked hard to build a more authentic WideRange humbucker for this instrument, and the work paid off—creating an expansive palette of spanky-to-smoky tones when paired with the alnico 5 bridge single-coil.

$899 street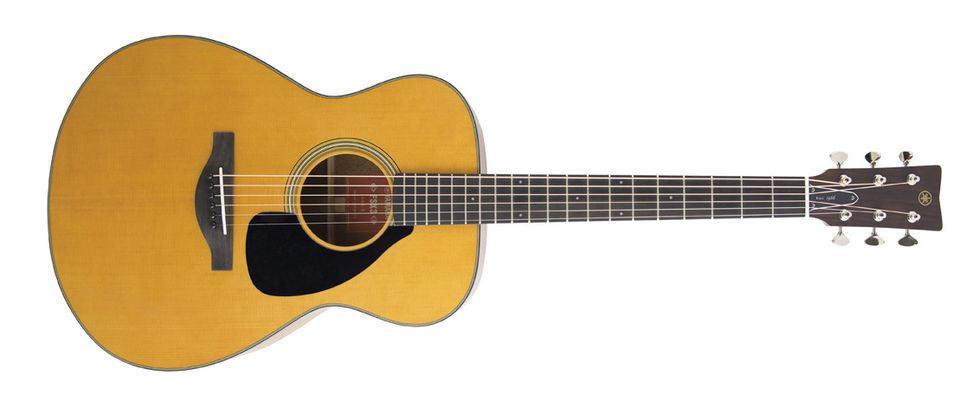 Yamaha
Red Label FSX3

Adam Perlmutter found that the OM-sized FSX3, which honors Yamaha's much-loved red-label guitars of the '70s, feels better-built than the company's original FG guitars, which is no small compliment. Perlmutter shared that the FSX3, boasting all-solid-wood construction, "feels great, exhibits real versatility, and is free of the old-guitar baggage that comes with vintage examples."

$999 street

TC Electronic
Hall of Fame 2x4

A maximalist expansion of TC's popular Hall of Fame 2 pedal, this reverb machine boasts 10 factory settings, six user memory slots, and eight stored patches, accessible via its four hefty footswitches. "Everything about the Hall of Fame 2 x4 Reverb is exceptional," is the word from reviewer Joe Gore, who welcomed its rich and varied reverbs, as well as the pedal's delightfully simple interface.

$299 street

Origin Effects
RevivalDRIVE

Origin's luxurious stomps feel like outboard studio gear from analog audio's golden age. The RevivalDRIVE, however, has so much tone-sculpting power that it actually tends to function and sound like an old recording console module, too. The EQ is powerful, sensitive, and responsive, and the low-end tones are especially delectable. If you need an overdrive that can fill a very specific mix niche, this tool is worth every penny.

$385 street

Jackson Audio
Bloom

This ultra-versatile multi-effects pedal captivated PG with its ability to control, shape, and expand natural playing dynamics through its five different types of compression, a 3-band Baxandall-inspired EQ, and a 20 dB clean boost. Boasting super-sensitive knobs with finely tailored sweeps, the folks at Jackson Audio topped off the Bloom with MIDI control over all parameters via its TRS input.

$329 street

Electro-Harmonix
Ram's Head Big Muff

Given what a vintage Ram's Head Big Muff costs these days, this new version's $99 price tag alone is cause for celebration. But the tab is extra-impressive when you hear how well EHX nailed a vintage Ram's Head's legendary essence. It's growling, bold in the midrange, and stings like a wasp when you run the gain and tone wide open. If you don't have the bucks for a vintage pedal or a high-end Ram's Head clone, this remarkably economical iteration is a must for rounding out your Big Muff collection.

$99 street

Blackstar
Silverline Standard

This 20-watt, 1x10 combo from the folks at Blackstar got high marks for its retro style, user-friendly, ergonomic control panel, and all points in between. Joe Gore was wowed by the Standard's attractive amp and effects emulations—especially given its modest price tag—and shared that Blackstar's compact 30-pound combo would make for a convenient gig companion or great living room amp.

$429 street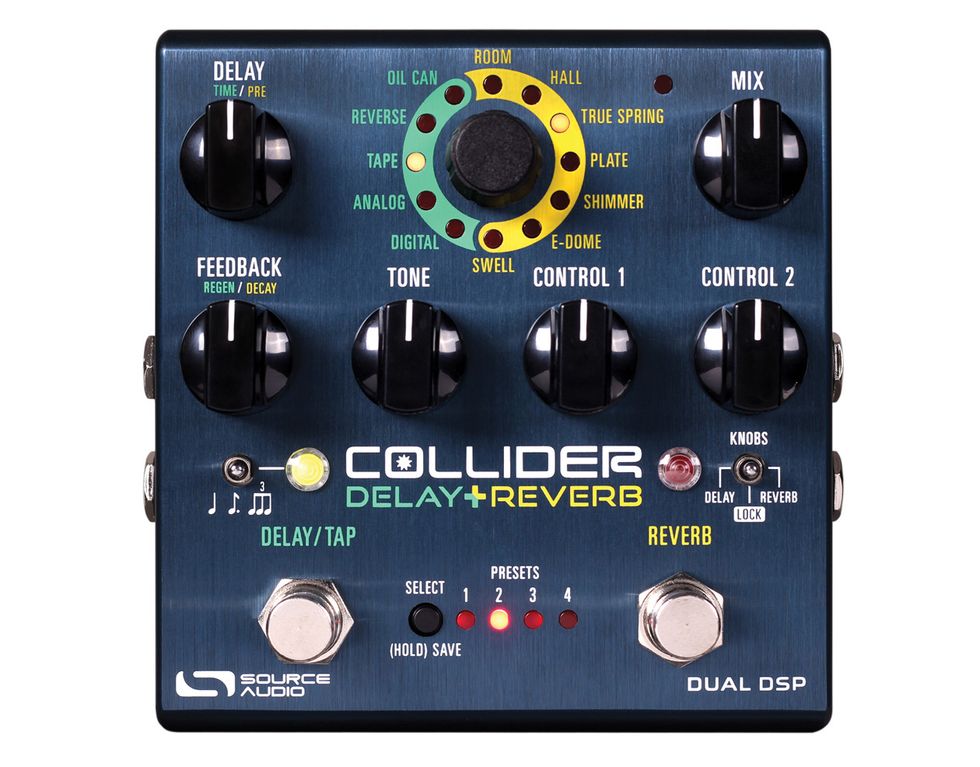 Source Audio
Collider

The Collider, which combines some functionality from the already expansive Ventris reverb and Nemesis delay, seems like it might be a handful to manage. In fact, the Collider's clever integration of its parent effects makes exploring the wide-ranging feature set—which includes new emulations like an excellent Tel-Ray-style oil can delay—an intuitive and fun portal to thousands of huge and rich time-manipulation textures.

$349 street

PRS
SE Hollowbody Standard

The Paul Reed Smith Hollowbody model has become a modern classic since its design was first introduced in 1998. And it's now available (and made much more affordable) as part of the company's made-in-China SE range. But don't let the down-market pricing fool you: Its elegant design, PRS-created hardware and electronics, and excellent playability easily earned the SE Hollowbody Standard a Premier Gear Award.

$999 street

Fender
American Ultra Jazz

As daunting as it is to alter a classic, revered instrument like the J, Fender hit it out of the park with subtle yet significant updates to its look and design. And with passive and active tones at the ready, Victor Brodén lauded the versatility of the Ultra Jazz, which allowed him to effortlessly conjure Marcus Miller-to-Jaco-esque tones.

$1,999 street

The new amps include Two Notes technology, four independent channels, noise gates, and digital reverbs.
Winnipeg, Manitoba (November 12, 2020) -- Redefining the award-winning Canadian high-gain titans. The Revv Generator MKIII Series took 4 years of research & development based on feedback from world-class touring artists, session guitarists, & audio engineers. Featuring a plethora of tonal updates, all-new noise gate & digital reverb, & integrating advanced Two notes Audio Engineering virtual cabinet & reactive load technology, Revv Amplification is committed to bringing you the most complete amplifier experience available.
Revv's MKIII Series 120 & 100 watt heads are available as the Generator 120 with all 4 channels, or the 100P & 100R, which each feature a single high gain channel.
The Generator MKIII Series features:
Go Direct with Two notes Torpedo-embedded Stereo XLR Output
Utilize Virtual Cabs & Mics, Twin Tracker Stereo Doubler, Reverbs, & More
4 All-Tube Independent-EQ Multi-Voice Channels Take Your Tone from Clean to Scream
4 Channel Generator 120. Available as 3 Independent EQ Channel 100P & 100R Models
Updated High Gain Purple & Red Channel Voicings & New Cut Switch
New Clean Blue Channel Wide Switch & 3 Crunch Green Channel Drive Modes
Built-in State-of-the-Art Noise Gate & Digital Reverb (Both Fully Bypassable)
Dual Master Volumes, Presence & Depth Controls, & Power Scaling Down to 10 Watts
Fully Programmable with MIDI or Included Footswitch. Two notes Editable via Bluetooth
Manufactured in Canada to Rugged Quality Standards. 5 - 12AX7, 4 - 6L6GC
The Generator 120 MKIII is $3299 & the 100P & 100R are $2699. They can be pre-purchased through many fine dealers or directly at www.revvamplification.com starting November 12 2020.
Watch the company's video demo:

For more information:
Revv Amplification