Promo Tour Journal, Cont.
We're in the thick of a promotional tour with Sheryl Crow for the release of her new CD, Detours. We do quite a few acoustic performances both for radio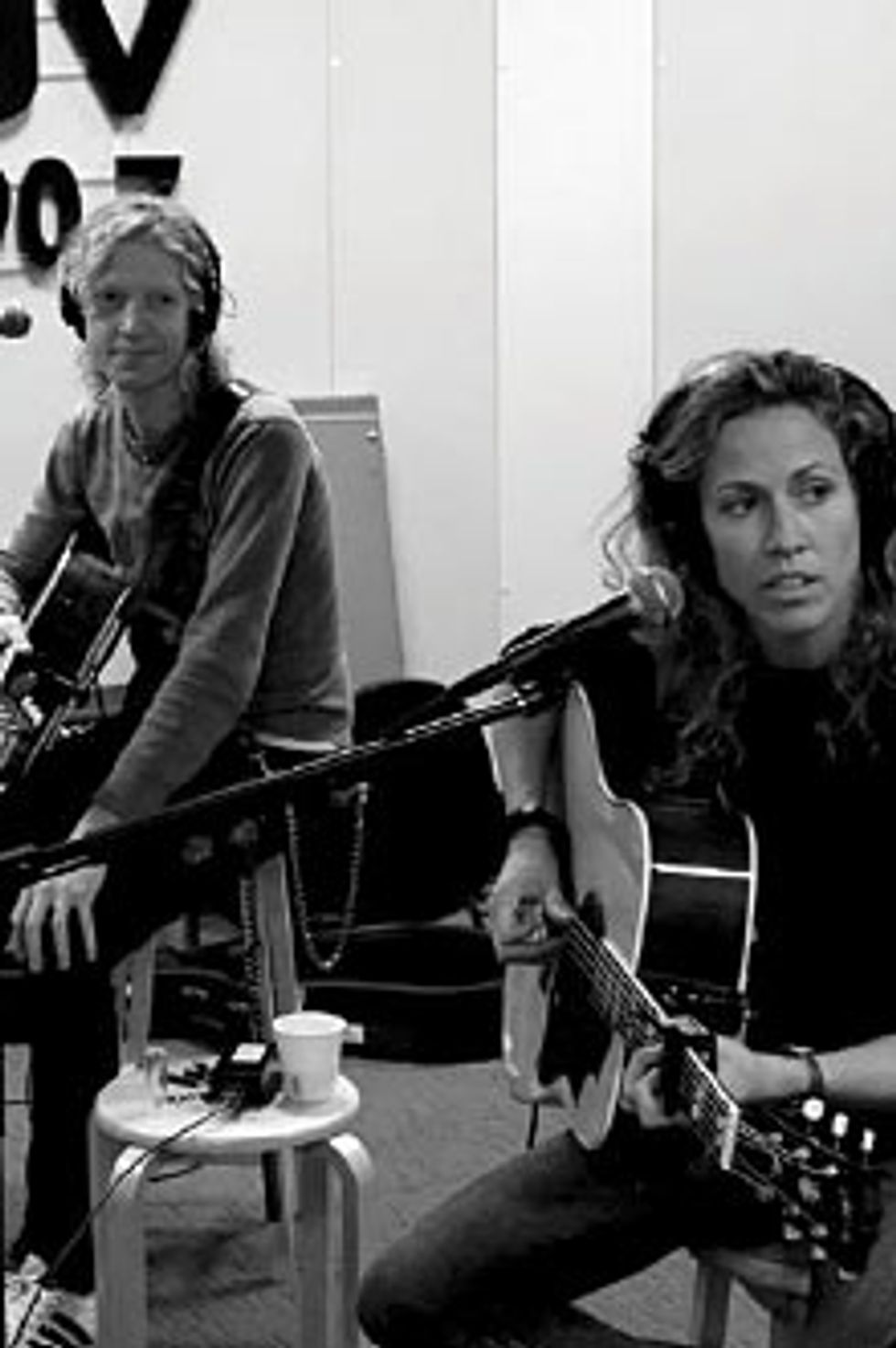 We're in the thick of a promotional tour with Sheryl Crow for the release of her new CD,
Detours
. We do quite a few acoustic performances both for radio and internet, and while in New York City this past December, we played on three radio shows in one day – the major NYC station WPLJ, Fordham University's eclectic WFUV and SIRIUS Satellite Radio. Here is our itinerary from Friday, December 7th.
6:45a.m. – Hotel Lobby Call
6:00a.m. is a tough wake-up call, especially when it follows a gig the night before. The previous evening we performed for CNN's Heroes TV special, which was a live broadcast. This morning, we also check out of our midtown Manhattan hotel, since we're slated to fly to L.A. in the early evening after our radio station visits.
7:15a.m. – Arrive at WPLJ Radio
Sheryl is set for an interview and to perform a couple of songs on the popular drive-time
Scott & Todd in the Morning show
. These guys are big music fans (imagine that) and particularly that of Sheryl's.
For today's "acoustic" radio performances, Tim Smith and I accompany Sheryl on acoustic (and electric) guitars. Our drummer Jeremy Stacey on percussion and a small kit consisting of a tambourine on a snare stand and a floor tom as a kick drum.
Our crew guys arrive ahead of us to get things in place and tune guitars. Sheryl and Tim run their guitars and a shared bass through BOSS tuner pedals then direct into the radio broadcast console. I run my guitars through a small pedalboard (I never make anything easy!), consisting of a Line 6 Tone Core Constrictor Compressor and Echo Park Delay, the killer new EH Electric Mistress and a fuzz made by our tech Andy Harrison, a knock-off of the old Colorsound Tonebender. I've brought my Gibson Sheryl Crow signature model acoustic, a '76 Tele Custom equipped with the Fishman acoustic bridge transducer system and G&L F-100 mongrel slide guitar with the Bigsby Palm Pedal.
7:45a.m. – ON AIR
This is the real wake up call, as I down the Starbucks, blow out the cobwebs in my throat and hit those falsetto harmonies first thing in the morning for millions of NYC area commuters. I can only imagine what it's like for Sheryl singing full throttle with barely a moment to warm up. We play her new single, "Love is Free," followed by the interview, and close with her hit, "If it Makes You Happy."
The radio show lasts 15 minutes and we're out of there with greetings and handshakes. By 8:20 or so we're back out on the street loading into vans and heading to our next radio station.
9:15a.m. – Arrive at WFUV
The Bronx's Fordham University has produced cutting-edge college radio for years, establishing a highly-regarded, national audience and long-running programs. Sheryl is taping an interview for later broadcast with noted interviewer Rita Houston. I'd strongly suggest looking into Fordham to anyone interested in broadcast radio – their radio station rivals some of the larger commercial facilities we've been to with state-of-the-art technology.
We set up comfortably, soundcheck, squeeze in a quick breakfast and begin taping the interview and performance. This time it's "Love is Free," "Shine Over Babylon," from the new album and "Everyday is a Winding Road." Once again we play the songs between interview questions. We're out of there by 10:45.
11:30a.m. – Arrive at SIRIUS
We are back once again in midtown Manhattan. The SIRIUS Satellite Radio office has a well-equipped performance room located in the main lobby, consisting of three glass walls so everyone can see. The mics are great, and there is a grand piano for their guests etched with autographs from such notables as Herbie Hancock. The engineers take direct feeds from our acoustic guitars, as well as mic us up with Neumann KM 85s.
Our crew's setup and soundcheck goes easily and quickly; before we know it we're taping four songs back-to-back. I recall a false start on one song, but otherwise we knock out single takes of each and we're out of there – out of the performance room, at least. Sheryl then steps into another control room for a 45-minute interview. The rest of us steal this moment for another cup of coffee and a chance to use office computers for checking email.
2:00p.m. – Finished!...For Now
We're out on the street in the city, grabbing a quick lunch before heading to EWR airport in Newark, NJ. By three, we're back in the vans with ample time to make our 6:10 p.m. flight to L.A.
The day's performances went well, but it was definitely a scramble for our crew – Tour Manager Chris Hudson, who is looking after Sheryl, Assistant Tour Manager Amber Calhoun who looks after us weak and helpless musicians, Production Manager Chris "Fussy" Fussell and two of the nation's finest guitar techs, Rick Purcell and Andy Wolf. We settled in for our six-hour flight to Los Angeles.
Having started at six in the morning and settling into our hotel room 20 hours later, I guess you could call it a day. I hope you enjoyed another day in the life of a "promo" tour! Until next time, cheers!
---
Peter Stroud
is co-founder of 65amps
www.sherylcrow.com
65amps.com