Randall Amplifiers Introduces RM1250, RM22HDX 18-Watt Head, RT Series Tube Amps
A high-power recording solution, their first low-wattage modular offering and a new line of affordable tube amps.
Chicago, IL
(May 3, 2010) -- Randall has introduced a number of new products to their lineup, ranging from a high-power recording solution to their first low-wattage modular offering to a new line of affordable tube amps.
RM1250
The 50 watt RM1250 is the newest member of the acclaimed Randall MTS Series of modular all-tube amplifiers. It's been designed specifically to house 12 hot swappable MTS modules and permit the player to switch between them using the front panel or floor switch. The RM1250 comes loaded with 12 Randall MTS Modules thus allowing access to a staggering amount of guitar tones that previously would have only been available by using 12 different amplifiers.
This is real analog tube circuitry recreating the actual tone of the most sought after classic & modern tube amps of yesteryear and today. Currently there are 20 MTS modules available with more being added this year. The RM1250 is also available in an unloaded version, RM1250U.
Features:
12 bays housing 12 Randall MTS modules
50 Watts RMS into 4/8/16 Ohms
Front panel channel switch
Serial Effects loop
MIDI Switchable channels
Adjustable tube biasing points on rear panel
3- Mode footswitch included to switch selected channel in 3 banks of 4 modules.
MTS Modules included: ULTRA, ULTRA XL, TREADPLATE, SL+, PLEXI, TOP BOOST, TWEED, BLACKFACE, DLX, CLEAN, JTM, and XTC
RM22HDX & RV112GB
The RM22HDX is an 18 watt, 2-channel modular tube head that houses two hot swappable MTS modules. Boost with level has been added to each channel allowing up to four different sounds available at the touch of a switch. At 18 watts, it's easy to send this amp into controllably smooth, creamy overdrive at manageable volume levels. The "silent mode" allows users to directly connect the amp to a live mixing board or recording console from the "Direct Recording Output" on the back panel and acts as a mic'd cabinet. With over 20 modules to choose from, it's easily the most versatile low wattage tube amp on the market. It is extremely well suited to both the studio and small gigs. The RM22 is also available in an unloaded version, the RM22HB.
Features:
Loaded with DLX and XTC modules
Over 20 additional modules to choose from
18 Watts RMS into 8/16 Ohms
Front panel channel switch
Adjustable tube biasing point on rear panel
Direct recording out with "Mic Eliminator" circuit
Series effects loop
RV112GB
The RV112GB is a small, portable 112 cabinet loaded with a 12" Celestion Greenback speaker.
Features:
Celestion Greenback 12" speaker
¼" speaker input jack
25 Watts RMS power handling
8 Ohms
RT Series
Randall says the new RT Series is pro-caliber at a price point that would normally be considered solid state territory. It offers novices and solid state fans the opportunity to step into the world of real tube tone. The series includes three heads, the RT100H, RT503H & RT50H; one combo, the RT50C; and two cabinets, the RT412CX and RT212CX.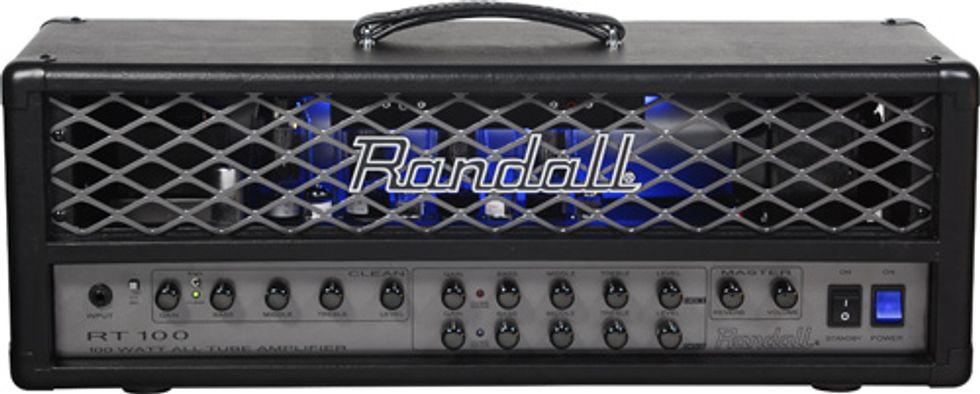 The RT100H is a 3 channel, 100 Watt head with reverb and the RT503 is a 50 watt version. Both heads feature one clean channel and two overdrive channels. The RT50H is a 2 channel, 50 watt head with reverb featuring one clean and one overdrive channel.
The RT412CX and RT212CX are cabinets that are perfectly matched to the RT Series heads with the same cosmetics including black chrome grills and black tolex covering. Both cabinets feature Celestion speakers.
The RT412RC and RT212RC also match perfectly to the RT series heads but are more affordable with Celestion Rocket50 speakers.
The RT50C is a 50 watt, 2 channel, 1x12 combo amp featuring the same electronics as the RT50H head and a 12" Celestion speaker all in one portable package.
What really set these amps apart from other tube amps are the power tube bias test points. No longer do guitarists have to purchase matched sets of tubes. The user-friendly power tube bias section on the back allows the user to replace, bias, and match the tubes themselves with just an inexpensive volt meter available at any electronics or home improvement store.
Amplifier Common Features:
50 or 100 watts RMS
Foot switchable channels
Spring Reverb
Effects loop
Power tube bias test points
Footswitch included
For more information:
Randall