Seymour Duncan Introduces Liberator Solderless Pickup Change System
The Liberator is the first universal solderless solution and is designed to work with nearly any manufacturer''s pickups.
Santa Barbara, CA
(December 7, 2010) -- Seymour Duncan announces the debut of Liberator, the first universal Solderless Pickup Change System for guitar and bass. Liberator is a bare-wire Lockdown system integrated with a high-quality volume pot. With a Liberator-equipped volume pot installed, changing pickups no longer requires heating up a soldering gun—you only need a mini screwdriver. Since Liberator doesn't require proprietary connectors, it works with nearly any manufacturer's passive pickups.
Pickups play a key role in defining an instrument's tone, output, responsiveness, and feel, and different pickups can change the character of an instrument entirely. Vintage-style pickups may convey classic warmth or twang while hot-rodded designs can produce much higher output, greater articulation, or enhanced harmonic response. All of these factors combined affect how an individual interacts with his or her instrument. Soldering pickups is an exacting procedure that can be time-consuming for experienced guitar techs and daunting for players who lack soldering skills. With a Liberator volume pot installed in a guitar or bass, replacing pickups becomes a quick and easy process for players and techs alike.
"Liberator offers a fast, yet rock-solid way for guitar techs to change pickups without firing up the soldering gun, but it also opens the floodgates for legions of players who'd never consider soldering," says Frank Falbo, Seymour Duncan Vice President of Products. "It broadens the entire landscape of guitar tone. Liberator marks a major new chapter in our long history of helping guitar and bass players find their own personal voice."
Company co-founder Seymour W. Duncan agrees. "This is a really exciting development," he says. "As a company, we've spent 35 years helping musicians get great tone. Now with Liberator, we can reach more musicians than ever."
To install pickups with Liberator, you simply insert the bare-wire ends of the pickup leads into Liberator's color-coded Lockdown connector stations. Turning each station's screw raises a metal clamp that secures the leads far more reliably than plug-in connectors or less-than-perfect solder joints.
Liberator with Volume Pot is available in 250k and 500k versions for single-coil and dual-humbucker guitars, each for a U.S. retail price of only $35. In early 2011, Seymour Duncan will offer more completely wired, easy-install versions of the Liberator system, including pre-connected volume-and-tone wiring harnesses and pre-wired pickguards.
Anatomy Of Liberator
Liberator is akin to a telephone switchboard or studio patch bay, where easy-insert plug-in stations up front correspond to hard-wired connections behind the scenes. Liberator has two patch bays: The ten-station Pickup Connector and the four-station Potentiometer Connector.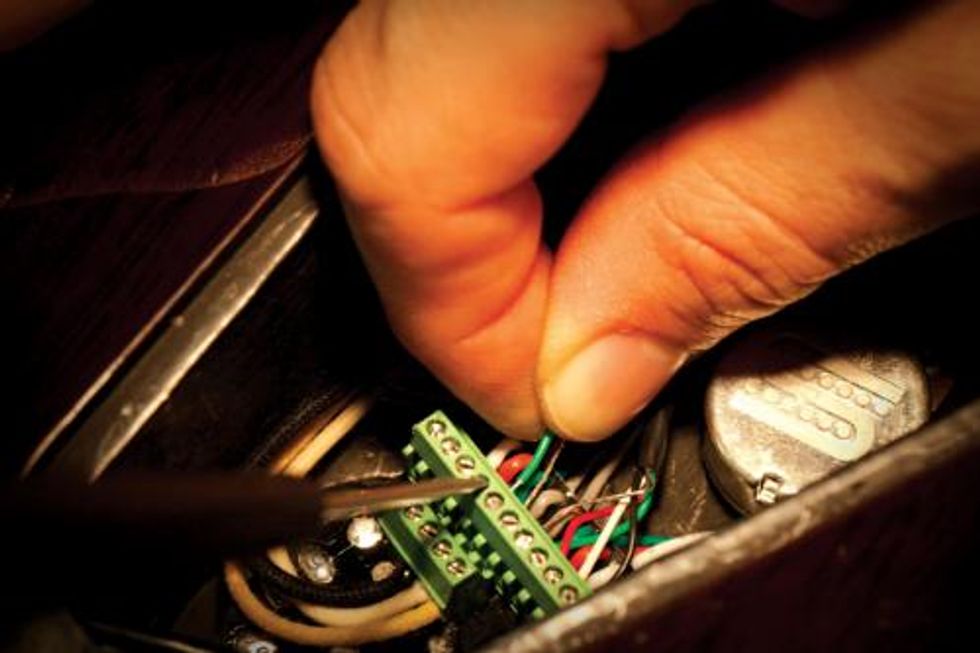 The Pickup Connector's ten stations directly match the connections of two four-wire humbucking pickups, plus the shield wire, which goes to ground. The colors of the adjacent outbound wires correspond to Seymour Duncan's humbucker wiring color scheme, but an included color-code guide makes it easy to install pickups from other companies that use different color schemes, as well as single-coils, and single-coil and humbucker combinations.
For the Potentiometer Connector, three stations correspond to the three lugs on a volume pot—input, output, and ground—with an additional ground for bridges or tremolo systems. For those who like soldering and only want to use the Liberator's Lockdown stations to connect pickups, there are gold-plated solder points for input, output, and ground, plus seven additional gold-plated ground pads, which are designed to be much easier to solder than the back of a potentiometer.
For more information:
Seymour Duncan
Source: Press Release