Seymour Duncan Product Demonstration Contest
Seymour Duncan encourages users to creatively review products on YouTube to win gear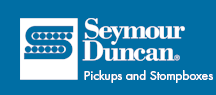 Santa Barbara, CA (April 8, 2008) -- Seymour Duncan is calling on guitarists and bassists to create and upload their own Seymour Duncan product demos for a chance to win Duncan gear. The international contest will be hosted on YouTube.com beginning May 1, 2008.
To enter, upload a unique product demonstration video for any Seymour Duncan, Duncan Designed, Antiquity, Custom Shop, Benedetto or Basslines pickup, or Seymour Duncan stompbox, to YouTube, then send the link to Seymour Duncan''s contest page from May 1 to June 15. Any guitar or amp can be used for the review, and playing skill and technique is not as important as how the products are showcased and demonstrated. For inspiration or as a guide, SD suggests checking out existing product demo videos on YouTube.
Each of the ten first place winners will receive their choice of a Twin Tube Classic or Twin Tube Mayhem stompbox, 25 second place winners will each be offered their choice of a Pickup Booster, Lava Box, or Power Grid stompbox, and 50 third place winners will receive a Seymour Duncan beanie.
Clips will be evaluated by a panel of international judges, including Seymour Duncan, guitarist Dino Cazares, Guitar World's Paul Riario, Guitarist UK's Simon Bradley, and PG''s own James Egolf.
This contest is open to anyone who uses Seymour Duncan products, regardless of location. The contest will end June 15th and the list of winners will be posted on SeymourDuncan.com. A dedicated micro site is in the works, complete with a selection of logos and stencils to help entrants enhance their videos.
For more information:
Seymour Duncan