Shredding the Rumba - Marcus Nand
How many of you remember a band called Freak of Nature, formed by ex-White Lion singer, Mike Tramp, in the early nineties? It wasn't a very memorable hair band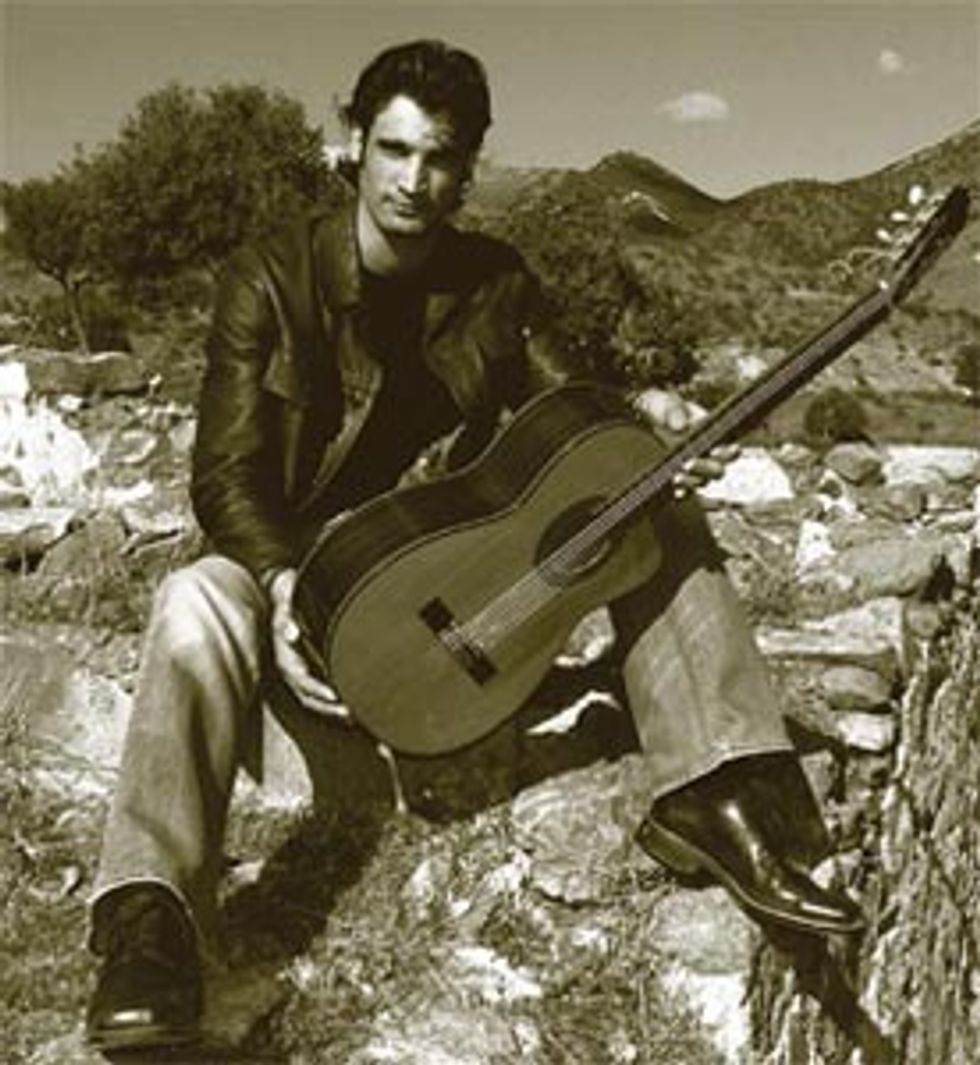 How many of you remember a band called Freak of Nature, formed by ex-White Lion singer, Mike Tramp, in the early nineties? It wasn't a very memorable hair band and and was nothing spectacular in the music department, but it spawned a talented guitarist from Spain named Marcus Nand.
Nand was born into a musical family in England and started playing the acoustic guitar at the age of seven. When he was eight, his family migrated to southern Spain. At the age of twelve, he started playing semi-professionally in venues in the province of Malaga and later learned and played flamenco guitar with the Gypsies of Andalucia – a privilege reserved for few outsiders. With his unique background, he moved to Los Angeles to pursue his love of music and has since played with Jeff Scott Soto, Carmine Rojas and Neal Schon to name a few. He also performed on the Terry Bozzio, Tony Levin and Steve Stevens' album,
Situation Dangerous
.
What is most striking about Nand's playing is his very fluid, classical acoustic feel. He first got in touch with me when I was producing
Guitar Masters
, Vol.1 through Seymour Duncan. His style is very reminiscence of the Gipsy Kings – when it comes to flamenco guitar he plays with confidence and authenticity. The song he sent me was "Rumba" and I immediately knew that it would be a perfect addition to the compilation.
What guitars and amps did you use to record "Rumba?"
I used a Takamine nylon string cutaway, a Godin Grand Concert and a '57 reissue Strat with a Seymour Duncan Little '59 mini-humbucker in the bridge. The Strat is so used that it actually looks like a real '57. It's still my favorite guitar though. I used the Takamine for the flamenco "rumba" rhythms, the Godin for the the main melody and the Strat for the lead.
How did you capture the guitars and amps?
The flamenco "rumba" rhythm needed to sound organic. The only way to really do that is to mic a real nylon string or flamenco guitar. It takes me ages to get a guitar sound, so I just move the mic around until it's right. I have no technique for that – it's really just trial and error. I doubled the rhythms and hard panned left and right to get that fat, Gipsy Kings-type of sound. You can actually quadruple track that type of rhythm to make it sound great, especially if the takes are loose and there is space in the track. Then, I sent them to a group track and compressed the group.
The melody was a little simpler. The Godin guitar has a great preamp so it's relatively easy to make it sound good. It's also the type of nylon string that sounds good with a pick so that's what I did. I just used the XLR out and went straight in and compressed. EQ-wise, I find if you take around 1.5k out of pretty much any direct guitar signal it makes it sound a little more natural.
I used to be a tone junkie and always used Marshalls straight and modified – and still do live – but I've found that for home recording, the Line 6 amps and POD do the trick. I used the POD straight in for the electric guitar tone on the solo.
What format did you use to record the song?
The song was recorded entirely on hard drive using Steinberg Cubase SX3.
Give us a little background of the song and how you envisioned the guitar sounds.
The song came about because I was doing some tests for an upcoming project. I wanted something not to showcase my guitar playing, but to be a melodic image evoking experiences for the listener. Well, I guess I wouldn't have minded it showcasing my playing, too! I guess I wanted to do something with commercial appeal.
There are many aspects to my guitar playing that I can't always use in the same track. With "Rumba," I wanted to do something with all those aspects, such as flamenco rhythm, some cool lead playing and electric guitar. I always try for textures when recording guitars, and I'm a firm believer in the right tool for the right job, but sometimes it's hard to combine nylon string and electric. I actually enjoy doing that and wrote a whole vocal record of [nylon string] combined with electronic instruments, which I'll finish one of these days.
Check out Marcus' performance on "Rumba" which is out on the Guitar Masters, Vol. 1 compilation. For more info visit
marcusnand.com
---
Brian Tarquin
Emmy Award Winning Guitarist Brian Tarquin scored a Top 20 hit in the 90's with "
The Best of Acid Jazz, vol. 2
" on Instinct Records and enjoyed several top 10 hits on the R&R charts. Founder of the rock/electronica band, Asphalt Jungle and has scored TV music for such shows as
CSI, Smallville, MTV, Alias, 24, All My Children
and many others.
bohemianproductions.net
jungleroom@optonline.net
myspace.com/bohemianproductionsmusic