South by Southwest 2009: Keep Austin Loud
A taste of some of the musical acts at SXSW ''09 Austin, Texas: March 19-22
The numbers are staggering: imagine more than 1900 acts from 53 countries playing 84 venues (mostly within in a six-square block area) for 5 days and nights. And those are the official numbers. Hundreds of "unofficial" bands also descended on the Live Music Capital of the World during the third week of March to feed on the music fan frenzy known as South by Southwest.

What began as a little indie music festival 23 years ago is now a humongous indie music festival that has somehow, perhaps by sheer volume, maintained its indie cred. The event now has a film festival and a technology geekfest rolled into it and lasts 10 days, but live music still anchors the experience. Here's how it works: Mostly unsigned bands converge on Austin's 6th Street bar area and play one after another for about an hour at a time in front of dedicated fans, random music lovers, label execs and the press. Some venues host showcases of promising acts organized by genre, home country or parent labels. There are also festival stages where bigger names play for bigger crowds. The cool thing about SXSW is that some of the biggest bands in the world still participate, happy to play a hole-in-the-wall bar for honest cheers and the same $250 that upstart acts get, as Metallica did at Stubb's Barbecue.

There's also a trade show, seminars, panel discussions, a concert poster show and more. Some bands were throwing CD release parties while others were shooting their next video. Some were playing their first official gigs while others were reuniting. There were acoustic singer songwriters. There were zydeco bands. There were Norwegian metal fans in full leather-n-spike regalia, and there were girls wearing skirts with cowboy boots. In fact, there were a lot of girls wearing skirts with cowboy boots.

So imagine being charged with the task of covering this festival and crystallizing it into four pages. Where to begin? Which acts would be worthy of inclusion? We sweated the task over a Shiner Bock or three before realizing that the beauty of SXSW is in its diversity. There's great music everywhere—familiar and new. So, we went searching for a wide range of guitar-driven music. If there's one festival where you can hear what our favorite instrument is truly capable of, it's SXSW.

So here it is—our list of 18 guitar-centric acts that made our SXSW experience a memorable one.



Thrift Store Cowboys, Momo's
Hailing from Lubbock, TX, the Thriftstore Cowboys blend lonesome balladeer emotion with what might be described as alt country with a modern sensibility. Daniel Fluitt and fiddle player Amanda Shires share lead vocal duties, but much of the band's distinctive sound comes from lead guitar player Colt Miller. He modded his '06 Nashville Tele with a Bigsby and creates haunting textures with a Danelectro DE-1 Dan-Echo, a Fulltone Supa-Trem and a '65 Twin Reverb.



Metallica, Stubb's
They sought. They destroyed. Metallica's "hush-hush" performance was the worst-kept secret of SXSW (and one of the best promotional efforts of the week—they were there to pimp Guitar Hero: Metallica) but some attendees still didn't believe the real four horsemen were going to play such an intimate show. Both guitar-wielding metal icons came with a purpose, to literally blow the BBQ sauce off Stubb's famous beef brisket. That mission was accomplished with thrash-guitar favorites like "For Whom the Bell Tolls," "Master of Puppets," "Seek and Destroy" (Hetfield broke out "Rusty" his black satin 1976 Explorer) and even the lethargically haunting "Creeping Death." Hammett used his signature ESPs including his black KH-2 and KH-2 Ouija White loaded with EMG 81/60 pickups (bridge/ neck) and an original Floyd Rose bridge and trem. Hetfield stuck with his battered and bruised signature mahogany body and set-neck ESP Truckster, but also went to his trusted assortment of Flying Vs. The Bay Area metal crew proved once again they are the masters of dual-guitar metal.



Andrew Bird, Stubb's
Simply put, we were blown away by Andrew Bird's performance; it was singularly the most intellectual and all-worldly performance we caught at SXSW. For starters, the stage was littered with Janus Horn and XL Horn phonograph-esque speakers (custom-made by Specimen Products). Bird makes you rethink the concept of what it means to be a performing musician. He layers live loops of his Gibson ES-125 and plays unexpected instruments like the xylophone, banjo and the flute. He also whistles like, you guessed it, a bird and uses his voice like an instrument. In Austin, Bird used an assortment of amps and effects, including a Schroeder DB-7 head, two Schroeder prototype heads, a Music Man 4x10 combo and a ZVex Box of Rocks pedal. It was an odd and wonderfully impressive show.



Texas Belairs, Momo's
The Texas Belairs have been rocking their loud-ass hillbilly tunes for decades. Shad Daugherty brings a gritty edge to the current line-up, using an Epi Dot to mix rockabilly and blues licks. The band blew the roof off Momo's during the "Lubbock New West Music" Showcase with lead singer Kent Mings giving his best Buddy Hollyesque drawl on "I'm Gonna Tell You How It's Gonna Be."



Valient Thorr, Emo's Annex
Valient Thorr conquered Emo's outdoor stage with an astral driven dual-guitar attack featuring humbucker-rich tones blasting from Eidan Thorr's Les Paul Black Beauty reissue and Voiden Thorr's Les Paul sunburst Deluxe. They both used Marshall 100 watt heads, but Eidan used two Marshall 4x12 cabs and Voiden went with creamy white Mesa Boogie 4x12 cabs. The Venusian guitarists (the band's back story is that they're from Venus) not only had crushing tones at earbleeding volumes, but they also conducted acrobatic guitar tosses, twirls and flips to prove that the days of show-stopping theatrics aren't over. At least not on Venus.



Gary Clark Junior, Maggie Mae's Gibson Room
Gary Clark, Jr. has paid his dues in the Austin scene and is beginning to see his star rise. He's been awarded Best Blues Artist at the Austin Music Awards and recently played a key role in the John Sayles movie, Honeydripper. He's made quite a name for himself by implementing R&B, reggae, soul and rock into one ball of sensual guitar domination. During live shows he'll play the drums, bass and harmonica, but Clark is most impressive when abusing the fretboard on his semi-hollow Epiphone. Keep an eye out for Clark. He's already opened for the Arc Angels and the Derek Trucks band. You'll be hearing from him soon.



New York Dolls, Smokin' Music
Somehow or another, a New York Dolls' appearance at an indie music festival is fuel for both the indie cred argument and the festival sellout argument. The Dolls have achieved a certain level of notoriety, but they've always been anti-establishment. Strangely, however, listening to Steve Conte strumming monstrous proto-punk, glam-rock chords on his '04 white Les Paul Supreme, we could not help but feel the weight of their influence on today's music. Conte also rocked his '60 LP Jr. and his '66 Melody Maker (refinished pink w/ white pearl guard). All his guitars were running through a requested backline setup of a Marshall JCM 800 head and 4x12 cab with Celestion 30 speakers. As Conte told us, that rig is the best way to capture his classic NYD-tone.



Carolyn Wonderland, Austin Music Hall
Carolyn Wonderland and her band took a break from the road (they log more than 300 shows a year) and joined Ruthie Foster and Suzanna Choffel on stage for a round of jams at the opening of the Austin Music Awards (which coincides with the opening of SXSW), where she won Best Blues Band and Best Female Vocalist honors. Carolyn is known for two things in the Lone Star State and beyond: her soulful vocals and her guitar chops. Her playing draws from country, swing, zydeco, surf and soul. Wonderland's arsenal included what she calls an all-original Lesline Pauline, a 50th Anniversary Tele with Barden pickups and a Fender Vibrolux Reverb.


The Mighty Stef, The Rio
Hailing from Dublin, Ireland, the Mighty Stef and his backing band combined classic rock with Johnny Cash-esque lyrics about tough times, heartache and drinking a little too much Irish whiskey. The perfect blend of his Martin and his bandmate's Les Paul through an Orange head and stack gives his sound a rocking yet folksy foundation to support the poignant lyrics about his troubled Irish heart. This current trip to the US has fared much better than his 2006 trek to the States—that's when the Mighty Stef was robbed of his wallet, passport, video camera and guitar, leaving the drifting singer/ songwriter alone with his thoughts and his Wayfarers. At least the experience inspired more material, which is wonderfully presented in the CD we picked up, 100 Midnights.


Devo, Austin Music Hall
Yes, Devo is still around and still booking shows. They broke out the red plastic helmets as they whipped Austin Music Hall into shape and basked in their new-wave glory. With a huge LED screen behind them, they blasted the audience, both sonically and visually. It felt like '81 again, when Strats competed with keytars and Martha Quinn was more than a corny reference point on VH1's "I Love The 80s."


The Massacoustics, the Vintage Lounge
Musically, the Massacoustics deserve a write-up without even mentioning the simultaneous multi-instrumental talents of Matt Thompson, who plays bass one-handed while sitting behind the drums and actually playing them with his other three limbs. As if that weren't enough, he also sings incredibly tight harmonies. It's unclear how he doesn't just fall over. Anyway, his brother, Andy Thompson, sings lead and plays a wicked Gretsch Duo Jet with a Line 6 PODxt and Bad Cat amps. As guitarists in trios know, there is an art to getting full band tone, soloing without rhythm under you, etc., and Andy has got it down pat. This duo from Massachusetts (hence the name) is not a gimmick act, though. Their songs are tight and radio friendly—we suspect you'll be hearing from them soon.


Don Tetto, Flamingo Cantina
Making the trip north from Bogota, Colombia, Don Tetto lit Austin's Flamingo Cantina on fire with their punk-influenced riffs and hooky ditties that had the crowd pogo-stick jumping. The 20-something rockers are sponsored by Gibson, so there were Pauls and SGs aplenty, not to mention an Explorer bass. These guys have quite a following in South America and now we know why.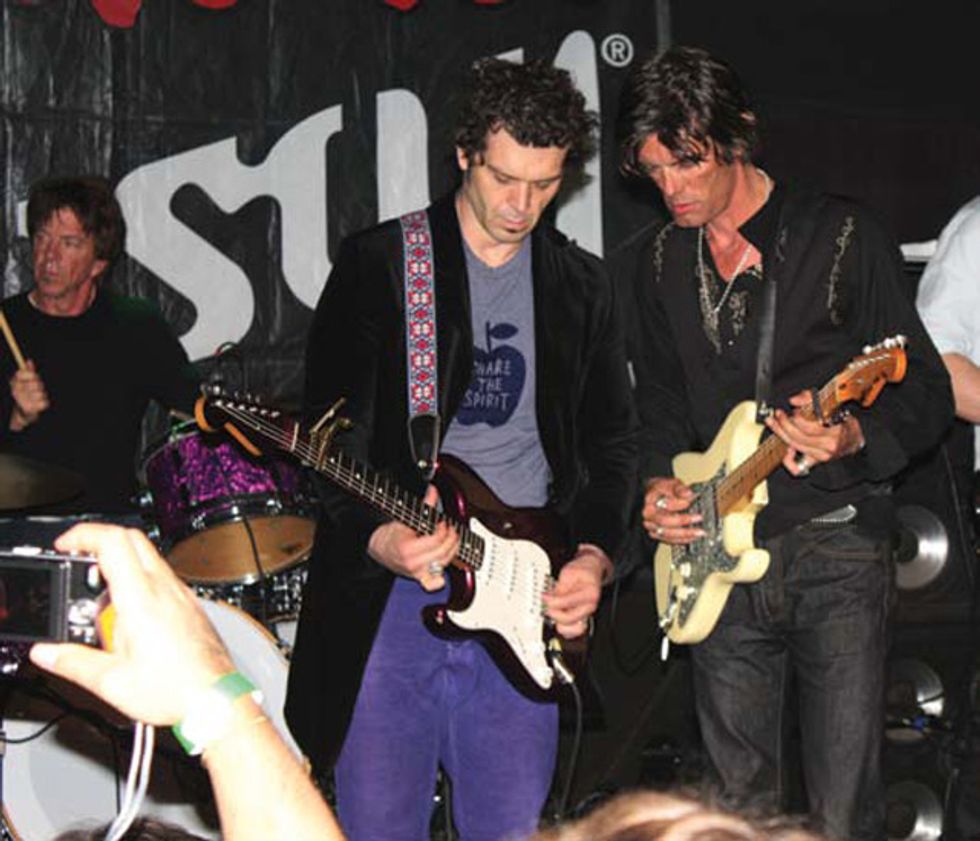 ARC Angels, Antone's
The Texas blues-rock vets appropriately reclaimed their position as Austin's anointed supergroup by reforming (but w/o Tommy Shannon) and playing four shows, including a tribute to legendary club owner Clifford Antone. The band announced that they're working on a new record, DVD documentary and prepping for a tour that will include opening for Eric Clapton at Royal Albert Hall. The band was given the honor of having March 21st proclaimed as ARC Angels day in the city of Austin. At the Antone's gig, Doyle Bramhall II used two Strats (not his red one) and his red LP Jr for slide work, while Charlie Sexton switched between his James Trussart Steeltop, a Zemaitis, several Strats and his Ric. Sexton used a 65Amps London and a Vox AC50 while Bramhall used his '68 Marshall Super Bass.


The Queers, Red7 Patio
We'll never tire of power chord-driven trio rock full of sketchy pop hooks delivered in two-anda- half minutes or less, thanks to the Queers. Their SXSW performance was raw and energetic, with the band pummeling the crowd with probably the most songs per setlist than any other SXSW act. Joe Queer (guitar/vocals) and Dangerous Dave's (bass/vox) rigs were punk-simple: Strats and P basses straight through Marshalls and Ampegs.


Mad Juana, Continental Club
Imagine the characters of a Tim Burton film forming a band and rocking your socks off—that's what a Mad Juana live performance is like. Mad Juana fuses an eclectic mix of vaudeville, swamp blues, reggae and mariachi with a healthy slice of rock that goes from Velvet Underground cool to Stooges-type aggression. The band was formed by former Hanoi Rocks/ NY Dolls bassist Sami Yaffa, who plays acoustic guitar, and his wife, Karmen Guy, who handles lead vocal duties. Don't let the accordion, trumpet, melodica or Dia de los Muertosfestooned violin player scare you, Mad Juana's hypnotic voodoo is worth checking out.


Ben Harper & Relentless7, Stubb's
Ben Harper introduced his new band, the Relentless7, at SXSW. With this outfit, Harper is moving into decidedly political material. Musically, the groove is heavier, faster and angrier than his previous work with the Innocent Criminals. The night included several long-form jams, a cover of Bowie's "Under Pressure" and Harper playing his Les Paul on his lap.


Guy Davis, Victorian Room at the Driskill

We dropped in to see a guitar-slinger named Guy Davis en route to another show. He's one of those old school blues guys who stands up on stage with his 12-string Guild and lets the downtrodden songs filled with passion pour out of his soul and his pinky slide. We were fascinated by how closely his music resembled that of the old Delta masters. In addition to his slide work, Davis played a '50 Kalamazoo Archtop, a Gold Tone resonator banjo, and what he told us was a 100-year old Vega banjo. Needless to say, we stayed for the whole set.
Kylesa, Red7

Kylesa takes their name from "kilesa mara," a term ancient Buddhists used to refer to demons of defilement and delusion. Appropriately, the concept is a fitting description of the band's sound—scary and demonic, with machine-gunning dual guitars and thundering dual drum sets. Both duos complemented each other well in front of a raucous Red7 crowd. Co-lead guitarist Laura Pleasants' gear included an '89 Pre-Historic Gold Top, '90s Laney GH50L and Krank Rev Series One heads and 4x12 cabs made by Krank and Mesa Boogie. Cope played a Guild S-100 Polara, Rev Series One and Laney GH100L heads and Krank 4x12 cabs.