Steve Vai, the Bulgarian Blaze
Brian catches up with Steve Vai to chat about his new track, "Freak Show Excess."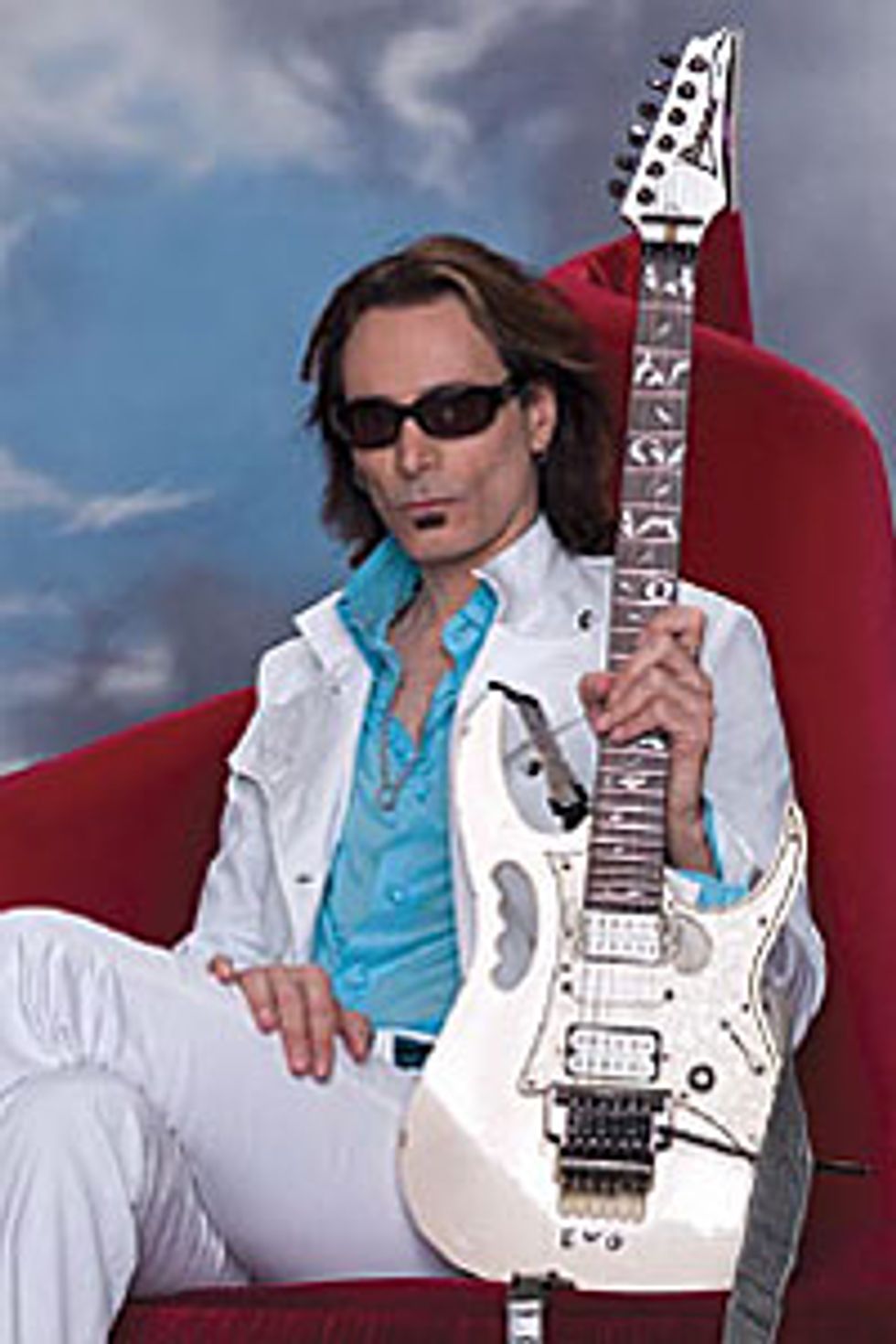 On Steve Vai's 2006 release,
Real Illusions: Reflections
, he conquered new territory both rhythmically and sonically. One of the tracks that really caught my attention, both as a listener and a musician was "Freak Show Excess," which features unusual rhythmic patterns derived from Eastern European music.
Steve says that one of his big influences is Bulgarian wedding music from the band Evo Papisov, and you can really hear it in the way he phrases the melody. Often, when hearing artists interpret Eastern music, it sounds awkward and foreign. Steve is able to make it much more palatable to the Western ear. I had the pleasure of catching up with Steve to ask him his recording techniques for the track.
What guitar and amps did you use for the "Freak Show Excess" recording?
I used a Carvin Legacy amp and an Ibanez Jem guitar.
Where do you record, and what programs do you use? Any special guests on the song?
All of my solo records are recorded in my home studio using Pro Tools. Billy Sheehan and Jeremy Colson were on this song.
What is your mic setup for recording the guitars?
If I remember right, most of the stuff is close mic'd, but the change in pitch of the microphone gives the distinction. Also, EQ plays a vital role. I always keep a pair of C14s and a pair of 414s spread apart in the corners of the room. This is mixed into the sound at various levels depending on the desired effect. It's important to me to try and create a space for each guitar; the song should tell you what to do.
What kind of challenges did you encounter during mixdown? Did you use any special plug-ins or outboard gear?
It's a very dense, fast moving track, so I didn't put many effects on it – it can get messy quick. I usually use Wave and Renaissance plug-ins for EQ, then compress analog before it hits the drive. I'm not a fan of digital compressors or reverbs. During mixdown, I usually use an L1 limiter plug-in. Before I decided to mixdown internally and not come out analog, I spent a tremendous amount of time checking the mixdown phase using various formats.
I didn't listen to what people were saying on the best way to mixdown regarding coming out of Pro Tools and going analog or digital-to-analog and back to digital, ad nauseam. Most people guess, or go on a hunch or a feeling, or just do what they heard someone else say is the best. I put my own ear to it and frankly, I kept it in the digital domain. Going out to analog does not warm it up to me; I think that's an illusion. I don't know if all systems act similarly, but since I was using Pro Tools, I didn't go crazy trying different systems. The one thing I do with Pro Tools that makes a big difference is mixing down to two tracks through the stereo bus, instead of bouncing down. To my ear there is a big difference in the sound.
Are you currently working on a new project or album?
I had a new record out in July. It's called
Sound Theories
, and it was recorded live with the Metropole Orkest in Holland. I was commissioned to compose an hour of music by Holland's NPS (National Public Radio) for a cultural event. The show was broken up into two segments; the first part was pieces that I composed for the orchestra and it doesn't include me on the guitar. The second half contained songs from my catalog that were arranged for the orchestra, and I played the guitar along with them. We recorded five concerts with them, then I edited together
Sound Theories
.
I encourage all guitarists to check out "Freak Show Excess" and hear for yourself how Steve wonderfully articulates the melody through the track. To check it out, a quick search on YouTube.com will reward you with a video of Steve demonstrating his guitar techniques in this song.
---
Brian Tarquin
Emmy Award Winning Guitarist Brian Tarquin scored a Top 20 hit in the 90's with "The Best of Acid Jazz, vol. 2" on Instinct Records and enjoyed several top 10 hits on the R&R charts. Founder of the rock/electronica band, Asphalt Jungle and has scored TV music for such shows as, CSI, Smallville, MTV, Alias, 24, All My Children and many others.
bohemianproductions.net
jungleroom@optonline.net
myspace.com/bohemianproductionsmusic