Photo by Richie Sambora
For Rock Candy, Orianthi set out to write and record a song a day. Leaning into spontaneity to spark creativity, the result is as stylistically diverse as her impressive résumé, which includes performing with Steve Vai, Carlos Santana, Alice Cooper, Michael Jackson, and Prince.
As both a solo artist of the highest order and a session ace who has worked with the music world's elite, Orianthi has succeeded not only because of her immense talent, but also because she knows how to get things done. When Orianthi (Penny Panagaris) was offered a guitarist role on the Alice Cooper tour, she learned 25 of his songs (many quite difficult) in a week—all during a time when she was in the middle of recording her own album.
After a performance at the 2009 Grammy awards with Carrie Underwood, she was scouted by Michael Jackson's musical director, Michael Bearden, who contacted her on Myspace to audition for Jackson's This Is It tour (which sadly never materialized due to Jackson's untimely death). Orianthi got the call while she was in the studio with legendary songwriter Diane Warren, finishing up one last song for her album, Believe. By the next day, she arrived at the audition ready to play Jackson's hits, like "Wanna Be Startin' Somethin'," "Dirty Diana," and "Beat It." The latter song featured the late Eddie Van Halen's virtuosic solo, which she had to play onstage with the King of Pop at the audition. Talk about high pressure! That solo is hard enough to scuffle through in the comfort of your bedroom … imagine doing it while standing next to the greatest entertainer of all time, in a room full of scrutinizing eyes atop folded arms? And she got the gig!
"From a young age, I've been thrown into what people would say is like going from zero to 100 situations," says Orianthi, who opened up for Steve Vai at only 15 (and later wrote and recorded "Highly Strung" with him). "And you go, 'Okay, I've got to do this,' and you just think positively and just have that enthusiasm. There's no time or space for fear or doubt. I think that's the best place to be."
Orianthi - "Light It Up" - Official Music Video
While most artists are crippled by a double dose of writer's block and the constant second-guessing of ideas, Orianthi's latest release, Rock Candy, was written and recorded at warp speed (some songs were written in about 10 minutes). Producer Jacob Bunton joined Orianthi in the studio. "Wegot together and decided to make Rock Candy in 14 or 15 days. It was this project that we put upon ourselves to do it that way and we worked well under pressure," Orianthi says. "It was pretty much a song a day, recorded each day, and then after I left, he would stay up late adding things and taking away things. We were both like workabees for that amount of time. We wrote the song, I laid down my vocals, put down my guitar and all that kind of stuff, on that day. He would build the basic tracks. After we did all of that, we got the band to play on it, like live drums and whatnot."
"You go, 'Okay, I've got to do this,' and you just think positively and just have that enthusiasm. There's no time or space for fear or doubt."

This isn't to say that Orianthi always just breezes through everything. In the past, she's gotten caught up in that vicious cycle of obsessively laboring over material that, by all accounts, was already fine. "Sometimes when you force things, it doesn't happen. Sometimes when you overthink, it destroys things," she reveals, "because of your surroundings, too, you're surrounded by people that are second guessing or adding to your paranoia. Sometimes it's great when it's constructive criticism and they make it better. Other times people don't have the same idea, or the same energy feel, and that interferes. Sometimes it's better to keep less cooks in the kitchen. Otherwise, it can turn into a five- or six-year project, or a two-year project, or a never-ending project. Or it will never get done, never get released. I've only had that happen a few times, but at the end of the day, the best records that I've made and had fun with were the ones I did really fast. When you make music for the moment and for yourself, you can experiment a lot."

Orianthi fingerpicks her signature PRS Private Stock Custom 24 at the Coach House in San Juan Capistrano, California, on January 26, 2023.
Photo by Brad Elligood
Recorded at the iconic Sunset Sound studio in Hollywood, Rock Candy is Orianthi's most stylistically diverse effort to date. While there are many moments of heavy guitar, particularly on tracks like "Light It Up," with its infectious boogie riff, and "Getting to Me," "Fire Together," and the album closer, "Illuminate, Pt. II," where Orianthi's guitar solos sizzle, the album offers more than just fretboard pyrotechnics. "That's why it's called Rock Candy," says Orianthi. "Everyone thought I covered the Sammy Hagar song, which I love, mind you—it's a great song. But it really sums up the whole record. There's a little bit of rock, a little bit of pop, it's kind of sugar-coated, then there's like really heavy and weird and edgy. It's a vibe that we went for. We wanted something that was in the moment and not overthought. Keeping that childlike outlook really helped sometimes."
Orianthi was raised in a household where music was a religion. Her dad, a gigging guitarist, reveled in a mix of rock and blues with Hendrix, Clapton, and Santana in heavy rotation, while her mom put on the Top 40 every Sunday morning. Orianthi is often classified as a rock guitarist, but she's also worked with a lot of pop artists from Jason Derulo to Anastacia, and that pop influence seeped heavily into this new album. Songs like "Where Did Your Heart Go" have a distinct commercial feel with Orianthi's vocals belting out honest, heart-on-sleeve lyrical content inspired from diary entries, which were written during some trying times in her personal life. "I'm a fan of a great pop song. I started as a songwriter listening [to everyone from] Elvis Presley to Roy Orbison to the Beatles. The Beatles are incredible songwriters, but they wrote pop songs, too, you know? That's where my love of just writing came from. I was like 6 years old, listening to that and my mom's pop collection," she says.
​Orianthi's Gear
For Orianthi's signature Gibson SJ-200 acoustic, she requested the neck profile from an ES-345 and designed the custom pickup with LR Baggs.
Photo by Richie Sambora
Guitars

PRS Private Stock Custom 24 Blooming Lotus Glow Signature Model
Gibson SJ-200 Signature Model
1963 Fender Stratocaster
Amps
Effects

Boss Delay
Nexi Octaver Signature Model
Strings and Picks
Ernie Ball .010–.056
Dunlop 1.0 mm
Which begs the question: If the powers that be elected to transform and market Orianthi as a pop star, say, in the Billie Eilish mold, would she forsake the guitar? "No, no [laughs]. I can't leave my guitar alone. Guitar is always going to be part of the deal. That's for sure. For myself right now, where I'm moving into, it's a different sort of journey and who knows what could happen in the future. My heart's open, my mind's open all the time, you know? Having that single, 'According to You,' that was a multi-platinum pop hit for me in 2010 that reached around the world. That was awesome to have that success with a pop song. And then I go, 'Okay, that was cool and I've done that, but moving forward….'"
Always looking for new inspiration, Orianthi has recently been exploring the sounds of jazz artists. "I've been listening to Coltrane and stuff like that that's out of the box, because if you try to play those melodies on guitar, it's weird and it's cool," she says. "You listen to any Hendrix live performance. It's not perfect, it's never completely perfect, but it is perfect because it takes you on this colorful journey. I find it to be like light energy, where you're not completely grounded and thinking of stuff you've done before. It's just like moving forward. For me, as a guitar player, I want every performance to be better in the sense of the choice of notes and the melodies I'm coming up with. More out-of-the-box stuff, that's important to me."
"My dad took me to a Santana show and I was like, 'That's it! I'm giving up classical, I'm done with it.' He played 'Europa' and those opening notes just hit me like lightning."
Tracks like "Living is Like Dying Without You" feature a recent addition to Orianthi's gear arsenal—her new signature Gibson SJ-200 acoustic. She was drawn to the J-200 because of its connection to Elvis and Johnny Cash. "I love the sound of a J-200 because it's like a grand piano, it fills the room. I had a choice of other guitars when I went to Montana to create my model. Like, 'Why would you choose a J-200? It's massive.' But why wouldn't I? It sounds so good," says Orianthi, who loved the guitar but had some reservations about its boat-sized neck. Later, at the Gibson showroom in Hollywood, she picked up a guitar that turned out to be the ES-345 that Bradley Cooper used in A Star is Born. After trying out this easy-to-play instrument, she requested an unexpected modification from Gibson for her signature axe.
"I was like, 'Could we put an electric guitar neck on it?'," she recalls. "They were like, 'Yeah, we can do that. This is probably the first hybrid acoustic-electric we've done at Gibson.' I'm like, 'Why not, let's do something different.'" Gibson mated the neck from an ES-345 to the SJ-200, and the result is a rich-sounding acoustic with the playability of an electric.
A lot of back-and-forth also took place in designing the custom pickup for her signature SJ-200. "I wanted to have a guitar where if you had a DI, the soundman could be passed out, high, or drunk and you would still sound good," says Orianthi. "I modified that with LR Baggs, so there's more midrange and compression. We actually adjusted the sound of the pickup by going back and forth with an LR Baggs acoustic pedal, over FaceTime and Zoom saying, 'Modify this or modify that.' That's how the whole pickup system was created."
For electric guitars, Orianthi's signature PRS is her main instrument. The meticulously crafted instrument carries a steep price tag, retailing around $11,700. But a more accessible version may be on the horizon soon. "We're in talks right now. Probably an SE model coming of that one," reveals Orianthi. "Because a lot of people wanted to buy it and they couldn't afford it. It's very expensive, but it's very well made. That is a dream guitar that was brought to life by the PRS team. Paul has really dialed it in. He picks the right woods, and everything is quality. They're like Porsches [laughs], you know what I mean?"
When it comes to electric guitars, Orianthi sticks to her "dream guitar," her PRS Private Stock Custom 24 Blooming Lotus Glow signature model. "They're like Porsches [laughs]," she says.
Photo by Richie Sambora
For both her acoustic and electric playing, an interesting aspect of Orianthi's style is that she often eschews picks, opting instead to use her right-hand fingers to articulate single-note lines. This technique has its origins in Orianthi's formative years.
"I started classical at TAFE University when I was 10 and that was really boring, but my dad was like, 'You should probably do this, and learn theory.' I learned theory and got past two or three, I think, and passed really well, but I got major headaches from that stuff. My teacher was weird, and it was just boring. I didn't like it very much at all. Then my dad took me to a Santana show and I was like, 'That's it! I'm giving up classical, I'm done with it.' He played 'Europa' and those opening notes just hit me like lightning and I went, 'There's something there.' I learned probably every Santana song. I watched Carlos play a lot; he doesn't always use a pick. Especially sometimes when you want the note to sound a little sweeter and have less attack. But then to be honest with you, I lose my picks so much that I learned to play without a pick because there's like this vortex of socks and guitar picks somewhere, all of mine that go missing. I get bowls of guitar picks and they just go. I don't know if my cat eats them [laughs]."
Orianthi's New Album "Rock Candy" is out now!!!
In a pared-down duo situation, Orianthi gets sweet sounds using her pick-hand fingers to articulate melodies on a PRS hollowbody.
Photo by Michael Mesker
Steve Vai and Favored Nations / Mascot Label Group have announced his new studio album titled Inviolate will be released digitally and on CD January 28, 2022.
The LP will follow on March 18. Today, they present the song "Little Pretty" which can be previewed below. The recording is a dark-toned fusion-funk workout played almost exclusively on a Gretsch hollow body guitar. As for what led Vai to the unusual (at least for him) model, he says, "It's on the wall with all the other guitars, and I'd always just look at it and go, 'One day I'm going to play you…'" He continues, "In writing the chord changes for the solo section, and the solo itself, I dug deep into my academic music theory mind to create a set of chord changes where the harmonic atmosphere shifted on every change. The dense chord structures required a series of synthetic modes to navigate. This approach is along the lines of jazz and fusion players, but I knew I did not want it to sound anything like that and the solo had to be totally melodic. The results were pretty powerful in that the entire solo section evokes melodic atmospheric changes that shift dramatically but work together well."
Over the course of a more than 40-year career, Steve Vai has routinely transformed what would appear to be outrageously impossible into something very, very possible… and still also pretty outrageous. From his days as Frank Zappa's "stunt guitar" player to his more recent expansive and exploratory solo work, Vai has continually challenged notions of traditional guitar playing and composition – and on more than one occasion even reimagined the very instrument itself.
Steve Vai - Little Pretty (Official Visualizer)
Which, he'll admit, is not necessarily his intention. "I don't sit around and say, 'Okay, what can I do now that pushes the boundaries?" Vai explains about his approach to the guitar. "What I do say to myself is, 'Okay, Vai – what are you going to do now that's going to interest you, that's going to fascinate you, and that's different than anything you've done before?" The answer to that question comes in the form of Vai's newest and 10th solo album, Inviolate, a nine-song opus that (sorry Steve) does indeed push the boundaries of instrumental guitar music – this time out, Vai quite literally invented not just a new guitar, but also a new guitar-playing technique.
At the same time, Inviolate presents his most focused, streamlined and perhaps invigorating music in years. "It's very 'Vai,' whatever that means," he says, and then laughs. "Someone else might be better than me at explaining what that is. But it's just very honest music. Because a lot of my records, they're long and there's a lot of concepts and playing around with stories. This one has none of that. This is nine pretty dense all-instrumental compositions that I wanted to capture and record so I could get out there and play them live for people."
The album's mesmeric opener, "Teeth of the Hydra," a sinuous, Latin-fusion-tinged composition that Vai wrote and recorded with a one-of-a-kind custom guitar he coined the Hydra. But calling the Hydra a mere guitar is selling it way, way, way short. Built in conjunction with the designers at Hoshino and based on a "steampunk motif" idea of Vai's, the Hydra is a beast of an instrument – a one-bodied, two-headstock-ed, three-neck-ed creature that encompasses, among other things: seven- and 12-string guitars; a four-string bass; sympathetic harp strings; half-fretless necks; single-coil, humbucking, piezo and sustainer pickups; floating and hardtail tremolo bridges; phase splitters; and much, much more. "It's an incredibly-built machine," Vai says. "I told the guys at Hoshino, 'Anything that you think is conventional, don't do that.' This was an opportunity to exercise brutal creativity. And they went beyond."
As did Vai in his performance. Throughout the track he employs the Hydra's full range of tone and timbres to craft a guitar part that sounds, in its expansiveness and expressiveness, positively alive. "The interesting thing about the song and the guitar is that it all came at the same time," Vai says. "It was one of those 'inviolate' inspirations – boom!"
That said, he continues, "I knew that I needed to create something with the Hydra that sounded like a real piece of music. It couldn't be just a novelty. Because if you knew what my hands were doing, and how I'm using my left hand to create phrasings that work when I can't pick a note because my right hand is off somewhere else…my god. But the finished piece had to stand on its own. It couldn't sound like I was just trying to juggle stuff."
Over the course of 2021, several of these compositions were shared publicly. Vai composed and recorded the song "Knappsack," following his shoulder surgery, at a time when his right arm was in a sling (or, as his surgeon, Dr. Knapp, called it, a "knappsack"), and thus was able to use only his left hand when playing the piece. He released a one-handed performance video. He says with a laugh, "pretty soon after I started to see some clips of young kids pulling it off, too. It's really fascinating."
Those kids will likely face a greater challenge attempting to take on another Inviolate track, "Candle Power." For this one, Vai not only set up parameters outside of his comfort zone (Strat-style guitar; clean tone; no whammy bar; no pick), but also – why not? – developed an entirely new guitar technique that he calls "joint shifting." The core concept there, he explains, is to enact simultaneous multiple string bends in opposite directions, which "requires bending only the top joint of the finger independently from any other finger." And while he acknowledges that bending multiple strings is not a new concept in and of itself, "I had not seen any of it done in the way I envisioned it," he says.
Steve Vai - "Knappsack"
Like "Knappsack," Vai released "Candle Power" an accompanying performance video earlier in 2021. But he added a little something extra to the version that appears on Inviolate, with a newly recorded drum track from fellow Zappa alumnus Terry Bozzio (to that end, additional crack players who lent a hand to the record include bassists Bryan Beller, Philip Bynoe and Henrik Linder, keyboardist David Rosenthal and drummer Vinnie Colaiuta).
Steve Vai - "Candle Power"
Or cue up "Apollo in Color," where Vai's soaring runs on his Ibanez PIA signature guitar (the newly-designed model's first appearance on a Vai studio album, it's worth noting) are surrounded by filigrees of sound played on all manner of exotic stringed instruments. "I thought, 'Okay, what can I do to color this thing up?' Vai says. "So, I pulled out all these little acoustic instruments I've collected through the years and I said, 'I'm going to use every one of them somehow.'" These included a cavaquinho, a saz, a sitar, an oud and more. "Some of the instruments, I don't even know their names," Vai admits with a laugh.
In essence, it all comes down to finding your own voice, and then having the courage and conviction to follow your musical and creative instincts wherever they may take you – something Vai has never been shy about in his playing. "One of the great things about the guitar is you don't need to be a virtuoso to express your creative vision," he says. "I mean, Bob Dylan plays the guitar perfectly well for his expression. So does John McLaughlin. You just need to decide how much technique you want or need to get there. For myself, I came out of the chute wanting and needing it all. When it comes to my music, I don't feel like I have to prove anything or conform to anything. I just love to think up creative ideas, and then use whatever skill I have to manifest them."
"An inviolate inspiration is one that comes to you completely pure," Vai explains. "It appears almost in its completeness, and there's a recognition of it as being right for you – perfectly right for you. There's no excuses in it. There's no fantasy in it. There's just a recognition of 'yes.' And then you capture that in a way that's authentic to your unique creativity. Hopefully, that's what I've done with this record."
Steve Vai will begin an extensive tour of the U.S., with 54 scheduled appearances on January 27, 2022 at the House of Blues in Las Vegas. For tickets and a variety of EVO Experience VIP bundles available visit https://www.vai.com. Vai will be joined by his long-tenured ensemble members Dave Weiner (guitar / keys), Philip Bynoe (bass), and Jeremy Colson (drums). Vai shares, "A performer thrives on performing. It's been my life for the past 49 years, with the exception of the last two years, so we are chomping at the bit to get out there and play for people. A music concert has the ability to dissolve the many challenges we face, and celebrate one of the good things in life, live music."
Tour Dates
1/27 Las Vegas, NV House Of Blues
1/28 El Cajon, CA The Magnolia
1/29 Riverside, CA Fox Performing Arts Center
1/30 Phoenix, AZ Celebrity Theatre
2/01 Salt Lake City, UT The Rockwell at The Complex
2/02 Boulder, CO Boulder Theater
2/04 Oklahoma City, OK Tower Theatre
2/05 Austin, TX Paramount Theatre
2/06 Dallas, TX House Of Blues
2/08 Houston, TX House Of Blues
2/09 San Antonio, TX The Aztec Theatre
2/11 Birmingham, AL Lyric Theatre
2/12 Macon, GA Hargray Capitol Theatre
2/14 Atlanta, GA The Eastern
2/15 Clearwater, FL Bilheimer Capitol Theatre
2/16 Orlando, FL The Plaza Live
2/17 Ft. Lauderdale, FL The Parker
2/18 Ponte Vedra Beach, FL Ponte Vedra Concert Hall
2/19 Charlotte, NC The Fillmore Charlotte
2/21 Charleston, SC Charleston Music Hall
2/22 Alexandria, VA The Birchmere
2/23 Glenside, PA Keswick Theatre
2/24 Red Bank, NJ Count Basie Theatre
2/25 Huntington, NY The Paramount
2/26 Port Chester, NY The Capitol Theatre
2/27 Providence, RI The Strand
3/01 New Haven, CT College Street Music Hall
3/02 Boston, MA The Wilbur
3/03 Albany, NY The Egg
3/04 Rochester, NY Kodak Center
3/05 Harrisburg, PA Sunoco Theatre
3/06 Greensburg, PA Palace Theatre
3/08 Warren, OH Packard Music Hall
3/09 Detroit, MI Masonic Cathedral Theatre
3/10 Morgantown, WV Metropolitan Theatre
3/11 Louisville, KY Old Forester's Paristown Hall
3/12 Nashville, TN CMA Theater
3/13 St. Louis, MO The Pageant
3/15 Chicago, IL Copernicus Center
3/16 Milwaukee, WI Pabst Theater
3/17 St. Paul, MN The Fitzgerald Theater
3/18 Kansas City, MO The Uptown Theater
3/19 Lincoln, NE Bourbon Theatre
3/20 Des Moines, IA Hoyt Sherman Place
3/22 Sioux Falls, SD The District
3/23 Fargo, ND Fargo Theatre
3/25 Billings, MT Alberta Bair Theater
3/26 Bozeman, MT The ELM
3/27 Missoula, MT The Wilma
3/28 Seattle, WA Moore Theatre
3/29 Portland, OR Roseland Theater
3/31 Turlock, CA Turlock Community Theatre
4/01 Napa, CA Uptown Theatre Napa
4/02 Los Angeles, CA The Theatre at Ace Hotel
How we turned three affordable Squier, Ibanez, and Yamaha axes into custom instruments like no other.
From YouTube to Instagram to myriad DIY forums, the internet is filled with modders showing off their latest projects. Name your flavor of guitar gluttony—from Gibsons to Fenders, offsets, and shred machines—and there's a virtual place you can go to both feed your craving and feel better about how much time you spend obsessing over how to make your axe sound and play more to your liking. "You think my tweaking tendencies are out of control? Check out this guy…."
Because there are so many places to get each other's take on which pickups or nut material will yield such-and-such sound, this year's No-Brainer Mods outing (our fourth so far) takes the same tack as last year's. As with all past NBMs, we've purchased a handful of quality affordable axes, but rather than just upgrading them with one of the innumerable sets of great pickups on the market, and maybe a fancier bridge or set of tuners, we're taking a more adventurous approach. Guitar shops the world over are full of well-made instruments you can get brand-new for $300–$500 and then turn into something you'd never be able to buy off the rack simply by investing a little more time and money. In the process, you'll have a whole lot of fun and hopefully end up with an inspiring new "custom" instrument. If something goes a little haywire or the experiment's end result isn't quite as mind-blowing as you'd hoped, at least you haven't lost a ton of dough—and unless you've really botched things, you can always try out your next great idea on the same "canvas."
Considering how many cool, well-made affordable guitars there are, what's a "no-brainer" about all this isn't so much what we do in our No-Brainer Mods series—it's that you take advantage of the waiting gold mine of possibilities to do the weird stuff that occurs to you. We're just here to stoke your imagination a little.
Last year, we had a blast walking the mod path less taken. We turned a T-style into a 12-string, gave a Squier Starcaster the Jazzmaster trem so many offset aficionados feel it needs, and made a semi-hollow Ibanez's dreams of sounding more orchestral a reality. This year, we're taking on a couple of mods that are roughly as ambitious as those, but we've also thrown in one for folks who need something a little less invasive to chew on during pandemic downtime. We've again enlisted guitar-repair guru Dave Helmer, a two-time Red Wing lutherie graduate based in Iowa City, Iowa, to carry out these glorious transformations. —Shawn Hammond
Before and After Mods Video Demo
Squier Semi-Fretless "Cabronitar"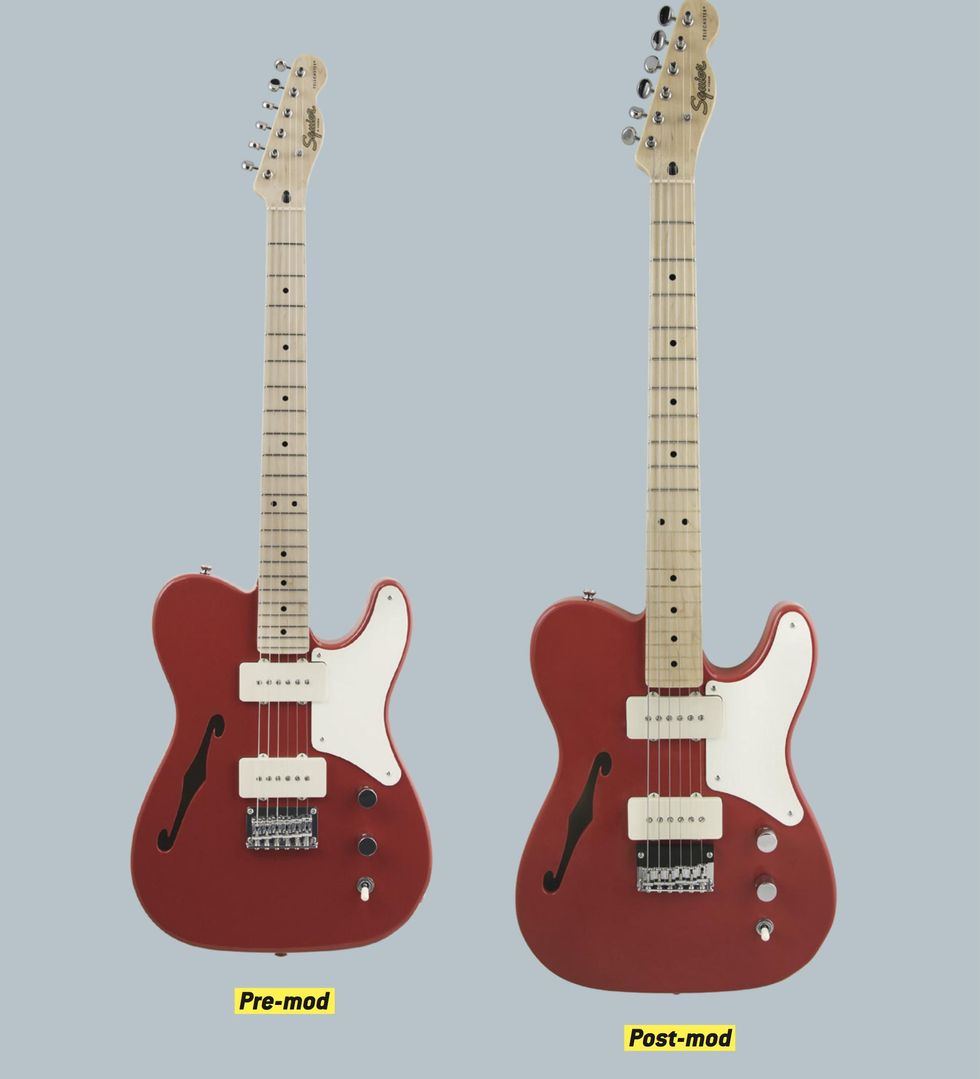 Click here to enter for a chance to win this expertly modded guitar.
Squier instruments have long been a staple for modders looking for an affordable, solid-playing axe to put their own personal touch to. Beyond the brand's usual classic looks and respectable build, the Paranormal Cabronita Telecaster Thinline ($399 street) we've chosen for our first mod has a couple of additional neat things going for it. First, it's lighter than virtually any thinline/semi-hollow guitar we've encountered in this price range. Second, the fiesta red finish is so upscale looking it's easy to almost overlook the Fender-designed alnico Jazzmaster pickups. We thought about swapping them with a set of Seymour Duncan Antiquity or Curtis Novak pickups, but then we remembered our "more adventurous" MO. Besides, the pickups sound pretty good (astute JM fans are bound to note the unusual inclusion of adjustable pole pieces).
As I pondered what sort of specialized sonics might be cool to add to the Cab, I hit on the idea of turning this familiar-feeling guitar into a fretless sitar.Having done fretless conversions before, Dave called me a little after starting the project to make what ended up being a fantastic suggestion: Why not keep the frets on the lower half of the neck and ditch 'em on the upper portion? That way the "Cabronitar" could be used as both a chordal and a lead instrument. Genius! In the end, we decided on fretless past the 10th fret.
At first we thought we'd just buy one of those Gotoh sitar bridges that Danelectro uses on its Sitar and Baby Sitar instruments. However, as of publishing time, it appears Gotoh is no longer making them. This actually turned out to be a boon, though, as the Gotoh wouldn't have fit in the space between the Cabronita's bridge and bridge pickup, and would have required more drastic measures with the bridge and/or other hardware.
Even so, keep in mind that—at a quick glance—the ebony "buzz bridge" portion of this mod looks deceptively simple. Like us, you'll likely end up needing to fashion two or three bridges before you've got all the minute cuts and surface angles right. This fine-tuning by trial and error is why you'll notice successive photos below sometimes show the guitar with strings on, then unstrung with protective tape on the surface, then strung-up again. That's because the only way to know for sure if you're getting things right is to string the guitar and see how it sounds at various points throughout the process. So you'll want to have a few sets of your chosen strings on hand. Luckily, Dave did a lot of great research and built a few prototypes himself, and the lessons he learned should help you get the nuances right, regardless of the guitar model you're modding. —SH
Ibanez JEMJRSP with "Monkey Grip-u-Lator"
Click here to enter for a chance to win this expertly modded guitar.
Steve Vai's innovative, aesthetically vibrant signature guitars have been turning heads since his 1987 debut as Ibanez's most prominent and influential artist. The JEM777 started it all. But while Vai—then fresh off both his first tour with David Lee Roth and filming scenes as the Devil's flamboyant guitarist, Jack Butler, in Crossroads—has always put the guitar's unusual "monkey grip" feature to good use, few mortals seem to be able to pull it off with similar aplomb. So we thought we'd take advantage of the grip anatomy on the JEMJRSP ($499 street) to facilitate something more practical—yet weird enough to hopefully still meet with Vai's approval. Taking inspiration from another virtuosic experimentalist, avant dreamscapist/sound mangler /former Bowie sideman David Torn, we've decided to use the space already carved out for the monkey grip to house a circuit similar to the "Tornipulator" he's had installed in guitars by luthiers Uli Teuffel, Saul Koll, and Izzy Lugo at Ronin Stringed Instruments.
Our "monkey grip-u-lator" circuit has three momentary pushbuttons for engaging 1) a lo-fi "sampling" microphone (a Shaker-brand harmonica mic) that's been added under the guitar's pickguard, 2) a 60-cycle hum (great for conjuring anarchic/deconstructionist vibes), and 3) a 1/4" auxiliary input you can use to connect, say, your phone, an old cassette player, or another outboard device to aid in your havoc-wreaking sonic adventures.
Yamaha Revstar Mojo Pickups Dual Foil Mod
Click here to enter for a chance to win this expertly modded guitar.
For those of you who've been shaking your heads at the two previous mods, first—in the immortal words of King Arthur in Monty Python and the Holy Grail—"You make me sad." Second, thank you for sticking with us anyway. We're rewarding you for your valiance with this straightforward mod. Although the Yamaha Revstar RS320 ($399 street) comes stock with pretty respectable pickups, we've been intrigued for the last little bit by U.K. outfit Mojo Pickups' recent Dual Foil designs—which are humbucking interpretations of the unique gold-foil pickups found on old Teisco and Harmony guitars. As we can attest, the Mojos sound delicious—which is why luthiers at boutique outfits such as Abernethy Guitars, Uma Guitars, and Deimel Guitarworks have recently been gravitating toward them.