Tuna Tone's Leila Sidi on the trans-Atlantic collaboration that yielded the perfect fingerpicking-friendly trem system for her small-frame-friendly axes.
The old adage says not to judge a book by its cover—so why do we do it so much with instruments?
It's pretty common to begin assessing an instrument through its acoustic tone, but how much does this really reveal about the instrument's plugged-in tone? You see it often in reviews, where a player starts out by describing the acoustic tone of a soon-to-be-plugged-in instrument and then draws the first conclusions of what to finally expect.
Think about it: Whenever we pick up an instrument, the first thing most of us do is play it acoustically. It makes sense on many levels, since we want to get used to the neck, overall ergonomics, string spacing, and/or whatever else we need to feel at home before we start annoying (entertaining) our neighbors. The sooner we feel at home, the more likely it is that we are going to like its electric tone. But can we really use an instrument's acoustic tone as a tell for its amplified tone? Not so much! And it's not because we aren't yet familiar with its pickups and electronics.
With a solidbody, however, only a tiny fraction of the strings' movements or vibrational energy is transferred to the body.
To be clear, we're talking about solidbody instruments—not acoustics—but the lines can be blurred. With an acoustic bass, the final acoustic tone depends solely on moving the top through the vibrations of the string. With a solidbody, however, only a tiny fraction of the strings' movements or vibrational energy is transferred to the body. Hence, the longer sustain of a non-acoustic bass, since a higher portion of the vibration is kept in the strings.
So, what do we hear unplugged and what can affect it? The first thing to consider is your listening position. The airborne sound of a vibrating dipole consisting of the body and the far more influential and resonant neck will heavily depend on where your ears are. Are they in line with the body's surface in a typical player position or bent over the body with your ears almost in front of it? You can easily hear the difference by rotating the instrument's body on your lap.
Often, the impression of an acoustically loud instrument leads to the conclusion of getting a strong, aggressive, impulsive, dynamic—or whatever you want to name it—electric tone. In reality, there are a lot of construction details that blur the categorical split between an electric and acoustic instrument, so be sure to expect differences in the airborne sound. There could be a regular open pickup routing or a more generous routing that's closed with a floppy pickguard and acting as a sort of a tiny speaker. The same thing goes for a chambered body that—depending how it's done—can give us a sort of acoustic touch, sometimes even with its plugged-in tone.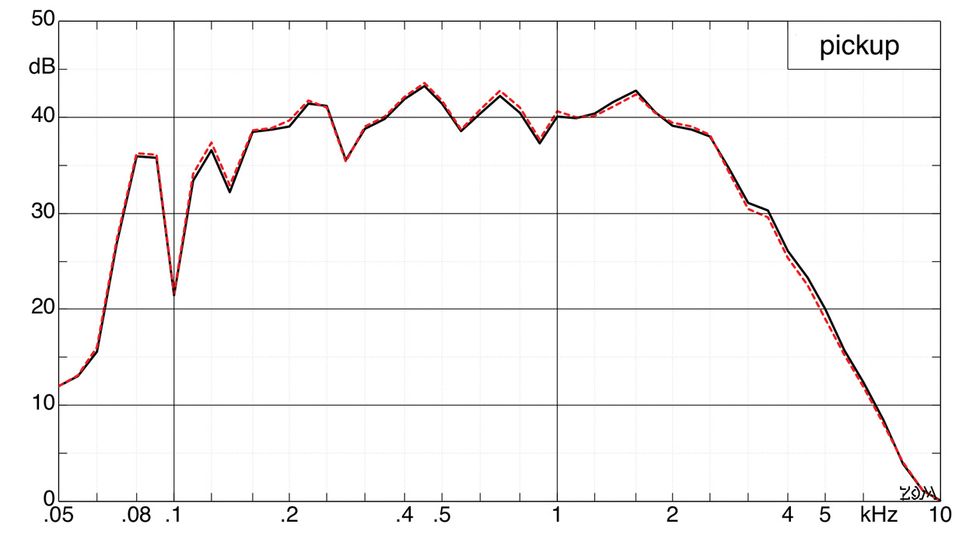 Fig. 2 — The spectrum of the E chord recorded with a guitar's pickup, with (black) and without (red) contact to the box. Graphic courtesy of "Physics of the Electric Guitar" by Dr. Manfred Zollner
Luckily for us, there are measurements that can show how misleading the direct connection of airborne sound and electric tone can be. A repeatedly played E chord on a guitar is recorded with a microphone, and then via the pickup. In each scenario, the sound is captured while the guitar is in contact with a box, and then without. Fig. 1 shows the acoustically noticeable and measurable change in both the midrange loudness and low-end spectrum of an instrument when in touch with the box, which is caused by the extended radiating area of the box. The graph in Fig. 2 shows the measurements when recording the pickup's output signal with and without the box, where you have to look very closely to see any differences at all.
So, none of the acoustically obvious differences made it into the final pickup signal in a way that even an expert's ear would be able to distinguish. And if attaching a box to a body doesn't alter the electric tone, this gives us a hint of how influential the body wood is, but that's another story for another time.
There are a lot of emotions involved when playing an instrument, so there are surely some qualities one might rediscover in an guitar's plugged-in tone that relate to its acoustic tone. Maybe it's how it inspires you to play in a certain way, how it reacts to bending or different playing styles, or maybe even some of its dynamics. But it's almost impossible to fairly judge an instrument's so-called primary tonal character by just its acoustic tone.
With a decidedly unique design, this cool and quirky short-scale bass appears to have the answer. The PG Nordstrand Acinonyx review.
Recorded direct using PreSonus FireStudio and PreSonus Studio One 3.
Clip 1: Both pickups engaged. Flat EQ.
Clip 2: Bridge pickup soloed. Flat EQ.
Clip 3: Neck pickup soloed. Tone rolled off.
 

Ratings

Pros:

Modern-meets-vintage design. Fast neck. Multiple tones on tap.

Cons:

Would have liked one of the EQ buttons to be a mid or high boost.

Street:

$839

Nordstrand Acinonyxnordstrandaudio.com

Tones:Ease of Use:Build/Design:Value:
There are a handful of people—fixtures in the bass building community—who have made a name for themselves by simply doing great work and achieving cult status in the process. One such builder is Carey Nordstrand, who has been supplying pickups to your favorite manufacturers for many years, as well as making quality pickups for players with a more small-batch approach. Nordstrand's preamps, pedals, and NordyMute are all extremely popular. Building and repairing instruments has always been part of Nordstrand's life, and after an inspiring visit from a friend—Juan Alderete, no less—to rehab a vintage Goya Panther bass, his design wheels started turning and the idea for the Nordstrand Acinonyx was born.
It's Pronounced … Oh, Never Mind
To say that short-scale basses are here to stay is an understatement. They have become a big part of the bass universe, and with so many design options from the '60s coming back into vogue, the possibilities are virtually endless.
Out of the gig bag, the Acinonyx—the scientific name for the cheetah—is like walking through time, but it also provides a look into the possibilities of short-scale building. From the single chicken-head volume knob to the eight push buttons … wait, what? Yep. Eight push buttons and a 1-over-3 tuner design, so this bass is just begging for questions.
Big Name, Big Features
The Acinonyx measures in at about 30 1/2", which to some bassists would probably feel downright toy-like, but not so with this bass. The elongated headstock and balanced body design help give it a feel that boosts its stature. Our test bass was flawlessly finished in Lake Placid blue, but the Acinonyx is also available in Olympic white, black, and surf green. Its neck is super thin, measuring a scant 1.4" at the nut, which for me is a comfortable size to help cut down on fatigue. The Acinonyx's body is carved from alder and its maple neck is topped with an Indian rosewood fretboard, which combine for a 6 ½-pound total weight that will certainly give backs a break during longer sets. Thanks to the lower bout's cut, all 21 frets are super-accessible.
The inspiration for the Acinonyx—the Goya Panther—had a number of design issues, which Carey chose to tackle head-on and improve. So, the Acinonyx is not a reissue, but rather a reimagining: a supercharged version of a quirky vintage bass, but with modern-design fixes to address those factors that sometimes hinder the fun of owning a vintage instrument.
Ditching the traditional pickup selector and tone controls to manage the pair of proprietary CatPup single-coils, Nordstrand took inspiration from a treasured piece of studio gear—a classic Universal Audio 1176 compressor—to bring control and add a twist to the Acinonyx. The UA 1176 has push-button controls for its ratio settings and a secret "all-button" setting that, yes, utilizes all four buttons at once. In similar fashion, the Acinonyx's eight push buttons are arranged in two banks and engraved with self-explanatory glyphs (a lá Orange) to let you know where to go. The first bank, located on the upper horn, handles pickup selection for the single-coils, and the second bank is our tone control panel.
It's big and robust, and the nuances of my playing came through nicely—not what I expected at all.
Run, Cheetah, Run
I ran the Acinonyx through an Ampeg B18 and a Warwick CCL 210 combo, which provided options for a vintage approach and a modern approach, respectively, for my tone test. The offset inlays on the fretboard showed me the way as I turned the lone chicken-head volume knob to 10 and jumped in.
I selected both pickups to start, with the EQ set flat (both first-position push buttons engaged), and the tone was great. It's big and robust, and the nuances of my playing came through nicely—not what I expected at all. The Acinonyx sits slightly in the low-mid range of things, so the tone is captivating, but not muddy. This changed as I moved down the tone buttons in succession. The tone did feel a bit like it had a wet blanket over it with the next two push-buttons settings, which was expected since these controls were designed to roll off the high end. The notch setting (button 4) was better, but I found myself gravitating back to the first-position flat setting.
When shifting to the neck pickup only, my ears were delighted by the fantastic vintage tone that hit me. While exploring the other tone options, the same low-end dive scenario happened, although this time I liked the vibe a lot more, as it was giving me some great reggae and dub ideas. But ultimately, the flat EQ option won out again as my go-to setting.
Soloing the bridge pickup, I found the overall tone to be more powerful than that of a traditional tail-slot pickup. The bass speaks nicely with power and articulation with this pickup set flat, but it lost some steam for me with the high-end roll-off. The mid-scoop push button helped the tone a little with this pickup setting, but it still felt somewhat choked. The winner again? The flat EQ setting.
The not-so-secret "all-in" setting—pressing all four buttons in at once—places the pickups in series mode. When I did so, the bass popped to a new level with not only the volume hopping up a few dBs, but with a more dynamic timbre. Putting the pickups in series gives the vibe of a bigger instrument with a hint of more low-mids. The flat setting is rich and full with this pickup selection, and the mid-notch setting is a pleasant alternative, with a more mellow tone that would play out nicely with a felt pick and a vintage soul track.
The Verdict
I really like the design of the Acinonyx. It's a short-scale hot rod with style and tone to boot. The push buttons are a fantastic callback to include in this time machine, even though the middle two settings fell a little short for me. In the same spirit as the pickup selector, maybe there could have been a secret "all-in" setting for EQ as well? All that said, most basses have only one good tone. The Acinonyx has several, which places this 4-string in a different category. The Acinonyx also plays lightning fast, is very well made, and, at well south of 1K, the price won't dent the savings account beyond repair.