The Hagstrom F-11 was built with improbable tone materials, but it still sings with zing.
Growing up in the shadow of the Martin Guitar Factory, I learned a thing or two about tonewoods. Quite a few of my friends got jobs at the factory right out of high school, and over the years, I've seen how woods are cured, selected, and cared for. The Japanese factories I've visited really took this idea to the next level. I've seen curing rooms with classical music being played to stacks of wood. I've seen huge storerooms with different woods sorted by age (some well over 100 years old), country of origin, and quality of figuring. Hell, I've even seen logs that were dragged out of Mississippi swamps, shipped to Japan, and cured.
If you've ever had conversations with high-end collectors, then you've probably heard all sorts of poetic waxing on birdseye and flame and such. But what would you, good reader, say about a guitar that featured a plywood body wrapped in diner-booth vinyl? Oh, and then this same guitar had a layer of acrylic screwed to the top! How do you think a guitar like that would sound?
Much like the Italian guitar factories, Hagstrom took cues from accordion design and applied them to electric guitars, going way out there with enough sparkle and pearloid to send you trippin'
Your first response may be informed by taste and income level. As for me, I'm indifferent. A guitar will sound good or it won't. After listening and playing so many guitars, I've developed quite an ear for "zing" or "pop" as I like to call it. And the budget-class Hagstrom F-11 guitar has some zing for sure.
The F-11 comes from the mid '60s and was part of a line of guitars to make it to the U.S. via Sweden, from where it was imported by Merson Musical Products in Westbury, New York. Sometimes these guitars are called H-I models in European catalogs, but in the Merson catalog these were billed as the F-11 and cost $129.50 in 1966. The F-11 came in red, black, white, or, as in this case, blue—my favorite guitar color.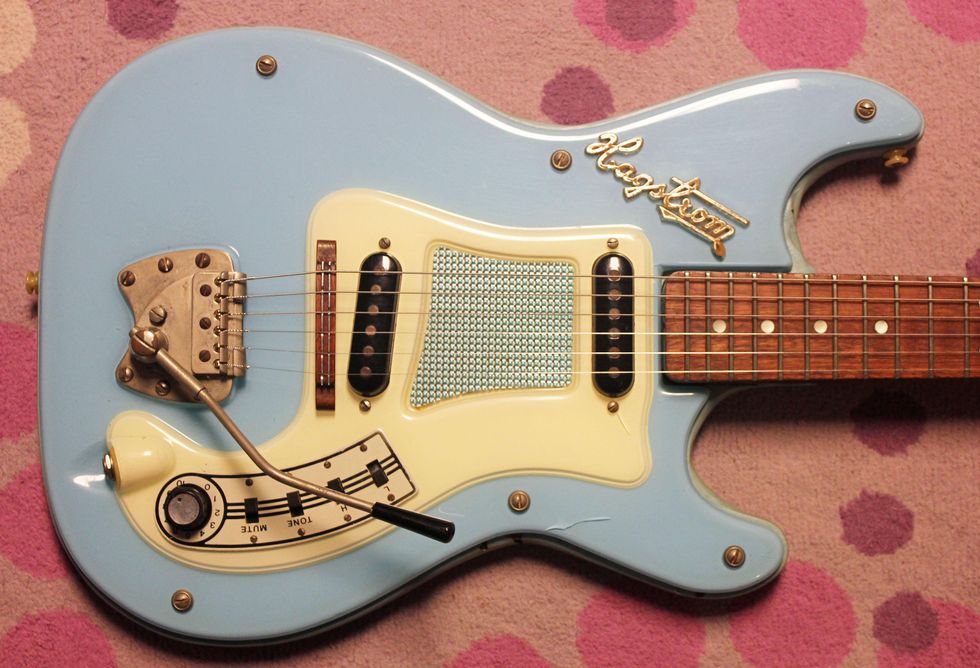 Here's a close-up look at the In-Motion vibrato, and note the labeling on the tone preset switches and volume dial.
Hagstrom's accordion-making roots date back to the 1920s. When they began manufacturing electric guitars in 1958, the company immediately offered some of the craziest examples seen in Europe and soon developed a reputation for fine guitars and basses. Much like the Italian guitar factories, Hagstrom took cues from accordion design and applied them to electric guitars, going way out there with enough sparkle and pearloid to send you trippin'!
Even the most affordable Hagstrom electrics came with several effective features. Inside the F-11's slim neck lies the worldwide-patented H-shaped truss rod that was dubbed the "Expander-Stretcher." It's a nice design, and these old Hagstrom necks have held up over time. The vibrato was also a design wonder that, for a period, was copied extensively by various Japanese makers. Hagstrom called the unit an "In Motion" vibrato, and the upper plate floats over the base plate with proper string tension. The vibrato takes some time to dial in but works rather smoothly. Although Hagstrom's "Micro-Matic" bridge was found on more upscale models, allowing for better string spacing, adjustable intonation, and a sharp break-over for the strings, budget models like this F-11 have a simpler wooden bridge with non-adjustable metal saddles.
The sound of the F-11 is quite Strat-like and gives players a Fender-y experience with a little more oomph. I've always been impressed with Hagstrom pickups. I've liked almost every example I've heard, and the pickups also hold up well with the passage of time.
Measuring around 7k, they are a little hotter than Fender pickups from the same era. The F-11's electronics include a cute little control panel, straight out of a spaceship, with one master volume and four mini-switches for high, low, tone, and mute functions. These are essentially preset tone switches that most players would probably find redundant, but they're kind of neato. And who could miss that crazy mesh inlay between the pickups. Why? Why not!?
These mid-'60s Hagstroms are really sweet guitars, and I own three different models that I use quite a bit. Hey, go search one out if you can—as long as you're not bothered by plywood and acrylic.