A clever triple-delay offers infinite avenues to echo bliss.
Mysterious, hazy, and uncommon echo colors. A cool break from the same-old-delay blues. Streamlined design.
Clock noise could turn off some users. Limited numbers available—so far.
4.5
4.5
4
4.5
If you don't follow the many-splendored musical world of noisy psychedelia, you might be surprised to know that Oliver Ackermann, co-founder of the sometimes psychotic but often thrilling stompbox concern Death By Audio, also helms the equally psychotic and thrilling band A Place to Bury Strangers. If you've seen APTBS live, you'll understand much about what makes Death By Audio pedals unconventional. APTBS is generally a sensory overload experience. They are loud, sonically confrontational, and capable of oscillating between chaos and dark beauty. Last year marked the 13th anniversary of the band's breakthrough LP, Exploding Head, and,in typically perverse fashion, Ackermann elected to celebrate that most unlucky of anniversaries with a triple delay named in the LP's honor.
In very relative terms, the Exploding Head seems normal compared to many DBA pedals. It's three identical delays run in series. Simple, right? But that simplicity belies great range and a deep capacity for weirdness and subtlety. Exploding Head creates washy reverbs, percussive multi-head delay effects, and mutant delays that chatter like rogue tremolos. It can feel quirky and tricky to handle as you get to know it's weird ways. But mastering just a few simple tricks makes the Exploding Head an engaging, painterly, and even practical effect.
Honed To Honor the Head
Delays arranged in series are one of the coolest ways to mangle and massage sound and time. I often prefer the texture and complexity of two simple delays to traditional delay-and-reverb setups because fewer overtones and harmonics go missing in the wash. In fact, a two-delay setup can actually enhance certain overtones as echoes intertwine and collide. The Exploding Head expands on this concept and enables deep exploration of those interrelationships.
The Exploding Head is effectively an evolution of DBA's own extinct and much-coveted Ghost Delay—an effect instrumental in creating the blown out, industrial, Jesus and Mary Chain-meets-Isn't Anything haze of Exploding Head. The Ghost Delay utilized three cascading delays as well, but featured preset wet/dry blends instead of the three independent blend controls on the Exploding Head. That design change, however, makes a big difference.
"The bright, rhythmic underpinning of the echoes makes individual delay lines more distinct as you add in others."
Controls are superficially simple. There are delay time, feedback, and wet/dry blend knobs, just as you'd see on any delay. But like an analog synthesizer, the interactivity between the three cascading sets of controls makes it hard to replicate sounds precisely, and there are no presets or digital control. Practice and tuning your ear to the pedal's quirks and tendencies helps you engineer roughly identical setups pretty readily. Still, I was inclined to snap pictures of settings that made my favorite sounds—just in case.
Exploding Head's infinity switch is another treat that distinguishes it from the Ghost Delay. Engaging it feeds the output from the third delay in the sequence (red) into the first (black), which enables momentary self-oscillation effects. The addition of this option—on top of a delay array that already lives happily at the edge of feedback and creates blurry washes of polyrhythms—makes the Exploding Head a delightful chaos engine if you choose to take it there.
Willows and Hurricanes
The Exploding Head's chaotic side is a big part of the pedal's personality. But it can be civilized and subdued, too. It happily generates trad delay textures. And when you get a feel for how Exploding Head works as an organism, you'll find a varied lot of echo colors that are as familiar as they are freaked out.
While digital, the basic tonality of a single Exploding Head delay line is not worlds apart from a bright analog echo. It's a touch trebly. There is also perceptible clock noise at many settings, just like an analog unit. This can be jarring at first if you like your delay lush and dreamy, but the bright, rhythmic underpinning of the echoes make individual delay lines more distinct as you add in others, which also has a thickening and darkening effect that blunts the clock noise.
A good place to start exploration of the Exploding Head is to turn all the blend controls to completely dry settings, set the time and feedback controls to near-identical levels (each at high noon is a good place to start,) and then advance the blend of the first delay until it sounds right. As you slowly, incrementally elevate the blend levels of the other delays and shift the other parameters, you'll hear the signal get thicker and wider. And, depending on your time and blend settings, the pedal will generate wild multi-head patterns or subtler variations that have the quality of tremolo or chorusing.
Like any delay, you can use short delay times, dry blends, and long feedback levels to approximate reverb textures. These are a great addition to composite delay images in any position. But I found that situating reverb-like textures in the middle position enables the most ambient colors. The middle delay can also be critical in creating polyrhythmic echoes. Mating a delay-forward blend setting to an odd subdivision of the first delay generates complex percolating repeats that vary in volume. It sounds a little like a multi-head delay arranged via William Burroughs cut-up method—disorienting but also a source of sound poetry that shifts your perspective dramatically.
The Verdict
It seems preposterous to try to assign ratings to the Exploding Head. Some players will find great utility in the pedal, readily encounter beauty in theintermingled echoes, and get blissfully lost exploring the interactive controls. Other players will be baffled. Given that, a prospective customer should be prepared to round up or down—particularly where the tone and ease of use scores are concerned.
One thing all users will agree on, though, is that the Exploding Head sounds colossal. And with a loud amplifier, it sounds wonderfully alive. In the absence of presets, you'll have to be pretty fearless to make changes to the controls on the fly. But perhaps a chain of Exploding Heads is the answer? That would be an expensive proposition. But it might actually result in few exploding heads, too.
Death By Audio
Oliver Ackermann of A Place to Bury Strangers joins us in discussing the players we'd pick to portray if we got our chance on the big screen. Plus: musical obsessions!
Question: If you could play the role of any guitarist in a biopic, who would it be and why?
Oliver Ackermann — A Place to Bury Strangers
Photo by Tyler Barclay
A: If I could play anyone in a biopic it would be Kurt Cobain. I definitely don't qualify as the most obsessed fan of all time. That perhaps goes to the runaway I drove around in my '89 Caprice constantly requesting to rewind back to "Drain You" over and over again.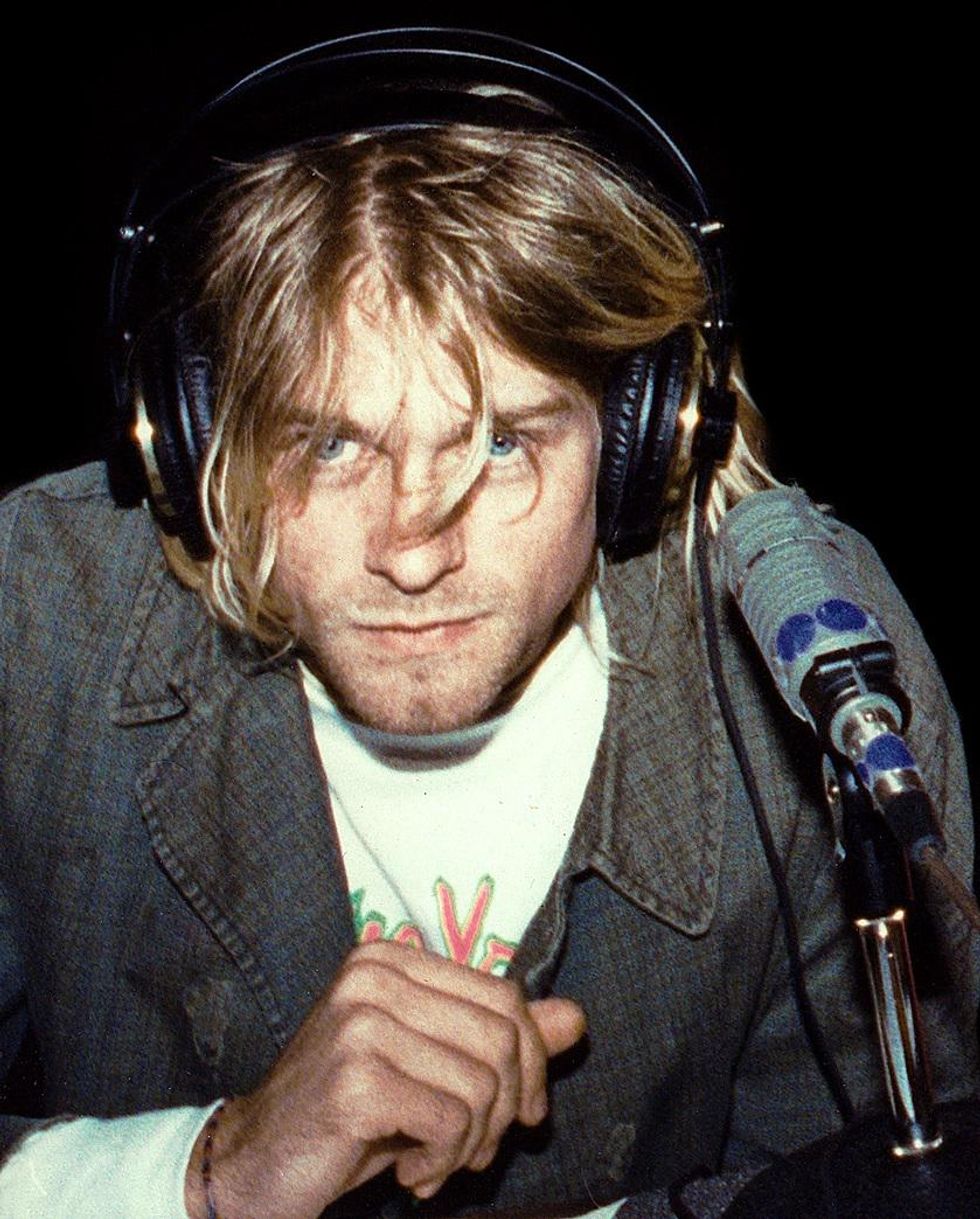 Kurt Cobain interviewed on Boston's WFNX radio, September 1991.
Photo by Julie Kramer
But Kurt for sure gave me the confidence that I could write a song and I just dove in and never looked back. I also think I could figure out those guitar parts, so there would be no weird miming to some complex solos. The real reason to do this, though, would be one of my favorite pastimes: jumping into drum sets.
Nirvana - Drain You (Live at Reading 1992) (Official Music Video)
Oliver Ackermann's Current Obsession:
Beyond-destroyed sounds. I guess that's always been my obsession, so it's more of a lifestyle. There's a little constant fight that goes on in my head where I think "this is just too messed up—what about pure fat sine waves, distinguishable rhythms, beautiful harmonies, and dreamy melodies?" And then when it comes down to it, it's just more exciting to swing a strobe light over your head and play a little AC interference. The other thing that's important is there ain't no faking. I better be drilling into my pickup or throwing my amp through the air. More high definition than surround sound 182 kHz is standing right next to me when I rip the strings off my guitar.
Sarah Gutierrez — Reader of the Month
A: Nancy Wilson. How could I miss the '70s and '80s—that's why!!! I grew up listening to Heart and being in a female fronted group would be a dream. I really loved her work on the movie Vanilla Sky. I remember frantically searching for who played, "Elevator Beat" in a movie that moved me. It certainly pulled at the heart strings.
Elevator Beat - Nancy Wilson
Sarah Gutierrez's Current Obsession: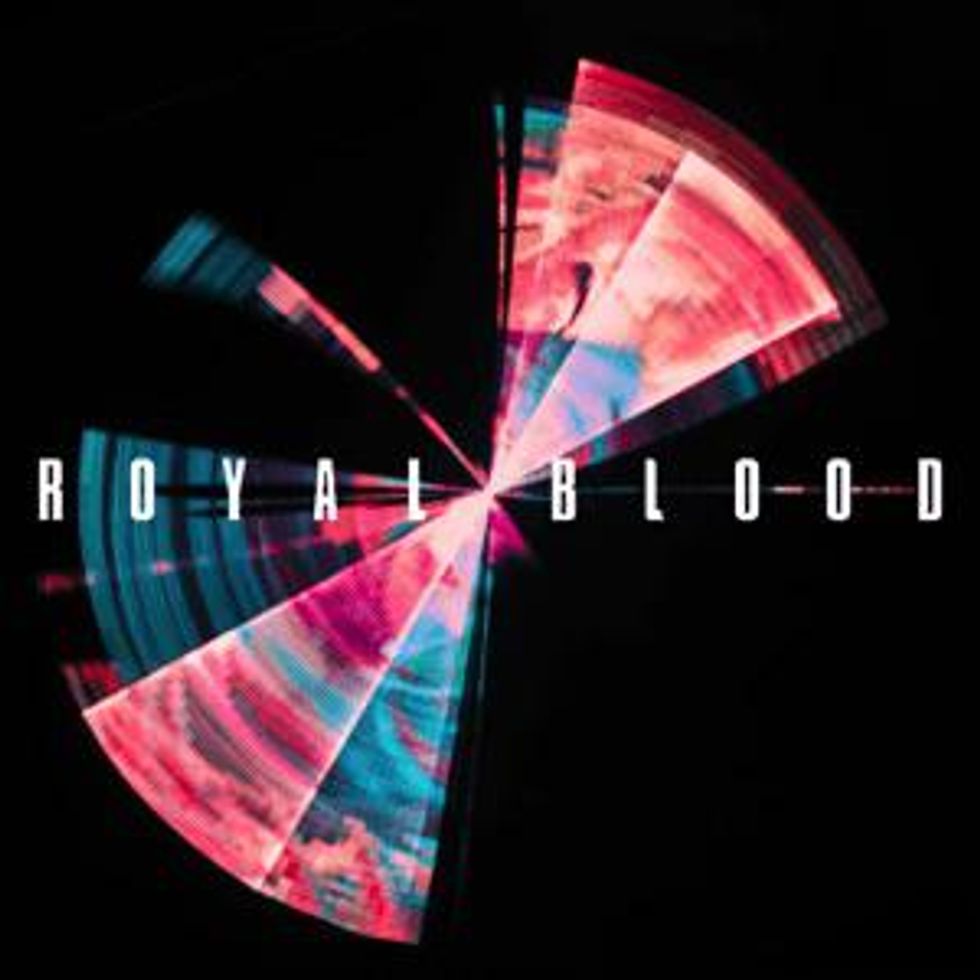 Royal Blood having Josh Homme as a producer for "Boilermaker" on Typhoons blew me away, along with Mike Kerr's riffs. Hometown & young self-produced "Drown." I love the drums! These boys from Gen Z really are the future of music. Des Rocs made my cry about following your dream when I saw them live in October. I love to turn up Cleopatrick as loudly and often as possible. Recently discovering Nothing but Thieves' self-titled album (heavily influenced by Jeff Buckley) gave me life—I'm thrilled to see them in Chicago next year.
Royal Blood - Boilermaker (Official Video)
Tessa Jeffers — Managing Editor
A: Kim Gordon. I'm not much into Sonic Youth, but I love Kim's solo stuff. She's a great bass player, and her guitar playing is raw and powerful (just like her voice).

Years ago, I read her biography, Girl in a Band, and it's a wildly interesting look into an artful life. She's a bold creator who rose out of the shadows of men to claim her own space, and I'm here for that.
Tessa Jeffers' Current Obsession:
French music. Recently I came across a rad song by Les Artisans called "Theoreme," and it prompted me to seek out other French artists. I knew Edith Piaf and Savages well, but new ones for me include La Femme, Christine and the Queens, and Serge Gainsbourg, who's apparently the "Elvis of France." J'adore!
Theoreme - Les Artisans (audio)
Joe Gore — Contributing Writer
A: Hector Berlioz, the great 19th century French composer. Unlike nearly all classical composers, he didn't compose at a keyboard. He wrote everything on guitar and a little whistle—including his revolutionary Symphonie Fantastique and the massive opera Les Troyens. Despite his humble tools, he's considered one of the greatest orchestrators ever. (Sadly, he never composed for guitar—only with it.) But the fun part would be portraying his larger-than-life personality. Talk about attitude! He was ambitious, angry, arrogant, and unspeakably funny. His prose is as amazing as his compositions, especially his Mémoires, my fave book about classical music. (Free English-language edition here.) On page one he writes, "I was brought up in the Catholic faith—the most charming of religions since it stopped burning people." And the snark never stops.
Joe Gore's Current Obsession:
Baude Cordier's "Belle Bonne Sage," a 14th-century love song notated in the form of a heart.
Medieval music! When I was a teen, my plan was to go into academia, specializing in early music. Life decreed otherwise. But now, in late middle age, I'm returning to the late Middle Ages. I've just recorded my first-ever solo album: a compilation of 14th-century pieces. I play the notes exactly as written, but using modern instruments, including lots of electric guitar. To modern listeners unfamiliar with the style, it sounds like music from Mars: eerie, beautiful, and totally frickin' weird. (Example: This love song by Baude Cordier, notated in the form of a heart.)
Watch chaotic co-pilots Mark Bowen and Lee Kiernan use five boards to create hip-hop beats, raging elephant sounds, and whatever "genk" is.
Do you hear that thunder? That's the sound of strength in numbers. Specifically, it's the sound of four 100-watt stacks. (Actually, one is a 200-watt bass tube head.) Idles guitarists Mark Bowen and Lee Kiernan finally have the firepower to match their fury. (Original members singer/lyricist Joe Talbot, drummer Jon Beavis, and bassist Adam Devonshire fill out the band. Kiernan took over for guitarist Andy Stewart after 2015 EP Meat was released.)
For much of the 2010s, the bashers from Bristol played on anything and plugged into everything. Low-budget imports and solid-state combos were what they had and they made that work. They toiled around the U.K. sharpening their sneering tongue, quickening their sting, and focusing their vision. Doing so meant playing small rooms as much as possible. So the need and access for big, potent, top-shelf gear was unnecessary. That volatile energy, sensible setups, and Sten-gun attack anchored both 2017's Brutalism and 2018's Joy as an Act of Resistance.
The popularity in those releases opened doors to new tools and the time to explore fresh tones and approaches. When writing Ultra Mono, Bowen and Kiernan looked for sounds rather than riffs.
"The noise-making had to be thought of from the start," Bowen told PG in 2020. "We basically created a sound palette first, and once we created a sound, that sound informed the riffs."
And the most obnoxious sounds on Ultra Mono were intentional.
"When we were writing this album, we'd go to random guitar shops and ask them for the weirdest pedals they had," adds Kiernan. "It may sound useless, but it still might touch you somehow. Every now and then, a pedal that does something really weird will kick you into gear."
Using hip-hop beats as a North Star and often performing on their instruments as drummers, the duo unlocked a combination of heartless sounds for Ultra Mono that elevated Talbot's heartfelt (and challenging) lyrics.
For the just-released Crawler, they continued exploring obtuse sounds. Some continued to be unusual to the masses and others were atypical for Idles. "Car Crash" is a disjointed, cold-war-siren-sounding, brooding banger. Considering its brash, bizarrely brilliant predecessor, it's right in line. However, one track no one saw coming was "The Beachland Ballroom"—a bring-you-to-your knees soul song. The incessant brave exploration advances their brutal power, supports their menacing energy, and paints with broad colors to complement Talbot's biting commentary and tales of personal troubles.
Touring ahead of 2021's Crawler (now available), Idles' Mark Bowen and Lee Kiernan invited PG to Nashville's Cannery Ballroom for an extended gear chat before their sold-out show. Just ahead of soundcheck, Kiernan clarified his seemingly callous treatment of his Fenders, while Bowen establishes that his acrylic Electrical Guitar Company EG 500 is heavy to dance about onstage, but its "angry piano" sound makes it worth it. They explain why they need a collective of five pedalboards and 50+ stomps to cover guitar, bass, baritone, synth, inhuman sounds, and whatever they mean when they say "genk." (In a 2020 interview with PG, Bowen described the term like this: "'Mr. Motivator' is a good example: Lee makes this 'genk' noise that sounds like a hammer in a metal factory, and he plays that along with the drums, and that part really only occupies a frequency range around 1.2k to 2.3k—which is a large bandwidth, but it's where the transients of the drums and the cymbals sit. That part really pops in that space." Also, Bowen and Kiernan created a YouTube show called Genks during the pandemic, which focuses on effects. Even if you're a minimalist, it's worth a watch for the laughs.)
Big thanks to Idles tech Gavin Maxwell.
[Brought to you by D'Addario XPND Pedalboard: https://www.daddario.com/XPNDRR]
"It's Not Carelessness, I Just Do What I Want with It"
To the outside observer, stacking your Fenders on the floor, using gaff tape as strap locks, and carrying on with broken knobs and missing switches may seem like a fool's errand for Idles guitarist Lee Kiernan, but it's all part of his master plan.
"Playing it however I want, or smashing it against an amp, or rubbing a microphone on it, is all a part of using the tool," Kiernan explains. "It's made of wood so when it breaks, you just glue it back together."
Above you see Kiernan's trifecta of trouble. A quick glance and you notice the shell-pink Mustang and yellow Strat have been severely simplified. ("Less parts mean less things to go wrong," says Kiernan). Both of their stock wiring setups and pickups were removed. He had Bristol (UK) tech Steve Hawkers drop in custom-wound single-coils ("all bass and all treble") and solder them straight to the output jack. (Kiernan admits that it was Steve's first pickup wind.) The only control on either is a volume knob. (As Kiernan demonstrates in the Rig Rundown, the Mustang's volume knob is hanging by a thread and used in conjunction with strong neck bends producing a howling-train-in-the-distance sound.) The Strat still has its tremolo arm because Kiernan loves '80s hair metal and can indulge in a dive bomb or two.
The untouched American Professional II Tele gets stage time when the band performs songs off their brand-new album Crawler. Upon receiving the guitar, Kiernan was doing as guitarists do—plugged it in and started hearing what it had to say. He slid it into the neck position with the tone rolled all the way off and singer Joe Talbot heard his noodling and wondered what it was for. Kiernan said it was him just testing out the guitar, but the process led to Crawler's "When the Lights Come On."
"This guitar, within seconds of its life, ended up helping write a song," recalls Kiernan. "It's staying as it is. I'm not gonna change it."
All the guitars use Ernie Ball Not Even Slinkys (.012–.056) and he assaults the strings with Dunlop Tortex Standard 1.14 mm purple picks.
Loud and Proud
When the band was playing smaller rooms and had no money, they opted for whatever shabby amps they could plug into (including Peavey Pacer and Marshall Valvestate combos). Solid-state or tube, it didn't matter as long as it made racket. Now that they're selling out large clubs and theaters, the boys from Bristol crave as much volume and headroom as possible.
Kiernan's first flirt with a tube Marshall was when he encountered a late-1980s, 2-channel JCM800 2x12 combo he adored. While recording Ultra Mono, he used several amps, including a 2003 Marshall 100-watt Super Lead plexi reissue and a 2000s 100-watt Marshall JCM800 2203. So it made sense for the fall 2021 U.S. run that Kiernan requested the above 100-watt Marshall JCM800s. The one on the left is a 2013 Model 2203, while its counterpart on the right is a 1989 Lead Series Model 2210 (with master volume and reverb). (Kiernan mentions in the Rundown that in Europe they use the SLP and 1897x models.) Both Marshalls hit their own Hiwatt 2x12s that are loaded with Fane Ascension F70 creamback speakers.
Double the Fun
The time spent mentioning everything Kiernan does with these pedals is better served watching the Rundown, listening to Idles' music, or attending one of their shows. But in doing our due diligence, here are the stomps that corrupt, challenge, and ravage his tone.
Starting with the top row on the right-side board, we have a Strymon Flint, Drolo Twin Peaks (tremolo), Drolo Stamme[n] (micro looper/glitch delay/tape machine/sustainer/reverb), Death By Audio Micro Dream (delay), and a Death By Audio Space Bender prototype (modulation). The bottom row is home to a DigiTech Whammy, Electro-Harmonix Synth9, Intensive Care Audio Vena Cava Filter (distortion with an auto-filter and ring modulation), Moog MF Ring, and a Boss TU-3 Chromatic Tuner. A GigRig ABY-BABY controls the amp offering phase control and isolation. The small black box labeled "in/out" was built by tech Gavin Maxwell so Kiernan could quickly test out a pedal without having to rip his setup apart.
The left-side board starts with a Mission Engineering EP-1 expression pedal, a Boss PS-6 Harmonist, an EarthQuaker Devices Data Corrupter, a Death By Audio Interstellar Overdriver Deluxe, and a Death By Audio Evil Filter. The top row starts with a quartet of EarthQuaker stomps—Organizer (polyphonic organ emulator), Arrows (preamp boost), Gray Channel (overdrive), and Tone Job (EQ/boost)—a Moog MF Chorus, and Death By Audio Reverberation Machine. A Jam Pedals TubeDreamer is sandwiched in between everything.
Smells Like Home
Mark Bowen's longtime main cruiser was this 1972 Fender Stratocaster he affectionately calls "Stinky." This well-loved Strat belonged to Bowen's dad and was gifted to him years ago. In a 2020 interview with PG, Bowen had this to say about his foul-smelling friend: "Stinky's action is horribly high and it's a terrible guitar to play, but I just love it because it feels like a real punk-rock guitar. That guitar lives for me, in a way, so that it makes its way onto everything."
Besides the action, another thing making this Strat a struggle to commandeer is the Ernie Ball Mammoth Slinkys (.012–.062) he puts on his guitars. He bludgeons his instruments with Dunlop Tortex Standard 1.14 mm (purple) picks.
The Angry Piano
While Bowen still tours with "Stinky," his preferred weapon of choice right now is this Electrical Guitar Company EG 500. Speaking with PG last year, he had this to say about the acrylic beauty: "It's so much louder than other guitars, and there's this resonance to it that really fits in with my ethos and songwriting. It sounds like an angry piano. That guitar is capable of really horrible caustic sounds, but immediately switches over to making these weighty, thuddy doom-metal sounds."
Stealth Bomber
For anything low, rumbly, and absolutely nasty, Bowen picks up this Electrical Guitar Company Standard baritone (borrowed from Mogwai's Dominic Aitchison). He says the EG 500 pickups are hot, but the humbuckers made for their Standards are "terrifying."
More Bass, Baby!
For Ultra Mono, Bowen used a transatlantic amp combination of Hiwatts and Fenders. As the band has progressed from that album, Bowen has drifted his sound deeper and lower into the bass and synth territory. Putting together Crawler, he enlisted an Orange AD200B MKIII, which now travels with him on the road. Still keeping things somewhat in the guitar spectrum, he pairs the bass head with a Hiwatt Custom 100 DR103 reissue. (If you zoom in, you can see the Hiwatt has the bass knob goosed.) It's worth noting, up until the Nashville date, Bowen had already blown out six Hiwatts, but he claims to never be without one: "There's just this weight, this thunk that's there, they're bright, and the headroom is unmatched."
Ironically, the Hiwatt runs into a MAXWATT B115HN 1x15 bass cab while the AD200B crushes an Orange PPC212 guitar cab.
Bowen's Central Command
To accomplish all the fantastic and outrageous tones captured on Idles' last two records, Bowen brings a whole cast of characters to accomplish that feat. His main board (stationed out front onstage by his microphone) features his "most standard" pedals: Death By Audio Reverberation Machine and Echo Dream 2, Adventure Audio Dream Reaper, a pair of Moogs (MF Delay and MF Ring), Death By Audio Waveformer Destroyer, Electro-Harmonix POG2, 4ms Pedals Mini Swash Full (fuzz/distortion/noise synth/self-oscillation/LFO craziness), a duo of Red Panda pedals (Particle and Raster), and a JHS Haunting Mids. A Boss TU-3W Waza Craft Chromatic Tuner keeps his guitars in check and a GigRig G3 organizes all the changes.
Mooger-Fooger Mark Bowen
Near his amps, Bowen has another batch of tone morphers. Up top he's got a 4-pack of Moog Moogerfooger monsters—MF-107 FreqBox, MF-102 Ring Modulator, MF-108M Cluster Flux, and a CP-251 Control Processor—and another no-name glitch/synth device. Below those we have an Electro-Harmonix 95000 Stereo Looper, a Strymon TimeLine, an Electro-Harmonix POG2, and an Old Blood Noise Endeavors Minim (reverb/delay and reverse). Lastly, he has a Nord Electro 6D at his disposal. Everything is powered by GigRig Timelord power supplies, while two Strymon Iridiums handle cab emulations.
Final Destination
The last part of Bowen's setup is this board under his keyboard/Moogerfooger workstation. Here, he has another GigRig G3 switcher, another Electro-Harmonix 95000 Stereo Looper, a GigRig Three2One (to help balance levels between instruments), and three Mission Engineering EP-1 expression pedals (controlling some of the effects in the previous photo).