How I'll always remember Edward.
One memory often triggers another, so, while writing about my experiences with Metallica over a crucial decade in their career for this issue, I kept flashing back on my sole encounter with Van Halen—the man and the band. It was during 1988's Monsters of Rock, and I was on assignment for the tour's two-day stand in Akron's Rubber Bowl, a decrepit concrete pit turned convection oven by the summer heat, to interview all the guitarists on the tour: Kingdom Come's Danny Stag, Dokken's George Lynch, Kirk Hammett and James Hetfield of Metallica, Rudolf Schenker and Matthias Jabs of Scorpions, and, of course, Edward.
For the first day I was there, Van Halen's publicist kept nudging me aside. Nonetheless, I enjoyed their headlining set, save for the perplexing choice of a Sammy Hagar ballad about burying the placenta from the birth of one of his children under a tree. (If you know what that song is called, please let me know so I can more purposefully continue to avoid it.) Edward was especially brilliant, of course.
I was literally and anxiously sweating it out as Van Halen's second-night performance neared, when the publicist finally ushered me back into the band's dressing room, in the distressed bowels of the Rubber Bowl. Their green room was actually a casbah created within the area's grim concrete walls. There were hanging tapestries, plush furniture, floor lamps, and other homey appointments, all cooled by giant fans at its edges. But the most impressive sight was Edward, Sammy Hagar, and Michael Anthony plugged into a vertical-standing road case packed with practice amps, jamming out some blues. Alex had a practice pad atop the case, and pounded so hard he cut through the astonishing web of sound. They tossed me a few nods, and I sat on the couch next to a table with a bowl of M&M's on it—I did not check the colors—and watched them wail on for a good 10 minutes. Edward, plugged into what I think was a Fender Champ, still sounded every bit like himself. I thought, "Well, even if I don't get to ask a single question, this is worth the trip."
But they did unplug, and suddenly I felt like I was in the middle of a cartoon—or maybe an episode of The Monkees. They all raced toward me and piled onto the arms and back of the couch. I was surprised and surrounded. They answered my questions, but Eddie kept playing his unplugged 6-string, and nearly every reply came with a silly joke or a pun that left them in stitches. They all talked at the same time, sometimes completing each other's sentences—always answering me but spinning off into all kinds of wild digressions. At one point, Sammy did a decidedly un-PC Ray Charles impersonation that put Edward, Alex, and Michael on the floor. And when I asked a guitar-centric question, Edward slid off the back of the couch and landed next to me to reply.
"But they did unplug, and suddenly I felt like I was in the middle of a cartoon—or maybe an episode of The Monkees."
It was hilarious—almost sketch comedy. But it was also beautiful, because it was obvious that at this point they were deeply connected by friendship and the joy of still discovering what this line up of the band, which had released OU812 a month earlier, could do. There was a tangible, open-hearted purity to them—at least about this music they were making and the experience of making it—and it wasn't drugs, because Edward had recently been through rehab and not even beer was allowed in their green room. They were, in June 1988, truly a band of brothers.
Somehow, amidst all the crosstalk and antics, I managed to get all my questions answered, and spent a few more minutes hanging out with them, enjoying a cold cola and avoiding the near-100-degree outside temperature, as they bantered with each other and prepped for the stage. Then it was time for the publicist to reappear and throw my butt out, and for them to hustle theirs into the spotlights.
There were more troubles to come for Edward—struggles with addictions, divorce, and cancers—and a lot more music to be made, until he died, too young, in 2020 at age 65. But because of that day, I always think of him as happy-go-lucky, practically exploding with positivity and elation. And I'm very glad for that. Seeing somebody at their best and happiest is always a gift, and when it's somebody like Edward Van Halen, it's a treasure.
The Van Halen-loving star sideman for Chris Cornell, Melissa Etheridge, and Don Henley, welcomes PG to his tone temple to see signature Suhrs, eight amps in a flash, and his core pedalboard.
Pete Thorn has constructed a dream career on being heard, not seen. He's toured the world backing Chris Cornell, Don Henley, Melissa Etheridge, Jewel, and Japanese rock icon Tsuyoshi Nagabuchi (even performing at Mt. Fuji for over 100,000 fans on the biggest concert stage ever assembled in Japan). For a self-proclaimed "guitar nerd" (check out Pete's 2011 album under the same name), it was a 21st century guitarist's goal. After that, what does one do in between tours to stay busy and relevant in a modern world? You become a beloved YouTuber, of course!
His channel is a great destination for gear demos and comparisons, but Pete's content stands out with his simple, and east-to-apply tone tips. (It's worth noting that Pete did this very thing inside Premier Guitar for years with his "Tone Tips" column. Check it out!) The fun, diverse, informative videos Thorn has delivered have blossomed into a parallel profession with a built-in audience pushing 250k subscribers.
While PG was on the road in SoCal, Thorn graciously invited Chris Kies into his Hollywood-based recording sanctuary, where his YouTube channel takes form. The hour-long chat covers Thorn's signature Suhr gear (guitars, amps, and humbuckers), he shows how his setup can switch between eight tube amps in a flash (only outdone by his ability to interchange cabs, mics, and speakers in a snap), and we dive deep into Pete's primary pedalboard.
Brought to you by D'Addario XS Coated Strings.
Suhr Signature II
As you'll soon find out, longtime luthier John Suhr and Pete Thorn go together like peanut butter and jelly, or, in this case, alder and maple. Suhr and Thorn have collaborated on several pieces of signature gear, and the above Pete Thorn Standard HSS is their latest. The S-style is built with a 2-piece alder body, roasted maple neck with a "Pete Thorn '60s soft-V profile (a digitized copy of one of Thorn's 2008 S-style Suhrs), ebony fretboard, Wilkinson WVS130 bridge, and Suhr pickups (V63 single-coils with a Thornbucker II in the bridge). Thorn is always trying the newest string offerings from Ernie Ball, and he's currently using Primo Slinkys that are gauged .0095, .012, .016, .024, .034, and .044.
For His Spiritual Guitar Godfather
"I've talking a lot about Eddie Van Halen in this Rundown because he's my spiritual guitar godfather. I'm a Van Halen nut and this guitar is something I had to have," admits Thorn. After realizing that much of Eddie's mind-blowing guitar work for Van Halen's first albums were done on a 1976 Ibanez Destroyer, Thorn was on the prowl for his own. He recently acquired this "lawsuit-era" '76 Destroyer in a Huntington Beach parking lot after securing the purchase online. The surprise of the score was that the pickups are early TV Jones P.A.F. humbuckers, because the owner that sold it to Pete actually bought it from the company's founder Tom Jones. Pete's thoughts: "Whatever's going on in the pickups, they sound fantastic!"
Previous Pete
Here's Suhr's first Pete Thorn Standard signature model, with quite a different recipe than the HSS. This one has a chambered mahogany body with a maple top, mahogany neck with an "even slim-C profile," an Indian rosewood fretboard, and a pair of Pete's Suhr humbuckers—a Thornbucker+ in the bridge and a Thornbucker in the neck. Like its successor, this one also has jumbo stainless-steel frets, Suhr locking tuners, a Wilkinson WVS130 bridge, and a Graph Tech TUSQ nut.
Sweet as Cherry Pie
This cherry Gibson ES-335 looks new or neatly relic'd, but it's from 1963. It fell into Pete's lap nearly 20 years ago and wasn't an astronomical price because it had a broken headstock (and has since garnered another wound by Thorn) and one of the previous owners went at the bridge pickup cavity with a chisel trying to get at the electronics. The sweet sauce that makes this baby sing is its '60s, low-wound P.A.F.s—original in the neck and early patent numbered in the bridge—that sound like honey tastes.
A Crusher for Chris Cornell
This meaty, hulking 2000 Gibson Les Paul Custom toured with Pete when he backed up Chris Cornell. It would see the stage for Soundgarden smashers like "Spoonman" and "Outshined." This guitar took a lot of abuse while onstage with Thorn, as he'd often end the night ripping off the strings one by one and Cornell would slam his microphone into the pickups. During these collisions, nothing ever broke (except the strings). However, one slow-motion fall off a guitar stand onto carpet caused this axe to need headstock surgery. He dropped in a set of Thornbuckers and swapped out the gold hardware for chrome.
Not a Bad Day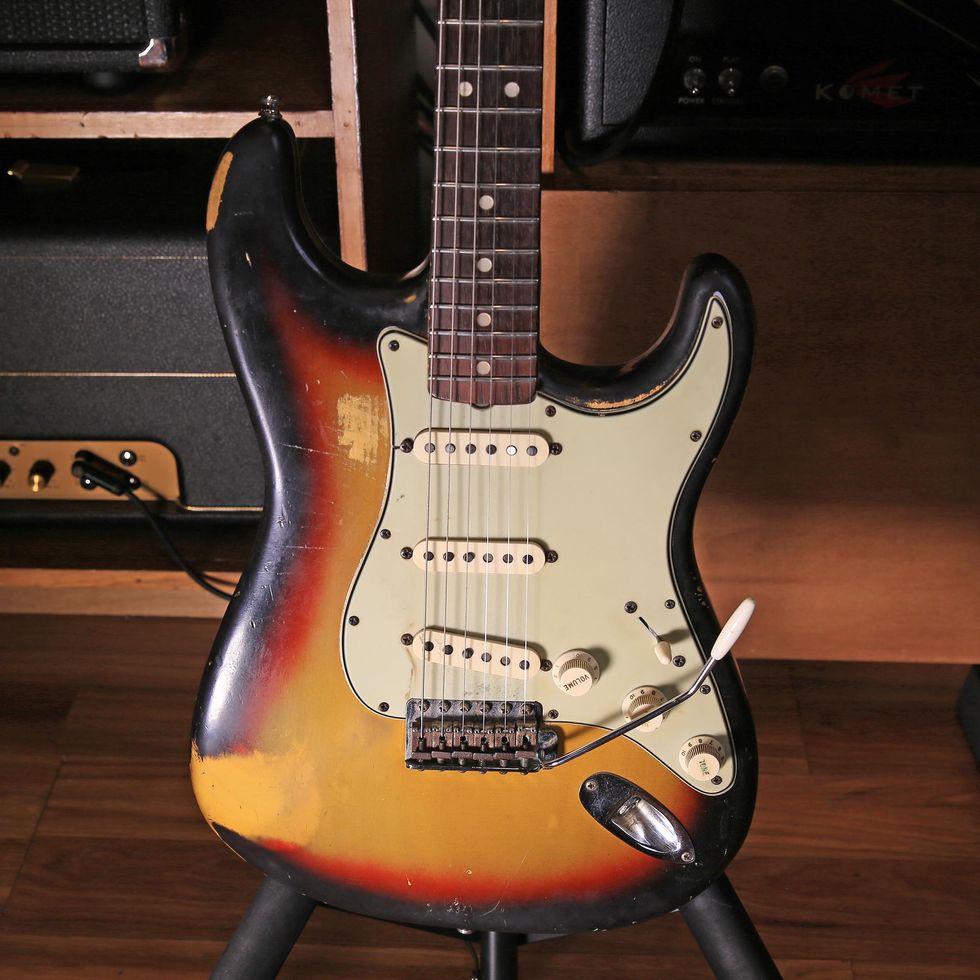 During a Chris Cornell tour stop in Nashville, Thorn ventured into Gruhn Guitars to find a pre-CBS Fender Stratocaster. He walked out with this sunburst '64. That night, he got to play it alongside Peter Frampton, starting a longtime friendship. "There's just so many great things I remember about that day. You know, these times in your life where you're going to have bad days, this wasn't going to be one of them. This was a good day [laughs]. This guitar just gives me great memories."
Meet Frankie
Thorn's collection wouldn't be complete without this EVH Striped Series Frankenstein named "Frankie." It's got the paint job, the exposed electronics, and the Floyd Rose. The rest is up to Pete. "How can you not have fun with a guitar like this? I've seen Paul Gilbert with one—and he's a diehard Ibanez guy. I've seen Andy Wood with one—and he's a longtime Suhr artist. We all have signatures, but we had to have one of these Frankensteins to shred on. We all bow down to the church of Eddie," confesses Thorn.
Tone Henge
For a dude whose main business is making videos and playing riffs, you need to maximize not only space, but inspiration. Before you is Pete Thorn's twin tower of tone that can cover any amp sound he needs. Starting in the top left and working our way down, we have a 1972 Marshall JMP 1986 model pumping 50W, a handful of Synergy Amps modules (Synergy IICP, Engl Powerball, Soldano SLO, Vai Signature preamp, Engl Savage, Friedman BE-BB, Bogner Ecstasy, Bogner Uberschall, and a Fryette Pitbull), a Soldano SLO-100, a Jim Kelley Reverb, and a Suhr SL68. The right side is home to a Universal Audio OX Amp Top Box, a Suhr Hedgehog 50, a Top Hat Amplification Emplexador, a Suhr Pete Thorn PT100, and a Komet Concorde. Possibly the most impressive part of this whole structure is the Ampete Engineering 88S-Studio Amp and Cabinet Switcher that allows Thorn to switch between all these amps with a smash of a button.
Upside Down Cabinet Cake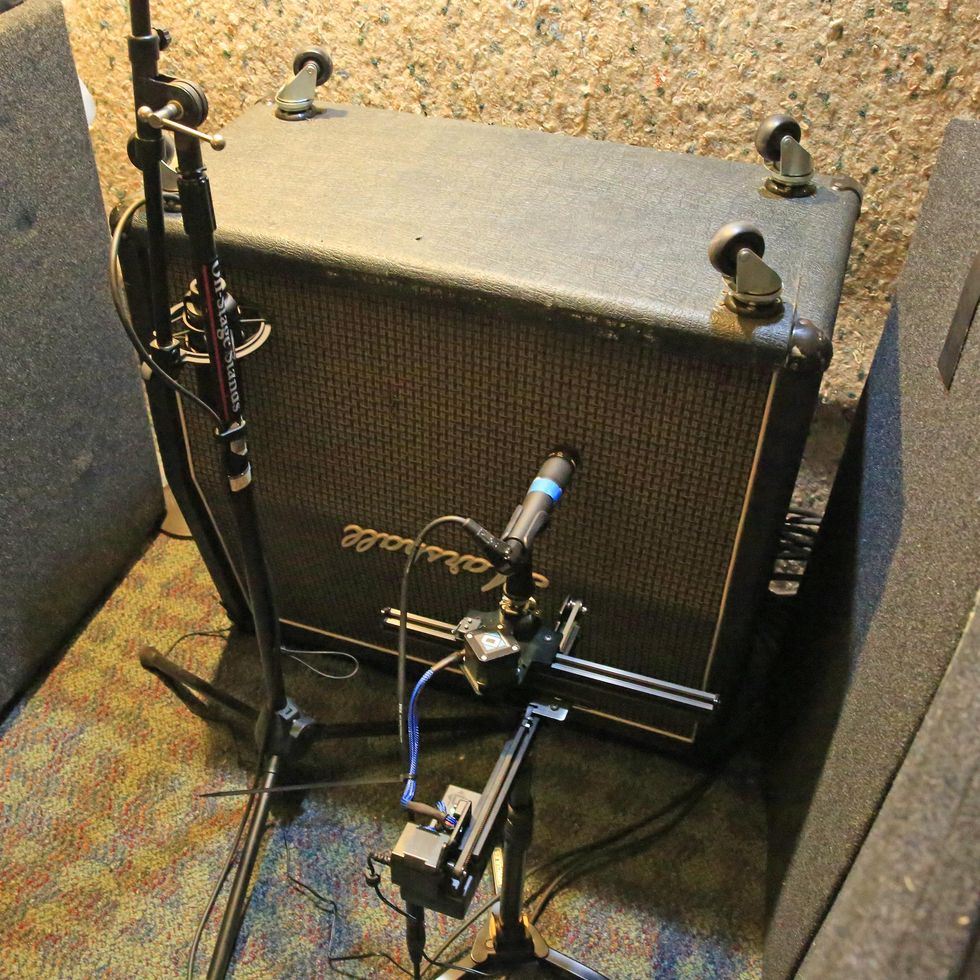 The Ampete 88S runs all those amps into a late-'70s Marshall 4x12 loaded with Celestion Black Back G12M 25W speakers and mic'd with a Shure SM57 and an Audio-Technica AT4050.
Pete Thorn's Pedalboard
For a pedal-loving session-booked YouTuber-guitarist, you gotta believe Thorn is stuffed to the gills with stompboxes. What's above is the board he relies on for most demos and videos while performing in his Hollywood hideaway. Top left, he has a Source Audio ZIO, MXR Echoplex, Suhr Riot, Maxon Apex 808, J Rockett Archer, Ryra Tri-Pi Muff, a Strymon Mobius, and a DryBell Unit67. Elevated above them rests a Strymon TimeLine, a pair of Eventide H9s, an MXR Phase 95, a Suhr Woodshed Comp, a Boss FV-500L Foot Volume Pedal, a Dunlop CBM95 Cry Baby Mini Wah, and a DigiTech FreqOut. Everything is controlled by MusicomLab EFX-LE II Audio Controller and MIDI Pedal, and a TC Electronic PolyTune 2 Noir Mini keeps his guitars emotionally and sonically stable.
An ode to Eddie Van Halen's love of DIY guitar mods that features a quartersawn maple neck and signature EVH Wolfgang humbucking bridge pickups.
The all-new EVH Striped Series '78 Eruption guitar combines many of Eddie Van Halen's famed mods along with modernized features and a relic treatment. The Stratocaster-style body sports Eddie's famed white-and-black-striped paint job and has been paired to a quartersawn maple neck with a hand-rubbed satin urethane back finish. The 12"-16" compound radius maple fingerboard with 22 jumbo frets was designed for fast and furious playing styles with maximum comfort, while a heel-mount truss rod wheel makes for time-saving neck adjustments. A single EVH Wolfgang humbucking bridge pickup provides classic Eddie Van Halen guitar tone – from crystal cleans to fat and rich mids and lows, while the brass nut and six-saddle vintage Fender Stratocaster synchronized tremolo bridge with a 43mm brass block allow for authentic EVH tone. Available in White with Black Stripes Relic.
Features
Stratocaster style basswood body
Bolt-on quartersawn maple neck with relicing
12"-16" compound radius maple fingerboard with 22 jumbo frets
Brass nut
Reliced EVH Wolfgang humbucking bridge pickup
Six-saddle vintage Stratocaster synchronized tremolo bridge with 43mm brass block
White skirted Strat-style volume knob with 500K EVH Bourns Low Friction Pot and treble bleed circuit
EVH-branded neck plate and oversized strap buttons
Black pickguard, reliced chrome hardware and oversized '70s-style licensed Fender Strat headstock with gold EVH logo
Available in white with black stripes and a reliced finish.
Introducing the EVH Striped Series '78 Eruption