Joff Oddie shows PG his own Jag-Master creation and then plasters it with pedals bending (and distorting) space and time.
Listening to the tidal wave in "Giant Peach," the riotous "Moaning Lisa Smile," or the punked-up "Play the Greatest Hits," it's hard to imagine Wolf Alice as an acoustic duo. Then talk to Joff Oddie about his integral use of effects—"These pedals can do such crazy things; to not do crazy things with things that can do crazy things seems odd"—and the band's origin story becomes even more improbable. But it's true: Wolf Alice started with guitarist/singer Ellie Rowsell and guitarist Oddie playing acoustic-folk music during open-mic nights in North London pubs.
After self-releasing an EP, they expanded and electrified their sound with the help of Theo Ellis (bass/synths) and Joel Amey (drums/synths). Now sure, plenty of the band's repertoire from their four official releases stays in the quieter, softer settings—creating maximum drama—but Joff and the gang give some animation to nearly every note played. (To give further cred to the group's juxtaposition of floating like a butterfly and stinging like a bee, in a 2015 PG interview Oddie cited John Fahey and Sonic Youth as two of his biggest influences.)
"On Blue Weekend, we leaned into our past quite a bit, where we layered up sounds with acoustic instruments. We used loads of 12-strings, banjos, resonators, and tenor guitars," Oddie says about the band's recent release. "We're even performing an acoustic fingerstyle number—'Safe From Heartbreak (if you never fall in love)'—each night, so it's nice to get back there."
Before Wolf Alice's sold-out show at Nashville's Cannery Ballroom, guitarist Oddie shared an hour with PG's Chris Kies. The resulting conversation covered the cathartic process of building his first guitar during lockdown (a Jaguar-Jazzmaster hybrid) and why he switched to a pair of Fenders that are "a big sheet of paper that you can paint on." Plus, he illustrates how every moment in a Wolf Alice set has a pedal, and those moments are unique and not repeated.
Brought to you by D'Addario 360 Rechargeable Tuner.
The Joffcaster
After wrapping work on the band's third full-length album, 2021's Blue Weekend, Wolf Alice guitarist Joff Oddie had a wide-open calendar. The ongoing pandemic lockdowns and restrictions finally provided him the time he'd need build his dream machine. He dusted off the blank of mahogany under his bed and ordered some crude hand tools. He cut, carved, and contoured the Jazzmaster-y body (a shade bigger than Joff's old No. 1 Jaguars) to his specs and stance. Originally, he was going to slap a parts neck and fretboard on his homemade body, but rolling with the momentum and confidence, he ordered more wood (torrefied flame maple for the neck and rosewood for the fretboard). To help with the Jag's slinky 24"-scale length and make it easier to play the higher frets (especially for the chords in "Delicious Things"), Joff extended his guitar's scale length to 24.75". And the neck profile is insanely thin (as in "Ibanez RG" shredder slim).
The rest of its bits are standard for an offset—a Fender Vintage-Style Floating Tremolo, a Mastery bridge, and simplified switching—while it growls with a set of Lollar Jaguars. All of his guitars take Ernie Ball Skinny Top Heavy Bottoms (.010–.052) and he stings the strings with Dunlop Nylon Standard 1.0 mm picks.
"Plinky Plunky"
For most of the 10-plus years Wolf Alice has been electric, this 1962 Fender Jaguar reissue has been Oddie's main guitar. He bought it completely clean, with student loan money, in Wood Green, London, off Gumtree (the U.K.'s equivalent to Craigslist) when he and fellow co-founder Ellie Roswell decided to amplify their music. "I don't know why I bought it, to be honest. I remember seeing a Jaguar in a guitar shop when I was a kid and thinking, 'that's an ugly-looking guitar,'" he confesses. "I had started listening to Sonic Youth, Dinosaur Jr., and My Bloody Valentine in late my teens and early 20s, but I think I got it wrong, because they all play Jazzmasters [laughs]. I eventually fell in love with the eccentricities of the Jag."
Years back, this worn-down jangle machine was upgraded with Lollar Jaguar pickups and an M1 Mastery bridge, and it has maintained that pedigree ever since. "Since putting a bit longer scale length on my build, giving it more resonance, I've noticed how the Jag's shorter scale can have a deader, plinky-plunky sound," admits Oddie. "For years I overcompensated the rest of my setup with my amps (bass on 10) and utilizing specific pedals to increase the Jag's sustain."
This one tends to appreciate distortion, gain, and fuzz, so Joff will strap it on for the heavier, more rocking songs like "Moaning Lisa Smile" or "Giant Peach."
Sustainer Strat
"I'm not using this guitar to its full potential right now," concedes Oddie. "I'm just scratching the surface and just using it as a Strat, but I did request it from Fender because it has the special stuff." The Fender EOB Sustainer Stratocaster was co-designed by Radiohead's Ed O'Brien and his longtime tech (and Oddie's current tech) Adam Cummings. It's still stock and features the unique setup of a Seymour Duncan JB Jr. humbucker (bridge), a Texas Special single-coil (middle), and a Fernandes Sustainer (neck). It has a "really lovely clean sound," so Joff uses this for the band's softer songs, like "Lipstick on the Glass."
Jangling with Johnny
"We've only just begun." Oddie quotes the Carpenters when referring to this pristine Fender Johnny Marr Jaguar that sees stage time for Blue Weekend's dreamy-pop number "How Can I Make It Ok?" He notes during the Rundown that the Bare Knuckle Johnny Marr single-coils give the guitar a "paddier, '80s sound" and that "it's one of the best guitars being made at the moment. It's something really special."
Picking the P
For Blue Weekend's "No Hard Feelings," Joff will put on this Fender American Professional II Precision Bass and pick out chords far up the neck while bassist Theo Ellis plays on a Roland RD-2000 Stage Piano.
Double Your Pleasure. Double Your Fun.
Joff once toured with a Fender Hot Rod Deluxe III and a handwired Vox AC30HW2. Shortly after their first album, My Love Is Cool, Joff started to require more volume and less color. "For me, the Twin's blank canvas—huge amounts of headroom with big, clean sounds—is a big sheet of paper that you can paint on." These Fender '65 Twin Reverb reissues are both on and are set in a double-mono platform. For European tours, he'll sub out one of the Twin reissues for a proper '70s silver-panel Twin Reverb.
Joff's "Death Star"—Home to Oddities and Curiosities
"As ridiculous as this sounds, the concept of this board was to get as much functionality out of something that can also get on a plane," says Oddie. "It also needed to be on the floor, because I'm not interested in having them in a rack offstage. I'm a control freak and I like to see what's going on." Let's dive into this FAA-regulated pedalboard built by Matt Tag aka the Guitar Butler. Everything starts by going into the RJM Music Mastermind PBC, where Joff has meticulously mapped several presets for every song in Wolf Alice's nightly setlist. Oddie employs a six-pack of complicated, deep workstations from Strymon (BigSky and TimeLine) and Empress (Nebulus, Phaser, Tremolo2, and Multidrive). Even broader sounds and tone splicing happen with Joff's pair of digital power plants from Line 6 (HX Effects and HX Stomp). The lower right corner has a deuce of dirts (JHS Sweat Tea V3 and Analog Man King of Tone). And a heralded green giant (Electro-Harmonix Russian Big Muff) and trio of tiny tone teakers (Wampler Tumnus, Mooer Tender Octaver, and Mooer Yellow Comp) round things out on Joff's main board. An auxiliary board to the side houses a Dunlop Cry Baby Wah and a Morley PVO+ optical Volume Plus.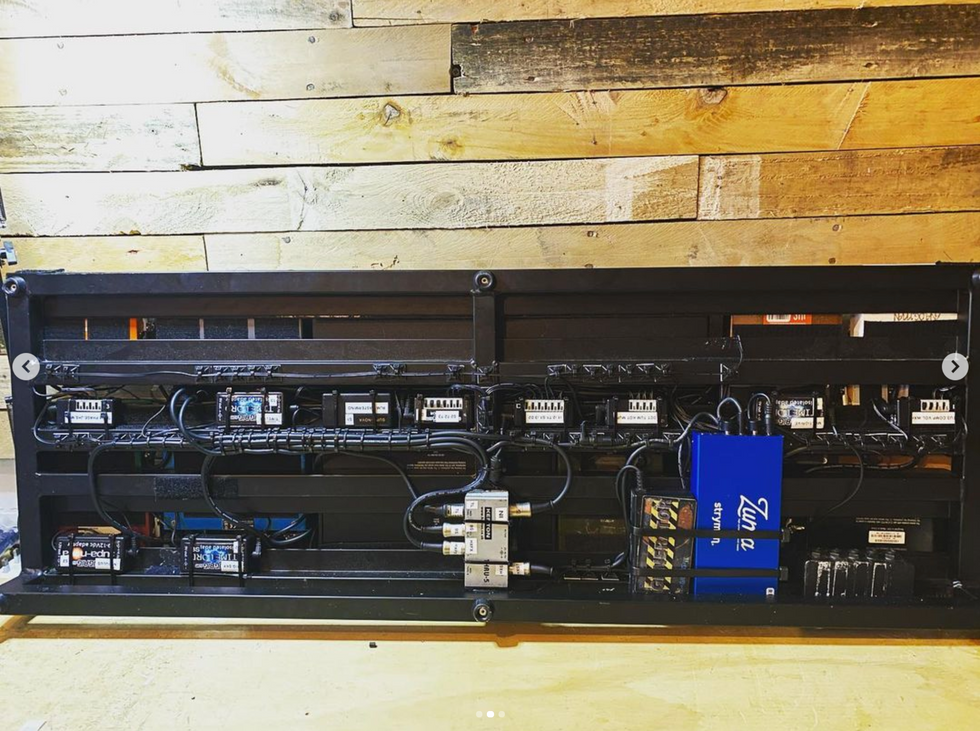 Underneath the hood there are various power supplies from GigRig (Generators, Isolators, and high-current Timelords and Supanovas) and a Strymon Zuma.
The ragged rockers still love their Teles and Fender combos, but they've added a rare Gibson and ... a bouzouki!
Deer Tick was started by self-taught multi-instrumentalist John McCauley as a solo songwriting endeavor in 2004. The band's instant, ear-perk appeal is McCauley's wiry, craggy voice narrating personal hardship and loss. When you hear Deer Tick albums, the honesty that pours out of the speakers punches your gut and tears your heart.
Originally touring with a revolving cast of supporting musicians, McCauley solidified his rhythm section with half-brothers Dennis Michael Ryan (drums) and Christopher Dale Ryan (bass) before finalizing things with Ian Patrick O'Neil on guitar in 2009. The band's staying power and relevance is rooted in their ability to cross-stitch ringing hi-fi Americana harmonies and lo-fi alt-country vibes with melancholic Nick Drake moods and trouncing honky-tonk rumblers with tattered rockers perfect for Iggy or Kurt. That amalgamation is both timeless and contemporary. (It's worth noting that McCauley—a self-proclaimed Nirvana nut—sang and played guitar alongside surviving members Dave Grohl, Krist Novoselic, and Pat Smear during Cal Jam 2018.)
Before Deer Tick's co-headlining show with Delta Spirit at Nashville's Brooklyn Bowl, McCauley (vocals/guitar) and Ian Patrick O'Neil (guitar/vocals) chatted with PG's Chris Kies. The conversation covered Teles (and why they're the duo's current favorites) and how Fender combos have always factored into the band's sonic scripts for stage and studio. Plus, both pickers provided a quick-and-dirty sampling of their stomp situations.
Brought to you by D'Addario XPND Pedalboard.
Stove-Top Tele
Deer Tick founder John McCauley picked up this 1978 Fender Telecaster Custom about 10 years ago at a small shop in Lawrence, Kansas. The pickups were original, but they were noisy boogers. Opting to solve the problem himself, McCauley fired up his stove and attempted wax-potting them. The cherished Wide Range neck pickup was a success. However, the stock bridge single-coil was a disaster. To salvage the guitar, he took it to Nashville's Corner Music and had a tech put in the closest option to the original. (McCauley notes in the Rundown he's unsure of the make or model.)
As for falling for a traditional instrument, here's what he had to say: "I sat in with the Quick & Easy Boys, from Portland, Oregon, when they were playing in Baltimore, and Jimmy [Russell] gave me his Telecaster. I was just able to do things differently and play better. I attribute that to the Tele neck."
McCauley plays D'Addario NYXL .010s on this and his other standard-tuned guitars.
Drake Droner
McCauley assembled this parts Jazzmaster with an Eastern hard-rock maple body and neck from Warmoth. He took on the venture in 2003, after attending a guitar-building class at Noll Guitars in Cranston, Rhode Island. The dense offset rides in an open Csus4 tuning (C-G-C-F-C-F) that McCauley copied from Nick Drake. The Black Dirt Sessions' "Mange" was the lone Deer Tick song he wrote in the tuning for the longest time, but "Sea of Clouds," and "Jumpstarting" have since joined the fold. The seafoam green machine rides with a custom set of D'Addarios (.010, .013, .024, .032, .046–.056.). The pickups (brand not known) are actually P-90s in Jazzmaster-style housings.
Less Paul, More Octaves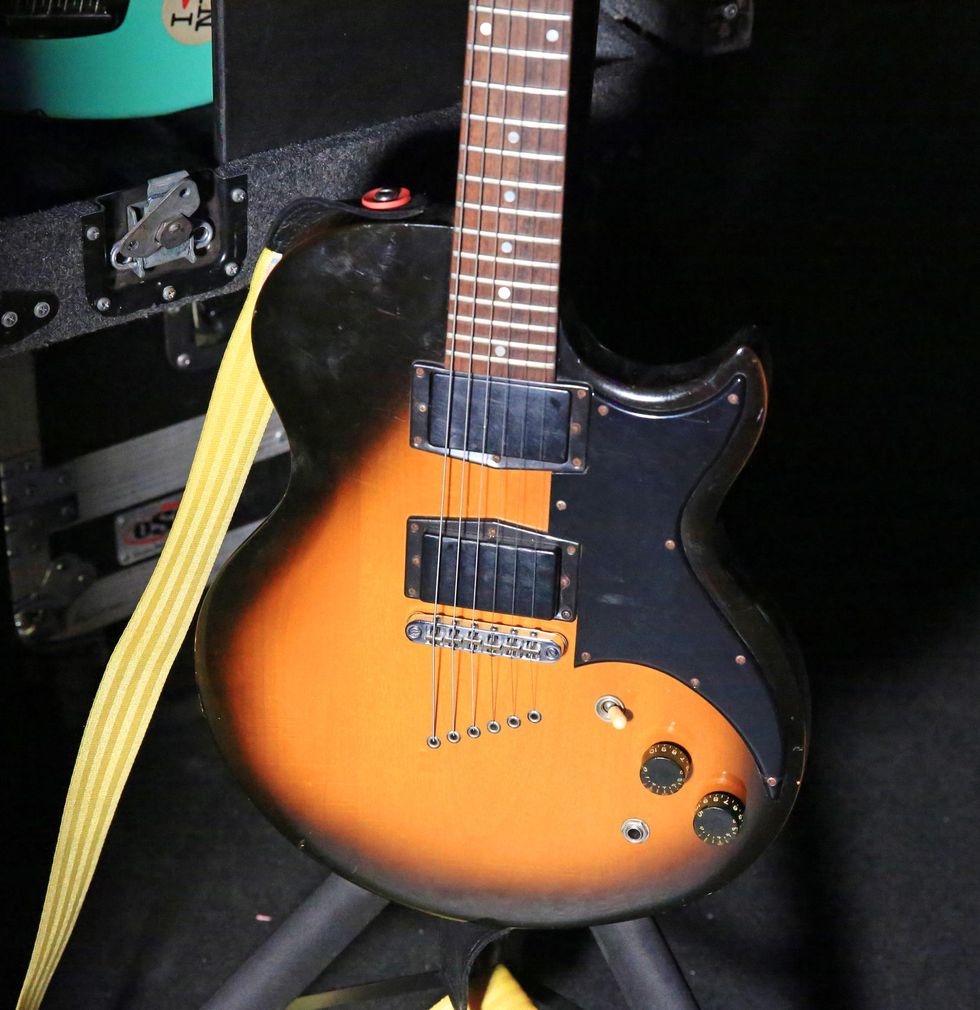 This 1970s Gibson L6-S is McCauley's back-up guitar for standard-tuned songs. He scored it in the early 2000s at a Guitar Center in North Attleborough, Massachusetts. He's enjoyed bonding with the unusual Les Paul relative, which happens to be Gibson's first singlecut offering with a full, two-octave 24-fret neck. Sometimes he'll drop the G-string to E for the song "Don't Hurt."
McMauley's Moonbird
McCauley had toured with an acoustic Gold Tone BZ-500 bouzouki, but had always wanted to electrify the Greek instrument. As luck would have it, he found this Luna Guitars Moonbird model and has since brought it on several Deer Tick runs.
Super for Stage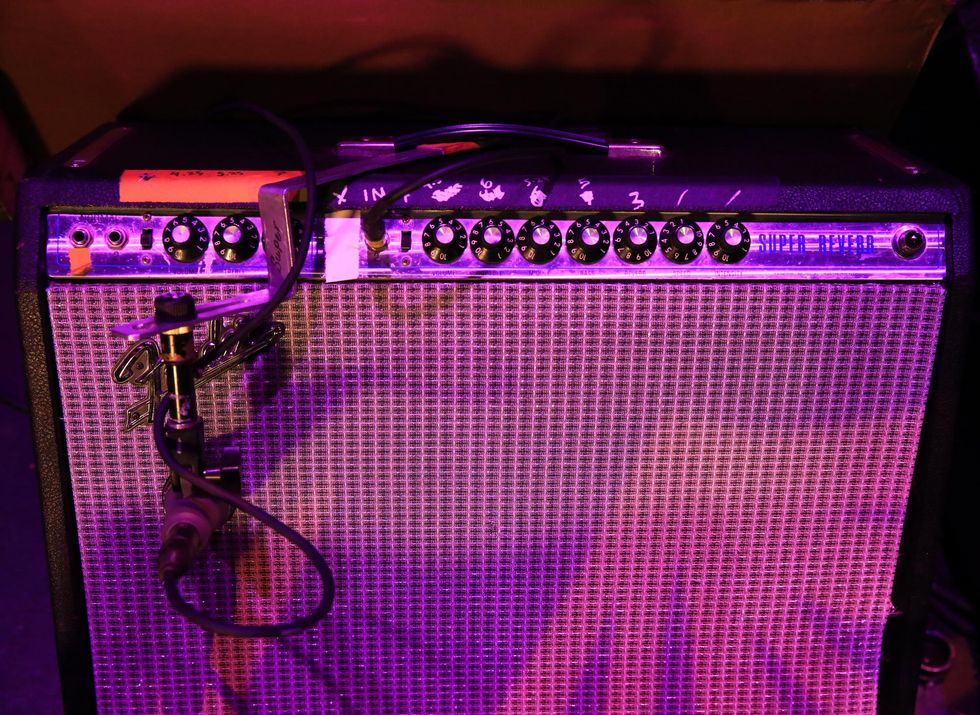 On recent Deer Tick albums and other projects, McCauley has preferred plugging into a 15W Fender Bassbreaker 1x12 combo that runs on EL84s. When it comes to performing, he opts for more power and punch by touring with this 1970s Fender Super Reverb 4x10.
McCauley's Minions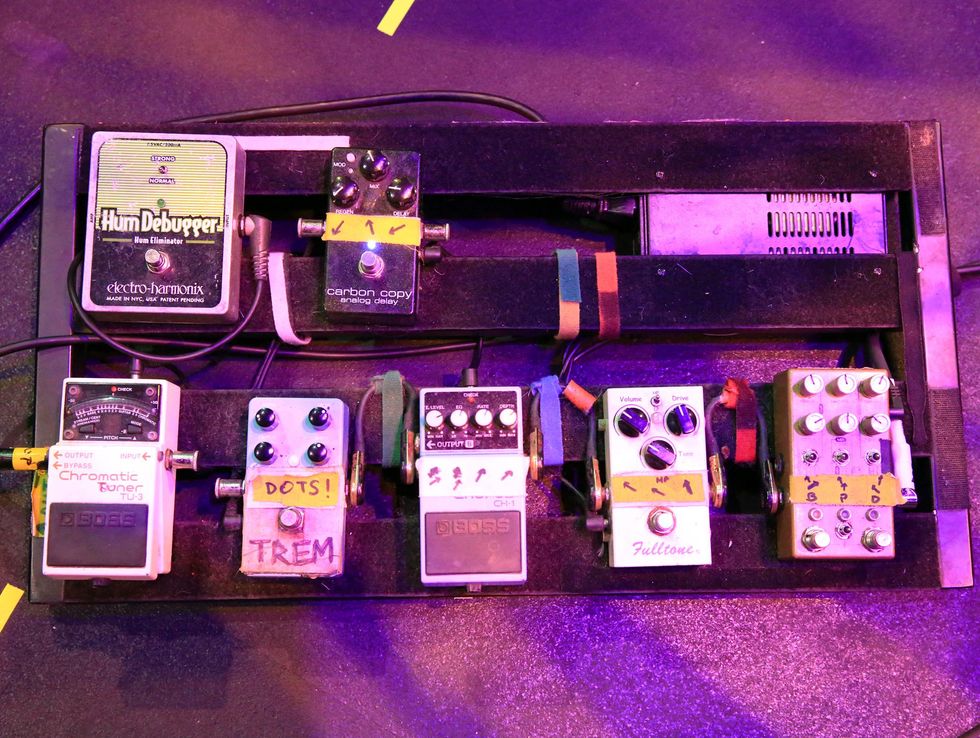 "I'm not much of a boutique pedal guy," admits McCauley. "But I have one nice pedal, and that's the Chase Bliss Brothers." He has one side of the complex gain-stage pedal set for boost and the other side for overdrive. He does usually have the boost section on to push the Super in a pleasing way. The Fulltone OCD is on hand for any solos. The self-proclaimed Nirvana fan never leaves home without the Boss CH-1 Super Chorus and gets slippery during "The Dream's in the Ditch." The Catalinbread Valcoder Tremolo is a favorite because he can control the input and output volumes, making sure it doesn't get lost in the mix. The MXR Carbon Copy is set for a slapback delay. McCauley mostly employs single-coil guitars and has the Electro-Harmonix Hum Debugger for noise issues. And to keep his guitars in check, he trusts a Boss TU-3 Chromatic Tuner.
Time for a Tele
"Pre-pandemic I was pretty much just playing '80s Fender Japanese Strats with handwound Custom Shop Josefina Campos Fat '50s Stratocaster single-coils," mentions Deer Tick guitarist Ian Patrick O'Neil. "I don't know what happened over that year and half, but when we got back together and going through our guitars in a storage unit, I just loved this Tele again." The reconnected friend is a Fender Vintera '50s Telecaster Modified that came stock with Custom Shop single-coils. Similar to his 6-string counterpart, O'Neil puts D'Addario NYXL .010s on all his standard-tuned guitars. And he gets busy with Dunlop Tortex Standard .73 mm picks.
A Sneaky Strat-y Tele
For any songs that require a capo (like "The Dream's in the Ditch" where O'Neil steps out on lead vocals), he'll put on this Fender American Professional II Telecaster that's been modded with fresh Lollar pickups—a Vintage T Bridge and a Royal T Neck. Its alnico-5 magnets and custom-nickel pickup cover aim to give a springy, 5th-position Strat sound.
Jazzmaster in D
Here's O'Neil's Fender Classic Player Jazzmaster Special that was simplified with the removal of its lead/rhythm circuits. The surgery was done by longtime guitar tech and pal Domenick Panzarella, based in Providence, Rhode Island. This one sees stage time when the band moves into drop-D territory for songs like "The Rock."
Stimulus Stock Up
O'Neil scooped this 1970s Guild D-40 Bluegrass Jubilee with his Covid-19 relief money distributed by the U.S. government during 2020. He bought it off a guy in a Planet Fitness parking lot.
Tweed Me
On previous Deer Tick tours, O'Neil was lugging around a silver-panel '70s Fender Twin Reverb that was altered to approach a more black-panel sound, with lower headroom and quicker breakup. But after seeing the world a few times, it became farty and muddy. Fender's Michael Schulz offered O'Neil a handwired Fender '57 Custom Twin-Amp and he hasn't looked back.
Ian's Instigators
O'Neil's board offers a similar recipe to McCauley's (MXR Carbon Copy and Fulltone OCD), but their ingredients do vary. The different spices include a Black Cat Mini Trem, Jam Pedals Rattler distortion (extreme solos), TC Electronic Hall of Fame reverb, and an MXR M234 Analog Chorus. An LR Baggs Para DI Acoustic Guitar Preamp/DI works with the Guild D-40, while a pair of Boss TU-3 Chromatic Tuners keep his electrics and acoustic in line.