Photo by Linda Brindley
The British songwriter traversed the bleak thoroughfares of his past while writing his autobiographical sophomore album, Seventeen Going Under—a tale of growing up down-and-out, set to an epic chorus of Jazzmasters and soaring sax.
British songwriter Sam Fender hails from North Shields, England, an industrial coastal port town near the North Sea, about eight miles northeast of Newcastle upon Tyne. Fender grew up in this small village, which he calls "a drinking town with a fishing problem." He lived there with his mother on a council estate, a type of British public housing. This is the mise-en-scène for Sam Fender's coming-of-age autobiographical new album, Seventeen Going Under. On the album's cover, a photograph shows Sam sitting on a brick stoop.
"That was a back lane that I used to go down and smoke weed when I was about 15 with a bunch of tearaways," Fender says in his regional "Geordie" accent. "That back lane leads into this estate called Meadow Well, which was an estate that had 80 percent unemployment where we grew up. There was a lot of riots there back in the '90s. It was practically on fire for the whole of 1991. Parts of it were just a wasteland for teenagers, and that's where we used to go and sit and hang out and stuff."
About a mile from that stoop is the Low Lights Tavern, where Fender tended bar after high school, and it's also where he played his music in the early days. Fender's manager, Owain Davies, first heard him play guitar there in 2013 in the corner of the pub. Davies immediately took Fender on as an artist, telling U.K. music industry trade paper Music Week: "He's just an undeniable talent, he's hard to ignore."
Sam Fender - Seventeen Going Under (Official Video)
Indeed, Fender's lyrics stop you in your tracks. These are from the title track of Seventeen Going Under:
I was far too scared to hit him
But I would hit him in a heartbeat now
That's the thing with anger
It begs to stick around
So it can fleece you of your beauty
And leave you spent with nowt to offer
It makes you hurt the ones who love you
You hurt them like they're nothing
After hooking up with Davies, Fender doubled down on gigging and writing, gaining fans and traction, and eventually won the 2018 BRIT Critics' Choice Award before releasing his first album, Hypersonic Missiles, in late 2019. Taking a slow-burn route of building a following for six years before releasing a full-length likely contributed to that album instantly having wings, debuting at No. 1 on the U.K. Albums Chart. Fender's sound and identity as an artist coalesced, with his songwriting skills bucking pop formula. "Hypersonic Missiles" weaves a love story in between musings about "feeding the corporate machine" and "kids in Gaza being bombed." In "Dead Boys," Fender vulnerably grieves fallen mates, victims of the male suicide epidemic in Northern England. Jangly Jazzmasters and epic, chorus-drenched solos play a lead character through it all.
Thematically, Fender, who is 27, gazed outward on Hypersonic Missiles, but he goes deeply inward on Seventeen Going Under. It's literally the soundtrack of his adolescence. "It's mainly about self-esteem, growing up, and the political landscape of England, and how that affects the Northeast and how the Tories basically alienate my hometown and the people that live there," he says. These songs of tribulation are resonating strongly with Britons, and landed Fender another No. 1 album in the U.K. when Seventeen Going Under came out in October 2021.
TIDBIT: Seventeen Going Under was recorded at Wor House (Sam Fender's studio) in North Shields, England, and Grouse Lodge in Ireland. It was mixed by Craig Silvey (Arcade Fire) and produced by Bramwell Bronte.
"I feel like it's my first proper album," says Fender. "The first record was a hodgepodge of songs written over six years. Some of the songs were written when I was 19. I was a baby when I wrote some of the songs on that album. Whereas this is a collective piece of work written over the course of two years. And I feel like it's more cohesive as a piece of work. I think it has continuity. I think it has a sound."
The album might've turned out completely different if not for the pandemic, which resulted in a prolific writing period for Fender, who was forced to quarantine. "I've got a health condition, which affects my immune system, so I had to stay in the house. I was alone, so there was a lot of reflection, a lot of looking back at the past," he recalls. "I was doing therapy at the same time to try and get my head screwed on, and I ended up dissecting my whole childhood in therapy. And then learnin' about the reason why I was the way I was; the reason why I was reacting to things in certain ways; the reason why my relationships weren't goin' well; the reason why I wasn't being the most savory character or not being my own ally. I was kinda making life hard for myself."
And so, this reckoning unfolds throughout 11 tracks. The title song documents a dark time when Fender's mother was battling health issues and couldn't make ends meet. It's a banger that cuts right to the struggle of feeling helpless as a teenager—being old enough to know what's going on but being too young to fix anything.
Sam Fender's Gear
"I like a Jazzmaster through a Fender Twin," says Sam Fender. "I like a bit of compression, just to kind of give you that bite, and I love an old Electro-Harmonix Small Clone, just the original cheap chorus pedal."
Photo by Laura Brindley
Guitars
Fender American Pro Jazzmaster
1959 Fender Jazzmaster
Fender Stratocaster
Martin 000X1AE
Takamine acoustic (gift from Elton John)
Amps
Fender '65 Twin Reverb
Fender '65 Deluxe Reverb
Fender '68 Custom Deluxe Reverb
Strings

D'Addario EXL115 Nickel Wound (.011–.049)
Effects
Electro-Harmonix Small Clone
Electro-Harmonix Small Stone Phase Shifter
Electro-Harmonix Green Russian Big Muff Pi
Electro-Harmonix Holy Grail Nano
Electro-Harmonix Memory Man
Electro-Harmonix POG2
Electro-Harmonix Stereo Polychorus
Fulltone OCD
Origin Effects Cali76 Compact Deluxe
Mooer Yellow Comp
Strymon BigSky Reverberator
Boss RE-20 Space Echo
Way Huge Red Llama 25th Anniversary Overdrive
Gamechanger Audio PLUS
"Spit of You" is about his dad and the complicated relationships between sons and fathers. "Me and my dad had a five-year period where we didn't get on very well," Fender shares. "He lived in a different country. As things have progressed with my career, we started hanging out a lot more. It's about a father and son's relationship and the inability to talk about anything other than DIY, music, or alcohol. If anything, it's a just declaration of love for my old man. And funny enough, it's his favorite song."
Not all the songs chew over familial dynamics. Fender dissects his own communication and romantic failures on "Get You Down," and there's externally pointed angst on the album's two political tracks: the rebellious anthem "Aye," which pokes and prods around class/wealth disparity, and "Long Way Off," which Fender says sounds like "a Bond movie theme" with its grandiose instrumentation.
"It's got 164 tracks of audio," Fender says of the latter. "It just built and built and built and became this huge orchestral track. It's about political polarity and how I feel a lack of identity with any of the political parties currently in my country. I think it's quite a unanimous feeling in a lot of places at the moment. A lot of working-class people in England feel displaced by it all, and in my hometown as well. It was written around the time when all the Trump supporters were storming the capital building. We're a long way off from sorting out the mess the world is in."
"It's such a refreshing rehash of '80s music. It makes me think that a lot of the sounds in the '80s that sound jarring and cheesy, I feel like it was just because it was the early days with synthesizers and them sorts of guitar sounds."
All of the songs were written by Fender, who played guitar, bass, piano, Hammond organ, synthesizers, glockenspiel, mandolin, and harmonica inside the North Shields studio he built by necessity during that time. The album has horns and strings across it, and Fender also wrote the string arrangements, though he didn't play those parts himself. His five band members, most of whom he grew up with—drummer Drew Michael, guitarist Dean Thompson, bassist Tom Ungerer, guitarist and keyboardist Joe Atkinson, and saxist Johnny "Blue Hat" Davis—play on the album as well. It was produced by Thom Lewis, aka "Bramwell Bronte," Fender's longtime collaborator who also produced Hypersonic Missiles.
Fender has a homespun grit much like his idol Bruce Springsteen, whose working-class ethos and songs from the heartland resonated with Fender at an early age. (The Boss connection has earned Fender the nickname of "Geordie Springsteen.") Fender's sound has a tinge of throwback and noticeable nods to his influences (cough, cough, sexy saxophone solos), but the magic lies in how he connects on so many levels with cinematic arrangements, bull's-eye lyrics, and sincere delivery. The songs are a baring of the heart, a showcase of human struggle.
His father and older brother (nine years his senior) are also musicians who gigged around town, obviously influencing Fender's journey down the troubadour road. "I got a guitar when I was 8 and started mucking around with it then. By the time I was 10, I was starting to get quite proficient," Fender shares. "And then as I got older, I realized at school there was always a couple of kids that could shred, and could really, really play. And I just thought, I don't wanna spend the rest of my life learnin' guitar just to be that—I wanna make songs, ya know?" As a kid, he was obsessed with Slash, Page, and Hendrix. "Then my brother started showin' us Springsteen and all that. I loved Oasis and all the British stuff as well."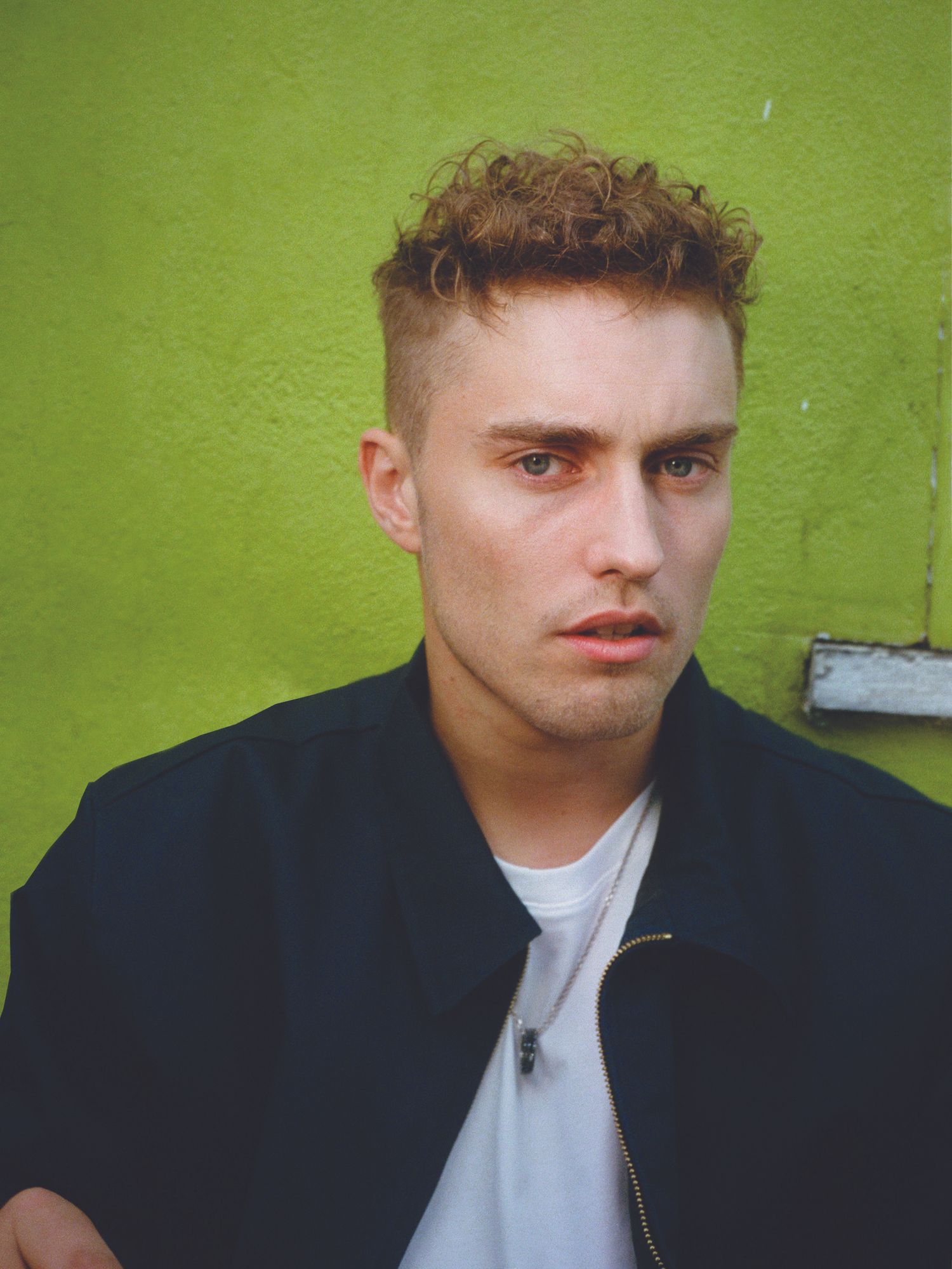 "I felt like it could be powerful and delicate and all the things in between. That's when I started singing properly, is after hearing Jeff Buckley."
Photo by Charlotte Patmore
But a gamechanger came when Fender was 14 and his brother gave him Jeff Buckley's Grace. "I always had quite a high voice for a tall … I'm 6'1," he says. "Normally that means you're, like, a baritone, but I'm, like, quite a high tenor. When my brother gave us Jeff Buckley, I was like alright, he does that, and it's rock 'n' roll, and it sounds cool. That means I can do this as well [laughs]. I felt like it could be powerful and delicate and all the things in between. That's when I started singing properly, is after hearing Jeff Buckley. I always wanted to have a voice that was, like, "rawr"—gruff 'n' stuff—when I was a kid, but then I realized, well, that's not really who I am."
Sonically, the War on Drugs is one of Fender's favorite bands. Their impact on how he approaches crafting song parts can be heard in "Last To Make It Home," particularly the expansive guitar solo on the outro. "I had the Fender Twin up, like, so loud that my ears were bleedin', with my whammy bar," Fender says of recording that solo, "and whichever way I turned, I got that feedback. You get that sort of 'Champagne Supernova' endin'," Fender says. (WoD frontman Adam Granduciel had signed on to mix that track, but ultimately couldn't do it because he missed the master deadline for his own album.)
"I like Springsteen for the lyrics, and I love War on Drugs for the sound," Fender shares. "I think it's such a refreshing rehash of sounds we already know—it's such a refreshing rehash of '80s music. It makes me think that a lot of the sounds in the '80s that sound jarring and cheesy, I feel like it was just because it was the early days with synthesizers and them sorts of guitar sounds. I feel like the War on Drugs have refined it. It's beautiful and I think there's more to be looked down that avenue. That's why I'm quite chorusy-soundin'—I love that sound. It's nostalgic for me, even though I'm not from the '80s, I grew up in a house where that music was playing."
"I was doing therapy at the same time to try and get my head screwed on, and I ended up dissecting my whole childhood in therapy."
Though his new album is bursting with layers upon layers of instruments, he undoubtedly has an ingrained sense of how to be impactful with just a guitar and his voice, which came from years of performing solo without a backing band. In a BBC Radio 1 Live Lounge concert in early 2020, Fender did a solo performance of Amy Winehouse's "Back to Black," fingerpicking the melody and bass line, while nailing a rather ambitious vocal. His thumb bounces between the 5th and 6th strings, while his other fingers create a harp-like effect on the melody. "It's a strange move, but once you start getting the muscle strength, it's a constant thing and it's quite hypnotic," he says.
Fender describes his songwriting method as "chop and change." He noodles on his Jazzmaster, does some fingerpicking, or switches to another instrument. "A lot of the times I write a lot of songs on piano and convert to guitar. So, I find the chords on piano sometimes and then I'll find interesting variants of the chords on the guitar to make it sound pretty." He likes to experiment with tunings as well. Seventeen Going Under is mostly in C# standard, though he did play around a bit with Nashville tuning and light gauge strings.
When conversation turns to a special guitar he just bought, Fender lights up. "I've finally treated myself and allowed myself to buy something that was expensive because there's always an air of guilt," he says. "I've been lucky, Fender's always given us stuff. I've always had loads of free guitars because I've always been sponsored by them. But when it comes to buying stuff, there's still a part of us that thinks I'm still living in the flat with my mum on a council estate, and I still feel like I can't. I'm like, "ooh, that's a lot of money." It's like a subconscious thing. I was always quite frugal. I was always scrimpin'.
Fender primarily plays Jazzmasters, but he strapped on a Stratocaster for "Will We Talk?" at Hole 44 in Berlin, Germany, on November 4, 2021.
Photo by Chux on Tour Photography @chuxontour
"But I've just bought a ridiculous Jazzmaster. It's a 1959," he continues. "It's the second year of Jazzmasters, one of the very, very first ones. It's absolutely stunning. It's got a gold scratch plate, and it came with a packet of strings from 1959 from New Brunswick."
He explains his sweet spot for tone matter-of-factly. "I like a Jazzmaster through a Fender Twin. I like a bit of compression, just to kind of give you that bite, and I love an old Electro-Harmonix Small Clone, just the original cheap chorus pedal. I think it sounds great. And every other chorus pedal I put on I'm just like 'pfft whatever.' People go, 'try this boutique $300 fucking chorus pedal.' And I put it on and it's not as good as a Small Clone. Small Clone just sounds like a chorus. And it's one knob. It's idiot proof and I'm an idiot [laughing]. That's my go-to."
At the beginning of 2022, Fender will live in New York City while recording his third album at Electric Lady Studios, which is where he'd planned to make his second album before the pandemic made that impossible. He wrote 60 songs over the last two years, recording only 11, which means he has a good stash in his back pocket. The rest of 2022 he'll be headlining arena tours, as well as supporting the Killers on four dates in London and Dublin.
On the release of such a personal collection of music, Fender recently penned a letter to his 17-year-old self. In it, he tells young Sam not to be so serious. Present-day Sam's social media is light and carefree, with videos of him explaining how to make the best cuppa, eating jellied eels, and mini movies of strangers on the street with improvised voiceovers. So, it appears time has done the songwriter well. It's all in the new album, but 27-year-old Sam had this to say to 17-year-old Sam: "Art is the purest remedy for all internal conflict and you're taking a career in it. It's an honour to do what you will do, never forget that. You may feel alone currently but you will realise that your stories, when put to music, open up a side of you that actually helps people. A lot of these stories were originally about you but they belong to everyone, as everyone has their own, and they will be screamed back at you—from clubs and dive bars, even arenas. Some kid, 17, probably going through a boatload of similar shit that you experienced, will be front and centre, screaming these stories as if it's their last night on Earth."
Sam Fender - Live at Reading Festival 2021 Full Set
There's a perfectly good reason why the famous offset's most high-profile ambassador has a new signature Telecaster—and the silver-maned fuzz lord also turned to a number of other surprising choices for Dinosaur Jr.'s wonderfully varied new Sweep It Into Space.

Dinosaur Jr. has long had a home with fans of fuzzy indie rock, but they've also never sounded quite like any other band. The sour/sweet juxtaposition of J Mascis' gentle, reedy vocal textures against his hallmark wall of swirling, violently massive guitars isn't without precedent, yet in the context of Dinosaur Jr.'s music it's always stood out as something unique and genuine—and it's had a major influence on the hordes of contemporary artists chasing the alt-rock glory of the '90s.
The Massachusetts-based trio has had three distinct periods as a band, yet Mascis' earnest songwriting and equally vicious, noisy, and melodic guitar have always been the eye around which the band's sonic hurricane revolves. He is a revered tone hunter, a passionate student of rock's grimy past, and a prolific gear collector. Weaned on a steady diet of '80s hardcore punk, '70s proto metal, and especially Stooges records featuring Ron Asheton's primal guitar work, Mascis has a style—particularly in his soloing, which feels like a 6-string stream-of-conscious monologue—that's unmistakable.
Dinosaur Jr. - Full Performance (Live on KEXP at Home)
Dinosaur Jr.'s original lineup of Mascis, bassist Lou Barlow, and drummer Emmett Jefferson Murphy III (known as "Murph" to everyone but the government) formed in 1984 in Amherst, Massachusetts, and put out three highly influential albums before splintering. Mascis continued to make Dinosaur Jr. recordings, chiefly by himself, until 1997, at which point he began a solo career in earnest. However, Dinosaur Jr.'s founding triumvirate unexpectedly reunited in 2005. And the band's third act has added four critically acclaimed albums to its discography—now followed by an inspired and vibrant fifth, the new Sweep It Into Space.
Mascis has historically been downright negative about the role producers play, however, this time the band opted to call in friend, fan, and prolific singer-songwriter Kurt Vile to help bring Sweep It Into Space to life. Mascis says that, unlike the typical artist-producer relationship, Vile's role was more like a fourth band member and cheerleader. "Kurt was good because he likes the band already and wasn't really trying to tell us anything to do. He was mostly playing and singing different parts to the songs, and if I liked them I'd put 'em in. Kurt was also a good vibe guy and I think he made the other guys feel a little more comfortable, because we can get a little tense when we record. Kurt kept the vibe good." Mascis adds that he and Vile have similar tastes as guitarists, and that "if we were both being interviewed, you'd hear some similarities in the things we like from the past."
I bought a Les Paul Deluxe just because I was in Thin Lizzy mode. That was an interesting new purchase, and I played some rhythm stuff on the album on that guitar.
So many high-profile reunions fail to yield strong new albums, let alone five. Sweep It Into Space elaborates on the magic of Dinosaur Jr.'s beloved early output. It's a pure representation of Mascis' songwriting, with the classic Murph and Barlow support, and every track is a feast for fans of Mascis' guitar work. From the jangle and bash of opener "I Ain't" to the hulking, Black Sabbath-informed riff that opens "I Met the Stones" to the layered acoustic guitars and blazing solos that punctuate throughout (particularly the burners on "Hide Another Round" and "N Say"), Sweep It Into Space finds Mascis at the peak of his prowess. Though Mascis claims not to have noticed any specific changes in his playing throughout the pandemic's isolation, he did find himself on a serious Thin Lizzy kick he admits probably found its way onto the new album (perhaps as manifested by the harmonized leads on "I Ran Away").
"I was watching a lot of Thin Lizzy videos. My friend Graham [Clise] that's in [side-project] Witch with me told me to watch this video of Gary Moore on [BBC TV program] The Old Grey Whistle Test, and his backup band is Scott Gorham, Phil Lynott, and Cozy Powell on drums, and he's really ripping in that! That video led me to get more into Thin Lizzy, because it sounded a lot like [MC5 guitarist Fred "Sonic" Smith's band] Sonic's Rendezvous Band or something that was definitely up my alley. I bought a Les Paul Deluxe just because I was in Thin Lizzy mode. That was an interesting new purchase, and I played some rhythm stuff on the album on that guitar."
TIDBIT: While much of Sweep It Into Space was recorded before the pandemic, Mascis also tracked alone at home. "Quarantine made me a better engineer, if anything."
Mascis is a renowned gearhound, so it's no surprise he picked up some new old guitars over the course of the pandemic. However, the big news in Mascis' gear world is his latest collaboration with Fender: a signature Telecaster based on his favorite 1958. Mascis' wildly popular signature Squier Jazzmaster was first put into production in 2011 and is considered by many offset fans to be the best bang-for-buck Jazzmaster available. But despite the role Mascis has played in popularizing Jazzmasters by playing vintage models live since Dinosaur Jr. began, the guitar Mascis has relied upon for the lion's share of the iconic solos heard on the band's albums is indeed that very special '58 Tele, which sports a blue-sparkle refinish, mirror pickguard, jumbo frets, and a "top-loader" bridge. The new Road Worn Series J Mascis signature Telecaster immortalizes that guitar and its unique features in a relatively affordable package.
J Mascis' Gear
Another new gear switch-up: Whereas Mascis blasts through a wall of Marshall and Hiwatt stacks live, for the new Dinosaur Jr. album, he relied on a Vox AC30 and Fender Bandmaster instead.
Photo by Jim Bennett
Guitars
Fender J Mascis Signature Telecaster
1958 Fender Telecaster
1972 Gibson Les Paul Deluxe
Ernie Ball Music Man St. Vincent
Amps
Vox AC30 AC30HW2 Hand-Wired reissue
1x12 cab with Tone Tubby Hempcone Speaker
Tweed Fender Bandmaster
Effects
Jerms Tone Bender MkI clone
Chase Bliss Brothers
Jam Pedals RetroVibe
Lovetone Cheese Source
Lovetone Meatball
Wren and Cuff J Mascis Garbage Face fuzz
Bad Cat X-Treme Tone
Strings & Picks

Ernie Ball Regular Slinky (.010–.046)
Dunlop Tortex 1.12 mm
Rig Rundown - Dinosaur Jr.'s J Mascis and Lou Barlow
So, for a guy whose name is synonymous with the Jazzmaster, what exactly is it about that old blue Tele that's made it his go-to when it comes time to lay down a solo? "I seem to play differently on a lot of guitars, which is another reason why I like to buy different guitars. I come up with different things, and maybe the guitars have some songs in them already. On that Tele, I find my solos are more interesting. If I play the same solo on a Strat, it just sounds like a Strat to me. It's slightly more boring somehow? I don't know where my brain or fingers go or why that happens, but I usually find that if I play solos on different guitars for the same song, the stuff I play on that Tele is always more interesting. The top-loader was the first Tele I really bonded with, and it was about the feel. When I pick up Teles with string-through-body bridges, the strings are a little harder to bend. People say the top-loaders don't have as much sustain, but I never thought of a Tele as a sustain guitar anyway, and when you hit a Big Muff, every guitar has sustain. So that argument doesn't really work for me."
People say [Telecaster] top-loaders don't have as much sustain, but I never thought of a Tele as a sustain guitar anyway, and when you hit a Big Muff, every guitar has sustain.
Sweep It Into Space came together right before the pandemic began to shut things down. While all of its songs were fundamentally tracked by the time lockdowns began, Mascis had to capture some of his solos and overdubs at home and was forced to learn Pro Tools in the process. "I guess quarantine made me a better engineer, if anything," he says. "I did some 12-string guitar overdubs and recorded some solos myself." Although, live, Mascis is often photographer-slamming his sound through a confrontational trio of Marshall and Hiwatt stacks, recording himself led to a different option. "I tended to use a handwired AC30 head, because it has a master volume. Because the amp was right next to me, I could make it really quiet with the master volume, which really helped out. I think I played it through a cab with one of those Tone Tubby hemp speakers."
Dinosaur Jr. (left to right): Bassist Lou Barlow, J Mascis, and drummer Emmett Jefferson "Murph" Murphy III.
Photo by Cara Totman
Another reason Mascis fired up his Vox is that he prefers the way AC15s and AC30s handle fuzz pedals for recording. "I tend to always want to put the mic right on the speaker, and lately I've tended to favor a Vox amp for fuzz. I like the way fuzz hits a Vox amp. It seems to work well with them and it's never that loud when I record, so it's very different than how I get that sound live. I'm trying to recreate maybe the live feel, but it seems much easier to get a cool sound at a lower volume so the mic can handle it." Mascis also says that it's usually a germanium Tone Bender MkI that he reaches for as a starting point for his recorded fuzz sounds, and seldom the Big Muffs he loves live. However, the guitarist is still happy to experiment. "I tend to add different things to that, and I usually always stack fuzzes together to come up with a cool sound."
The only time I'll ever reach for a slide is if I think a song really needs it, because I'm not very good at it.
Interestingly, while the main riff on "I Met The Stones" features one of the most savage guitar sounds on any Dinosaur Jr. release, no fuzz pedals were involved in shaping the track's core tone. "That song I ended up playing in C# … and I think I was using a St. Vincent signature Ernie Ball guitar, because it seemed to play in-tune well at that pitch. A lot of those rhythm parts are on that guitar through a tweed Fender Bandmaster. I think the sound on that song is mostly from the amp and the mini-humbuckers in that guitar."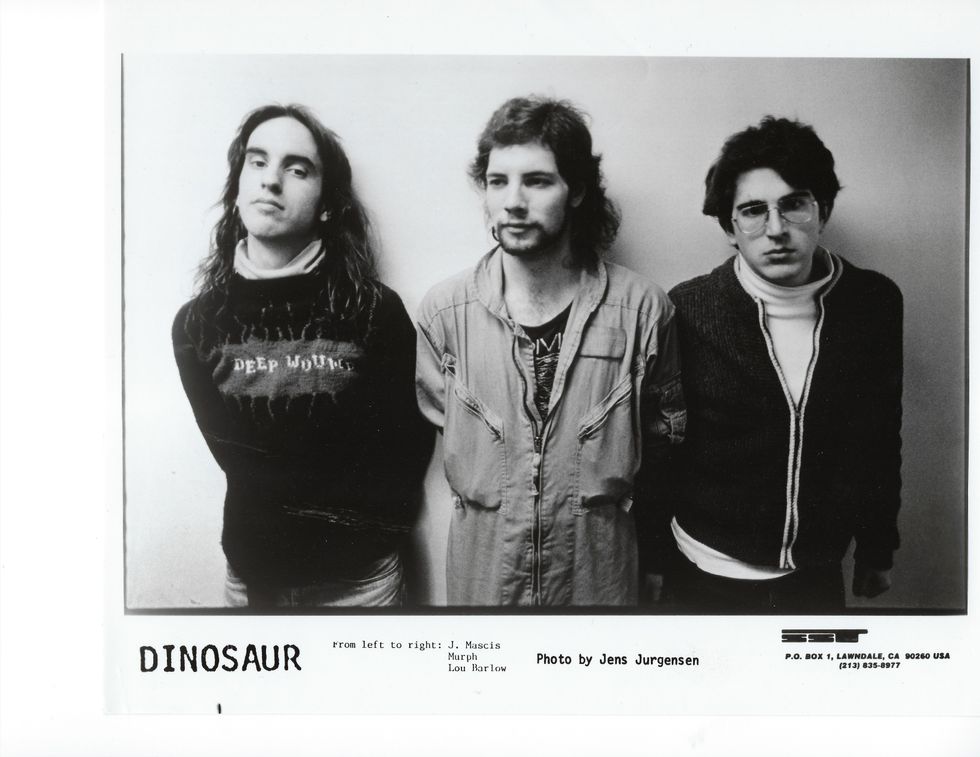 A 1987 SST Records press photo of Mascis, Murph, and Barlow before a name dispute caused them to add the lovably diminutive appellation to their moniker.
Even though Dinosaur Jr.'s reinvigorated trio lineup has proven yet again to be a fertile and stable partnership with Sweep It Into Space, in 2019 Mascis revisited the major-label releases the band put out during Murph and Barlow's mid-'90s absence, with a series of vinyl reissues. Given that project's proximity to Into Space, one can't help but wonder if any ideas from that '90s output seeped into the new album's tunes. "You definitely hear some songs, and it's like you didn't remember some of them at all," he says. "It's interesting when you record a song and never play it live and then hear it again 20 or 30 years later. You sometimes don't remember much about it. So it was cool to hear them again and wonder what I was thinking about when I wrote them. 'How'd You Pin That One on Me' off of Green Mind has a lot of slide, and the only time I'll ever reach for a slide is if I think a song really needs it, because I'm not very good at it. So it's interesting to hear myself playing slide. I usually don't like listening to people playing slide unless it's someone very specific. Something about slide guitar doesn't appeal to me that much. I like Mick Taylor's slide stuff, which wasn't too crazy."
The major-label years of the mid '90s had stranger things in store for Dinosaur Jr. than an unexpected slide guitar part, though. For example, the band made its television debut on Late Show with David Letterman in 1993, at a time when Letterman's house band typically backed up the show's musical guests. The performance saw Mascis and company rip through an impassioned, barnstorming version of "Out There," with Paul Schaffer and the rest of the Letterman band jamming along, And while that in itself is YouTube gold for fans of rock oddities, it gets better. David Sanborn spends the entire song blowing the living hell out of his saxophone from a perch in the background. It's a weird sound, but one that actually kind of works. Mascis remembers the experience fondly. "I was trying to encourage David Sanborn to jam out on the song, and all those guys are just sitting there, so I figured he might as well just play and see what it sounds like. I remember it being good, but I also remember a few sax notes seeming out of tune … which was surprising for Sanborn."