On this month's menu, a '64 SG TV and a '68 EB-0—prime examples of the company's classic mahogany slab designs.
The successful sales of the Les Paul model, launched in 1952, convinced Gibson to expand its solidbody line to include a variety of guitars aimed at players from beginner to professional. This led to the introduction of both the low-priced, flat-bodied, single-pickup Les Paul Junior and the high-priced, elaborately appointed Les Paul Custom in July 1954. By 1955, the Les Paul line also included the Les Paul TV (aka TV Yellow) and the Les Paul Special. The Les Paul Special, TV, and Junior became double cutaway by 1958.
This close-up shows both instruments in remarkably good condition, as well as their to-the-point electronics.
By 1960, waning sales for Gibson's original Les Paul guitars prompted the company to completely redesign them. The Les Paul Standard and Custom joined the Junior, TV, and Special as part of Gibson's line of slimmed-down mahogany-body guitars. They were reshaped to include pointed horns and beveled outer sides. The new double-cutaway body left easy access to all 22 frets. The already double-cutaway, flat-slab-bodied Les Paul Junior, SG TV, and SG Special received the new dimensions and contours during 1961. (The Les Paul TV and Les Paul Special had been renamed "SG" in late 1959.) This whole group of guitars became known as the SG Series when Les Paul's endorsement ended in 1963.
Gibson introduced its first electric bass guitar in 1953 and named it the 'Electric Bass.' (Catchy, right?)
The SG TV's early catalog description explained the important details: "Ultra-thin, contoured, double-cutaway body, nickel-plated metal parts, quality machine heads. Slim, fast, low-action neck-with exclusive extra-low frets—joins body at the 22nd fret. One-piece mahogany neck, adjustable truss rod. rosewood fingerboard, pearl dot inlays. Combination bridge and tailpiece, adjustable horizontally and vertically. Powerful pickup with individually adjustable polepieces."The original price for the 1964 SG TV pictured was about $147.50. The current value is $5,000. The guitar was the soul of simplicity, with a single bridge P-90 and one volume and one tone control.
And now, let's look at our SG's 4-stringed friend.Gibson introduced its first electric bass guitar in 1953 and named it the "Electric Bass." (Catchy, right?) It was followed by various EB models over the next several years, including the semi-hollow EB-2 in 1958 and the double-cutaway solidbody EB-0 in 1959. By 1961, the EB series also received the thin SG-shaped body.
This 100-watt Marshall PA head, with four sets of inputs, is rare and currently valued at about $10,000.
The 1966 catalog describes the latter model as "a new, economy-priced solidbody bass by Gibson—it offers clear sustaining bass response, easy fast playing action, modern cherry red finish."Although a custom color option is not mentioned, the 1968 example pictured is finished in a white similar to the SG TV. Like it's SG counterpart on display this month, this bass has a single pickup and one volume and one tone control. The original price was about $240. The current value is $2,500.
Behind the instruments is a 1967 Marshall PA. This 1968 JTM100 Super PA head pushes 100 watts through two columns of four 12"20-watt Celestion greenback speakers. The controls on the head are power and standby switches, presence, bass, middle, and treble, plus four loudness controls for each channel, along with two input jacks each for channels 1 through 4. About £200 in British currency could get you this PA in 1967. The current value is $10,000.
Sources for this article include Gibson Electrics: The Classic Yearsby A.R. Duchossoir, Gibson Guitars: Ted McCarty's Golden Era—1948-1966 by Gil Hembree, and The History of Marshall: The First Fifty Years by Michael Doyle and Nick Bowcott.
Slowhand guitar tech Dan Dearnley takes PG through the guitar god's stripped-down stage setup.
At age 76, Eric Clapton remains a major presence in guitar. He's touring again rather than simply resting on nearly six decades of laurels, and with Slowhand's blessing, Dan Dearnley—the legend's tech for a dozen years—showed us his boss' setup before a September 21 concert at Nashville's Bridgestone Arena. Three Signature Strats, Martins, and not much else. Dig in!
One and Done
Clapton has owned some of the most sought-after guitars ever built, but these days he tours with just three of his Fender Custom Shop signature models. Dearnley explains that he usually plays only this guitar, his current favorite, onstage all night long. All of Clapton's signature Strats have Fender's Blocked American Vintage Synchronized Tremolo, Vintage Noiseless Single-Coil Strat pickups, and a TBX active tone circuit, with a middle tone knob to roll off treble, plus a mid-boost. The only difference between these three and what you would buy in a music store is that Clapton swapped in an old-school 3-way switch. They're all strung with Ernie Ball Regular Slinkys (.010–.046). Since Clapton is a car enthusiast, he went with classic sports car colors for his trio of 6-string hot rods. No. 1 has a dark blue finish you'd find on a Porsche.
The Other Signature
Fender Custom Shop master builder Todd Krause built all three of Clapton's touring Strats and signed their headstocks.
Mr. Bond, Your Guitar Is Ready
The main spare is an E.C. signature that was one of five made in 2019 to celebrate Slowhand's five-night stand at Tokyo's Nippon Budokan arena. It is decked out in a head-turning metallic almond green that was exclusively used by British car maker Aston Martin.
A Rare, Modern Martin
Currently Clapton's favorite acoustic is his Martin 000-42K Goro Custom Tribute model, which was part of a run built to celebrate the life of Japanese designer and craftsman Goro Takahashi. This guitar has no electronics. For the show, Clapton used two DPA 4011TL cardiod microphones mounted on a single stand.
Clapton's Goro Martin has a remarkable flamed koa back.
A Class Act
In a flourish that recalls the subtle elegance of Takahashi's own designs, the bridge of this Martin is adorned with a bit of golden flare.
Elemental Binding
The Martin Goro's Italian alpine spruce top is set off by beautiful, sea-water turquoise binding.
E.C.'s Acoustic John Hancocks
Of course, Clapton's cache of acoustics also includes his own Martin 000-28EC signature model. This East Indian rosewood guitar has an undersaddle pickup, but he prefers the instrument's natural acoustic sound miked up.
Clapton Close-Up
Here's a detailed shot of E.C.'s signature at the 12th fret and a peek inside the soundhole where you can see another Clapton autograph on the inside label above C.F. Martin IV's.
In the Presence of the Lord's Pedal
For pedals, Clapton—who, along with Hendrix, immortalized the wah-wah—is a minimalist. His guitar plugs into a switch pedal made by Mike Hill, which splits the signal. It divides into a Dunlop Cry Baby GCB95F Wah and to his amp. When the wah is engaged, that signal also goes to a Hammond Leslie 122XB rotary speaker for a supercool swirling effect.
Amped Up Amps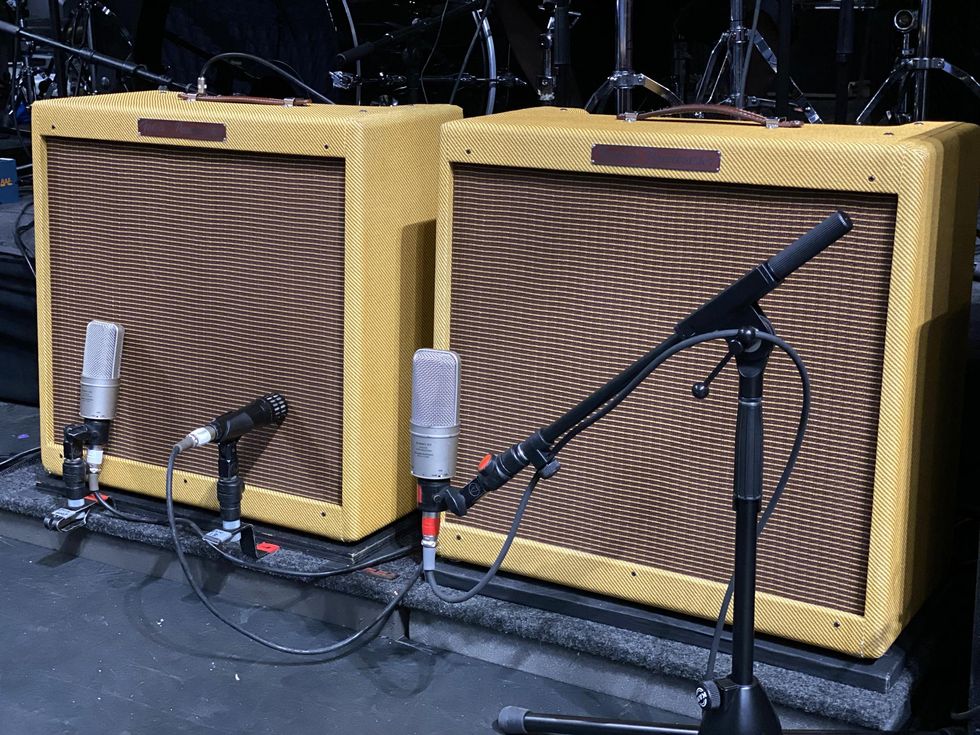 Clapton tours with two Fender '57 Bandmaster custom series amps, but these have a twist. They were built by Alexander Dumble specifically for him. The guitar hero runs one and keeps the second as a miked-and-ready spare. Both combos are blasting into a Audio-Technica AT4047/sv, while the main Bandmaster has an additional Audix i5 Cardioid Dynamic on one of its speakers.
Lucky Number
Clapton asked Dumble to make the amp's sweet spot come alive when all the controls are set to 7.
The bluesman surprisingly credits Adam "Nergal" Darski for his right-hand picking dexterity and explains why many of his own songs use a same similar "heavy" tuning.