Smooth, articulate germanium and silicon overdrive that respects your tone and style—and your budget.
Smooth, articulate overdrive that respects the character of your tone and playing. Germanium and silicon options, with nice surprises on the silicon side. Great price!
Fans of higher-gain germanium circuits may be disappointed in quiet germanium side. No setting for blending the germanium and silicon diodes.
4
4
5
5
It's pleasing when a device with a little braggadocio in its name lives up to its claim. EarthQuaker's new Special Cranker is, indeed, special. It's a warm, ultra-touch-responsive medium-gain overdrive that EQD designed to sound and respond like you've added another tube to your amp's preamp section. The result: The character of your core tone remains vital and intact, but bristles with articulate, controlled snarl and sustain. And if that's not special enough, there's also a toggle that lets you switch between germanium and silicon diodes, for two classic flavors of fur.
Recognizing the Speaker
The Special Cranker is an update on the Akron-based company's out-of-production Speaker Cranker, which had just one knob, labeled "more." The Special Cranker literally offers more—control, that is, with the addition of an output level control and tone dial that helps shape some of the extra gain on tap, among other things.
The more dial cranks the gain by adjusting the bias of the transistor, and it can be a little noisy when you twist it, but EarthQuaker says that's normal for this circuit. The level adjusts the output signal and can get pretty outrageous—it seems to double the volume when fully cranked in silicon mode. Unity, for my Zuzu 6-string with coil-splitting, was between 9 and 10 o'clock, so there's lots of headroom. The tone wrangles treble: more to the right and less to the left, naturally. I found flat response at about 2 o'clock with the Zuzu, which produces Les Paul-like tones in humbucking mode and sounds like a Stratocaster in single-coil settings.
Your core tone remains vital and intact, but bristles with articulate, controlled snarl and sustain.
The circuit board inside is clean, elegantly executed, and home to the pedal's two flavors of diode. The original Speaker Cranker utilized a single asymmetrical clipping silicon diode. Typically, asymmetrical diode clipping sounds less compressed and clearer than symmetrical clipping. Special Cranker's switchable silicon and germanium clipping sections, however, enable you to experience two very different flavors of asymmetrical clipping. Germanium clipping, of course, harkens back to the earliest days of fuzz. It is, typically, warmer, darker, and produces less gain than silicon.
Cranking the Cranker
Plugged into a Carr Telstar amp, the Special Cranker is a little demon—especially in silicon mode. With level at noon, more at 2 to 3 o'clock, and tone also at 2 to 3 o'clock, humbuckers produce warm sounds that sustained elegantly, living up to EarthQuaker's promise of lucid tones. That clarity helps chords flower, while single notes took on a sinuous character and hung in the air—ripe, full, and singing. It was much the same with single-coils, albeit brattier and more snarling. And while the output is aggressive and quite loud, it's still warmly sculpted and manageable—even with the gain and level turned to maximum.
I'm a germanium fan, but to my surprise I fell hard for Special Cranker's silicon side. I love gnarly, high-gain germanium tones, but with its medium-gain ambitions, the Special Cranker sounds grittily sophisticated rather than head-rattling. And where the germanium-driven tone had less low-mid content than I'm used to, which was a tad disappointing, the silicon side filled in and fattened the low mids—which I hadn't expected—creating a robust, blooming sound I adored. The silicon side also made my guitar brighter, bolder, and well-defined, even with extended chords. The rangy tone control is valuable for fine tuning the extra gain and high end (though I was also very happy simply setting it flat). It's also very helpful when searching for more brightness on the darker, quieter germanium diode.
The Verdict
The Special Cranker is an exceptional medium-gain overdrive with tube-like character, offering plenty of easy-to-control, warm distortion and boost. The germanium side may be too tame for some players. But the silicon side has a full, fat voice that is perfectly responsive to picking technique and preserves the integrity of complex chords. That alone makes the $99 price a bargain. I'd love to see a setting for blending the silicon and germanium diodes, even though that would bump the price. But players looking for a more articulate and colorful alternative to TS and Klon tones should crank up the Special Cranker and tilt an ear.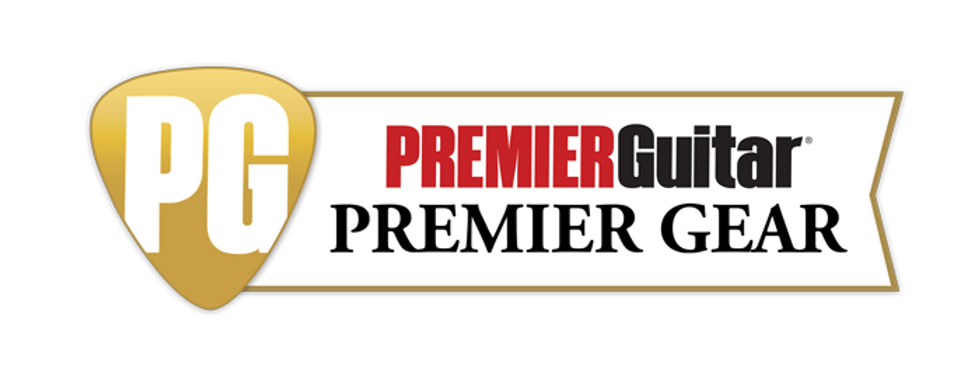 It's the '80s in a box—just add hair spray.
A portable, user-friendly path to tri-stereo chorus sounds. Presets make it easy to find '80s guitar tones. Good analog BBD-style chorus tones. Sensitive controls allow for refined tweaking.
Dual-control knobs make it difficult to visualize settings.
5
4
4
4
The 1980s were a decade of big hair, big amps, and big guitar tones. But while those stacks of cabinets certainly made things louder, behind-the-scenes rackmount chorus and in particular, the tri-stereo chorus units available under various names such as Dyno-My-Piano, Dynotronics, and Songbird, did a lot to make '80s guitar sound bigger still. Once these rackmount units reached the rigs of guitarists such as Michael Landau and Steve Lukather, pop radio didn't stand a chance.
After a period of relentless ubiquity, heavily chorused guitar tones went the way of Aqua Net. But chorus made a comeback, and even rare rackmount versions of the effect have been distilled into pedal form. Eventide does a swell job cramming complicated effects into compact stomps. This time around, they've fit the giant tones and deep functionality of rackmount tri-stereo chorus into the pedalboard-friendly TriceraChorus.

Eventide TriceraChorus Review by premierguitar
Neck pickup, chorus mode, rate at 10 o'clock, detune at 10 o'clock, chorus levels at noon
Same settings in swirl mode
Neck pickup, swirl on, vibrato mode, rate at 3 o'clock/rate envelope cranked, detune at 3 o/clock, pitch at 11 o'clock
Rhythm on bridge/middle, chorale mode, rate noon, detune noon, all three levels at 2 o'clock. Lead with same setting but with Klon KTR
Same settings on bridge/middle, delay knob cranked (clean)
Same settings but with Klon KTR
Is Three Better Than One?
Anyone who's ever used a stereo chorus effect knows the depth and dimension it can add to a guitar tone. A tri-stereo chorus takes that idea and runs with it—creating three separate chorus signals and placing them across the stereo field—left, center, and right. The result is just as vast as you'd hope, evoking big-stadium vibes even with a pair of small combos.
Like the other pedals in Eventide's dot9 series, the TriceraChorus' dual-function knobs offer a wide range of control. On the TriceraChorus, users can use them to choose between three effect modes (chorus, vibrato, and chorale), tweak rate/rate envelope, detune amount and pitch, left/center/right levels, delay time, and filter settings. The complex nature of the pedal's capabilities means specific settings are easy to forget, and first-time users face a bit of a learning curve. But the five factory presets are good jumping-off points for exploring possible extremes. And with the option to create 127 presets of your own you can create and recall many simple or radical formulas to suit your musical moment.
By cranking up the rate and detune past noon and playing around with a little micro-pitch shifting to taste, it was easy to evoke the Mike Stern-playing-with-Miles tones of my dreams.
Tracing The History of Chorus
In some ways, the TriceraChorus enables users to be tone archeologists and trace the history of the chorus effect to its early days. At its simplest settings, the TriceraChorus offers bucket brigade-inspired tones that evoke the sound of those '70s stomps. And in chorus mode, with the rate at slow-to-moderate settings and the detune below noonish, the pedal offers warm gooey delights. Kick on the swirl switch and you unlock even warmer phase- and flange-style modulation. If it's subtle sounds you seek, dialing back one or two of the three chorus level settings offers more vintage-variety sounds. On the other side of the coin, keeping the swirl engaged and switching into vibrato mode at high rate and detune settings creates worlds of weirdness.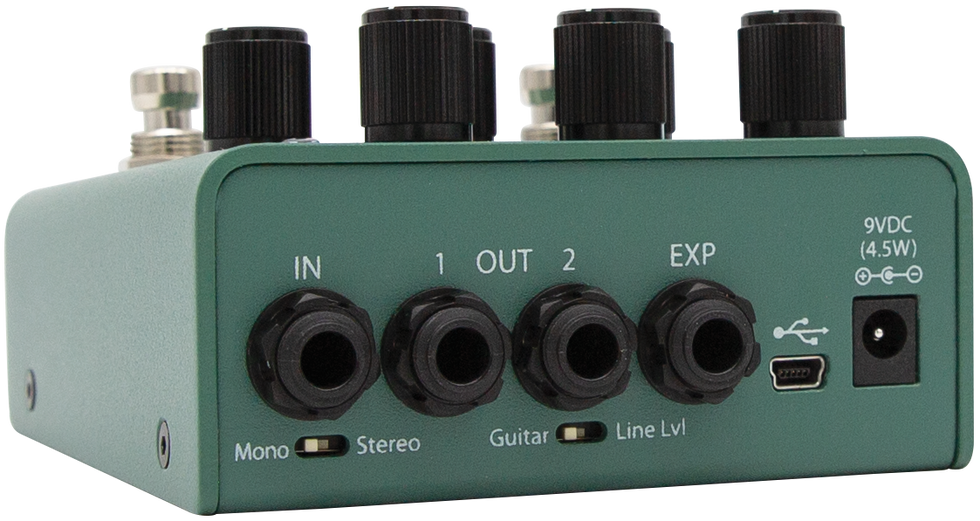 When it's time to lean into '80s vibes, you'll want all three chorus levels to be audible. I found the most hi-fi tones in chorale mode with the swirl function off. Here, tight, single-note riffs and leads sing, especially with a touch of overdrive in front of the pedal. By cranking up the rate and detune past noon and adding a little micro-pitch shifting to taste, it was easy to evoke the Mike Stern-playing-with-Miles tones of my dreams. Cranking the delay knob can deliver the pedal's most arena-ready tones and I had a blast faking my way through everything from Alex Lifeson-style suspensions to "Purple Rain." Whatever the settings, with all three chorus voices activated, the TriceraChorus adds a lush sparkle to clean tones and buffs out the rough edges of distorted tones to create '80s radio-ready majesty.
The Verdict
Though tri-stereo chorus was immensely popular in its heyday, its potential is still underutilized. And while I've never played through a vintage Dynotronics unit to know how close Eventide got to the original vibes, I've played through enough chorus pedals to know that the TriceraChorus does something very different. If you want quintessentially '80s sounds, this pedal will get you there instantly. If that's not your bag, you might not need all the extra fuss. But this Eventide has plenty of sonic rewards to offer anyone who's even a little curious about chorus exploration and wants to embiggen their tones.
With its burly build, tiny footprint, and super-reasonable price, this may be the ultimate modeling/IR option for space-conscious players on a budget.
Impressive amp, cab, ambience, and miking sounds, with just enough studio-style tweakability. Super-rugged build.
Built-in tuner and "spring" reverb would rule. USB cable not included.
4.5
5
4.5
5
If you've been lusting after Kemper, Fractal, or Line 6 amp modelers but fear they'd be overkill for your brain or wallet, the Boss IR-200 is among the most stacked—yet relatively simple and straightforward—alternatives you could consider.
Boss IR-200 Review by premierguitar
0:00: Bogner Überschall w/IR of Vintage 30-loaded 4x12 miked with a Royer, an SM57 & a Sennheiser
0:16: Bassman 4x10 w/ IR of close-miked Sennheiser MD-421
0:25: Bassman w/ IR of close-miked Royer R-121
0:34: Bassman w/ IR of close-miked Neumann U 87
0:44: Bassman w/ IR of distance-miked Neumann U 87
0:53: Bassman w/ IR of close-miked AKG C451B
1:03: Bassman w/ IR of distance-miked AKG C451B
1:12: Bassman w/ IR of close-miked Shure SM57
1:21: Bassman w/ IR of distance-miked Shure SM57
The high points: 128 presets, eight core amp models (including Fender, Marshall, Vox, Bogner, and Roland homages), 244 cab and mic IRs (including Shure, Royer, AKG, Sennheiser, and Neumann nods), three reverbs (hall, studio, room), and stereo, MIDI, effects-loop, USB, headphone, auxiliary-input, and footswitch/expression-pedal connectivity. (IR loader software is available for Windows and iOS.)
If your budget has never allowed you to tinker with pricey microphones, it'll be a treat to hear the sorts of tonal nuances the IR-200's virtual microphone locker can avail.
The IR-200 interface is, for the most part, very intuitive, with top-mounted controls for traditional amp functions—gain, level, bass, middle, treble—two footswitches for advancing patches, menu and exit buttons, and four slightly larger dual-function knobs for navigating memory slots and editing amp, cab, microphone, ambience, and other parameters.
Upon power-up, opening presets like "Natural 1" and "JC-120 1" may not excite tube-amp addicts, and factory noise-suppressor settings are a bit stringent—which can work against the feeling of "realness" in otherwise really good amp models—but thankfully the latter is a cinch to tweak, thanks to simple screen prompts and smart architecture. No matter what the preset, the same sequence of three button/knob pushes accesses threshold and release settings. Once you've tailored these and other subtleties to your preference, you'll find that the tones inspired by the aforementioned classic amps are damn impressive. And if your budget has never allowed you to tinker with pricey microphones, it'll be a treat to hear the sorts of tonal nuances the IR-200's virtual microphone locker can avail—particularly when mics are used in complementary pairs.
Test Gear:Schecter Ultra III, Audient iD44, KRK Rokit7 G4 monitors, Beyerdynamic DT 880 Pro headphones