Jackson Audio The Optimist Review
Can a bona fide funk guru help design a better Klone?
Wide range of gain. Very useful EQ.
Doesn't do the Klon clean boost as well as original.
5
4.5
4.5
4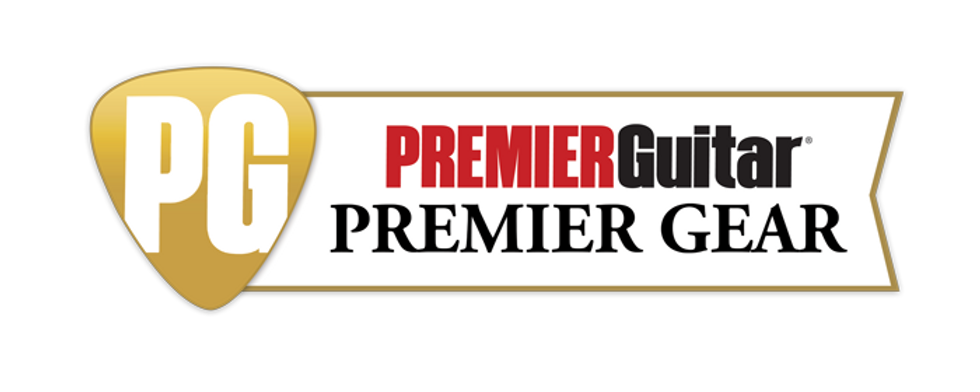 Jackson Audio's pedal collaboration with modern funk hero Cory Wong could have taken a few different paths. Considering Wong's style, a compressor would have been an obvious choice. Instead, the Optimist is a dual overdrive that builds on a Klon-inspired baseline, adds a second overdrive, and has a clever EQ to create a super-flexible overdrive. Named after Wong's second album, The Optimist suits Wong's exuberant and fun-loving personality. But it also describes the way you might approach a gig with this pedal in hand. Together, the two separate overdrives and active EQ give you enough tones to cover almost any gig this side of Slayer cover band.
---
Attacking the Klones
Jackson Audio's pedals are always practical, and The Optimist is especially so. Each overdrive circuit has dedicated volume, tone, and gain knobs. Just beneath those are a trio of tiny EQ controls that illuminate when you hit both switches at once. And because the EQ can be used independently, you actually get three stomps in one. That's impressive given The Optimist's small size.

Modeling a circuit based on the Klon Centaur is nothing new. But Jackson Audio added enough tone-shaping control to make the Klon-inspired OD1 side of The Optimist more versatile than the average klone. Without an original Centaur on hand, I used Electro-Harmonix Soul Food as a baseline, which I used with a Schroeder Chopper TL, Fender Player Jaguar, and a Fender HSS Stratocaster plugged into a Fender Hot Rod Deluxe.
Some Klon users like that pedal's mid-heavy, medium-gain grind. Others prefer to use it as a robust clean boost. I found that the Klon-inspired side of The Optimist is most oriented toward the first application. With the gain all the way down, it has a bit more bite and grit than the Soul Food. In Clip 1 you can hear an example with the volume at about 1 o'clock and the tone at noon. It's a very healthy low-gain tone that I can imagine as an always-on, foundational sound for a lot of applications. The range of the gain knob is especially inviting. I couldn't find a "dead" spot anywhere in the gain control's range. Maximum gain levels have less high-end sizzle and a bit more overall gain than many klones [Clip 2]. And you sense that Jackson Audio and Wong aimed to find the most musical and versatile possible range of gain tones that a Klon-style circuit allows.
​Flat Is Fabulous
The OD2 side of The Optimist gives you flatter frequency response and more transparency. Wong compares this side of the pedal to a Timmy or a ZenDrive. Internally, your signal hits OD2 first then OD1 before the active EQ. Because OD2's flatter response preserves more of your original tone, it's a great blank canvas. And with the EQ controls I could easily get more Screamer-like sounds or thicken my lead lines.
Setting all knobs to noon generated a fantastic crunchy tone that paired well with P-90s. As with the OD1, the OD2's gain and tone knobs have a broad sweep. Neither side of The Optimist would classify as "high gain," even at maximum values, but there are plenty of nice hard-rock tones available—especially if you use humbuckers.
The Bandaxall-derived EQ engages when you hit both switches simultaneously. And you can boost or cut the bass, middle, or treble frequency bands up to 12 dB from the noon position. Used by itself, this EQ helped me darken the tone of an overly bright Telecaster and tame the woofy low end from a Jaguar. I've never used dedicated EQ pedal in my chain, but The Optimist certainly opened my ears to the possibilities.
The Verdict
I remember the first time I played a real Klon. It wasn't my thing. However, over the years I've developed a healthy appreciation for this subgenre of overdrives. At this point there are so many variations on the circuit that authenticity is less important than what connects with your particular playing style. The Optimist takes this more open-minded thinking about a klone's possibilities, and adds a flat-response overdrive and a nearly flawless active EQ that can help you tailor the pedal to your setup in very specific ways.