A deep, intuitive, time-mangling, modulating powerhouse that spans whole galaxies of sound color.
Intuitive interface. Several very excellent "organic" presets. Deep tweakability within each preset voice. Fun.
Some more overtly digital tones could benefit from a little more depth.
4.5
4.5
4.5
4
Because I am a music fan first and foremost, I think it's cool to see how many artists are using stompboxes beyond the guitar sphere. A lot of musical cross-pollination and happy accidents come from these less-constrained methods. And it's a good way to make cool sounds on the cheap.
Meris's U.S.-built LVX is a great high-horsepower evolution of this concept. While it's a superb guitar effect—filled with heaps of complex, unusual delays; modulation sounds from tremolo to vibrato, rotary, and flange; intense filtering capabilities; looping; and more—it is clearly conceived to work effectively with other instruments and in other applications. The sounds it produces range from colorful, classic electric guitar effects to contemporary, large-scale, and filmic stereo reverbs and delays. It's elaborate in a way that will satisfy the probing methods of game and film sound designers, synthesists, and other insatiably questing weirdos. Best of all is that the LVX makes investigating those complexities a simple, intuitive pleasure.
Utility with a Human Touch
If you are new to the world of deep programmable effects and fear you'll be endlessly tethered to a manual, the LVX is an option worth exploring. A smart, thoughtful interface streamlines access to and control of secondary and hidden controls. It also makes the LVX a lot of fun.
A lazy side glance at the unit will probably stoke fears among digi-phobic users. The pedal has an ultra-clean—some might say antiseptic—look that's as evocative of a lab instrument as it is a guitar pedal. When you plug it in, though, the LVX charmingly comes to life. At its heart is an LCD screen called the preset page, which is simultaneously bold, clear, and easy-on-the-eye. At the center of each preset page is a circle featuring a bold, white-on-black number and text indicating the effect type. There are a lot of variations and voices to explore: LVX comes with 81 presets from the factory that you can modify in myriad ways. The LCD screen serves other purposes. In any given preset, it also registers the level or status for two user-selected secondary functions. The status of each function is described clearly via text or simple graphical representations, which facilitates fast exploration of the pedal's voices. Additional modes called "edit pages" and "globals" represent menus and component parts of a voice as a system of bubbles. It's a fun, practical way to navigate a dense data set in a small place.
Pouring a nice glass of wine, clearing the evening schedule, and scanning the breadth of sounds in just these 81 presets is a sure-fire way to spark a song or riff.
In most other respects, the LVX's controls are straightforward. Delay time, feedback, modulation intensity, and wet/dry mix each have dedicated knobs. As you adjust them, you also see a graphical readout of all four parameters on the LCD screen. The secondary controls each have knobs immediately underneath the LCD. A seventh knob just to the right of the LCD scrolls through presets and enables presets. You can scroll through presets using two of the four footswitches below. These are also used to create, start, and stop loops. There's a lot more functionality in the LVX than we have space to describe here. And what we've covered so far really only scratches the surface. Diving deeper into LVX's worlds of modifiers and processing elements enables even more surgical control.
Sounds Spanning Space
The more down-to-earth, vintage-hued effects are interesting and excellent. The Rumble preset is a super-dimensional slapback that's a natural fit for Plastic Ono Band or Jimmy Page trips, while the Hot Plate reverb is super organic and feels like fireworks popping off the fretboard. Dream pop and shoegaze texturalists will flip over presets like Roto Pan—a swirling, slightly distorted tremolo—or the 4 Read Heads multiple-head tape-echo simulation.
Deeper weirdness is everywhere: granular synthesis; sampled, crushed, and scrambled repeats; envelope-triggered pitch repeats; mangled sitar sounds; and cassette-warble oddities. Each of these voices can be heavily altered within a huge range of variation. Pouring a nice glass of wine, clearing the evening schedule, and scanning the breadth of sounds in just these 81 presets is a sure-fire way to spark a song or riff. But there are so many thousands of possible combinations of texture here that such inspiration might occur with frequency.
The Verdict
As you peruse the ratings for the LVX, you should grade on a sliding scale. If you're a multi-instrumentalist, multimedia artist, or just a wildly open-minded music creator, you'll be comfortable with the way organic effect emulations exist alongside over-the-top, more "artificial," and more mangled fare, and you'll find inspiration everywhere. If you generally stay in the vintage lane or maintain a pretty focused sonic vision, LVX could be overkill. No matter how much it aligns with your sound-crafting needs, the LVX's approachability and intuitive operation make it an appealing instrument for any artist that likes to move fast and intuitively—and doesn't mind ending up at unexpected destinations.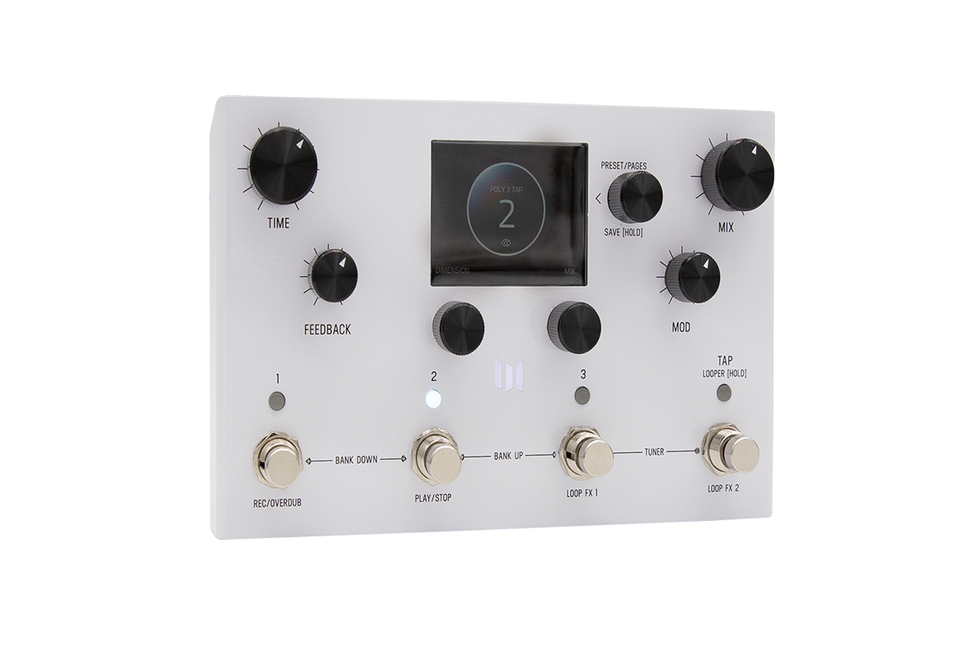 Meris
So many varied ways to phase for days.
Sweet, distinct phase voice. Resonance, mix, range, and volume controls expand tone-shaping possibilities significantly. High quality.
4.5
4.5
4.5
4
Spaceman effects tend to be cherished, treasured, and, in some cases, driven to insane resale market prices because they reliably sound fantastic. But Spaceman pedals are also rare creatures. And even its most popular pedals tend to come and go—often disappearing before real players can beat collectors to the punch. The analog, 6-stage optical Explorer phaser, however, is the unusual Spaceman pedal that is reappearing in the wild after a hiatus. It returns in a more compact enclosure. But this time out the Explorer offers access to six additional waveforms that build on an already expansive modulation vocabulary.
Not So Simply Red
I love one-knob phasers. They are a sure-fire means to mindless fun, and one less thing to worry about when drifting off amid some psychedelic-jam reverie. That mindlessness comes at a cost, of course. A classic Small Stone or Phase 90 tends to sound just like it's supposed to and little more. So while you can extract everything from rotary speaker sounds to staccato pitch shifting with such a circuit, they're usually imprinted with a specific voice and phase coloration—what you hear is what you get.
The Explorer brushes aside those constraints in very cool fashion. For starters, the mix control helps you render the phase effect nearly subliminal. That enables you to use pretty extreme phase voices in low-key ways—a beautiful means to apply the effect to add motion in a spare mix. The Explorer also comes with an output volume control. This means you can overcome any perceived volume loss when using intense waveforms. But it also gives your signal a slight—and slightly dirty—bump even when the effect mix is low. The volume gives you options in that direction, too. And although there probably won't be hordes of players dying to use the Explorer at less than unity gain, the ability to do so opens up interesting arrangement possibilities in which you can move from straight-ahead clean passages to quieter effected chapters in a song without missing a beat. It also gives you a means to mate the Explorer more easily to an unruly or unpredictable fuzz.
The Explorer's wave-shaping options are abundant and powerful. The rate control generally falls in line with most classic analog phasers in terms of range—moving from molasses sweeps to insectile stutters. Resonance, of course, adds vowelly emphasis to the waveforms. Its effect is strong enough that I tended to leave it in a modest 8 to 10 o'clock range. But it can also help put a phase over the top in a crowded effects mix and help add rhythmic emphasis. The Explorer's range control is, perhaps, the hidden gem. There's nothing magical about it. It's essentially a filter that enables you to thin out or add a low-end bump to the signal. But the extra low end can be a beautiful sweetening agent with slower phase rates (which get chewier and dreamier with more low end) and gives you extra wiggle room for tailoring the Explorer to different guitars, amps, and effects in your chain.
The extra low end can be a beautiful sweetening agent with slower phase rates.
Crest-to-Trough Awesome
The Explorer isn't the only contemporary phaser with the option for multiple waveforms. But there is something about the essential sweetness and clarity of its voice that makes the differences among these wave types feel more distinct. The sine wave is smooth-snaky and sounds dreamy at slow rates and sitting low in the wet/dry mix. Ramp-up and ramp-down waves have a pronounced "reset" pulse at the peak of each wave that tends to reinforce certain rhythm-based approaches. Triangle generates pretty, precise, and steady heartbeat pulses that make lots of room for picking detail at dryer mix levels, but it also sounds awesome at more stroboscopic rates and higher intensities. The square wave at a 50-precent rate and with a healthy heap of low end from the range control is another favorite—and with the resonance just right, you can get a very bubbly auto-wah effect. The alternate phase patterns, which are accessed by powering up while holding down the footswitch, are all worth investigating as well. And the arpeggiated phases, in particular, are especially cool—lending textures that evoke everything from bouncing ball bearings to tinkling glockenspiels.
The Verdict
The Explorer often distinguishes itself by living at a cool intersection of organic and mechanical precision pulses and sounds. But the abundant tone-shaping options mean you can fine tune these tone crossovers like a surgeon. It's fun, too. The right sound rarely feels out of reach or impossible on the Explorer, so the search seldom feels like work. For anyone that has suffered the limitations of 1-knob phasers but been intimidated by more complex alternatives, there are a lot of cool compromises here. The Explorer is expensive. But it's a high-quality U.S.-made pedal that reflects a lot of thought and experience. It may just tempt you to sell the rest of the phasers in your collection, too—a smart, constructive way to offset the cost, if you ask me.
A smart, potent boost that's much more than meets the eye.
A well-built and truly great-sounding boost/line-driver pedal boasting a handful of clever bonus functions.
Some buyers might find it a little pricey.
5
5
4.5
4.5
Source Audio nicknamed the new ZIO pedal "the Better Box," which is a fair summation of what this thing will do for your tone. Purists may rant endlessly about the virtues of plugging straight into an amp. But many legendary players understood that a little extra "hot" between guitar and amp can add up to magic. From Jimmy Page's Echoplex preamp to Brian May's Rangemaster to Angus Young's Schaffer-Vega wireless system, a lot of signature sounds have been shaped with a little extra kick—and often from unexpected sources that are something other than simple boosts. Source Audio's first all-analog pedal is more than a conventional booster, too. And, to some degree, it celebrates these alternate paths to boosting tone.
Designed in collaboration with Christopher Ventner of SHOE Pedals, ZIO is short for Impedance ("Z" in electro-speak), Input, and Output, which hints at the front-to-back thinking behind the design. The pedal's input impedance is calculated to optimize the signal from a traditional high-impedance guitar pickup and send it down the line as a sweetened low-impedance version of itself. In doing so, ZIO helps your signal survive long chains of pedals and cable runs. Four selectable modes each offer up to +20 dB of gain and three levels of cable-mimicking capacitance to subtly brighten or darken your tone as desired.
0:00 – ZIO pedal off.
0:08 – ZIO on, JFET setting.
0:44 – Change to Sudio setting.
1:04 – Change to E-Plex setting.
1:24 – Pedal off again.
Got Some Front
Though its methods for tone shaping might seem slightly esoteric on the surface, ZIO is easy to use. The knobs are a single control for output level and a 4-position rotary switch, dubbed circuit, which selects the preamp voicing. The JFET mode uses Burr-Brown op amps to generate a transparent, low-distortion boost, mimicking the response of a clean tube amp input. Low-cut mode reduces frequencies that can cause mud and rumble, lending more presence. Studio mode successfully replicates the effect of using a Pultec compressor to cut muddy lower-mids and enhance presence. The E-Plex mode, meanwhile, replicates the rich, clear, and just slightly colored sound of a vintage Echoplex preamp.
Source Audio is mindful of the fact that a long cable's capacitance is an essential part of some players' overall sonic brew, and that a booster/line-driver in front of the chain can negate the capacitance effect. So ZIO includes a tone toggle that offers three levels of cable-capacitance emulation. Bright represents a low-capacitance load and the brightest tone—as you might hear from a very short, high-quality cable. Med approximates a 15-foot cable and softens highs just a bit. Dark achieves the mellowing effect of longer or coiled cables.
A 2-position mini-toggle to the right is specifically tailored for players that will keep ZIO on at all times and allows the user to configure the footswitch as a mute function in place of the traditional off setting. That means one of the two outputs on the left side of the pedal can feed a tuner running independent of the signal chain or deliver a line-level signal to any amp, console, interface, or input that you want to keep live while muting the main output. Nine-volt DC power feeds the ZIO, with a center-negative input on the crown. It's all housed in a rugged brushed-aluminum enclosure that's not quite mini-pedal small but compact at 4" x 2.3" x 2.2" tall (including the knobs).
I fast fell I love with ZIO's variety of boost tones and easy integration into my pedalboard.
All Lined Up
I fast fell in love with ZIO's variety of boost tones and easy integration into my pedalboard. It flat-out sounds fantastic. Some players will no doubt consider ZIO pricey for a booster pedal with a few extra bells and whistles. But the enhanced tones will be well worth it for many guitarists, even if they only ever use one circuit mode.
That said, switching between the circuits is half the fun. And at times I fantasized about a rig based on two ZIO pedals: One that I could use as a transparent always-on line driver and tone juicer, and another as a proper boost. Used in the latter application, ZIO made my tweed-style combo bite and break up a lot more readily. It was also secret sauce for a Friedman Mini Dirty Shirley, making its Plexi-style crunch and lead tones extra delectable. While all four preamp-emulating modes proved effective—and I could certainly find many useful applications for each—I really fell for the Pultec-inspired studio mode. It's sweet, juicy, clear, and articulate, and it simply makes everything more luscious. It can also offer a playful dose of extra drive when you crank the output past 11 o'clock. It sounds fantastic as an amp-input driver in this setting. The tone switch settings are pretty subtle, but that's the idea: You use it to fine tune the feel and character of the signal once you've dialed in the other functions to near-perfection.
The Verdict
Boosts are often one-trick ponies. But Source Audio and Christopher Ventner's sly and very smart selection of features make ZIO a whale of a tone enhancing machine—and a sneakily versatile one at that. Yes, the ZIO is a simple device in principle, but it does what it does exceptionally well. And while many players will regard the tone switch and switch modes as minor bonus features, I suspect they will prove invaluable to many exacting tone crafters and super-functional in some rigs. For me, at least, they help make ZIO one of the tastiest boost pedals I've tried in quite some time.