A deep, intuitive, time-mangling, modulating powerhouse that spans whole galaxies of sound color.
Intuitive interface. Several very excellent "organic" presets. Deep tweakability within each preset voice. Fun.
Some more overtly digital tones could benefit from a little more depth.
4.5
4.5
4.5
4
Because I am a music fan first and foremost, I think it's cool to see how many artists are using stompboxes beyond the guitar sphere. A lot of musical cross-pollination and happy accidents come from these less-constrained methods. And it's a good way to make cool sounds on the cheap.
Meris's U.S.-built LVX is a great high-horsepower evolution of this concept. While it's a superb guitar effect—filled with heaps of complex, unusual delays; modulation sounds from tremolo to vibrato, rotary, and flange; intense filtering capabilities; looping; and more—it is clearly conceived to work effectively with other instruments and in other applications. The sounds it produces range from colorful, classic electric guitar effects to contemporary, large-scale, and filmic stereo reverbs and delays. It's elaborate in a way that will satisfy the probing methods of game and film sound designers, synthesists, and other insatiably questing weirdos. Best of all is that the LVX makes investigating those complexities a simple, intuitive pleasure.
Utility with a Human Touch
If you are new to the world of deep programmable effects and fear you'll be endlessly tethered to a manual, the LVX is an option worth exploring. A smart, thoughtful interface streamlines access to and control of secondary and hidden controls. It also makes the LVX a lot of fun.
A lazy side glance at the unit will probably stoke fears among digi-phobic users. The pedal has an ultra-clean—some might say antiseptic—look that's as evocative of a lab instrument as it is a guitar pedal. When you plug it in, though, the LVX charmingly comes to life. At its heart is an LCD screen called the preset page, which is simultaneously bold, clear, and easy-on-the-eye. At the center of each preset page is a circle featuring a bold, white-on-black number and text indicating the effect type. There are a lot of variations and voices to explore: LVX comes with 81 presets from the factory that you can modify in myriad ways. The LCD screen serves other purposes. In any given preset, it also registers the level or status for two user-selected secondary functions. The status of each function is described clearly via text or simple graphical representations, which facilitates fast exploration of the pedal's voices. Additional modes called "edit pages" and "globals" represent menus and component parts of a voice as a system of bubbles. It's a fun, practical way to navigate a dense data set in a small place.
Pouring a nice glass of wine, clearing the evening schedule, and scanning the breadth of sounds in just these 81 presets is a sure-fire way to spark a song or riff.
In most other respects, the LVX's controls are straightforward. Delay time, feedback, modulation intensity, and wet/dry mix each have dedicated knobs. As you adjust them, you also see a graphical readout of all four parameters on the LCD screen. The secondary controls each have knobs immediately underneath the LCD. A seventh knob just to the right of the LCD scrolls through presets and enables presets. You can scroll through presets using two of the four footswitches below. These are also used to create, start, and stop loops. There's a lot more functionality in the LVX than we have space to describe here. And what we've covered so far really only scratches the surface. Diving deeper into LVX's worlds of modifiers and processing elements enables even more surgical control.
Sounds Spanning Space
The more down-to-earth, vintage-hued effects are interesting and excellent. The Rumble preset is a super-dimensional slapback that's a natural fit for Plastic Ono Band or Jimmy Page trips, while the Hot Plate reverb is super organic and feels like fireworks popping off the fretboard. Dream pop and shoegaze texturalists will flip over presets like Roto Pan—a swirling, slightly distorted tremolo—or the 4 Read Heads multiple-head tape-echo simulation.
Deeper weirdness is everywhere: granular synthesis; sampled, crushed, and scrambled repeats; envelope-triggered pitch repeats; mangled sitar sounds; and cassette-warble oddities. Each of these voices can be heavily altered within a huge range of variation. Pouring a nice glass of wine, clearing the evening schedule, and scanning the breadth of sounds in just these 81 presets is a sure-fire way to spark a song or riff. But there are so many thousands of possible combinations of texture here that such inspiration might occur with frequency.
The Verdict
As you peruse the ratings for the LVX, you should grade on a sliding scale. If you're a multi-instrumentalist, multimedia artist, or just a wildly open-minded music creator, you'll be comfortable with the way organic effect emulations exist alongside over-the-top, more "artificial," and more mangled fare, and you'll find inspiration everywhere. If you generally stay in the vintage lane or maintain a pretty focused sonic vision, LVX could be overkill. No matter how much it aligns with your sound-crafting needs, the LVX's approachability and intuitive operation make it an appealing instrument for any artist that likes to move fast and intuitively—and doesn't mind ending up at unexpected destinations.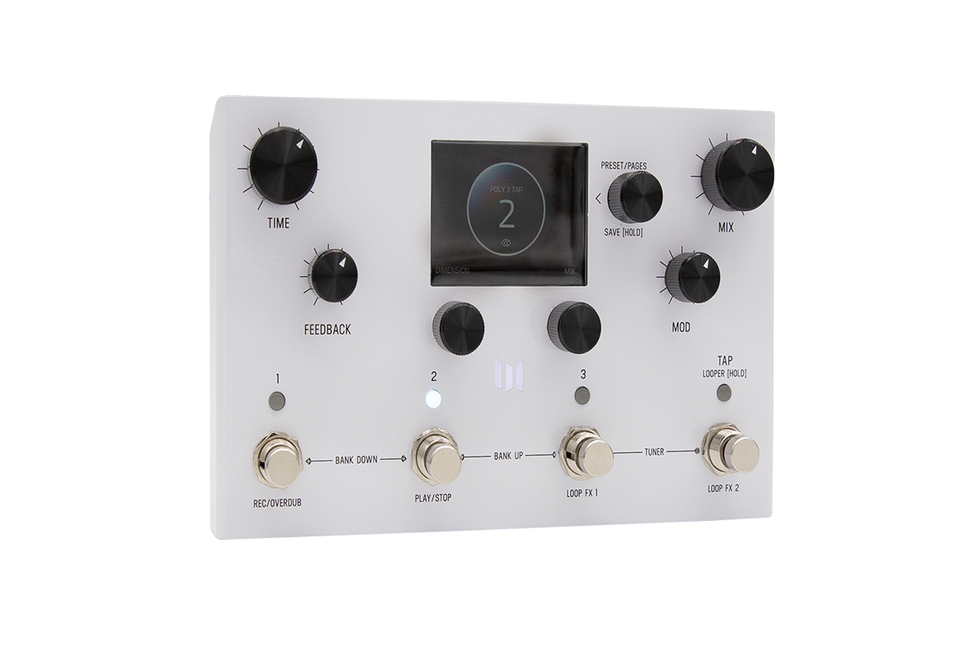 Meris