A deep, intuitive, time-mangling, modulating powerhouse that spans whole galaxies of sound color.
Intuitive interface. Several very excellent "organic" presets. Deep tweakability within each preset voice. Fun.
Some more overtly digital tones could benefit from a little more depth.
4.5
4.5
4.5
4
Because I am a music fan first and foremost, I think it's cool to see how many artists are using stompboxes beyond the guitar sphere. A lot of musical cross-pollination and happy accidents come from these less-constrained methods. And it's a good way to make cool sounds on the cheap.
Meris's U.S.-built LVX is a great high-horsepower evolution of this concept. While it's a superb guitar effect—filled with heaps of complex, unusual delays; modulation sounds from tremolo to vibrato, rotary, and flange; intense filtering capabilities; looping; and more—it is clearly conceived to work effectively with other instruments and in other applications. The sounds it produces range from colorful, classic electric guitar effects to contemporary, large-scale, and filmic stereo reverbs and delays. It's elaborate in a way that will satisfy the probing methods of game and film sound designers, synthesists, and other insatiably questing weirdos. Best of all is that the LVX makes investigating those complexities a simple, intuitive pleasure.
Utility with a Human Touch
If you are new to the world of deep programmable effects and fear you'll be endlessly tethered to a manual, the LVX is an option worth exploring. A smart, thoughtful interface streamlines access to and control of secondary and hidden controls. It also makes the LVX a lot of fun.
A lazy side glance at the unit will probably stoke fears among digi-phobic users. The pedal has an ultra-clean—some might say antiseptic—look that's as evocative of a lab instrument as it is a guitar pedal. When you plug it in, though, the LVX charmingly comes to life. At its heart is an LCD screen called the preset page, which is simultaneously bold, clear, and easy-on-the-eye. At the center of each preset page is a circle featuring a bold, white-on-black number and text indicating the effect type. There are a lot of variations and voices to explore: LVX comes with 81 presets from the factory that you can modify in myriad ways. The LCD screen serves other purposes. In any given preset, it also registers the level or status for two user-selected secondary functions. The status of each function is described clearly via text or simple graphical representations, which facilitates fast exploration of the pedal's voices. Additional modes called "edit pages" and "globals" represent menus and component parts of a voice as a system of bubbles. It's a fun, practical way to navigate a dense data set in a small place.
Pouring a nice glass of wine, clearing the evening schedule, and scanning the breadth of sounds in just these 81 presets is a sure-fire way to spark a song or riff.
In most other respects, the LVX's controls are straightforward. Delay time, feedback, modulation intensity, and wet/dry mix each have dedicated knobs. As you adjust them, you also see a graphical readout of all four parameters on the LCD screen. The secondary controls each have knobs immediately underneath the LCD. A seventh knob just to the right of the LCD scrolls through presets and enables presets. You can scroll through presets using two of the four footswitches below. These are also used to create, start, and stop loops. There's a lot more functionality in the LVX than we have space to describe here. And what we've covered so far really only scratches the surface. Diving deeper into LVX's worlds of modifiers and processing elements enables even more surgical control.
Sounds Spanning Space
The more down-to-earth, vintage-hued effects are interesting and excellent. The Rumble preset is a super-dimensional slapback that's a natural fit for Plastic Ono Band or Jimmy Page trips, while the Hot Plate reverb is super organic and feels like fireworks popping off the fretboard. Dream pop and shoegaze texturalists will flip over presets like Roto Pan—a swirling, slightly distorted tremolo—or the 4 Read Heads multiple-head tape-echo simulation.
Deeper weirdness is everywhere: granular synthesis; sampled, crushed, and scrambled repeats; envelope-triggered pitch repeats; mangled sitar sounds; and cassette-warble oddities. Each of these voices can be heavily altered within a huge range of variation. Pouring a nice glass of wine, clearing the evening schedule, and scanning the breadth of sounds in just these 81 presets is a sure-fire way to spark a song or riff. But there are so many thousands of possible combinations of texture here that such inspiration might occur with frequency.
The Verdict
As you peruse the ratings for the LVX, you should grade on a sliding scale. If you're a multi-instrumentalist, multimedia artist, or just a wildly open-minded music creator, you'll be comfortable with the way organic effect emulations exist alongside over-the-top, more "artificial," and more mangled fare, and you'll find inspiration everywhere. If you generally stay in the vintage lane or maintain a pretty focused sonic vision, LVX could be overkill. No matter how much it aligns with your sound-crafting needs, the LVX's approachability and intuitive operation make it an appealing instrument for any artist that likes to move fast and intuitively—and doesn't mind ending up at unexpected destinations.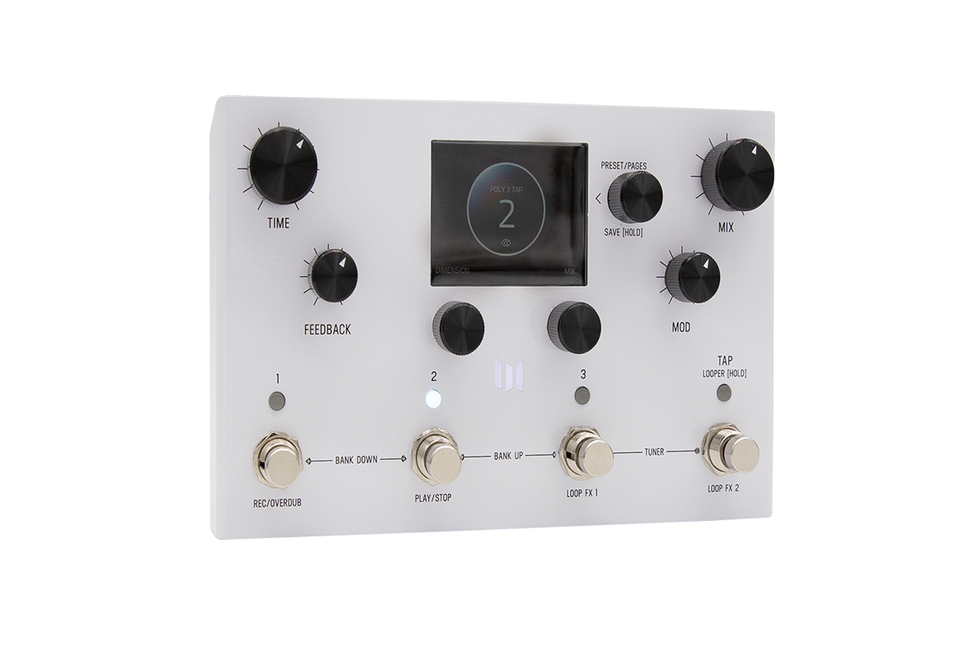 Meris
You could WIN a Discoverer Delay from Maestro Pedals in today's I Love Pedals giveaway! Ends Feb. 21, 2022.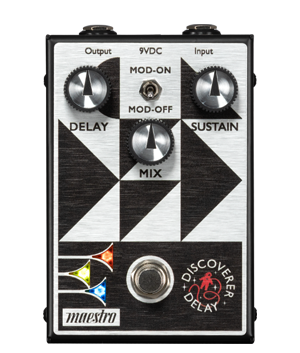 The Maestro Discoverer Delay is a modern analog delay pedal that proudly utilizes legendary analog bucket brigade device (BBD) technology to deliver classic, warm, and inviting delay sounds. The intuitive 3-knob control layout lets users quickly dial up the length of the Delay time (with a range from 20 ms to 600 ms), the amount of Sustain (delay repeats), and adjust the level of the delays in the Mix. A toggle switch engages built-in modulation that applies anything from a slightly saturated, tape-like wow and flutter effect to a heavily pitch-shifted modulation effect to the delayed signal. Two internal trim pots allow the user to adjust the Rate (speed) and Width (sweep range) of the modulation. The true bypass footswitch triggers the LED lights in the bugles in the Maestro logo when it's on, so you'll always know when the effect is active.

Maestro Pedals
The king of bucket brigade echoes downsizes and brightens its voice.
Impressive ability to replicate big-box DMM functionality in a compact stomp. Extra toppiness sounds great in slapback settings.
Modulation controls can feel vague. Might be too bright for some DMM traditionalists. Modulation features may not justify extra expense over comparable BBD delays.
Electro-Harmonix Nano Deluxe Memory Man
ehx.com
4.5
4
4
3.5
Any time I go anywhere to record anything, I bring along an old Deluxe Memory Man as insurance. I'm not sure I can say that about any other instrument, pedal, or amplifier. As anyone who has used one knows, it's a beautifully moody sounding echo. It's also a brilliant design: an ergonomic, interactive, and handsome pedal that, at times, feels almost alive.
My well-travelled and much-abused '90s edition is now noisy, dented, scratched, and wobbly in the knobs. But if there isn't an Echoplex or Space Echo on hand, no delay sounds better or feels as good to use. The way it encourages performative, improvisational delay expressions means I'll always come up with a cool sound of some kind—even on my least inspired days. It literally expands my musical vocabulary.
EHX's newest take on the Memory Man circuit, the Nano Deluxe Memory Man, is the most compact DMM ever. And though its basic voice is brighter and slightly less widescreen than an original, it sounds like a proper old-school bucket brigade analog delay should and facilitates creative, on-the-fly adjustments in spite of the space constraints.
Unwinding in Tight Quarters
By virtue of its size and control orientation, the Nano Deluxe Memory Man is a very different iteration of DMM architecture. Though the six small knobs are tightly clustered, they turn with resistance uncannily similar to the knobs on an original Deluxe Memory Man. And the spacing between them is just enough that you can make simultaneous adjustments to mix, feedback, and delay time, provoking the weird, wild oscillation and pitch shift effects that are DMM hallmarks. The close quarters and tiny knobs make it hard to achieve the same ergonomic satisfaction and freedom of movement that come with operating an old big-box unit. But the fact that EHX managed to replicate any of the tactile experience of an original on an enclosure this small suggests they thought a lot about retaining a vintage unit's interactive capacity.
Less Haze in Your Daze
Most players love DMMs for their "darkness"—more precisely, the way successive repeats dissolve like foggy miasma behind the initial attack. Relative to my '90s vintage Deluxe Memory Man, the Nano sounds toppier and a little less mellow in the repeats. That quality is underscored when you add gain from an overdrive or fuzz.
For some artists, the extra top-end definition in the Nano's repeats will be a silver lining.
Compared to most digital delays (at least those not trying to emulate old analog units), the Nano's repeats are still pretty dusky. How that suits your style is a matter of personal taste. Some players that rely heavily on high-gain fuzz sounds actually prefer the cleanliness of digital repeats after they've stacked several sources of filth. So, for some artists, the extra top-end definition in the Nano's repeats will be a silver lining.
Compared to digital delays like the Boss DD-5, the Nano DMM's repeats are hazier and more glued together—particularly with overdrive or fuzz upstream. They aren't quite as midrange-y as MXR's Carbon Copy Bright (an analog BBD delay that bumps high-mid content to cut more like a digital delay), but the Nano DMM does, perhaps, concede to contemporary production values by offering a more mid-oriented voice.
This sonic signature is really cool in certain applications. Slapback tones, for instance, take on a brash attitude that shines in recording situations where a lead or hook has to stand out. And it still has a subtle compression effect on distortion, lending a cohesiveness that sounds nice when using long washes of repeats.
Modded Mod
One big difference in the Nano that old-school DMM heads will notice immediately is the presence of rate and depth knobs for the modulation section (the original had a single depth knob) and the absence of a vibrato/chorus switch. EHX says that the rate knob effectively stands in for the chorus/vibrato switch and that the 9 o'clock and 2 o'clock positions achieve the same sounds as the original's chorus and vibrato, respectively.
I didn't find the correspondence quite so direct. Just as the darkness in a vintage Memory Man mellows repeats, it also tames peaks in intense modulations. Conversely, the Nano's brighter voice makes modulation peaks a little more intense, so you may not be able to use quite as much depth as you would on a vintage unit. There are still cool textures to be found, though. The chorus is a very nice, if subtle, sweetener at lower depth levels, and the vibrato generates cool tape wobble and psychedelic pitch effects that add a mesmerizing sense of animation. Players intent on using aggressive depth settings may want to mind the effect level, however.
The Verdict
Like most old pedals, original Memory Man units are a varied bunch. That means there is no one standard to measure the Nano against—at least in terms of vintage authenticity. But outside issues of authenticity, the Nano fundamentally sounds like a really good bucket brigade delay. Most vintage DMM users will find the Nano's repeats comparatively toppy. And experienced DMM users should expect very familiar sounds, although not overtone-for-overtone equivalents. But what the Nano does not achieve in perfect vintage correctness, it makes up for in utility and a distinctive tone signature for players that want a touch of shadowy bucket brigade personality without surrendering their tone entirely to analog haze.
The Best EHX Delay Yet? Electro-Harmonix Nano Deluxe Memory Man Demo | First Look