A powerful tone-carving tool that helps you transform a tired sonic recipe fast.
Intuitive operation. Streamlined design. Easy to dial in transformative sounds.
No dedicated footswitch for boost/overdrive.
5
4
4.5
4
When it comes to underappreciated pedals, it's hard to top the humble EQ. Yet these superficially unexciting stomp pedals can enable reproduction of elusive recorded sounds, salvage an unruly fuzz or amp, enliven a dull-sounding rig, or radically transform it from tune to tune. Why EQ pedals aren't a more regular pedalboard fixture is puzzling. But the API TranZformer GTR underscores the immense potential of using a good one—particularly when you throw a nice preamp in the mix.
---
Kind of Blue
If the GTR looks familiar, it's because you might have run across one of its rack-mounted antecedents in a studio. Anyone who has ever worked with a 550-series rackmount EQ on a recording project will recognize the API's signature cut/boost knobs, the peak/shelf switch (which on the GTR works with the 5kHz band), and the same basic 3-band structure as the 550 series. The TranZformer circuit is based on the vintage 553 Program Equalizer, and by using similar, familiar controls and functionality, the GTR achieves the same intuitive feel that makes the 550 easy to work with in a studio.
Detents in each tone knob make tuning by feel and ear fast and easy. And the boost input gain knob starts at true 0 dB of boost, so you can dial in an initial EQ profile free of preamp color, add gain, and adjust the EQ again to taste in a natural, incremental process. It's a great layout for finding tones fast—and even committing them to muscle memory.
There are three toggles situated below the EQ and preamp gain knobs. The rightmost toggle activates a -20 dB pad, which is critical if you want to utilize the full range of the pedal's gain knob. The middle toggle switches between shelf and peak EQ settings for the high-frequency range. The peak setting, which emphasizes a specific section of the EQ curve, sounds airier in most positions, but it's instructive to switch between the two at a given EQ setting to hear how shelved and peaked 5kHz-range settings interact with various settings in the other two bands.
A little extra treble and midrange, and a dash of overdrive-mode distortion, gives a Fender amp a cool, unmistakably Vox-y edge.
Switching into overdrive mode gives the pedal's preamp an extra push. In low gain settings, the differences between overdrive and boost modes aren't always wildly different. But the distortion gets meaner with just a dollop of extra midrange, and adding gain reveals an organic, growling tonality that feels direct and dovetailed with amplifier tones.
Room to Wiggle
The GTR's EQ and gain controls give you many means for matching your guitar and pedals to unfamiliar amps. Better still, it helps you surgically shave, carve, recast, and bolster tones from the amps and pedals you already know. I love the sound and feel of the Telecaster/Tremolux tandem I used for most of this test. And I was pretty impressed at how the API could make the black-panel Tremolux sound like a bigger, more excited version of itself without compromising the amp's personality. A little extra treble and midrange, and a dash of overdrive-mode distortion, gives the Fender amp a cool, unmistakably Vox-y edge. At even more advanced mid, treble, and bass settings, the pedal coaxed tweed-leaning voices when I tweaked the amp tone just right. All these colors were easy to find quickly and intuitively. And in a studio situation, where you like to keep things moving at a steady clip, I would probably much rather try to fine-tune a drive sound using a simple amp and the API than switch between a half-dozen overdrives to find some just-right tone recipe. If your amp is in decent working order, the GTR is likely to unleash some bigger, fatter, meaner, or more vibrant alter ego.
The Verdict
I love the GTR's simplicity. And the high-quality build and low noise are evidence that API didn't cut corners. Still, for $280 some might expect a second footswitch for the boost/overdrive section. And though the analog purity of the GTR is also awesome, I'm sure a lot of players will hear the breadth of extra colors the GTR enables and crave presets. On the other hand, the GTR is effectively three pedals in one, which makes the price look a lot more palatable. Plus, considering the way the GTR makes you less inclined to chase a new amp, perhaps you can consider pennies saved in the cost as well. The TranZformer GTR may not totally succeed in making EQ sexy, but its streamlined design, utility, and capacity to give new life to tired tone recipes are creative gold.
Looking for more great gear for the guitar player in your life (yourself included!)? Check out this year's Holiday Gear Finds!
Outlaw Effects introduces their next generation of NOMAD rechargeable battery-powered pedal boards.
Available in two sizes, NOMAD ISO is a compact, versatile tool that offers the convenience of a fully powered board plus the additional freedom of not having to plug into an outlet. NOMAD ISO is ideal for stages with limited outlet availability, quick changeovers, busking outdoors, temporary rehearsal locations, and more!
NOMAD ISO builds upon the legacy of the ultra-convenient and reliable NOMAD rechargeable pedalboard line originally launched in 2018. The brand new NOMAD ISO editions feature eight isolated outputs (1 x 9V DC, and 1 switchable 9V/12V DC) for even more versatility and clean, quiet power. With an integrated lithium-ion battery pack boasting 12800mAh capacity, NOMAD ISO can fuel a wide array of pedals, and will last over 10 hours* on a single charge.
Each NOMAD ISO pedal board includes adhesive hook & loop pedal-mounting tape, eight (8) standard DC connector cables, and one (1) reverse polarity DC cable, giving you everything you need to build your ultimate "off-the-grid" rig. A rugged, road-ready padded gig bag with shoulder strap is also included, to safely protect your gear while you're on the move.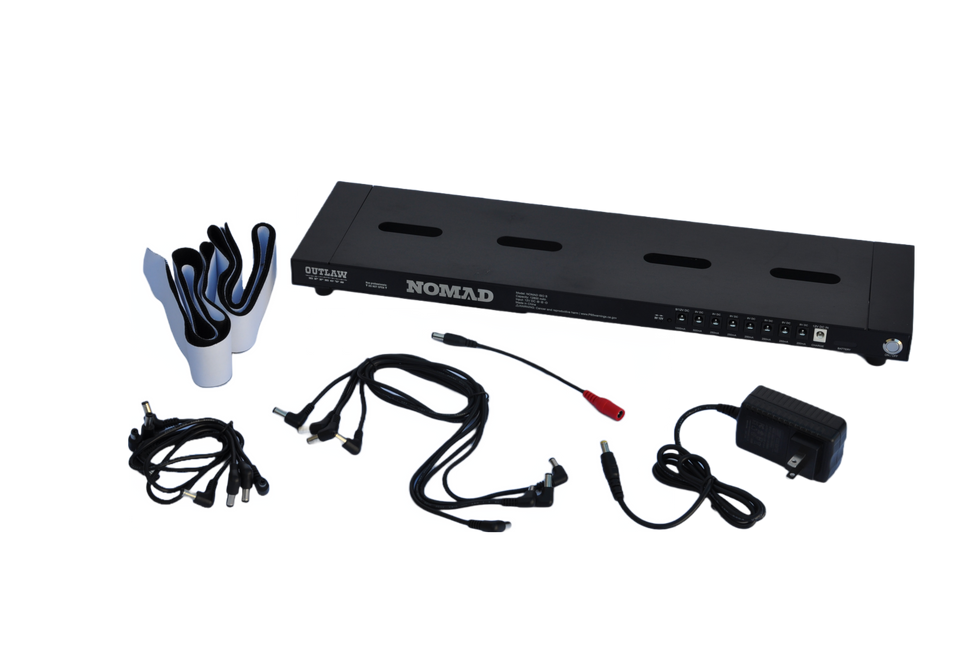 Dunable announce new Minotaur model featuring Grover Rotomatic Keystone tuners.
The Minotaur's DNA is rooted in their classic Moonflower model, which Dunable discontinued in 2017. However, they have long since wanted to create a fresh take on a carved top guitar design, and various attempts to rework the Moonflower led them to a brand new concept with the Minotuar.
Dunable's goal is to give the player a guitar that plays fast and smooth, sounds amazing, and gives maximum physical ergonomic comfort. The Minotaur's soft and meticulous contours, simple and effective control layout, and 25.5" scale length are designed to easily meet this criteria.

Dunable Minotaur!
Features
25.5" scale length
Dual Humbucker
one volume, one tone, push pull for coil splitting
Grover Rotomatic Keystone tuners
Grover Tune O Matic bridge with brass Kluson top-mount tailpiece
jumbo nickel frets
12" fretboard radius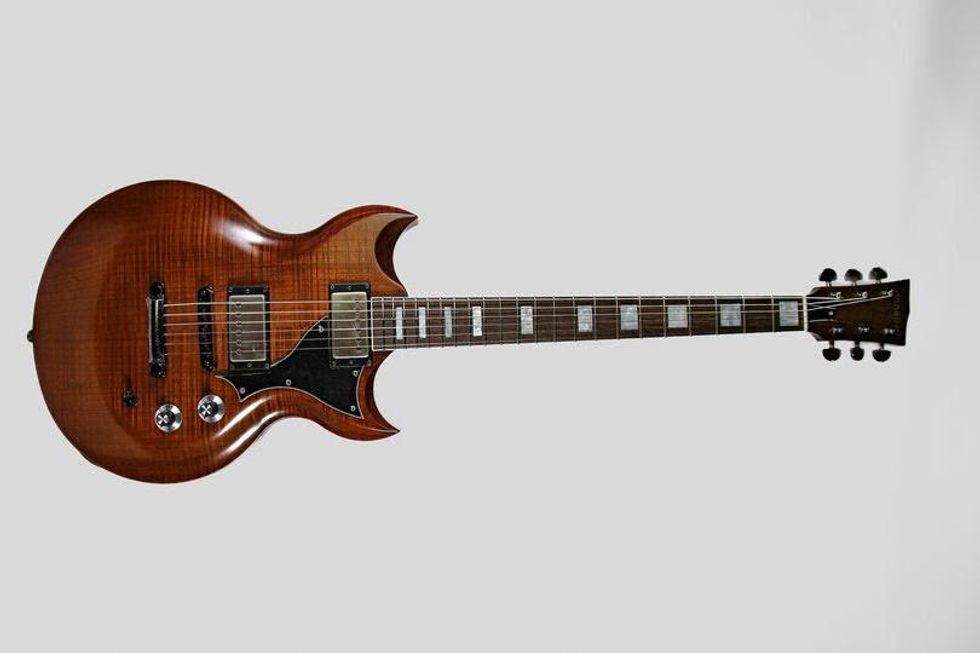 Dunable
This full-amp-stack-in-a-box pedal brings a new flavor to the Guitar Legend Tone Series of pedals, Missing Link Audio's flagship product line.
Adding to the company's line of premium-quality effects pedals, Missing Link Audio has unleashed the new AC/Overdrive pedal. This full-amp-stack-in-a-box pedal – the only Angus & Malcom all-in-one stompbox on the market – brings a new flavor to the Guitar Legend Tone Series of pedals, Missing Link Audio's flagship product line.
The AC/OD layout has three knobs to control Volume, Gain and Tone. That user-friendly format is perfect for quickly getting your ideal tone, and it also offers a ton of versatility. MLA's new AC/OD absolutely nails the Angus tone from the days of "High Voltage" to "Back in Black". You can also easily dial inMalcom with the turn of a knob. The pedal covers a broad range of sonic terrain, from boost to hot overdrive to complete tube-like saturation. The pedal is designed to leave on all the time and is very touch responsive. You can get everything from fat rhythm tones to a perfect lead tone just by using your guitar's volume knob and your right-hand attack.
Features 
Three knobs to control Volume, Gain and Tone
Die-cast aluminum cases for gig-worthy durability
Limited lifetime warranty
True bypass on/off switch
9-volt DC input
Made in the USA
MLA Pedals AC/OD - Music & Demo by A. Barrero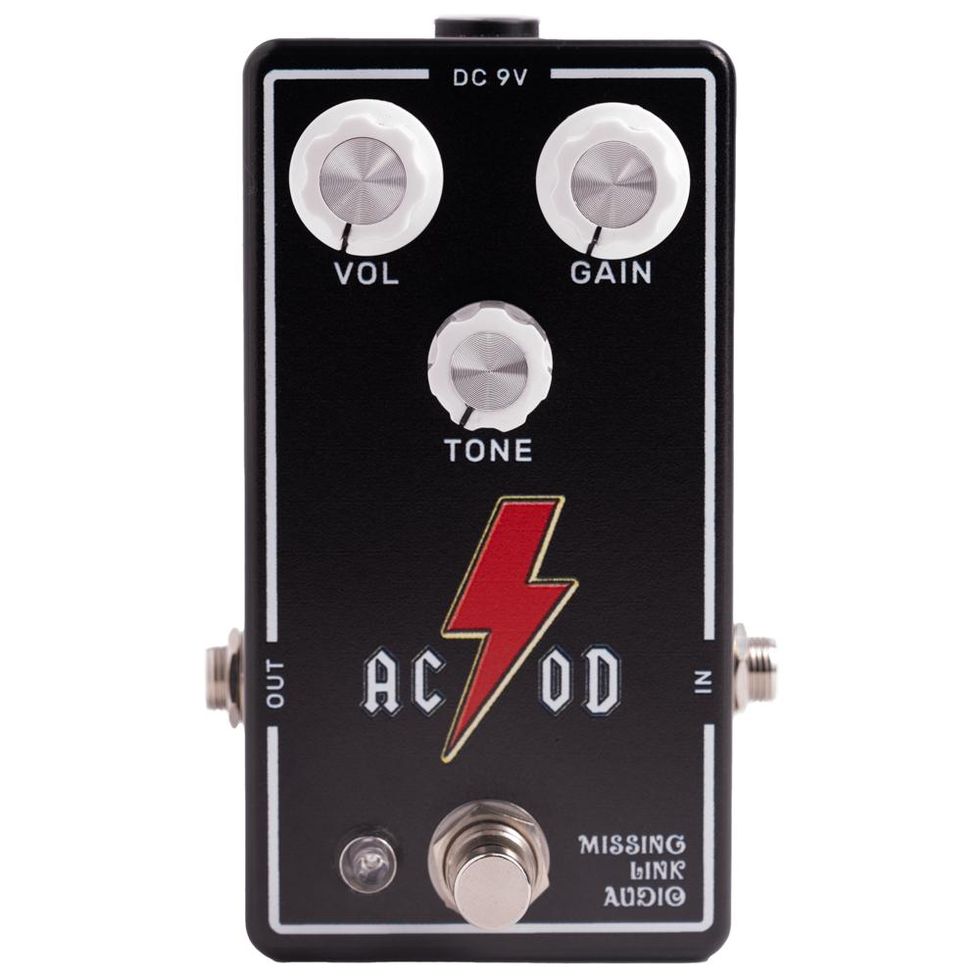 www.mlapedals.com.